Pacheco, Crouch Clinch Series Win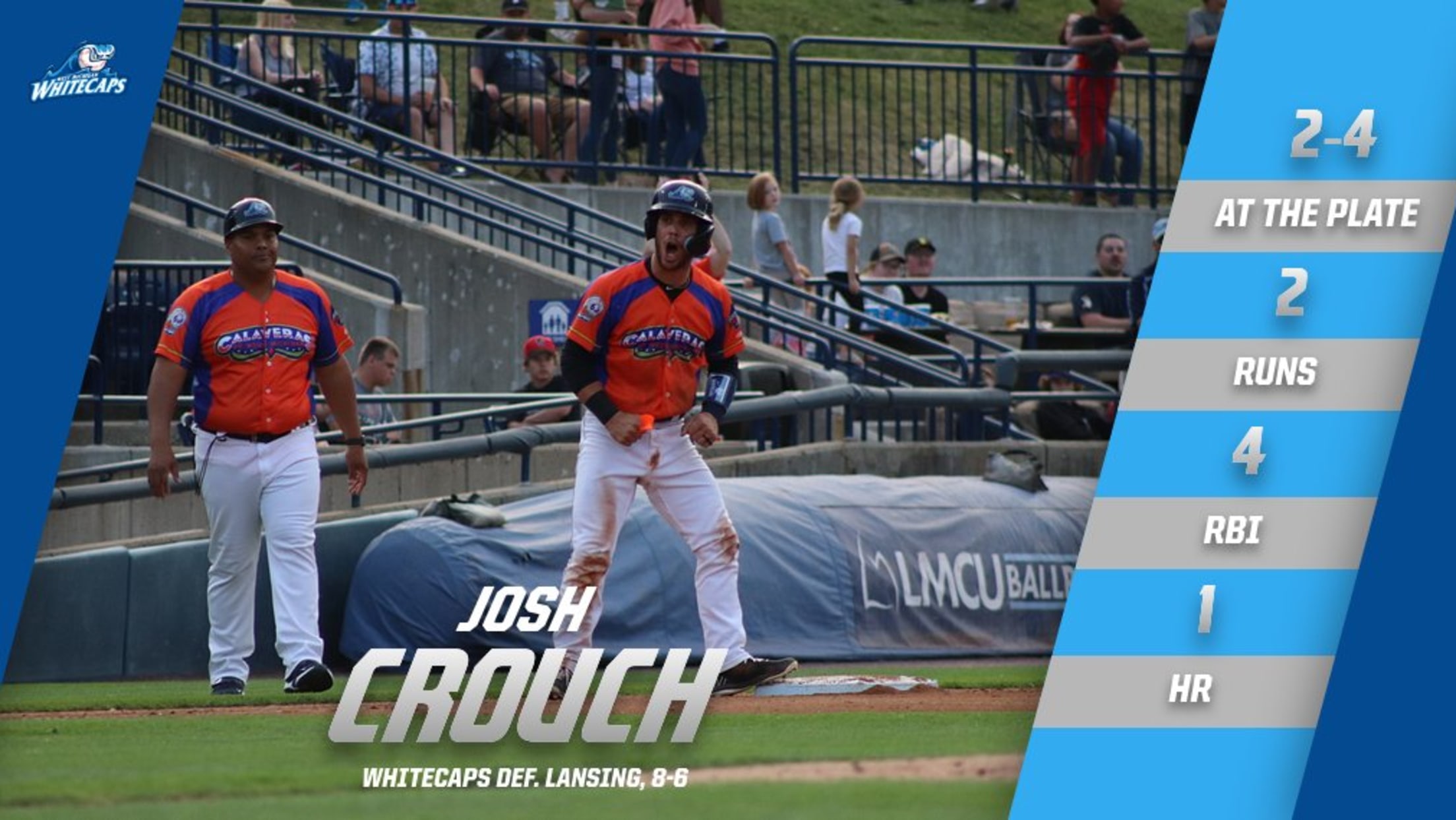 LANSING, MI – Josh Crouch capped a four-RBI performance with a go-ahead three-run double in the seventh inning as the West Michigan Whitecaps rallied to defeat the Lansing Lugnuts by a score of 8-6 in front of 7,353 fans on Saturday at Jackson Field. Crouch, who's played a prominent role
LANSING, MI – Josh Crouch capped a four-RBI performance with a go-ahead three-run double in the seventh inning as the West Michigan Whitecaps rallied to defeat the Lansing Lugnuts by a score of 8-6 in front of 7,353 fans on Saturday at Jackson Field.
Crouch, who's played a prominent role in the Whitecaps season-long turnaround, blasted his eighth home run before delivering the lead with his seventh-inning double. Meanwhile, Detroit Tigers Top Prospect Izaac Pacheco launched his second home run in as many days as a Whitecap with a 426-foot blast in the second inning.
WATCH: PACHECO'S MAMMOTH HOMER
The contest began with Pacheco's two-run shot before Lansing responded with four runs off 'Caps starting pitcher Jack O'Loughlin in the second. Trailing 5-3 in the seventh, Esney Chacon sparked a two-out rally with a double before Trei Cruz's fly ball was lost in the night sky, falling in for a run-scoring double. Three batters later, Crouch delivered the go-ahead double, giving him four RBI on the night. The 'Caps catcher joins Jake Holton as the only players with 50 or more RBI this season. In the ninth, Austin Murr launched his second home run of the season with a 423-foot blast to right field, giving West Michigan an insurance run and sealing the 'Caps fourth win in five games this week at Jackson Field.
Whitecaps reliever Gabe Sequeira (4-2) tossed a scoreless sixth inning out of the bullpen to earn his fourth win of the season and second of the series, while Lansing pitcher Kumar Nambiar (6-4) took his fourth loss after surrendering four runs in 1.1 frames on the mound. Lefty Jared Tobey finished the ballgame in relief to collect his second save of the season. The Whitecaps currently hold a five-game lead over the Great Lakes Loons and Lake County Captains for first place in the Midwest League East second-half standings. The Whitecaps improve to 56-45 and 25-10 in the second half. The Lugnuts fall to 38-63 and 13-22. Chacon, Murr, Crouch, and Pacheco all tallied a pair of hits in the victory. West Michigan has won four of the first five games of the series.
UP NEXT
The Whitecaps conclude this six-game series against the Lansing Lugnuts from Jackson Field Sunday at 1:05 pm. Pitchers Carlos Guzman and Jack Owen get the starts for West Michigan and Lansing. Broadcast coverage with Dan Hasty starts on the Whitecaps Baseball Network at 12:50 pm. Get your tickets for all 2022 home games now at www.whitecapsbaseball.com.