Pacheco Exits with Injury in 3-2 Loss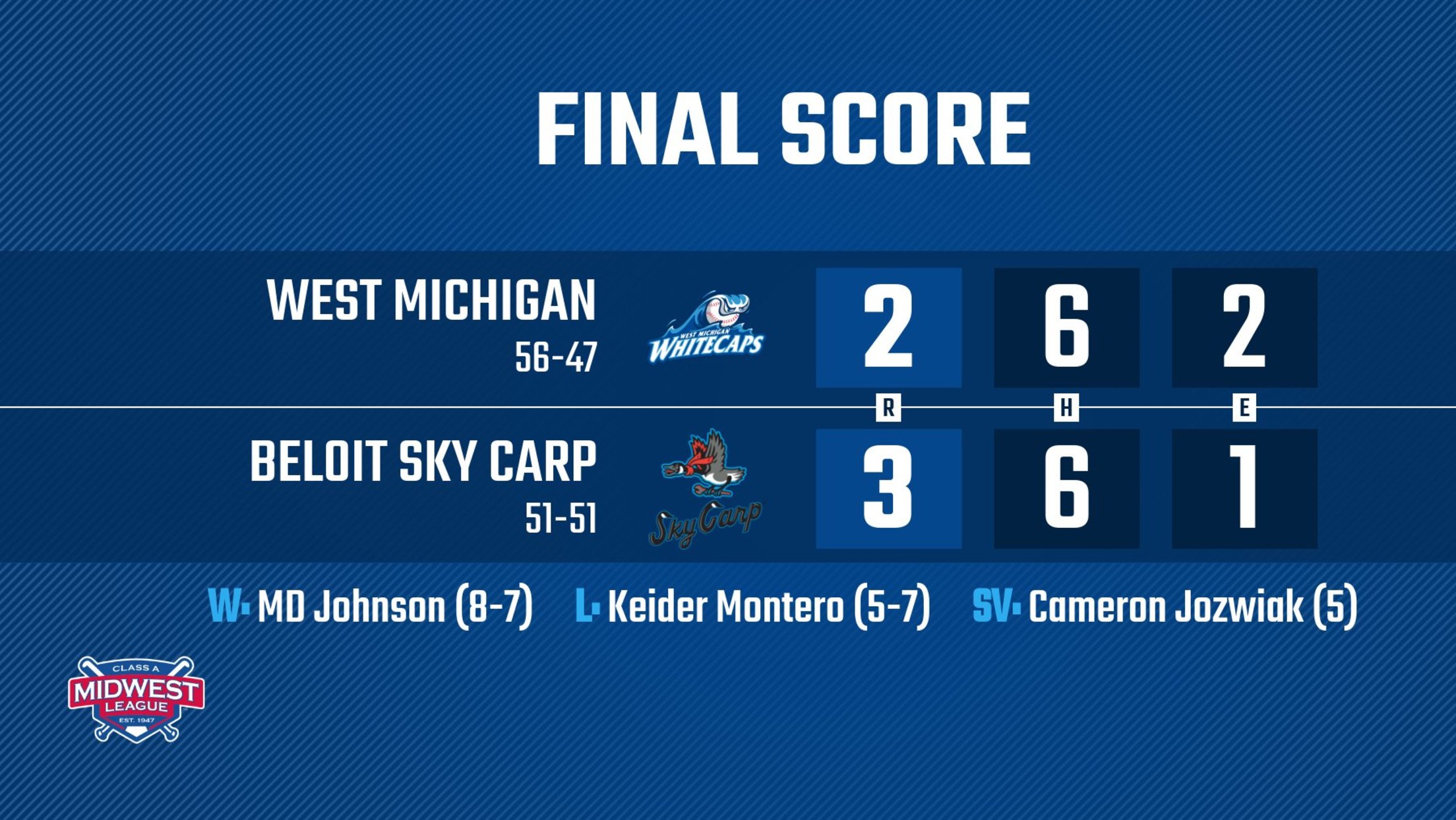 BELOIT, WI – Detroit Tigers Top Prospect and West Michigan Whitecaps third baseman Izaac Pacheco left early as part of a 3-2 loss to the Beloit Sky Carp on Tuesday night at ABC Supply Stadium. Pacheco, who homered in each of his first two games with West Michigan, suffered what
BELOIT, WI – Detroit Tigers Top Prospect and West Michigan Whitecaps third baseman Izaac Pacheco left early as part of a 3-2 loss to the Beloit Sky Carp on Tuesday night at ABC Supply Stadium.
Pacheco, who homered in each of his first two games with West Michigan, suffered what appeared to be a cut on his right hand after a play at third base. The Tigers No. 6 Prospect from MLB Pipeline was forced to leave the ballgame in the fifth inning.
The Whitecaps took an early lead when Josh Crouch stroked an RBI-single in the opening frame to take a 1-0 lead. The advantage lasted two pitches when Jose Salas led off the bottom of the inning with his third home run as Beloit tied the game at one. In the third, Bryant Packard was robbed of extra bases by center fielder Victor Mesa Jr., settling for a sacrifice fly and giving the 'Caps a 2-1 lead. In the fifth, a Tevin Mitchell groundout tied the game at two before an error on third baseman Jose King – the second Whitecaps error of the frame – allowed Federico Polanco to score the go-ahead run. The 'Caps never pushed a baserunner farther than second base past the fourth inning, as the Beloit bullpen dominated in four relief of starter MD Johnson to seal the win in the series' first game.
Whitecaps starting pitcher Keider Montero (5-7) gave up all three Sky Carp runs (two earned) in taking his seventh loss of the season while walking one and striking out six. Johnson (8-7) picked up his eighth victory by striking out six of his own. Cameron Jozwiak struck out all three batters he retired in the ninth to claim his fifth save of the season. Jace Jung stroked a double to collect his first extra-base hit and scored both West Michigan runs in a losing cause. The Whitecaps record falls to 56-47 and 25-12 in the second half. The Sky Carp improve to 20-17 and 51-51 overall.
UP NEXT
The Whitecaps continue this six-game series against the Beloit Sky Carp from ABC Supply Stadium on Wednesday at 7:35 pm. Starting pitchers for the contest are Dylan Smith for West Michigan against Edgar Sanchez for the Sky Carp. Broadcast coverage with Dan Hasty starts on the Whitecaps Baseball Network at 7:20 pm. Get your tickets for all 2022 home games now at www.whitecapsbaseball.com.