Skubal Sharp in '23 Return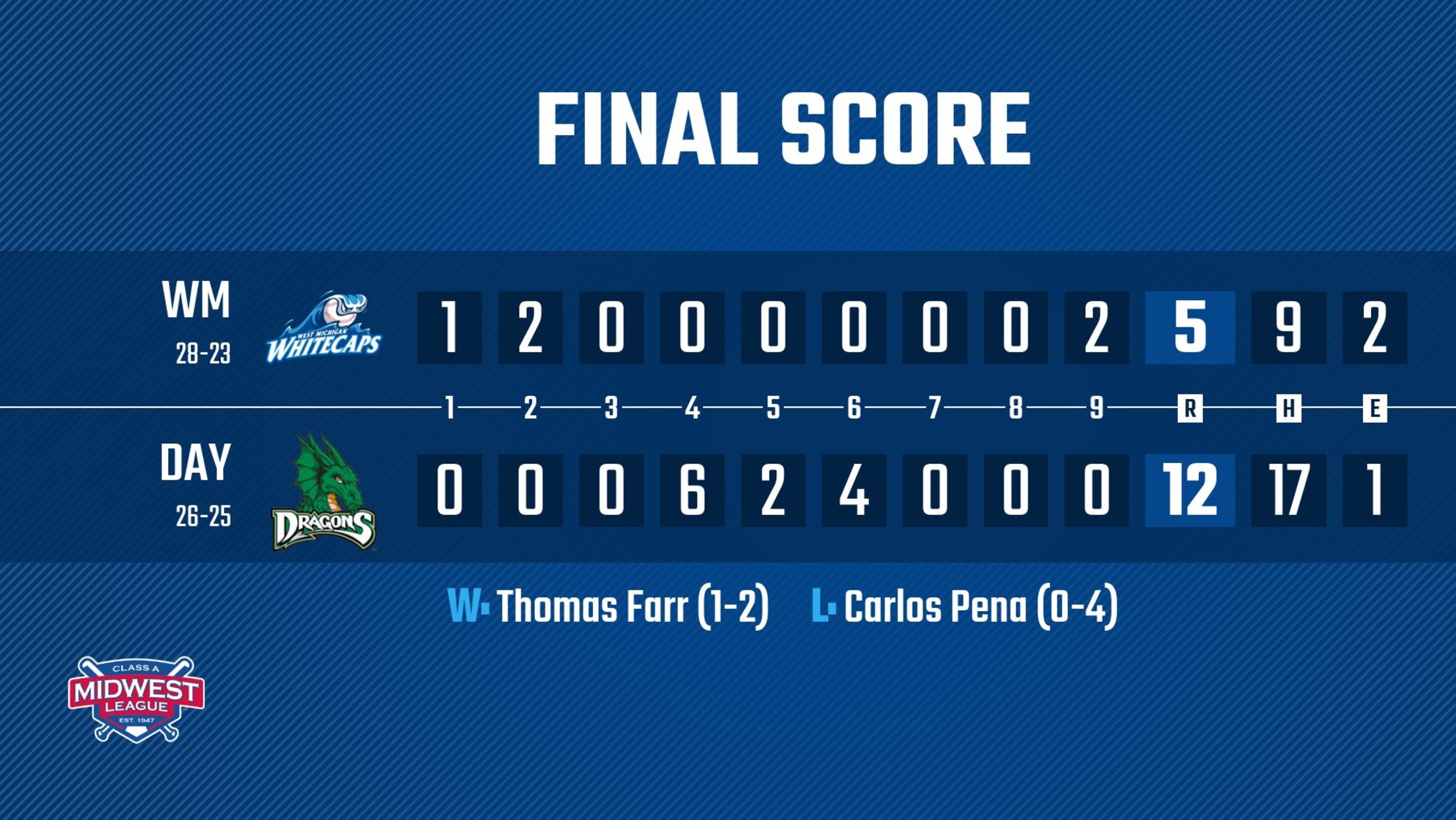 DAYTON, OH – The West Michigan Whitecaps enjoyed a short-and-sweet return to professional baseball for Detroit Tigers Pitcher Tarik Skubal, who tossed two scoreless innings and just 12 pitches before departing and a six-run fourth inning led to a 12-5 loss to the Dayton Dragons on Sunday in front of
DAYTON, OH – The West Michigan Whitecaps enjoyed a short-and-sweet return to professional baseball for Detroit Tigers Pitcher Tarik Skubal, who tossed two scoreless innings and just 12 pitches before departing and a six-run fourth inning led to a 12-5 loss to the Dayton Dragons on Sunday in front of 7,497 fans at Day Air Ballpark.
Skubal, ten months removed from a left forearm injury, began a Major League Rehab Assignment with the Whitecaps on Sunday, running his fastball up to 96mph while striking out Cincinnati Reds prospect Austin Hendrick on three pitches before getting Mat Nelson to ground into an inning-ending double play in the second. The lefty finished his day throwing a handful of pitches in the West Michigan bullpen after completing his scheduled two innings on the mound.
As for the rest of the contest, the 'Caps took a 1-0 advantage into the second before Tigers Top Prospect Jace Jung collected a two-run single to extend the lead to 3-0. Lefty Carlos Pena entered the game beginning the third inning and failed to finish the fourth due to a six-run Dragons attack. Two-run homers by Nelson and Edwin Arroyo highlighted a Dayton surge that sent 11 batters to the plate and turned a three-run Dragons deficit into a three-run lead. In the fifth, Nelson launched another two-run shot, his Midwest League-leading ninth of the season, bringing the Dayton lead to 8-3 before four more runs in the sixth. A Justice Bigbie RBI-single and Brady Allen sacrifice fly in the ninth concluded the scoring in the contest. The blown lead marks the fourth time in this series that West Michigan failed to win a game in which it led. The 'Caps finish their week in Dayton, having lost four of six games.
The Whitecaps fall to 28-23, while the Dragons record heads over the .500 mark at 26-25. Dragons starting pitcher Thomas Farr allowed just three runs in six innings to collect his first win of the season, while Pena (0-4) gave up six runs in 1.1 innings in taking his fourth loss. Jung finished by going 3-for-5 and broke out of a slump from earlier in the week by going 13-for-18 with ten RBI in his last five games to conclude the series.
UP NEXT
The Whitecaps return to LMCU Ballpark for a six-game series against the Wisconsin Timber Rattlers beginning Tuesday at 6:35 pm. Righty Garrett Burhenn gets the start for West Michigan. Broadcast coverage with Dan Hasty begins on the Whitecaps Baseball Network at 6:20 pm. Get your tickets for all 2023 home games now at www.whitecapsbaseball.com.