Whitecaps Hang on, Remain Three Back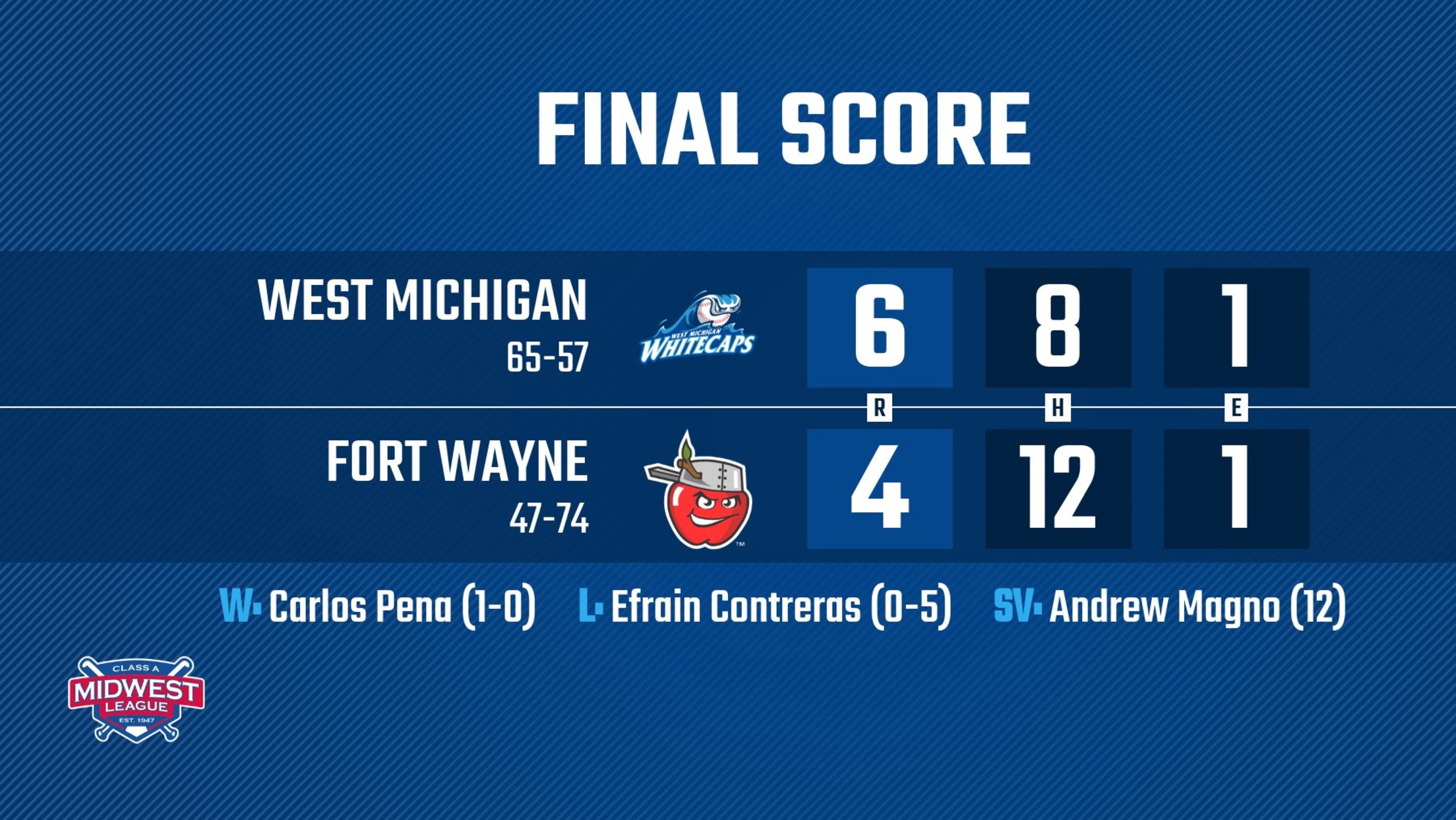 FORT WAYNE, IN - The West Michigan Whitecaps bullpen gave up just two runs over the final six innings as they defeated the Fort Wayne TinCaps on Wednesday night at Parkview Field by a score of 6-4. After starting pitcher Garrett Burhenn tossed just three innings, six pitchers combined to
FORT WAYNE, IN - The West Michigan Whitecaps bullpen gave up just two runs over the final six innings as they defeated the Fort Wayne TinCaps on Wednesday night at Parkview Field by a score of 6-4.
After starting pitcher Garrett Burhenn tossed just three innings, six pitchers combined to strike out ten batters, and Andrew Magno collected his 12th save in relief. The Whitecaps remain three games back of the Midwest League Eastern Division leading Lake County Captains in the second-half playoff standings with ten remaining after Lake County defeated Great Lakes on Wednesday night at Dow Diamond.
The Whitecaps struck first on Wednesday as Jake Holton blasted a run-scoring double in the opening inning to give West Michigan a 1-0 lead. Fort Wayne claimed its only lead in the bottom of the frame as Brandon Valenzuela stroked an RBI-double before a run-scoring single from Agustin Ruiz delivered a go-ahead run-scoring single to give the TinCaps a 2-1 edge. Again, it was a short-lived lead, as Ben Malgeri's RBI-triple led to scoring on an RBI-groundout from Esney Chacon, who scored on a wild pitch to give the Whitecaps a 4-2 lead. In the fourth, infielder Danny Serretti punctuated his 'Caps debut with a two-run double to extend the lead to 6-2. Fort Wayne tallied single runs in the fourth and eighth inning before putting runners on second and third with one out in the ninth. Magno entered the contest and struck out the Tincaps Carlos Luis before issuing a walk to Ruiz to load the bases. Jarryd Dale followed with a game-ending groundout to give West Michigan its second straight win of the series.
Lefty Carlos Pena (1-0) picks up his first win with West Michigan, while Fort Wayne starter Efrain Contreras (0-5) suffers his fifth loss. Chacon, Serretti, Holton, and Malgeri collected two hits apiece, while reliever Tim Holdgrafer, Gabe Sequeira, Blake Holub, and Jack Anderson were all credited with holds in relief. The 'Caps improve 65-57 and 34-22 overall, while the TinCaps fall to 20-35 in the second half and 47-74 overall.
UP NEXT
The Whitecaps continue this six-game series from Parkview Field against the Fort Wayne TinCaps on Thursday at 7:05 pm. Righties Keider Montero and Ryan Bergert get the starts for West Michigan and Fort Wayne. Broadcast coverage with Dan Hasty starts on the Whitecaps Baseball Network at 6:50 pm. Get your tickets for all 2022 home games now at www.whitecapsbaseball.com.