Whitecaps Shut the Door in 3-2 Win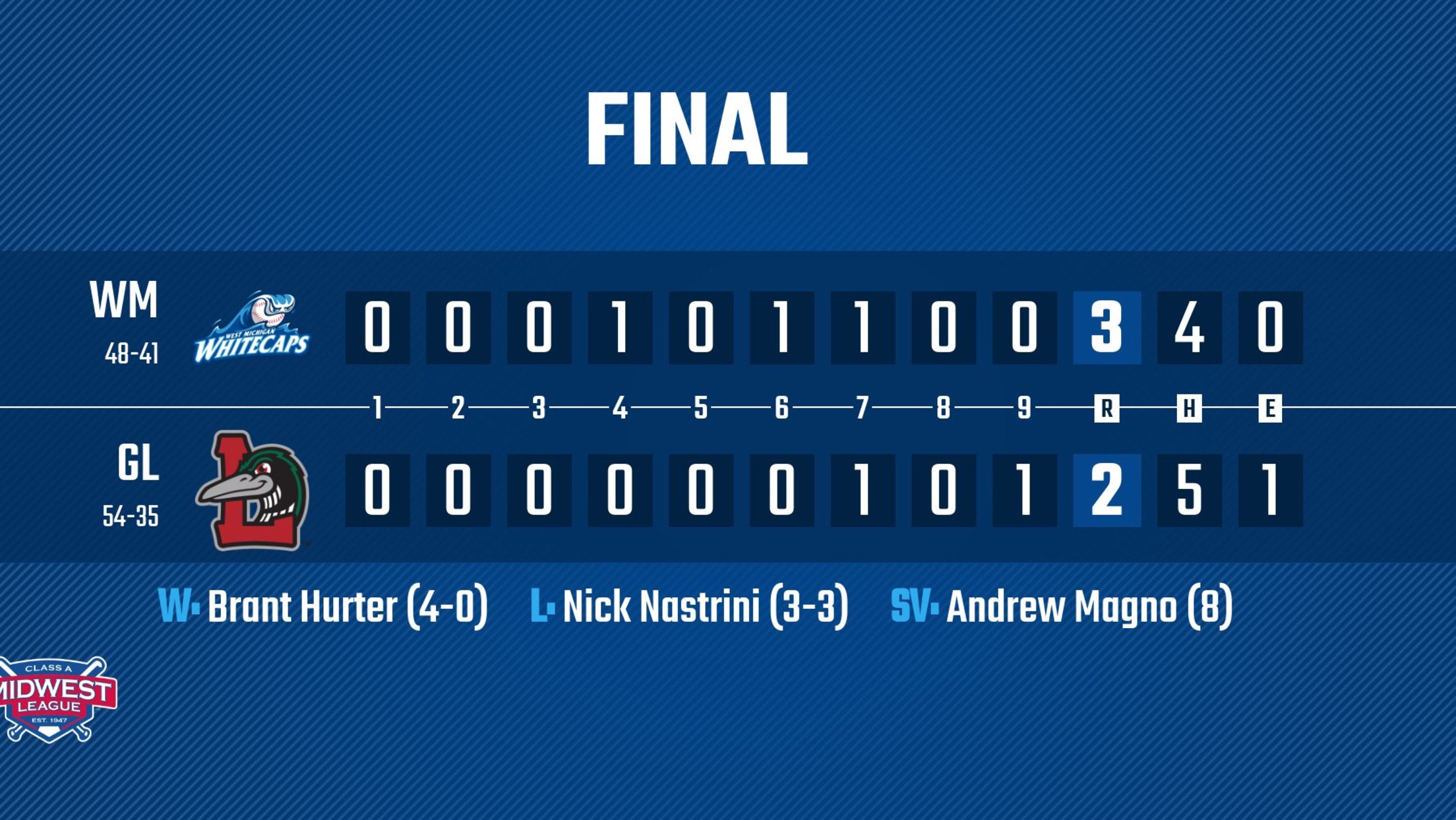 MIDLAND, MI – Brant Hurter tossed five scoreless innings, and the West Michigan Whitecaps bullpen made it stand as part of a 3-2 victory over the Great Lakes Loons on Saturday in front of 4,636 fans at Dow Diamond. Hurter, a Detroit Tigers Top-30 Prospect, dominated with five frames without
MIDLAND, MI – Brant Hurter tossed five scoreless innings, and the West Michigan Whitecaps bullpen made it stand as part of a 3-2 victory over the Great Lakes Loons on Saturday in front of 4,636 fans at Dow Diamond.
Hurter, a Detroit Tigers Top-30 Prospect, dominated with five frames without allowing a run while giving up just one hit and one walk and tying his Whitecaps season-high with seven strikeouts. Pitchers RJ Petit, Jared Tobey, Dario Gardea, and Andrew Magno tossed the final four frames to get the ''Caps a closely contested victory.
The game began as a pitcher's duel, as both starters in lefty Brant Hurter and righty Nick Nastrini for West Michigan and Great Lakes tossed three scoreless frames before the ''Caps got on the board in the fourth. Josh Crouch blasted his sixth home run of the season – a solo shot recorded at 384 feet to give West Michigan a 1-0 lead. A wild pitch by Nastrini in the sixth allowed Corey Joyce to score, extending the Whitecaps lead to 2-0. Jose King added a run-scoring double in the seventh to increase the lead to 3-0. The Loons stranded runners at the corners in the sixth as reliever RJ Petit struck out Alex De Jesus to end the threat, and righty Dario Gardea escaped a bases-loaded one-out jam in the seventh by only allowing one run. In the ninth, Magno allowed a one-out, RBI-double to Imanol Vargas to bring the Loons within a run but struck out Harold Restituyo and Kekai Rios to finish the contest and give West Michigan its third win of the season in five games at Dow Diamond this season.
Hurter (4-0) earns his fourth victory as a Whitecap, while Loons pitcher Nick Nastrini (3-3) takes the tough-luck loss despite giving up just two runs in six innings. Magno earned his eighth save of the season and improved to a perfect 8-for-8 in save opportunities this season. The Whitecaps improve to 48-41 and 17-6 in the second half. The Loons fall to 54-35 and 14-9 in the second half. Infielder Ryan Kreidler, the Detroit Tigers No. 6 Prospect by MLB Pipeline, joined the club before the contest as part of a minor league rehab assignment on Friday but did not play on Saturday as part of a scheduled off-day.
UP NEXT
The Whitecaps finish this three-game series at Dow Diamond with a Sunday matinee against the Great Lakes Loons at 1:05 pm. Southpaw Jack O'Loughlin gets the start on the mound for West Michigan against hard-throwing Loons righty Carlos Duran. Broadcast coverage with Dan Hasty starts on the Whitecaps Baseball Network at 12:50 pm. Get your tickets for all 2022 home games now at www.whitecapsbaseball.com.