Dash score franchise-record 19 runs in win over Frederick
Winston-Salem collects season-high 20 hits; Battenfield earns win in High-A debut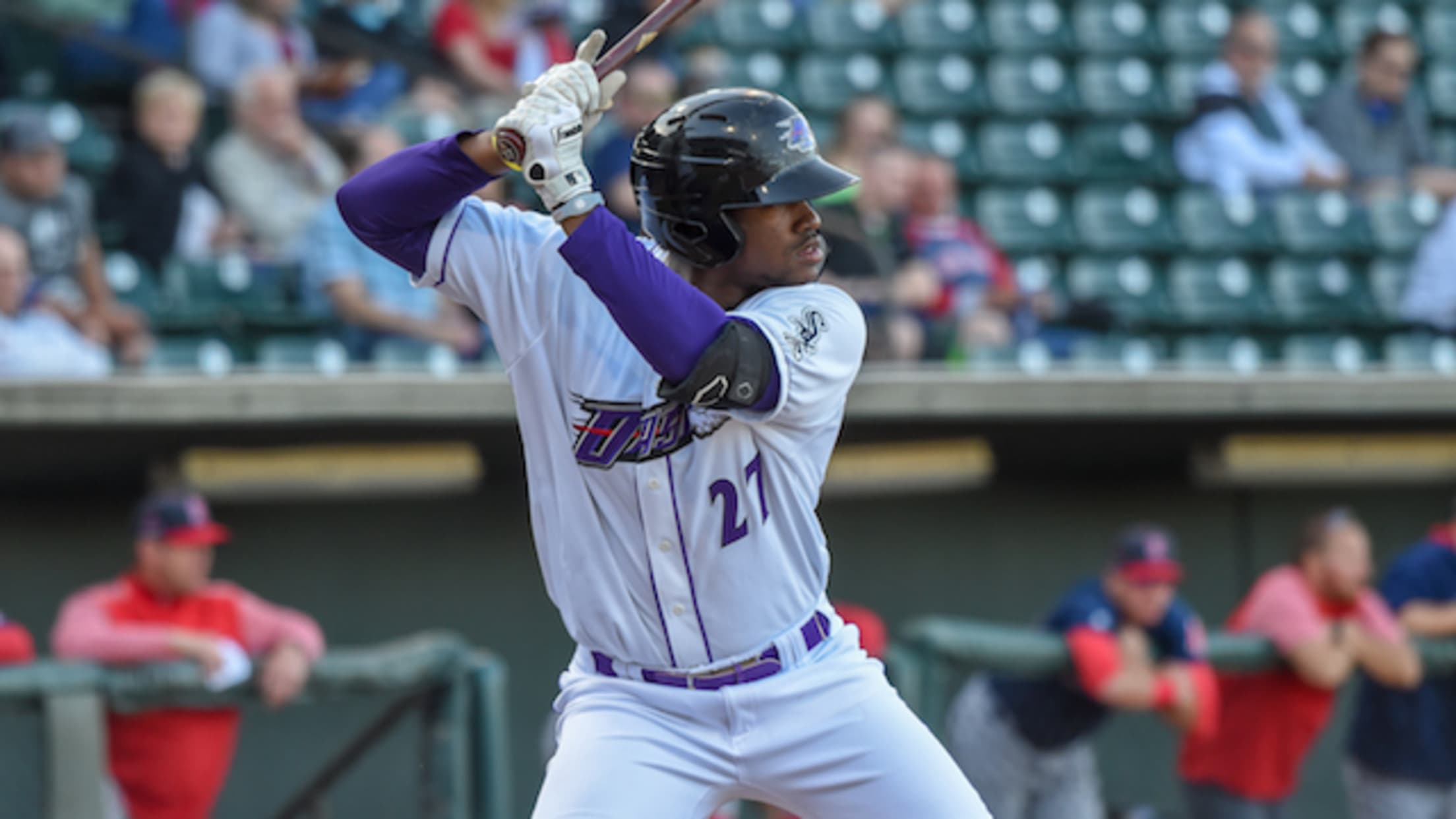 Micker Adolfo delivered a bases-clearing double in the sixth inning to help the Dash beat Frederick 19-2. (Robert Hill/Winston-Salem Dash)
FREDERICK, Md. (June 25, 2018) - Behind a franchise-record 19 runs on a season-high 20 hits, the Dash dominated Frederick in a 19-2 win at Nymeo Field on Monday. Winston-Salem (4-1, 45-30) exploded for nine runs on seven hits in the ninth inning to reach the two historic totals. In that frame, Laz
FREDERICK, Md. (June 25, 2018) - Behind a franchise-record 19 runs on a season-high 20 hits, the Dash dominated Frederick in a 19-2 win at Nymeo Field on Monday.
Winston-Salem (4-1, 45-30) exploded for nine runs on seven hits in the ninth inning to reach the two historic totals. In that frame, Laz Rivera blasted his first career High-A home run and collected his career-high fifth hit of the night, Yeyson Yrizarri hit a grand slam, and Micker Adolfo smacked an RBI single to tally his fourth RBI of the contest.
The Dash, however, were held scoreless through the first four innings by Frederick (1-4, 36-38) right-hander Lucas Humpal (2-7), stranding five runners on base - including two in scoring position - in that span.
Meanwhile, right-hander Blake Battenfield (1-0), who made his High-A debut on Monday, retired the first nine Keys batters he faced. Battenfield did not allow a baserunner until the fourth inning, and allowed just two hits through his first six innings.
Winston-Salem's offense broke through in the fifth. After Rivera singled, Luis González reached on catcher's interference to put runners on first and second with nobody out. Then, following a sacrifice bunt from Luis Robert, Blake Rutherford slashed a double into the left-center field gap to bring home two runs. The two RBIs bring Rutherford's total to 50 this season, which ranks third in the Carolina League. Rutherford later scored on a sacrifice fly from Gavin Sheets to make it a 3-0 game.
Sheets finished the contest 1-for-4 with an RBI, extending his hitting streak to nine games.
The Dash doubled their lead in the next inning. First, Rivera smacked a one-out double and moved to third on a single from Gonzalez. Then, after Robert was hit by a pitch to load the bases, Adolfo banged a bases-clearing, two-out double off the right-field fence to extend Winston-Salem's lead to 6-0. Adolfo ended the night 3-for-4 with four RBIs and two walks.
The offensive barrage continued in the seventh. After back-to-back one-out walks to Yrizarri and Nate Nolan and a single from Rivera loaded the bases with one out, Yrizarri scored on a wild pitch. Then, Gonzalez laced an RBI double off the fence in right-field to plate Nolan for the second run of the inning. An RBI groundout from Robert and a throwing error from Keys third baseman Jomar Reyes brought home two more runs to give the Dash at 10-0 advantage.
Gonzalez tied a career-high with three hits in his 3-for-6 performance, and also tied a career-high with four runs scored.
The Keys plated their lone runs of the game in the bottom of the seventh inning. After retiring six consecutive batters - including three with strikeouts - between the fifth and sixth innings, Battenfield allowed a leadoff double to Preston Palmiero in the seventh. Two batters later, Randolph Gassaway hit a two-run homer to left field to make it a 10-2 contest. Battenfield rebounded to retire the next two batters, recording his sixth strikeout in the process.
Battenfield tied a career-high with eight innings pitched, allowing two runs on four hits in his High-A debut. The right-hander struck out seven and walked two on 103 pitches (67 strikes) to earn a win.
Leading 10-2 in the top of the ninth, the Dash opened the floodgates, sending 12 batters to the plate in the inning. Nine of the first 10 hitters reached base and scored. First, Rivera pulled a double down the left field line - his second double of the night - to lead off the inning. After Gonzalez singled, Zach Remillard, who replaced Robert in the outfield in the seventh inning, drove a double over T.J. Nichting's head in right-field to bring home Rivera. Two batters later, Adolfo singled through the right side to plate Gonzalez.
After Gavin Sheets walked following a pitching change, Ti'Quan Forbes joined the hit parade with an RBI single through the left side of the infield. Next, batting with the bases loaded, Yrizarri launched a 1-1 pitch from Isaac Silva over the left-field fence for a grand slam home run, widening the Dash lead to 17-2. Then, after Nate Nolan walked, Rivera served a two-run homer over the left-center field fence to cap the Dash's scoring.
Rivera finished the game 5-for-5 with two doubles, a home run, two RBIs and five runs scored. His five hits and five runs scored are both new career-highs. His five hits also tie a Dash single-game record, most recently accomplished by former Dash outfielder Eloy Jiménez on July 23, 2017, against Salem.
The Dash's nine-run inning ties a Dash record for most runs in a single frame. The Dash last scored nine runs in an inning on May 7, 2015, at Frederick in a 14-2, seven-inning victory.
The 19 runs establish a new single-game record for runs scored in the Dash era (2009-present), topping the previous mark of 18, set on July 1, 2016, in an 18-5 win at Wilmington. The Dash's 20 hits are a new season-high, overtaking the previous high of 19, set on May 8, 2018, at Salem in a 10-8 win.
Winston-Salem's series against Frederick continues on Tuesday, when left-hander Tanner Banks (7-2, 2.71 ERA) toes the rubber against Keys southpaw Zac Lowther (3-0, 0.44 ERA). Pregame coverage begins at 6:45 p.m., and fans can catch all of the action on wsdash.com/broadcast and the TuneIn Radio App.
Following their nine-game road trip, the Dash will return for a five-game homestand starting on July 4th. The festivities for the Fourth of July will feature a pregame party beginning at 4:30 p.m., which includes an open Foothills Brewpen, $5 Kids Zone entry and the band Stereo Dolls performing on the patio. Winston-Salem's contest against the Down East Wood Ducks that day will begin at 6:3- p.m., and fireworks will follow after the game. For tickets and more information, give us a call at (336) 714-2287 or visit wsdash.com.