Frosty Microbrews: Archer & Davis Get First Taste of Winter Ball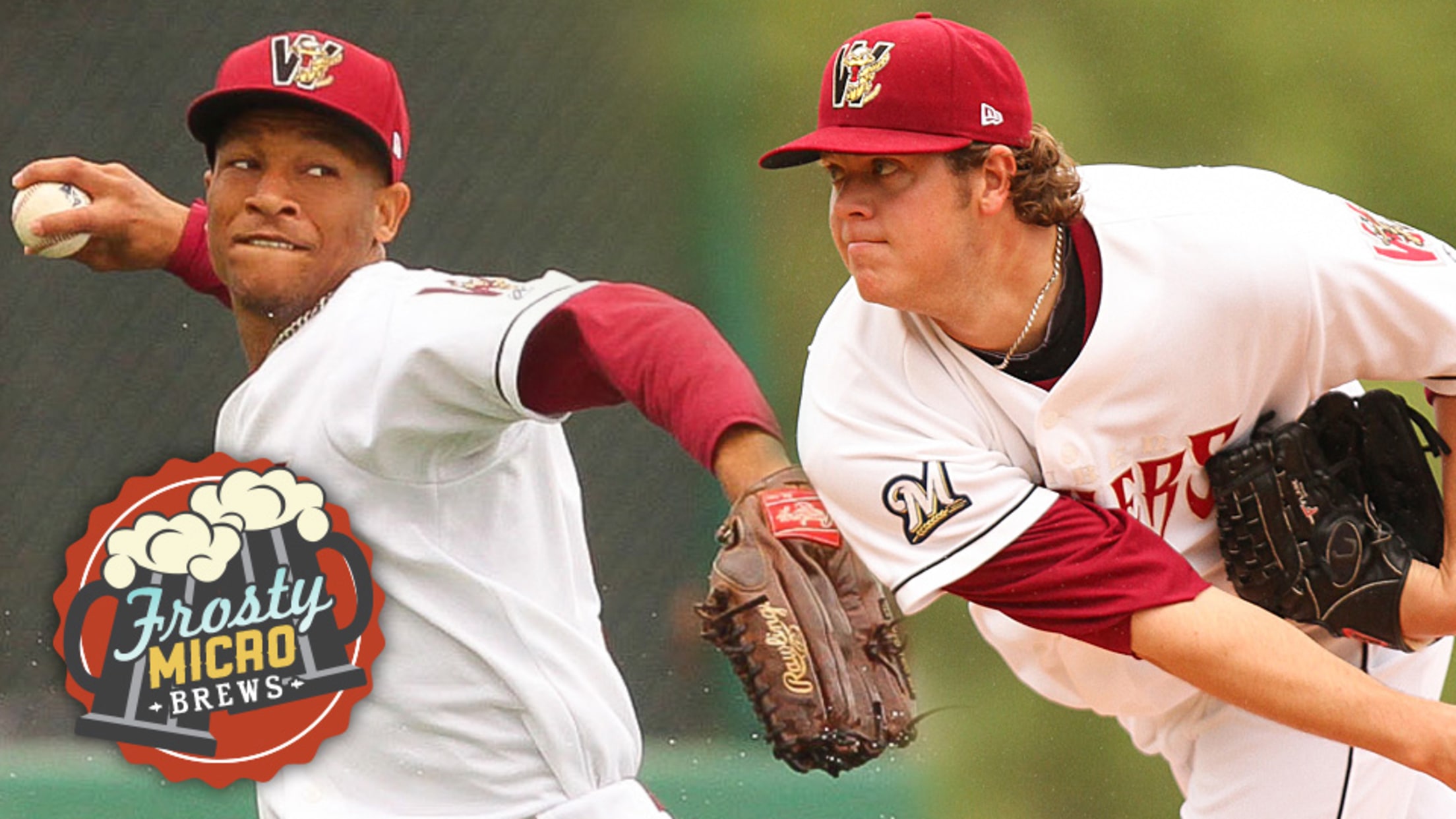 While baseball diamonds across North America slumber away under a blanket of snow, games continue in tropical climates in the Caribbean and beyond. This winter players with ties to the Timber Rattlers are participating in leagues in the Dominican Republic, Venezuela, Mexico and Puerto Rico.One of the players experiencing winter
While baseball diamonds across North America slumber away under a blanket of snow, games continue in tropical climates in the Caribbean and beyond. This winter players with ties to the Timber Rattlers are participating in leagues in the Dominican Republic, Venezuela, Mexico and Puerto Rico.
One of the players experiencing winter ball for the first time was pitcher and 2014 Timber Rattler Tristan Archer, who spent portions of November and December with Escogido in the Dominican Republic. Archer made 12 relief appearances for the Leones and allowed just two earned runs in 14 1/3 innings, walking two batters and striking out 13.
"I just tried to do what I've always done: stay in and around the zone," Archer said. "Think of it as just normal baseball, like I've done the rest of my life. I think that's always been something that's helped with my success over the years, just try not to look at the outside, focus on what I've done for however many years I've been throwing a baseball."
For Archer the trip south for the winter was over a year in the making. 2017's success was his second attempt to get signed to play winter ball.
"In the offseason before this one, very late in the 2016 season, that was the first time I'd heard very much about winter ball and I was trying to get my agent on it. But I think we tried to start a little late so there wasn't much open," Archer said. "So this year he started pretty early and I don't know exactly how he found it but it ended up working out pretty good. I found out pretty early that I was going to be able to play."
Archer had never been to the Dominican before joining his teammates there in November. He said he talked to teammates and coaches about what to expect, but the experience still exceeded his expectations.
"I talked to a lot of people but you hear it all and it definitely doesn't compare to when you actually get down there and get in the games," Archer said.
For many players experiencing winter ball for the first time, one of the biggest surprises is the environment. Escogido's home stadium, Estadio Quisqueya, holds over 14,000 fans. One of Archer's college coaches came to a game and compared the environment to an SEC football game.
"It's like nothing I've been in in the States, that's for sure," Archer said. "It's loud, the fans are…every single person there is into the game. And it's nonstop yelling, and you've got the…I don't even know what you call those things, the blow-up sticks that make the loud noise (Thundersticks)."
Archer received an immediate introduction to the new environment on his first day in the Dominican.
"I remember my first experience, we were in, Aguilas I believe is in Santiago (Estadio Cibao), they had those vuvuzuela horns that they have in some of those soccer matches, and I heard that sound the entire game. You couldn't talk to the person next to you," Archer said.
Archer was with Escogido when they qualified for postseason play, but returned home before the playoffs started. He said he's been keeping track of his former teammates via box scores.
"I think that (the month in the Dominican) is kind of what I wanted," Archer said. "They'd asked me about playing in the playoffs and I spoke with the pitching coordinator with the Brewers (Rick Tomlin) and we kind of came to the conclusion that it would probably be for the best if I went home, took a week or two off of throwing and then got back into it after that."
Further south, outfielder and 2014 Timber Rattler Johnny Davis was also experiencing winter ball for the first time in Venezuela. He had to wait longer than expected to get his season underway with Bravos de Margarita, but played in 14 games in December.
"I was supposed to go down to Venezuela at the beginning of the season, but me and Caribes couldn't come together on a deal so it didn't happen," Davis said. "Then in late November I received a call from Bravos de Margarita and my agent talked to them, we knocked out a deal and they got me out there at the end of November."
The trip to Venezuela was Davis' first time traveling outside the United States, and he described the experience as "crazy."
"It was humbling to see how the people there were living, to see people struggling like that," Davis said. I had never been outside the country, but you see how good you have it here: I grew up not with many things, but some people had way less than I ever had."
Like Archer, Davis got a taste of life in winter ball right away on his first day with his new teammates.
"Our manager, he was funny. Probably one of the best memories I had during the games was he scared me, because I wasn't active yet, I was on my first day there and I had my turfs (turf shoes) on, and he came to me with a serious face and he was like, 'Hey, you're next. You're batting next,' like he was pinch hitting me. And I was like 'wait, what?' I looked at him with a shocked face, and then everybody was looking at me like crazy, like 'Why do you have your turfs on?' Then they all started busting up laughing and said 'we're just kidding, you're not active yet.' And I had no idea. So that was one of the good memories," Davis said.
Davis credited regular season teammate Nathan Orf, who also played in Venezuela this winter, for helping him prepare for what to expect when he arrived. He also said he had the opportunity to see a lot of off-speed pitches during his time in winter ball, which will help him going forward.
"The pitchers throw slow over there, honestly," Davis said. "They don't throw very hard but they know how to pitch and they throw a lot of offspeed. Over here you see more fastball, more guys attacking with the fastball. Over there there's a lot of offspeed because they can't beat you with their fastball."
Davis also noticed a slower pace of play overall.
"It's slower over there. The games take three or four hours. Everybody milks their walkup songs. I don't know. The game, just the tempo, is different," Davis said. "But the competition wasn't bad. All the guys that were playing the field for the most part were AA, AAA, big league guys. A lot of guys play in the States, a lot of them played in the States before and had big league time but they're not playing in the big leagues anymore and they're playing over there for their country, so the competition isn't bad."
Similarly, Archer noticed the quality of hitters playing winter ball.
"There are definitely a lot of good hitters down there. I also faced guys that I've faced coming up in the minor leagues, and there's definitely older guys that you've heard about and watched play in the big leagues, and now they're playing down there, which is kind of cool too," Archer said.
Neither Archer nor Davis spoke much Spanish before heading off to winter ball but both quickly picked up some priority words.
"My Spanish going into it was pretty terrible, and it showed early. But I picked up mostly just the casual 'hello, how are you,' and then ordering the food was the most important thing I probably learned. How to ask for it to go, how to get it cooked well done. So that was kind of a big thing I learned," Archer said.
"I can order food. I can order some food, I do good with that," Davis said.
Now that they're back home Archer and Davis have both started preparations for the 2018 season. Archer said he thinks his winter ball experience will put him in a good position to succeed in the spring.
"I think it's going to help with where my arm's at going into spring training. I think I'll be a lot further along than I usually am, getting those extra reps in," Archer said.
For Davis, time spent in winter ball shortened the window of time where he can get stronger before the 2018 season.
"I have to crush it. I have to get going. My lifting plan has to be pretty intense over the next four weeks, at least, I've got to crush it so I can get strong to last through the whole season," Davis said.
Davis also came back from Venezuela with a new skill and a new goal for 2018.
"I want to steal 100 bags. I'm not even kidding. I'm stealing 80 to 100 this year guaranteed. That's one thing I learned: I picked up how to steal third base while I was in Venezuela. It's go time now," Davis said.