Movie Nights at the Ballpark Presented by Fox Communities Credit Union
Movie and Fireworks Shows on June 26 and 27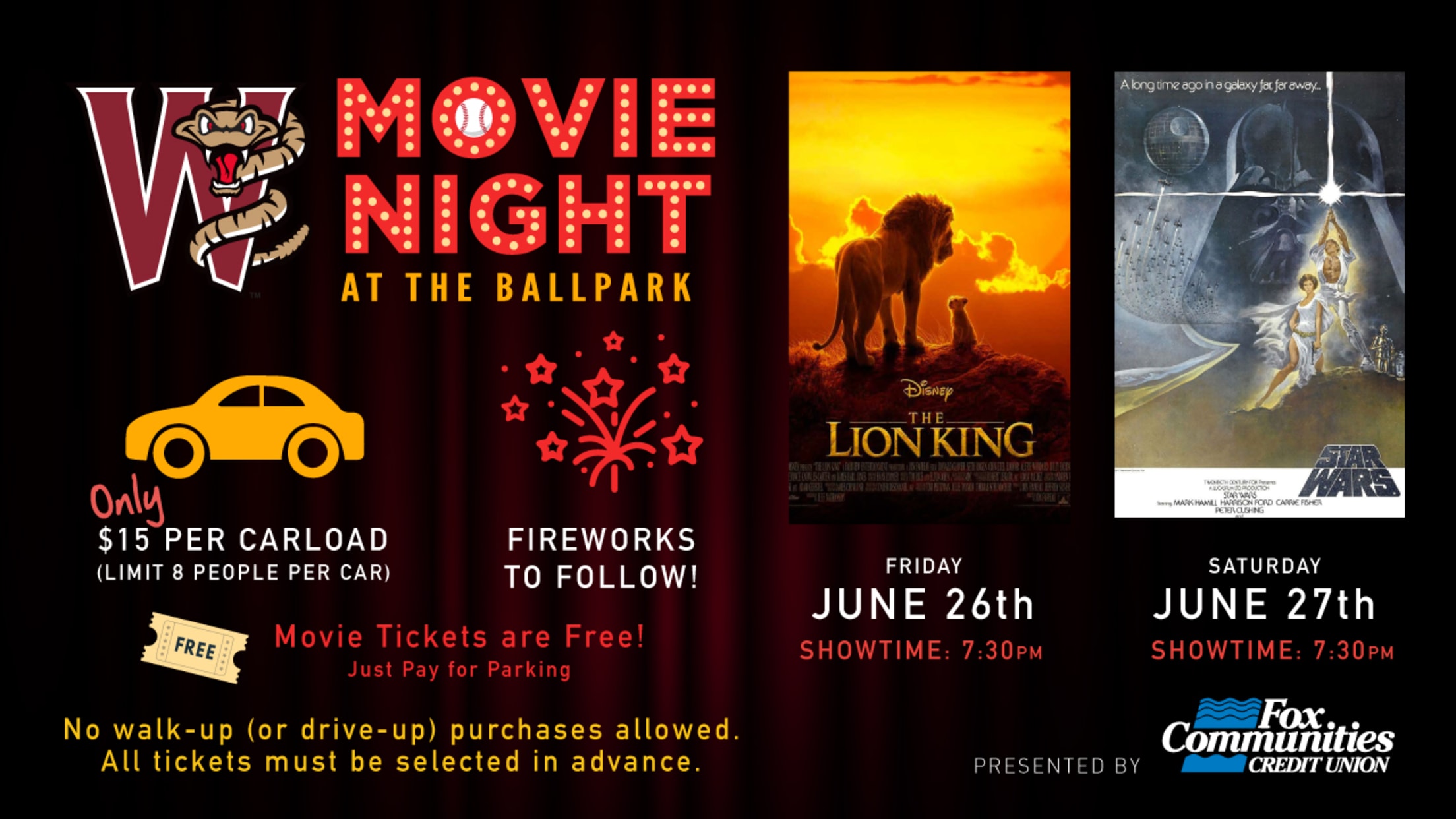 GRAND CHUTE, WI – The Wisconsin Timber Rattlers are pleased to announce a summer partnership with Fox Communities Credit Union to bring family entertainment to the area in a safe and socially distanced manner. The first events in this partnership will take place on Friday, June 26 and Saturday, June
GRAND CHUTE, WI – The Wisconsin Timber Rattlers are pleased to announce a summer partnership with Fox Communities Credit Union to bring family entertainment to the area in a safe and socially distanced manner. The first events in this partnership will take place on Friday, June 26 and Saturday, June 27. Both nights will feature a blockbuster movie followed by a fireworks show. Tickets to the movie nights are free of charge, but there is a $15 parking/carload fee. The parking pass along with the desired number of complimentary tickets, limit of eight tickets per car, must be purchased in advance.
"The staff and members at Fox Communities Credit Union have been asking for fun, but safe things to do with their kids, and the first place we thought of was the Timber Rattlers," said Lynn Marie Hopfensperger, Community Development Officer. "The stadium offers something for everyone, and it is large enough to have social distancing, and who doesn't like free cookies!"
In a special partnership with the Girl Scouts of America, each carload on June 26 will receive a box of Girl Scout cookies. Girl Scouts will also be present at the ballpark selling their famous cookies if additional boxes are desired.
The Lion King_, the live-action version from 2019, will be the movie shown on June 26 while _Star Wars: A New Hope will be the movie on June 27. Fireworks will follow the movie on both nights.
"We are excited to begin to provide summer entertainment to the community in a safe and healthy manner and we could not be doing this without our great relationship and partnership with Fox Communities Credit Union," said Timber Rattlers President, Rob Zerjav. "These two movie nights are just the beginning of a larger summer plan and we look forward to unveiling that in the coming weeks."
All tickets to the movie nights must be purchased in advance and can be done through the Timber Rattlers website at www.timberrattlers.com or by calling the Timber Rattlers box office at (920) 733-4152 during normal business hours. Direct links to the movie night pages can be found through this link for June 26 or this link for June 27. There is a limited capacity for each night and parties will be seated a minimum of six feet apart to follow social distancing guidelines. Additional details on the Timber Rattlers Smart Start Safety Plan can be found at this link on the team's website.
The ticket office will email the parking pass and movie tickets after purchase. Please print both the parking pass and the tickets as both will be needed to access the parking lot and stadium on the night of the movie.
There will be no walk-up (or drive-up) purchases allowed on June 26 or June 27. All tickets must be selected in advance.
The parking lot will open at 5:30 pm while the gates to Neuroscience Group Field at Fox Cities Stadium will open at 6:30pm with a movie show time of 7:30pm each night. Concessions will be available and carry-ins will not be permitted on both nights.