T-Rat Talk: Kaleb Bowman
From Boone to Regensburg and Back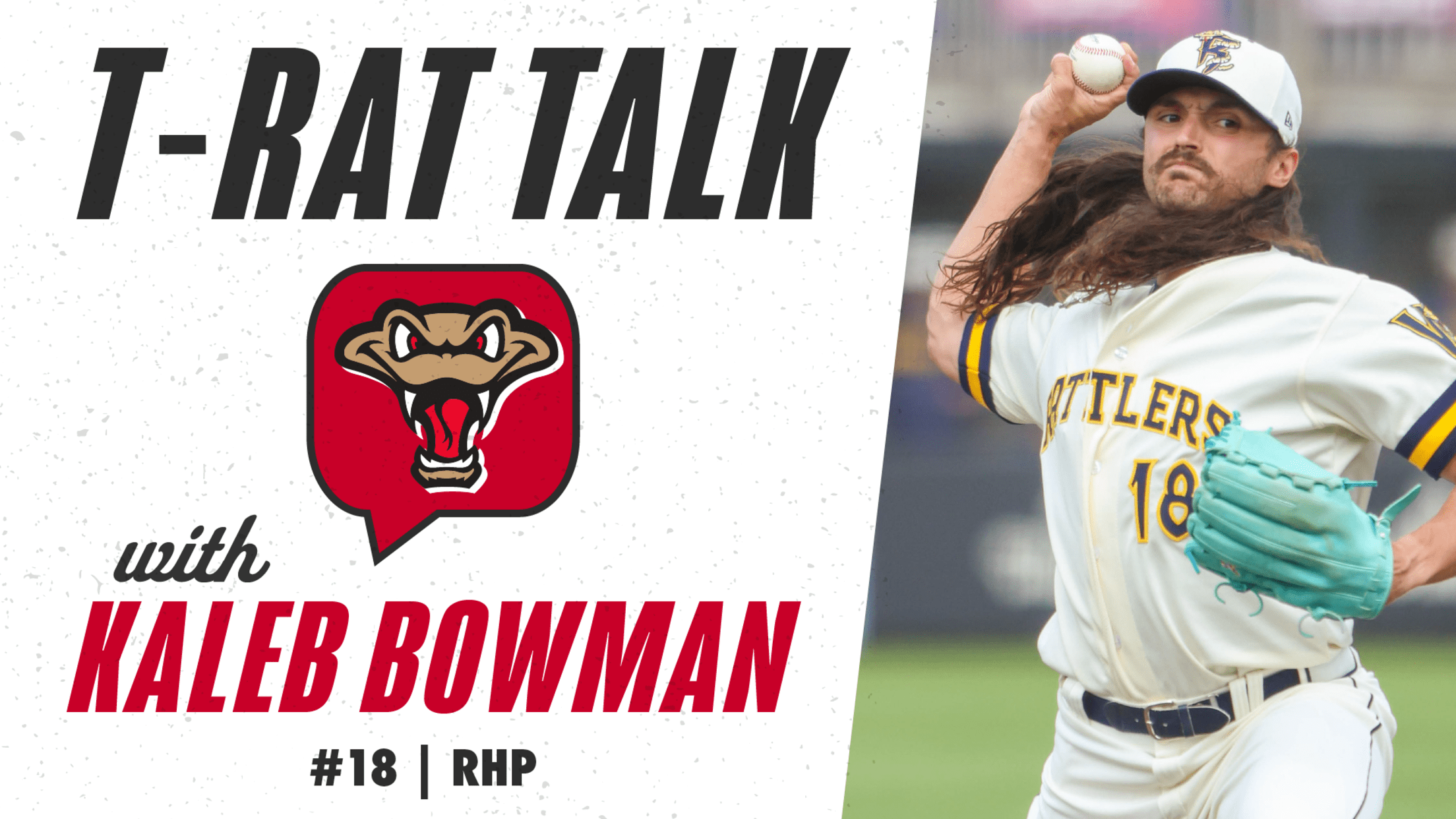 Kyle Lobner's latest T-Rat Talk is with pitcher Kaleb Bowman. Learn about Bowman's baseball travels that have taken him around the world, his connections to former Timber Rattlers, how pitching coach Drew Thomas knew Bowman before he came to the Brewers organization, and the story behind his long hair.
Kyle Lobner's latest T-Rat Talk is with pitcher Kaleb Bowman. Learn about Bowman's baseball travels that have taken him around the world, his connections to former Timber Rattlers, how pitching coach Drew Thomas knew Bowman before he came to the Brewers organization, and the story behind his long hair.
It's not usually a short trip from Boone, North Carolina's Appalachian State University to Wisconsin, but Timber Rattlers reliever Kaleb "Bo" Bowman took the long way. He pitched 52 games in relief for the Mountaineers across his final two college seasons and recorded four saves in his senior campaign, when he posted a 3.05 ERA and 52 strikeouts in 62 innings. The MLB Draft came and went without his name being called, however, so his career was at a crossroads.
"I knew some guys that played overseas, so I reached out to this website called Baseball Jobs Overseas and made a profile," Bowman said. "Those guys are great with international recruiting. There's baseball all over the world that people don't know about. There are semi-pro leagues, things like that, and there are some leagues that are considered professional, but it's a cool way to get into it if you want to extend your career. A lot of guys do it after their affiliated career, but since I didn't get an opportunity to do that right after college I went straight into it."
Bowman's professional career started in Canada and continued to Australia before he eventually settled in Germany, where he pitched two seasons for Guggenberger Legionäre, a team in Regensburg. He pitched in 23 games there, including eleven starts, and had a 1.30 ERA.
"The biggest thing that I would say from going overseas, the difference in mindset is that I never fell out of love with the game, but it made me fall more in love with the game, how much they appreciate it," Bowman said. "These guys work 9-to-5 jobs, then they play on Friday and Saturday or Saturday and Sunday. They do it because they absolutely love the game. They get paid absolutely nothing. And it made me really appreciate the game more than what we kind of take for granted over here in the States. It is our job over here and I absolutely love that, but to see how much these guys love the game to play it for free, but at a very high level still, it really made me fall in love with the game even more."
Bowman didn't speak any German before moving overseas, and says he still has an easier time understanding others than speaking the language himself. Nonetheless, he made lifelong friends who continue to root for him from afar.
"Some of those guys are some of my best friends now. They're awesome. A couple of Americans were also on my team, so we stay in touch. But they're all cheering me on, they've sent me some care packages. I actually have some good friends that work for certain brands out there that I use for some of my gear over here, but great guys over there and they just mean so well," Bowman said.
After two years in Germany, however, Bowman got his first professional opportunities back in the United States. In 2022 he made six appearances for the Atlantic League's Gastonia Honey Hunters, where his teammates included 2014 Timber Rattlers outfielder Johnny Davis and 2016 Timber Rattlers pitcher Quintin Torres-Costa. Bowman struck out ten opposing batters without surrendering a walk in six outings for Gastonia, and affiliated baseball came calling: The Brewers signed Bowman as a free agent and assigned him to Wisconsin to open the 2023 season, where he made his affiliated professional debut and recorded his first professional save on April 7.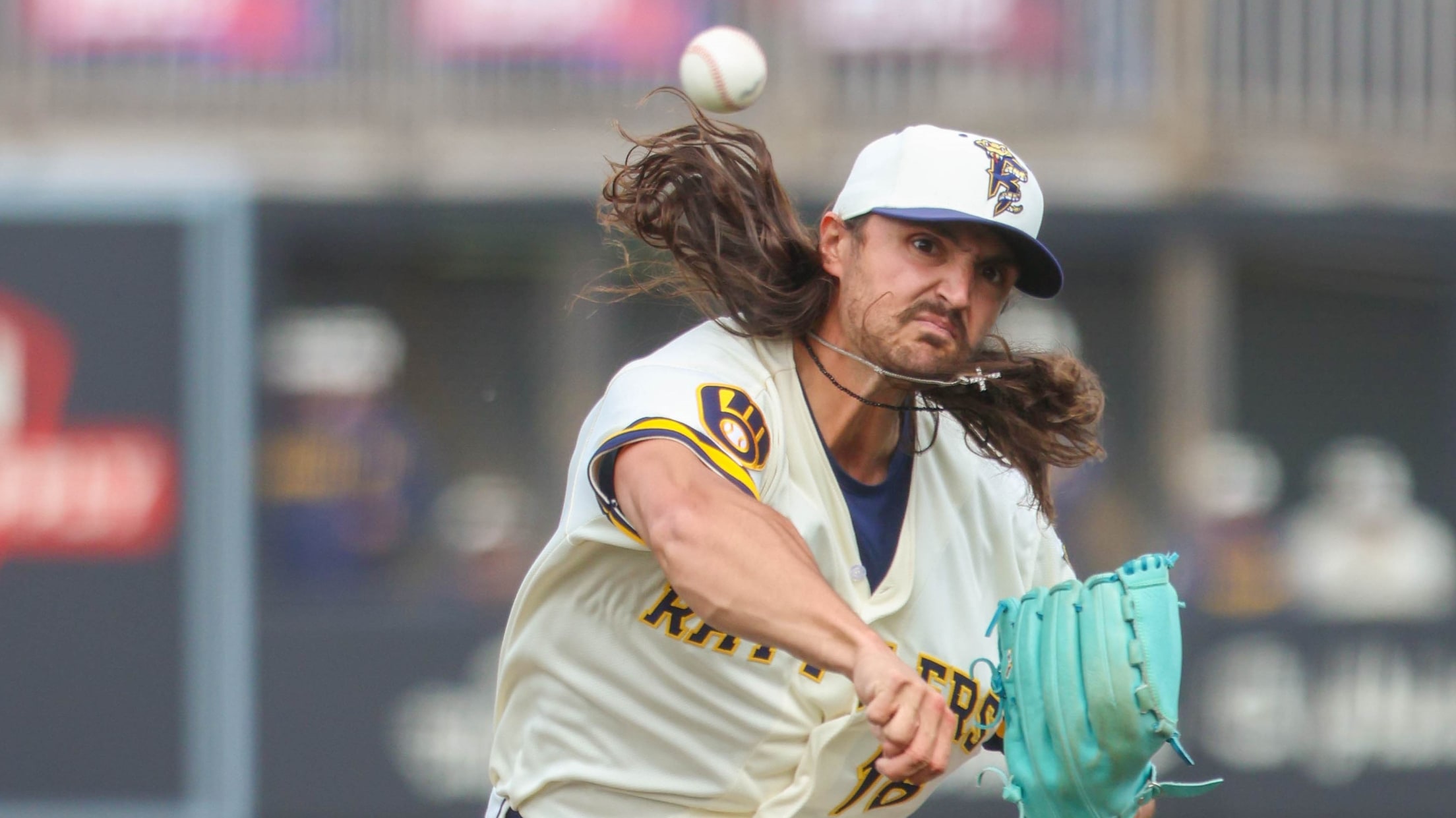 "I'm so blessed. It's been a crazy journey so far, but I couldn't be more thankful for the Brewers, (Brewers scout) Bryan Gale and everyone else that's kind of just poured into me to be able to get to this point even though I'm 25. It's just such a blessing to be here, but all in all, it's going great. The team is great, the coaches are great and everything's been so good to start the year," Bowman said.
Baseball is a small world sometimes, and it turned out that Bowman's first pitching coach in affiliated baseball was an old rival. New Timber Rattlers coach Drew Thomas was the pitching coach at Coastal Carolina while Bowman was pitching at Appalachian State, so the two met in several Sun Belt games across two years. Thomas said he recommended Bowman to scouts as a possible free agent signing, but didn't know Bowman was still active in the game until the two crossed paths at American Family Fields of Phoenix.
"He shows up in spring training and I was like, 'I know that guy!' And so I introduced myself to him and we kind of laughed a little bit. It's nice to have him around," Thomas said.
Across his first eleven appearances with Wisconsin Bowman has a 1.80 ERA with eleven strikeouts in ten innings. He's recorded a save in more than half of the Timber Rattlers' wins on the season and, in a key statistic for a late inning reliever, he's retired the first batter he's faced in all but two of his outings.
"He's the same guy every day. That's the best thing about him. You've got to have a short memory as a reliever, and he's had that since college," Thomas said.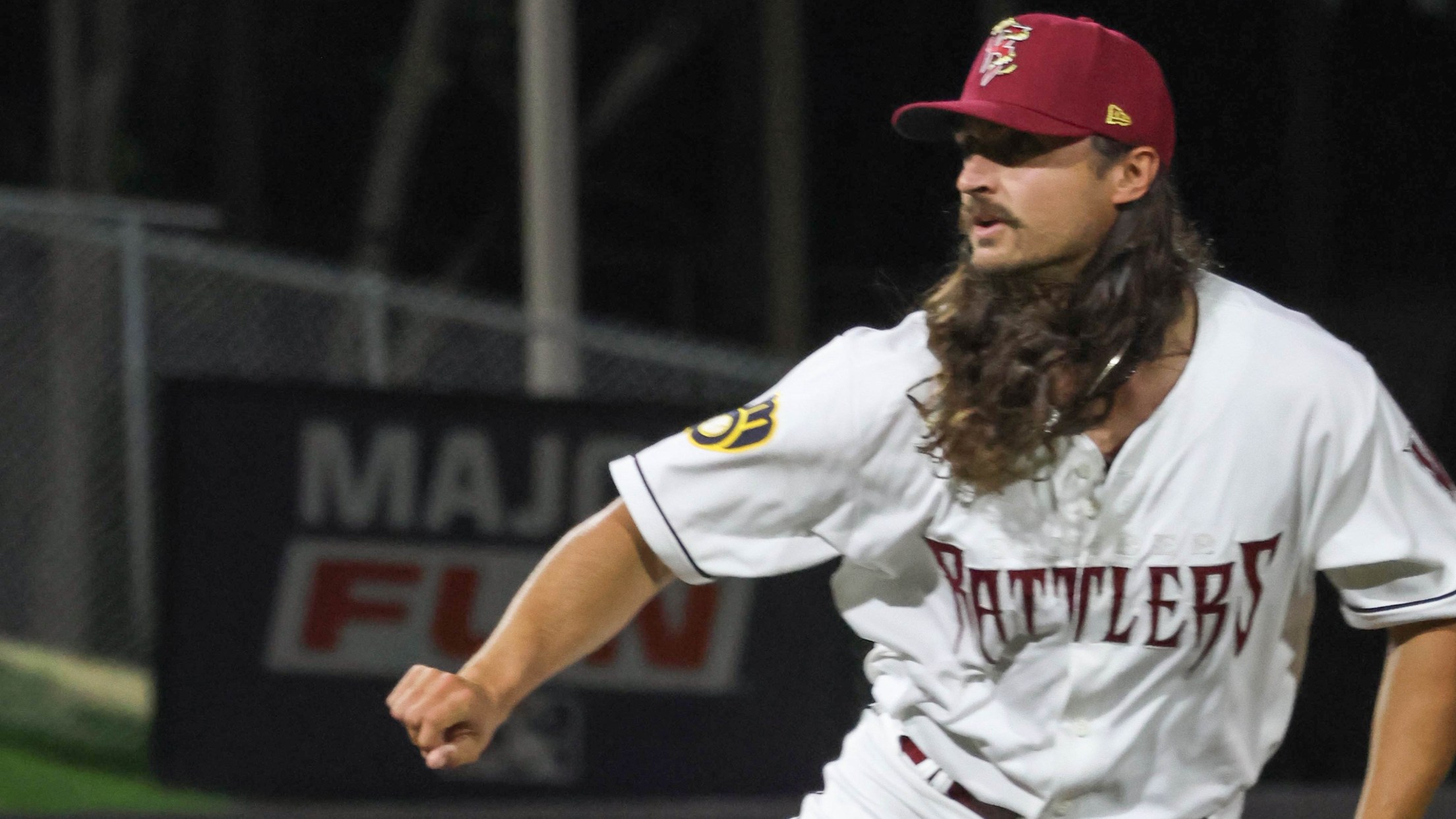 This season has been Bowman's first opportunity to be a full-time closer, and he said he's enjoying it.
"I've always felt I have a bullpen mindset, like a bulldog mentality, but overseas you're the guy, so you kind of have to be the starter. So it's been awesome being able to come back and know you're going to go one inning, maybe two, and just fire the pitches in there as hard as you can, do this and that, and still execute," Bowman said. "But you have a different schedule. You're available pretty much every day, you don't have that set schedule, so I love it. That's my type of mentality, that's just how I am as a player, so I've enjoyed going back into the bullpen role."
Bowman's wide array of baseball experience also makes it easier for him to move on from a difficult outing, something successful relievers have to be able to do.
"I'd just say I don't look at it like if I have a bad outing I'm going to put my head too low," Bowman said. "It's a game of baseball, it's one of the hardest games in the world. We're going to strive to be great, but we're not going to be great every time out. You can't hang your head low on bad performances, you've got to keep your head up. I wouldn't say it's an advantage, but it's a different mindset than a lot of players have."
The first thing many fans probably notice about Bowman isn't his mindset or his mechanics, however: It's probably his long, flowing hair. It's been several years since his last haircut, and he's growing it out for a reason.
"A special memory for me and my mom is, you see me and my long hair, I grow it out in honor of her," Bowman said as part of the Timber Rattlers' Mother's Day tribute video. "She had cancer twice, and what it means to me to be able to donate to a kid or someone who needs hair is just an honor to me. I just love her and want to be able to tell her that."
Successful minor league closers are often players with a little more baseball and life experience, traits which Bowman certainly has. Thomas noted, however, that his ability to handle the late innings is not a new development.
"He's always been that guy, because he closed in college too. But Bo is just a high energy guy," Thomas said.
Bowman is following in the footsteps of several former Timber Rattlers pitchers that have followed unusual career paths to significant professional success. Brewers reliever Jake Cousins pitched in the independent Frontier League before coming to the Timber Rattlers in 2019, and was in the majors two years later. That same season Anthony Bender pitched in the American Association before signing with the Brewers and pitching in Wisconsin on his way to a major league career with the Marlins. While advancing in the organization like they did will always be a goal, Bowman said his focus is just on winning games.
"Obviously you want to get promoted, go to AA, go to AAA and all that stuff, keep going up, but if our team's winning, I'm winning. That's the biggest thing, because usually when a winning team's happening, good things are happening for everyone. So it's not a self thing, it's going to be team first and that's how I've always played my career," Bowman said.
Put a "Bo" on it! 🎁 #SAVE no. 6 for @its_bo_time5 🔥🔒

Timber Rattlers 'Saves' is brought to you by East Wisconsin Savings Bank " Teaching Kids to save is such a game-changer!" https://t.co/M0CWOJ3BxZ pic.twitter.com/I4U3d1lKC5

— Wisconsin Timber Rattlers (@TimberRattlers) May 13, 2023