Rattlers Nominated for John H. Johnson Award for Second Consecutive Season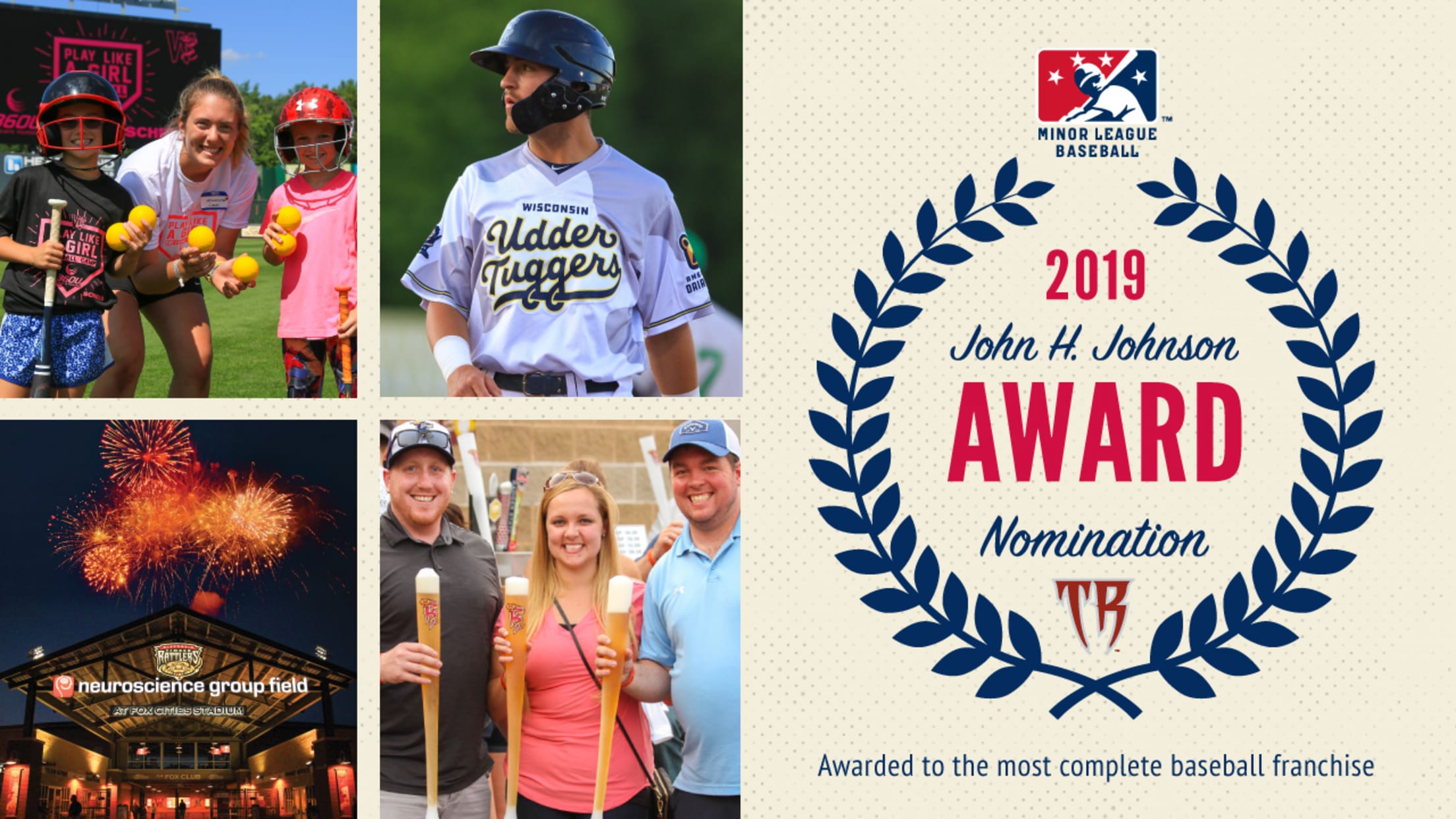 GRAND CHUTE, WI - The Midwest League has selected the Wisconsin Timber Rattlers as the Midwest League's 2019 nominee for the national John H. Johnson President's Award. This is the second consecutive season for the Rattlers to be the nominee.The John H. Johnson Award is presented annually by Minor League
GRAND CHUTE, WI - The Midwest League has selected the Wisconsin Timber Rattlers as the Midwest League's 2019 nominee for the national John H. Johnson President's Award. This is the second consecutive season for the Rattlers to be the nominee.

The John H. Johnson Award is presented annually by Minor League Baseball to recognize the "complete baseball franchise - based on franchise stability, contributions to league stability, contributions to baseball in the community, and promotion of the baseball industry". The award is named after John Johnson, who was the president of Minor League Baseball from 1979 to 1988.
The 2019 season was the 25th season for the Timber Rattlers and it was a memorable season for the Midwest League affiliate of the Milwaukee Brewers. The team held youth baseball camps and - for the first time - a girls' softball camp, built on their established reading program for area schools, and raised money for local charities through jersey auctions.

Brews on Third, a new social gathering space that features craft brews from area breweries, opened at Neuroscience Group Field at Fox Cities Stadium to become a popular new area at the ballpark.

Plus, the team changed their name to the Wisconsin Udder Tuggers for their annual Salute to Cows promotion in June and the name, promotion, and merchandise went viral from the moment the logo was unveiled to the public.

"It is an honor to receive this recognition for the second year in a row and comes at a special time as we recently completed our 25th season as the Wisconsin Timber Rattlers," said Rob Zerjav, the president of the Timber Rattlers. "I honestly don't know if anyone 25-plus years ago could imagine the success our organization has had over the years and it is a testament to the hard work that is put in by our staff on a daily basis."

The Timber Rattlers are now up against the nominees from the other leagues involved in Minor League Baseball. The national winner of the John H. Johnson Award will be announced at the Winter Meetings in San Diego, California.

Wisconsin has also been the Midwest League's John H. Johnson Award nominee in 2005 and 2018. The Rattlers were the Midwest League's Larry MacPhail Promotional Award nominee in 2012, 2015, 2016, and 2017. Wisconsin won the National MacPhail Promotional Award in 2012.

Wisconsin's schedule for the 2020 season has been made available. Season ticket packages for the 2019 season are available from the Timber Rattlers ticket office, which is open from 9am until 5pm Monday through Friday. Fans may call (920) 733-4152 or 800-WI-TIMBER or stop by the box office at the stadium.