RubberDucks Announce Special Team Shop Hours and Deals this week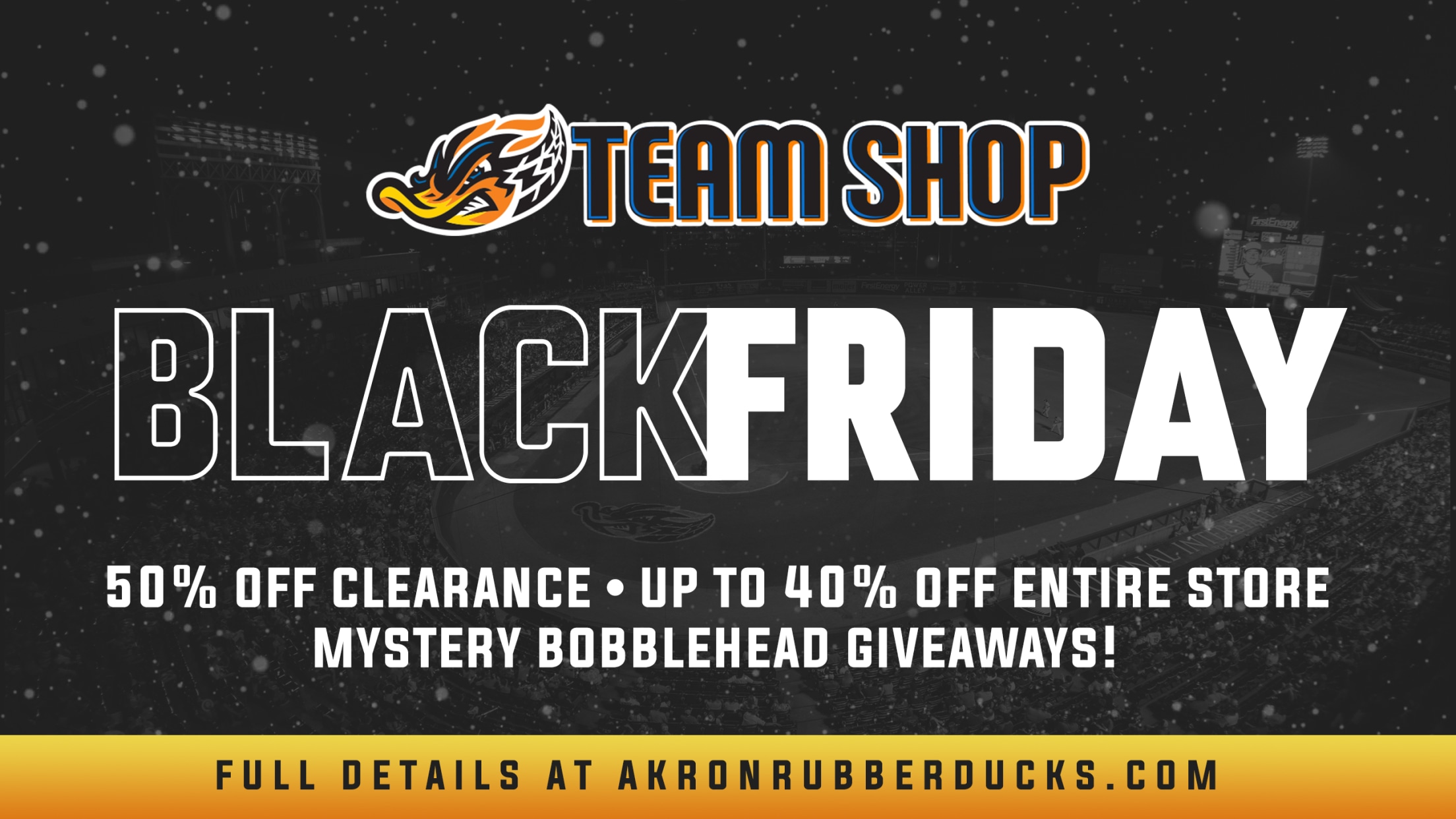 The Akron RubberDucks announce special hours and deals this week in the Team Shop to kick off the holiday season. The RubberDucks team store will be open 10 am to 3 pm on Wednesday Nov. 24, Friday, Nov. 26 and Saturday, Nov. 27. Wednesday, Nov. 24 will be another Wednesday
The Akron RubberDucks announce special hours and deals this week in the Team Shop to kick off the holiday season. The RubberDucks team store will be open 10 am to 3 pm on Wednesday Nov. 24, Friday, Nov. 26 and Saturday, Nov. 27.
Wednesday, Nov. 24 will be another Wednesday Flash Sale. This week's sale will be $10 mystery shirts and $10 mystery hats.
Friday, Nov. 26 will be the RubberDucks annual Black Friday deals. This year's deals include 50% off all clearance items, 30% off entire store, 40% entire store if you purchase a ticket package that day, and a mystery bobblehead giveaway with purchase over $65 worth of merchandise.
Saturday, Nov. 27 will be Super Sale Saturday. During the Holiday Parade in Akron, everything in the RubberDucks team store will be 30% off and there will be a RubberDucks pirate flag giveaway with every purchase over $10. There will be a prize wheel that each customer can spin and win a special discount.
Monday, Nov. 29 will be Cyber Monday. On Monday, everything online is 30% off along with free shipping, $1 novelty items to add on *only one per purchase*.
RubberDucks 2021 Double-A Northeast Championship merchandise is excluded from ALL discounts, but championship merchandise purchases will still go toward bobblehead and pirate flag giveaways.
All sales and giveaways are while supplies last.
Purchases of Duck bills do not count toward the totals for any giveaways. All sales are final.