Rumble Ponies send RubberDucks to EL All-Star break with 5-2 loss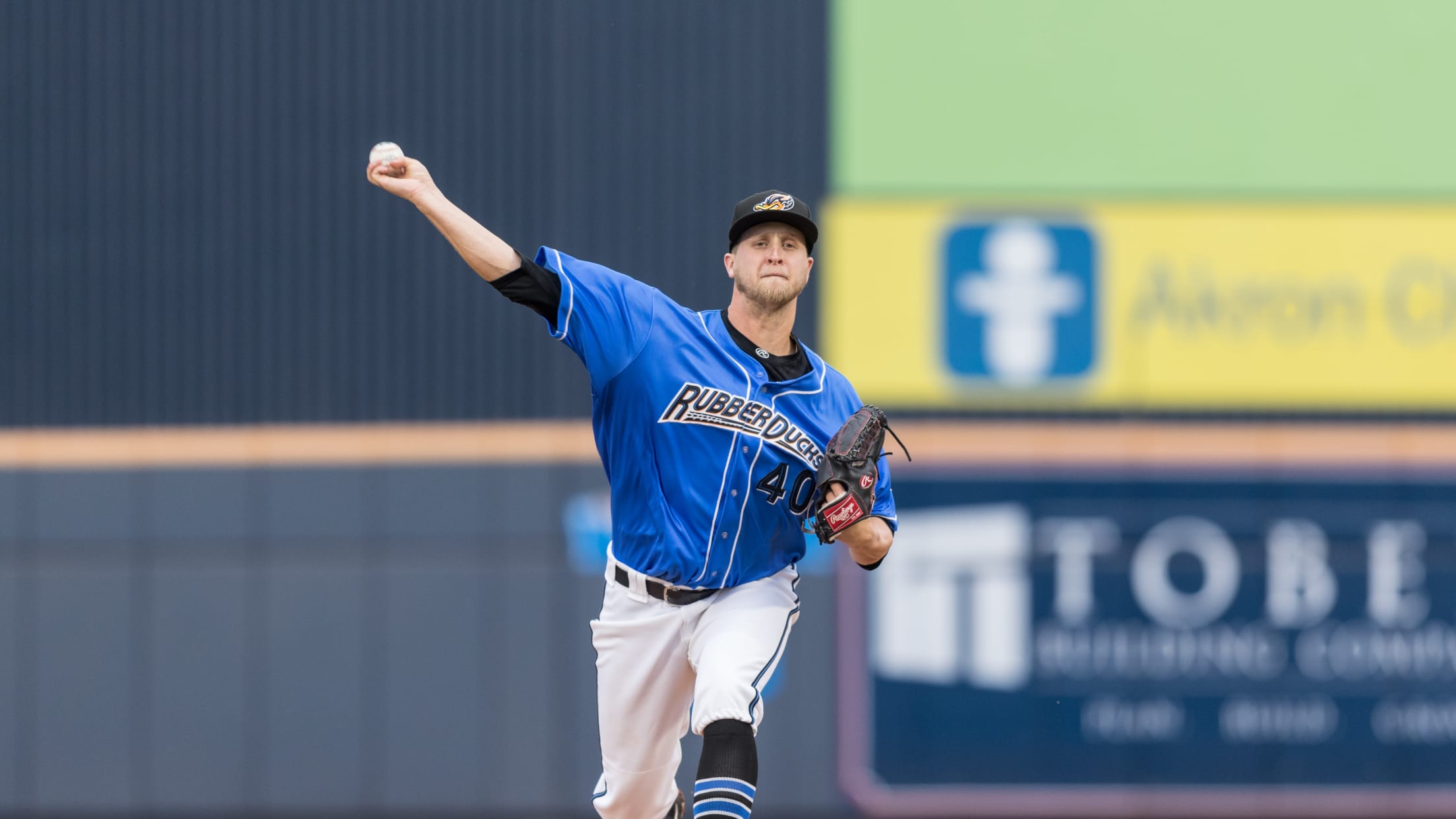 Jake Paulson pitched six innings for a second straight start on Sunday in Binghamton and for the seventh time in 14 Eastern League starts this season. (David Monseur)
SummaryThe Binghamton Rumble Ponies scored in each of the first three innings on the way to 5-2 win and three-games-to-one series victory over the Akron RubberDucks at NYSEG Stadium Sunday afternoon in the final game before the three-day Eastern League All-Star break. The RubberDucks resume play at home Thursday against
Summary
The Binghamton Rumble Ponies scored in each of the first three innings on the way to 5-2 win and three-games-to-one series victory over the Akron RubberDucks at NYSEG Stadium Sunday afternoon in the final game before the three-day Eastern League All-Star break. The RubberDucks resume play at home Thursday against Bowie at 7:05 p.m.
Turning Point
After Akron scored twice in the top of the third inning to force a 2-2 tie, Binghamton took the lead for good against right-hander Jake Paulson (6-6). Rumble Ponies designated hitter and former RubberDuck Sam Haggerty doubled down the right-field line and scored on left fielder Jason Krizan's RBI double to left field. Paulson walked first baseman David Thompson, before catcher Patrick Mazeika grounded to first baseman Nellie Rodríguez , who threw to second base for a force out. Shortstop Ernie Clement 's errant throw to Paulson at first base allowed Krizan to score, making it 4-2.
Mound Presence
Paulson went six innings in back-to-back starts for the second time this season, yielding five runs - four earned - on seven hits and one walk with two strikeouts. He allowed a first-inning run after Haggerty tripled and Krizan hit a sacrifice fly. He allowed a second-inning run after three straight singles and a ground-ball double play. The final run was Mazeika's sixth-inning leadoff home run. Left-hander Ben Krauth and right-hander Robert Broom each pitched a scoreless inning. For Binghamton, Lee went four innings before five scoreless from three right-handed relievers. Former Indians minor leaguer Ryder Ryan and Stephen Villines each went two innings, and Joe Zanghi pitched a perfect ninth inning.
Duck Tales
The RubberDucks scored their runs in the third inning off Binghamton right-hander Zach Lee. Third baseman Alexis Pantoja singled to center field, and Clement double to left field, extending a 10-game hitting streak. Left fielder Mitch Longo walked, and designated hitter Trenton Brooks hit a ground ball that got past Thompson at first base and scored two runs. With two runners in scoring position, Lee retired the next two batters to keep the 2-2 tie.
Notebook
At 41-48, Akron is seven games below .500 for the first time this season…Clement's 12-game stretch without a strikeout is Akron's longest this season…Brooks has 11 hits and eight RBI in an eight-game hitting streak…Longo has 12 hits in a seven-game hitting streak, including four multi-hit games…Time of game: 2:22…Attendance: 1,911.
On the Pond
After the three-day Eastern League All-Star break, the RubberDucks open a four-game home series with Bowie at 7:05 p.m. Thursday at Canal Park. The game broadcast, powered by FirstEnergy, is on Fox Sports 1350 AM, the WARF iHeartRadio channel, and the TuneIn Radio App, and available on MiLB.TV. Tickets are at akronrubberducks.com/tickets.