RubberDucks Team Up With Five Akron Area Restaurants To Offer 'Eat Local' Ticket Package On Sale January 4th
$45 Packages Include Five Undated 2021 RubberDucks Ticket Vouchers And Exclusive Coupons And Discount Deals To Five Local Area Restaurants Including Diamond Deli, Melt Bar & Grilled, Papa John's, Texas Roadhouse, And Chick-fil-A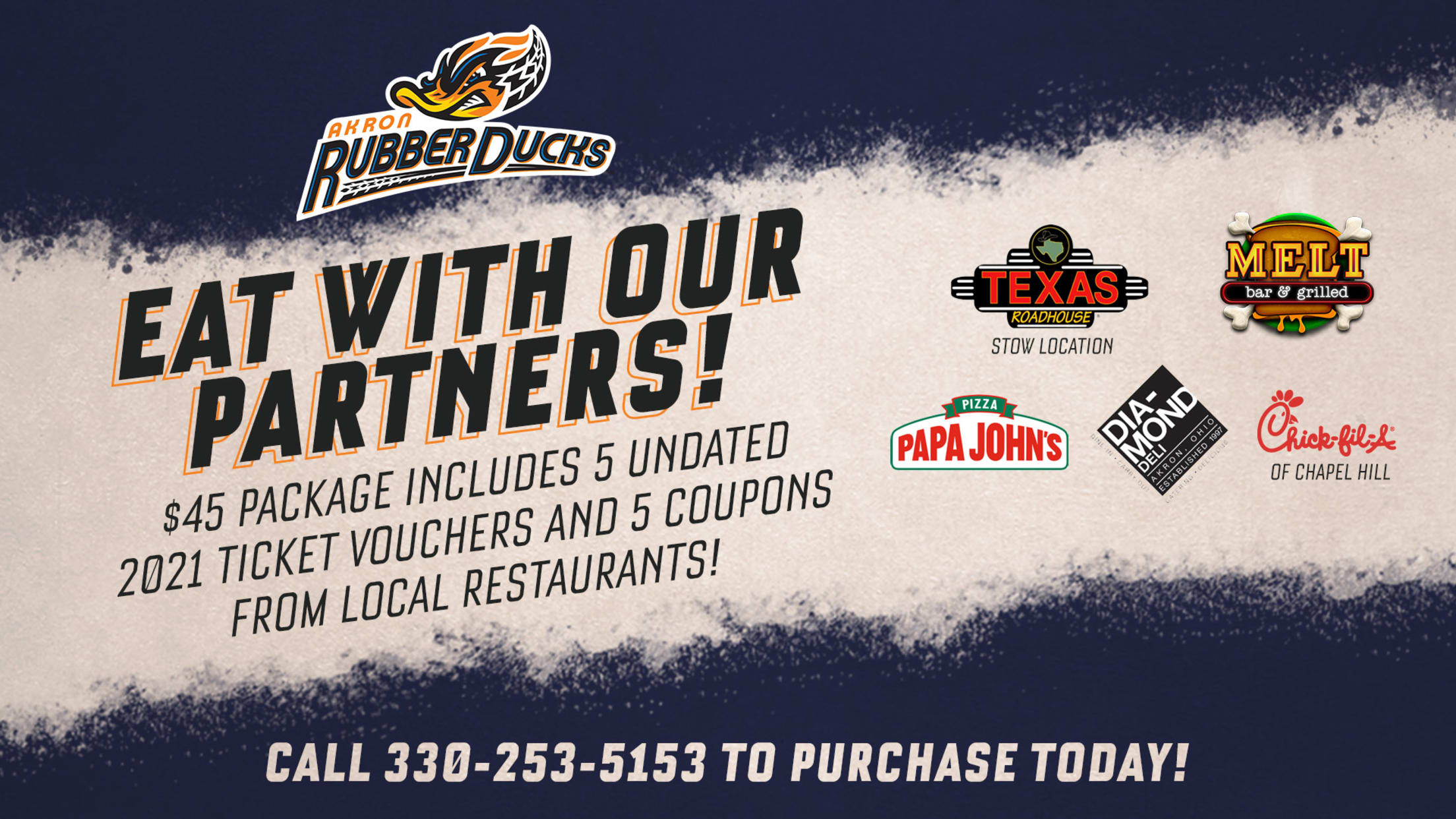 (AKRON, OHIO) January 4, 2021 –In conjunction with five of Akron's favorite local restaurants, the Akron RubberDucks are proud to introduce the "Eat Local" ticket package, which includes five undated 2021 Akron RubberDucks ticket vouchers as well as exclusive coupons and discounts deals. Eat Local packages are on sale now
(AKRON, OHIO) January 4, 2021 –In conjunction with five of Akron's favorite local restaurants, the Akron RubberDucks are proud to introduce the "Eat Local" ticket package, which includes five undated 2021 Akron RubberDucks ticket vouchers as well as exclusive coupons and discounts deals. Eat Local packages are on sale now through the end of January and can be purchased BY PHONE ONLY by calling (330) 253-5153.
Below are all the items included in the Eat Local Package:
Five (5) 2021 Undated RubberDucks Ticket Vouchers
Free Chicken Sandwich Coupon from Chick-fil-A— Only Valid at Chapel Hill Location - Coupon expires 3/31/2021
$2 Off Any Sandwich Coupon from Diamond Deli in downtown Akron - Coupon expires 12/31/2021
25% off dine-in or carryout order from Melt Bar & Grilled - Offer excludes alcohol;
Discount offer expires 3/31/2021; coupon has no cash value
40% off any regular menu orders from Papa John's--Offer valid by phone only and only valid on pick-up carryout orders;
Offer is only valid at the following locations: Kent, Cuyahoga Falls, East Akron, Stow, Ellet, West Akron, South Akron, and Hudson; Offer expires 3/1/2021
Free Appetizer coupon with the purchase of Adult Entrée from Texas Roadhouse—Only Valid at Stow Location -- Coupon expires 12/31/2021
-
All Eat Local packages include five physical coupons that will be mailed to fans and are only valid with specific verification from the RubberDucks. All coupons must be turned over at the time of purchase to be valid on orders at these locations.
"The RubberDucks are so proud to partner with these businesses that call Akron their home, and we encourage all of our fans to support our local food partners while securing their spot to come out to Canal Park this summer and attend a game that fits their schedule," said Akron RubberDucks General Manager, Jim Pfander. "There's no better way to start the new year than with these special offers on great eats around Akron paired with a set of tickets for our fans!"
The Akron RubberDucks will continue to follow with all social distancing protocols as outlined by Gov. DeWine, Mayor Horrigan, and state and local health officials. RubberDucks staff members are available by phone and email to answer any questions or concerns. The ticket office can be reached at [email protected].
The Akron RubberDucks are the Double-A affiliate of the Cleveland Indians. Fans can purchase tickets by calling 330-253-5151 from 9 a.m. to 5 p.m. on weekdays, or visit www.akronrubberducks.com. For more information about the team, please call 330-253-5151, visit the website at akronrubberducks.com, Facebook page facebook.com/AkronRubberDucks, or on Twitter at @AkronRubberDuck, and Instagram at @akronrubberducks.