Sod Poodles Drop Historic Season Opener
Big fifth propels Corpus Christi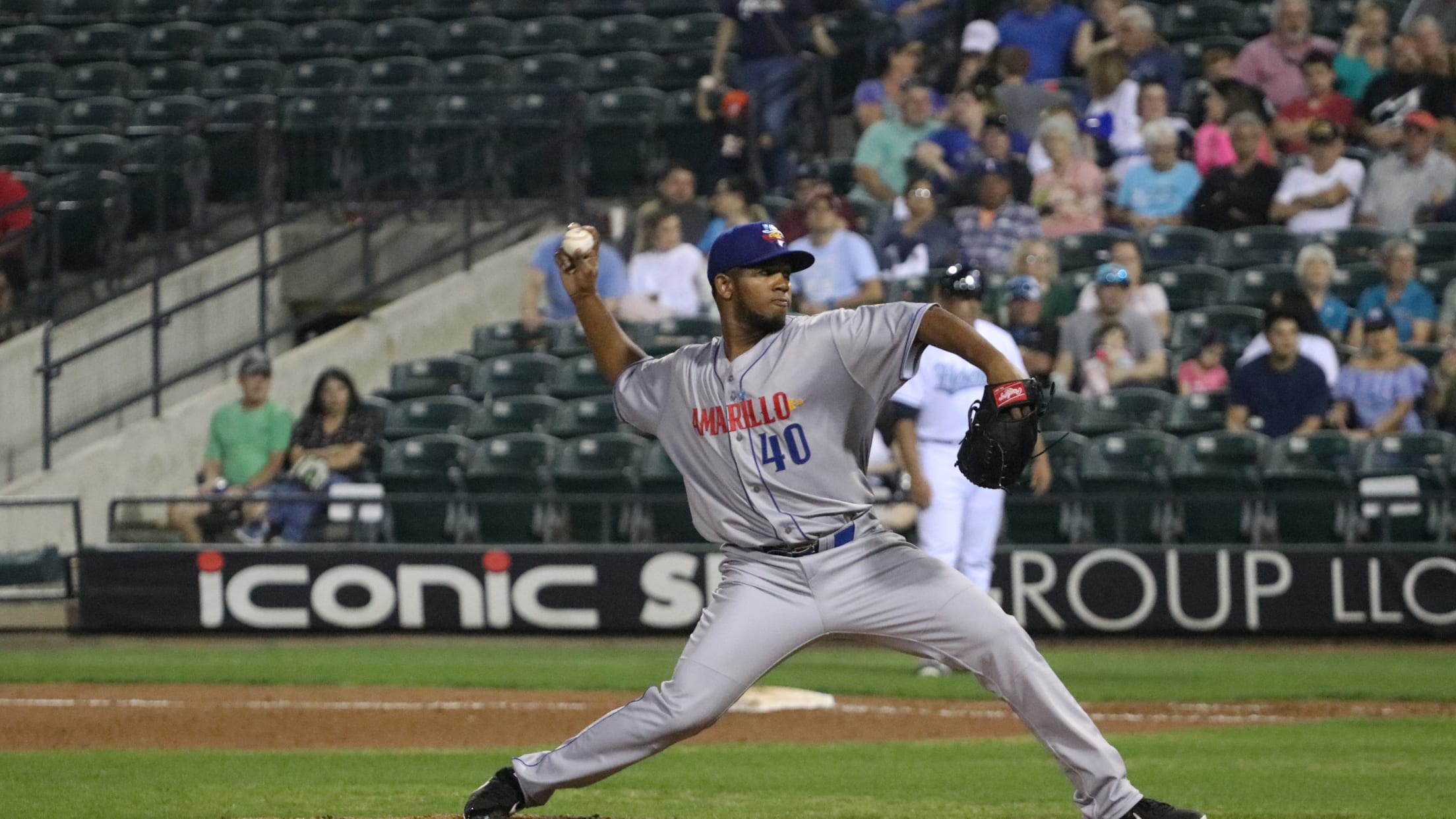 Emmanuel Ramirez tossed two scoreless frames out of Amarillo's bullpen, striking out three. (Olivia Rook)
Corpus Christi, Texas - The Amarillo Sod Poodles played the first game in franchise history at Whataburger Field on Thursday night, dropping their inaugural season opener 5-2 to the Corpus Christi Hooks. 
Corpus Christi, Texas - The Amarillo Sod Poodles played the first game in franchise history at Whataburger Field on Thursday night, dropping their inaugural season opener 5-2 to the Corpus Christi Hooks.
Amarillo lefty Adrian Morejon danced in and out of trouble in the early going, ultimately tossing four scoreless frames to start his outing while striking out four. Hooks right-hander Jose Urquidy matched Morejon, dazzling with five no-hit frames to begin the night.
In the bottom of the fifth, the Hooks (1-0) plated five runs on five hits. Morejon allowed a leadoff triple to Chas McCormick and then a run-scoring single to Anibal Sierra. Osvaldo Duarte stepped in and popped a two-run homer to left field to extend the lead to 3-0.
Elliot Ashbeck replaced Morejon with two runners on-base later in the frame and surrendered a two-run single to Granden Goetzman as Corpus Christi jumped out to a 5-0 advantage.
In the sixth, Owen Miller collected the first hit in Sod Poodles history with a two-out single to right field. Amarillo then loaded the bases against righty Gabriel Valdez, but Valdez induced a pop up from Kyle Overstreet to end the frame.
In the seventh, the Sod Poodles (0-1) got on the board courtesy of Brad Zunica's opposite field two-run homer off Valdez. The first home run in team history cut Corpus Christi's lead to 5-2.
After Valdez tossed a scoreless eighth, the Sod Poodles brought the tying run to the plate in Edward Olivares in the ninth after getting a pair of runners aboard. Hooks closer Collin McKee struck out Olivares to end the ballgame.
Amarillo's other bright spots included right-hander Kazuhisa Makita's Texas League debut, as he pitched 1.1 innings of scoreless baseball out of the bullpen. Emmanuel Ramirez also chipped in with a scoreless seventh and eighth innings while striking out three.
The Sod Poodles return to action on Friday night at Whataburger Field for the second game of a four-game series. Right-hander Jesse Scholtens makes the start for Amarillo while the Hooks will counter with lefty Brett Adcock. First pitch is at 7:05 p.m.
The game will be aired live on 940 AM KIXZ beginning at 6:45 p.m., with streaming options available via SodPoodles.com and a variety of mobile devices. Sam Levitt has the play-by-play call.
The Sod Poodles host their inaugural home opener at HODGETOWN on Monday, April 8 against the Midland RockHounds. First pitch is at 7:05 p.m.