Beloit Baseball 2022 Schedule Released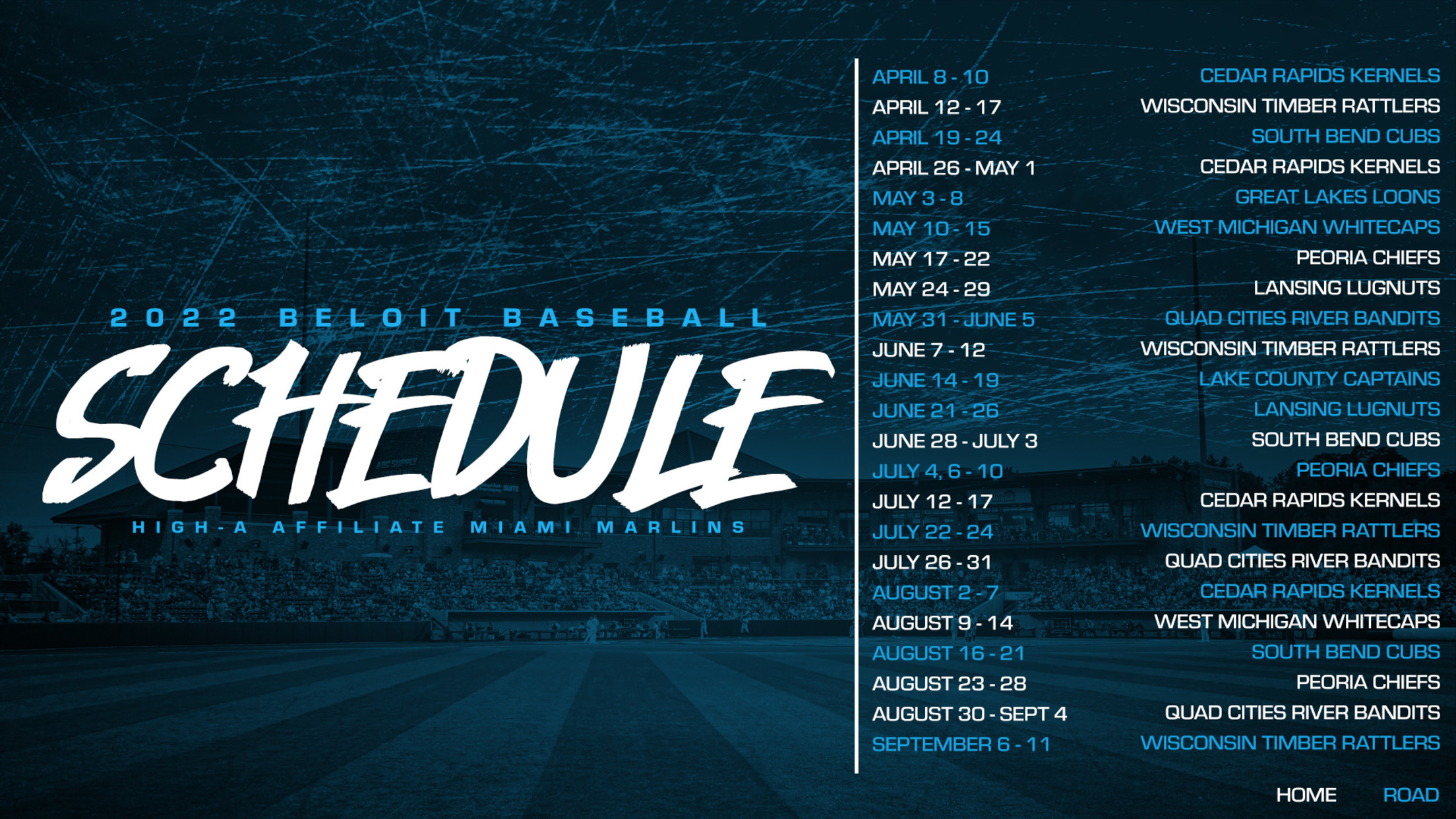 BELOIT, WI -- The 2022 High-A Central schedule is here! Beloit Baseball is excited to announce its 132-game schedule will begin April 8, 2022, and run through September 11, 2022. The team will start on the road against the Cedar Rapids Kernels for three games before coming home to ABC
BELOIT, WI -- The 2022 High-A Central schedule is here! Beloit Baseball is excited to announce its 132-game schedule will begin April 8, 2022, and run through September 11, 2022. The team will start on the road against the Cedar Rapids Kernels for three games before coming home to ABC Supply Stadium on April 12 to take on the Wisconsin Timber Rattlers.
This will be the first season of Beloit Baseball under its new rebrand coming later in 2021. It is Beloit's second season as the High-A affiliate to the Miami Marlins.
Click here to view the complete 2022 schedule.
MiLB will adopt the same six-game series for the 2022 season as it did in 2021. Each team will have Mondays off for rest or travel. There will also be a four-day break that coincides with MLB's All-Star break. Beloit will play 66 home games and 66 road games (11 series each), which is one more home and road series than 2021.
Beloit will see three new opponents during the 2022 season. Those teams include the Oakland Athletics affiliate - Lansing Lugnuts, Detroit Tigers affiliate - West Michigan Whitecaps and the Los Angeles Dodgers affiliate - Great Lakes Loons. Fans will see the Lugnuts (May 24-29) and Whitecaps (Aug 9-14) at ABC Supply Stadium. Beloit will play the High-A Central's west division (Cubs, Chiefs, Kernels, River Bandits, Timber Rattlers) in the other nine home series.
Beloit will end the 2022 season in Appleton against their in-state rival, the Wisconsin Timber Rattlers.
2022 season memberships and group packages are available now. Call 608.362.2272 for more information on offseason events, group outings, or to become a member today!
Also coming in 2022: A jam-packed promotional schedule with new theme nights, ticket packages, giveaways, and more! The team cannot wait to unveil these ideas in the upcoming months along with the new rebrand. Can't wait for April? Be on the lookout for information regarding new entertainment and special events to be held at ABC Supply Stadium this offseason!