Beloit Baseball Signs 10-Year Professional Development License With Miami Marlins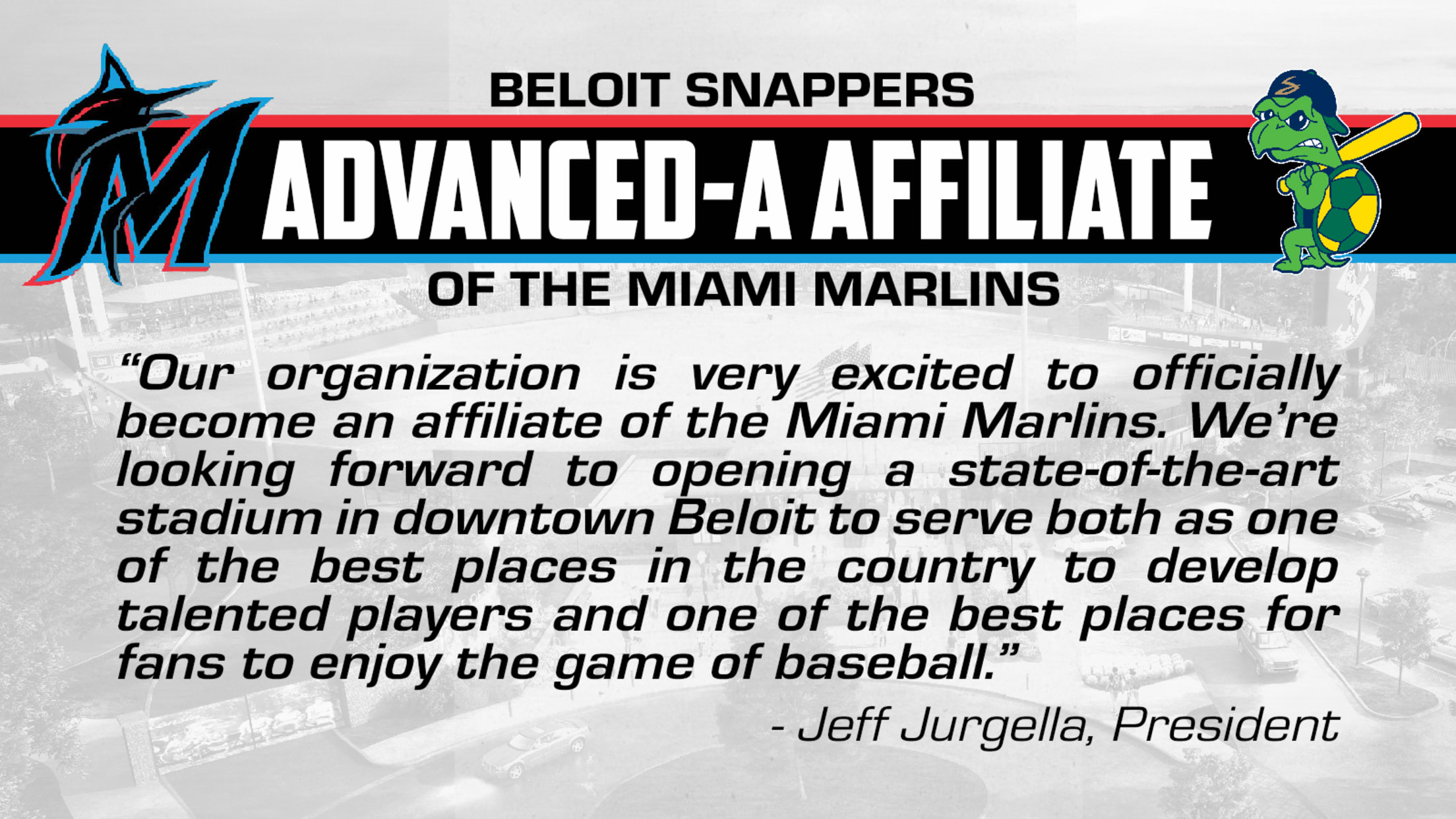 Beloit Baseball has signed a Professional Development License with the Miami Marlins, officially beginning a 10-year contract to serve as Miami's Advanced-A affiliate. "Our organization is very excited to officially become an affiliate of the Miami Marlins," team president Jeff Jurgella said. "Forming a long-term relationship with the Marlins is
Beloit Baseball has signed a Professional Development License with the Miami Marlins, officially beginning a 10-year contract to serve as Miami's Advanced-A affiliate.
"Our organization is very excited to officially become an affiliate of the Miami Marlins," team president Jeff Jurgella said. "Forming a long-term relationship with the Marlins is a great move forward for our franchise and for professional baseball in Beloit. We're looking forward to opening a state-of-the-art stadium in downtown Beloit to serve both as one of the best places in the country to develop talented players and one of the best places for fans to enjoy the game of baseball."
Beloit was officially invited to become an affiliate of the Marlins in December as part of the new Professional Development License system designed to modernize the player development system and provide affiliated teams access to Major League Baseball's partnerships, tools, technology, and content to enhance fan experience.
Commissioner of Baseball Robert D. Manfred, Jr. said: "We are excited to unveil this new model, which not only provides a pipeline to the Majors, but continues the Minor Leagues' tradition of entertaining millions of families in hundreds of communities. In modernizing our Minor League system, we prioritized the qualities that make the Minor Leagues such an integral part of our game while strengthening how we develop professional athletes on and off the field. We look forward to demonstrating the best of our game throughout local communities, supporting all those who are working hard to grow the sport, and sharing unrivaled technology and resources with minor league teams and players."
Prior to the invitation to join the Marlins organization, Beloit was an affiliate of the Oakland Athletics from 2013-2020, the Minnesota Twins from 2005-2012, and the Milwaukee Brewers from 1982-2004. The team has played at the Class-A level since 1982 and will move up to the Advanced-A classification in 2021.
"Not only will we be joining a first-class organization with one of the best farm systems in baseball, but our team will be moving up to the Advanced-A classification in 2021, allowing us to bring even better baseball and more talented prospects to the field in Beloit for our fans to watch," Jurgella said. "The timing of the new deal has worked well for our franchise, allowing us to ensure the new stadium is built to meet all facility requirements for ballparks, an important step to cementing the long-term success of professional baseball in our community."
In addition to Beloit, the Marlins minor league system will also include the Jupiter Hammerheads at the Class-A level, the Pensacola Blue Wahoos in Double-A, and the Triple-A Jacksonville Jumbo Shrimp.