Erwin, Camacho Throw Combined No-Hitter vs. Quad Cities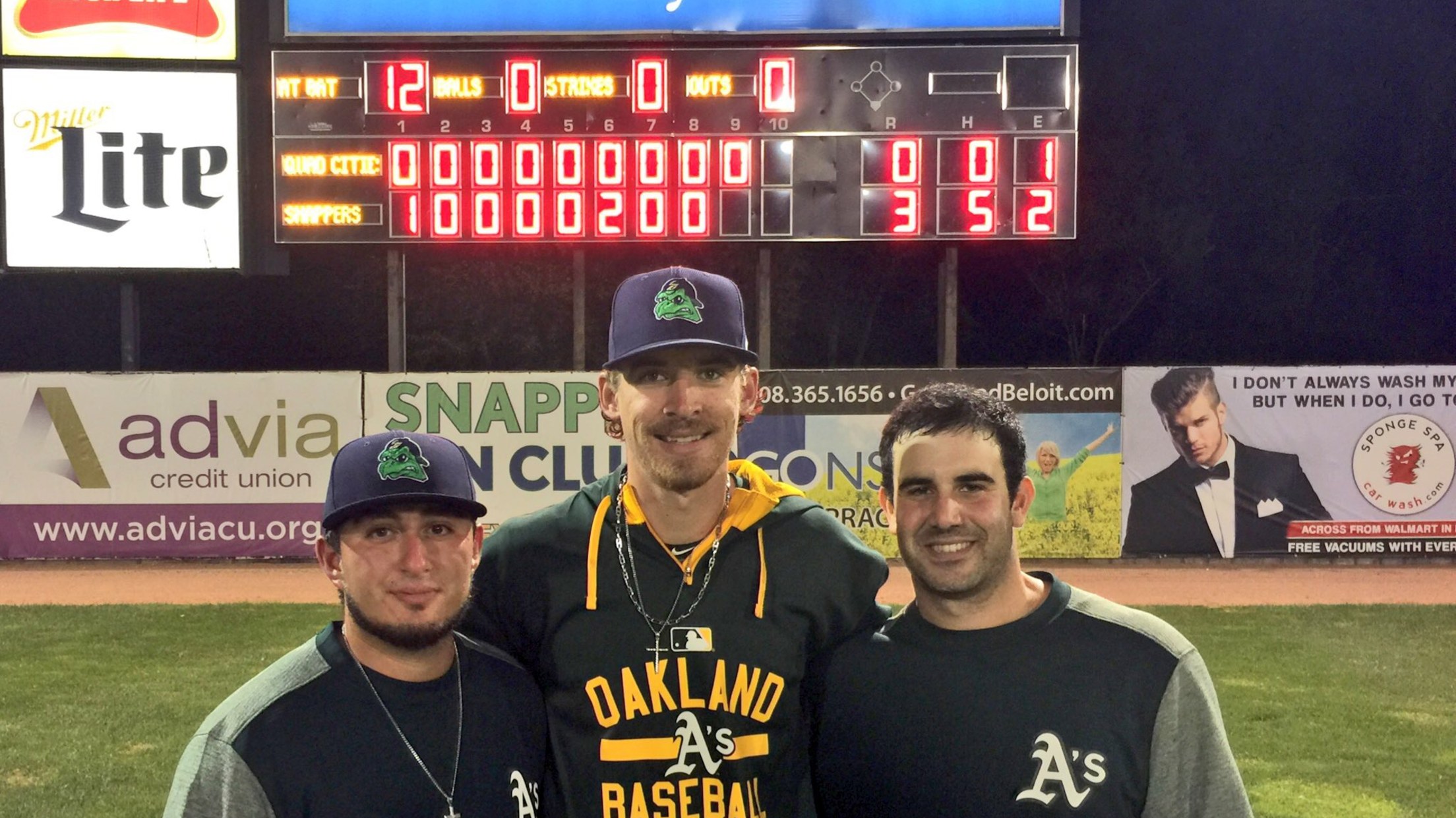 Joe Camacho (left) threw 3 innings in relief behind 6 no-hit frames by Zack Erwin (middle) in Beloit's 5th no-hitter in team history. (Beloit Snappers)
Beloit 3 Quad Cities 0 - WednesdayWP: Erwin (6-4)LP: Blanco (5-4)S: Camacho (1)Time: 2:28Attn: 744Zack Erwin and Joe Camacho combined on the Snappers fifth no-hitter in franchise history as Beloit defeated Quad Cities 3-0 on Wednesday. Erwin faced the minimum over the first six innings while Camacho worked around a
Beloit 3 Quad Cities 0 - Wednesday
WP: Erwin (6-4)
LP: Blanco (5-4)
S: Camacho (1)
Time: 2:28
Attn: 744
Zack Erwin and Joe Camacho combined on the Snappers fifth no-hitter in franchise history as Beloit defeated Quad Cities 3-0 on Wednesday. Erwin faced the minimum over the first six innings while Camacho worked around a pair of runners during his three innings of relief. The Snappers victory delayed the River Bandits from clinching the first playoff spot in the second half as their magic number remains at two.
Erwin had to handle just two baserunners through his six frames. Edwin Diaz misplayed a two-out grounder off the bat of Luis Payano, but Erwin picked the runner off first base. Daz Cameron worked a leadoff walk to start the fifth inning, but he was erased two pitches later when Trace Loehr snared a Josh Rojas line drive to third that started the double play that kept the minimum intact.
Quad Cities had a baserunner during Camacho's first inning of work due to a Luke Persico error at first base, but he induced a weak ground ball to Diaz at short for a forceout. Payano found his way on base for a second time with a walk in the eighth, but Camacho proceeded to retire the final four batters of the ballgame. The final out of the no-hitter was secured by JaVon Shelby on a flyout to shallow right field by Chuckie Robinson.
The first two hitters of the Snappers order provided all the run support Beloit required during the bottom of the first. Leadoff hitter Mike Martin reached on an error and motored all the way to third base while the River Bandits corralled the loose baseball. Josh Vidales promptly singled to right to score Martin as the first run of the game. Beloit added to their lead with two outs in the sixth with a double by Loehr, an RBI single by J.C. Rodriguez, and a Diaz RBI double.
Wednesday's combined no-hitter is the first in the 36-year history of Beloit Professional Baseball. The last nine-inning no-hitter was on July 26, 1996 by Jason Dawsey vs. Burlington while the team's last no-no came from Daniel Osterbrock on May 1, 2010 in the second game of a doubleheader vs. Wisconsin.
Box Score: https://www.milb.com/gameday/river-bandits-vs-snappers/2017/08/23/499308?#game_state=final,game_tab=game,game=499308
Team Records: Beloit (60-67), Quad Cities (75-52)
Next Game: Thursday at 7:00 p.m. vs. Quad Cities River Bandits at Pohlman Field
Probable Pitchers: Quad Cities RHP Cesar Rosado (3-1, 4.86 ERA) vs. Beloit RHP Seth Martinez (4-8, 3.77 ERA)
Just four home games remain for the Snappers at Pohlman Field in 2017 as the Snappers continue their push for their first postseason appearance since 2013. Tickets for these events at Pohlman Field and all individual game tickets can be found here.