Marlins Make First Visit To Beloit
Marlins Director of Minor League Operations Geoff DeGroot Tours Beloit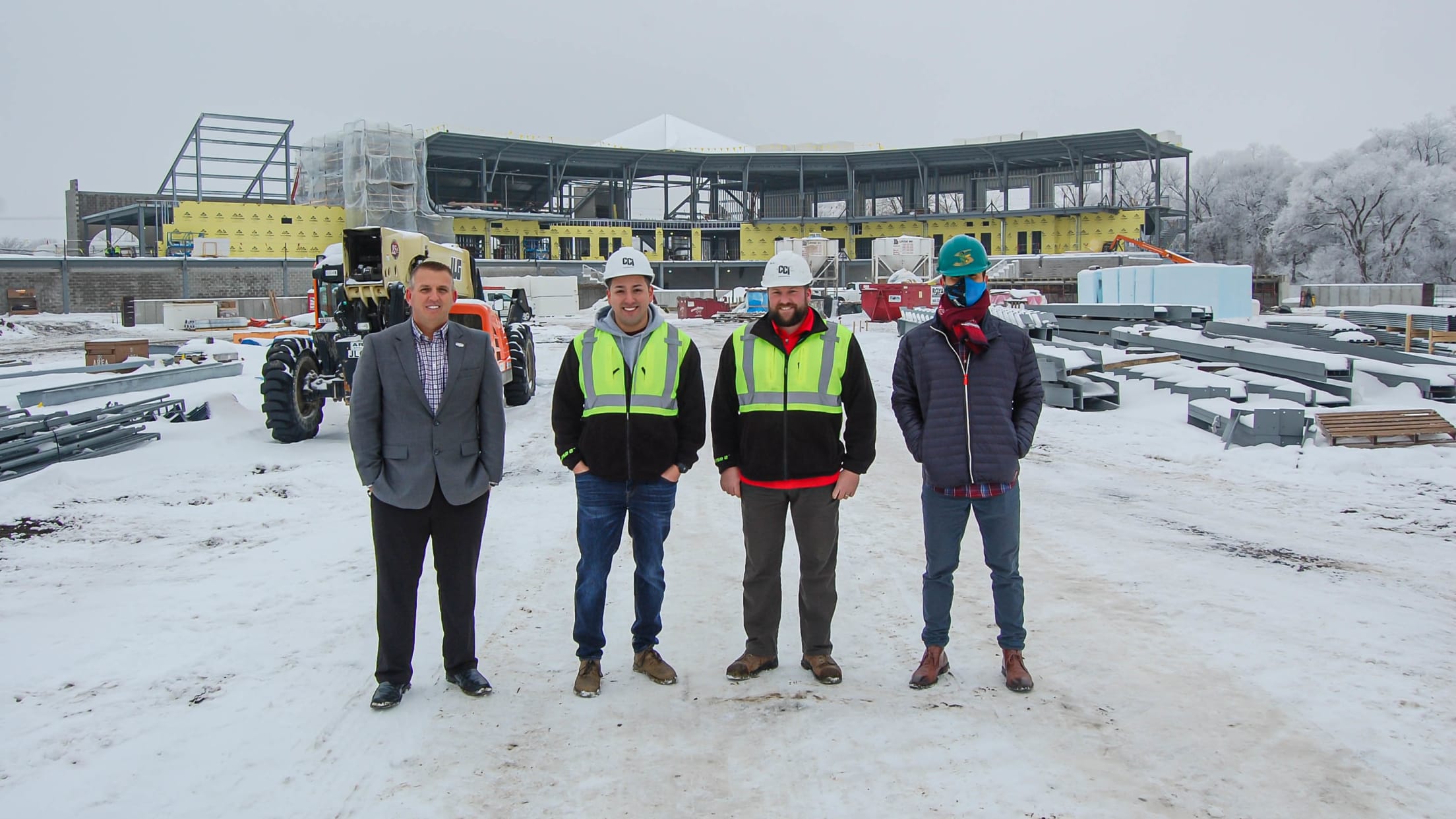 L-R: Jonathan Griffith (Beloit Snappers), Jose Carbajal (CCI Construction), Pete Woodkey (CCI Construction), Geoff DeGroot (Miami Marlins)
There were eight inches of snow at the stadium construction site as Geoff DeGroot, the Miami Marlins director of minor league operations, navigated the future home of top Marlins prospects. Well-bundled for the elements -- about a 50-degree difference on this January day from Miami weather -- DeGroot received a
There were eight inches of snow at the stadium construction site as Geoff DeGroot, the Miami Marlins director of minor league operations, navigated the future home of top Marlins prospects.
Well-bundled for the elements -- about a 50-degree difference on this January day from Miami weather -- DeGroot received a VIP tour of ABC Supply Stadium as it rises along the banks of Rock River.
It provided what should be a lasting first impression.
"I have not been able to see many site projects, but just looking at the stadium main entrance and getting to see all the brick, it looks like it's going to be spectacular," said DeGroot, referring to the 3,500 seat privately-financed stadium that will become the new home of Beloit Baseball. "I know the players here will be playing in one of the best High-A facilities in professional baseball."
DeGroot's visit to Beloit followed Major League Baseball formally extending an invitation to Beloit to become the Marlins' Advanced-A affiliate in December. While in town, DeGroot toured Pohlman Field, the construction site of ABC Supply Stadium, and down Beloit to learn more about the amenities available to Marlins prospects across Beloit including hotels in the community and the team's host family program.
With invitations out to 120 Minor League teams, Professional Development Licenses between Major and Minor League franchises are expected to be finalized in late January or early February. Following that process, the Marlins farm system will include Class-A Jupiter, Advanced-A Beloit, Double-A Pensacola, and Triple-A Jacksonville.
In addition to having three of their four affiliates located in the state of Florida, the team's new farm system will pair Beloit and Pensacola with the Marlins. Both teams are managed by Quint and Rishy Studer, who maintain a home in southern Wisconsin.
"It is pretty clear to me after being in both Beloit and Pensacola that our new ownership group that we are looking to partner with here has values that are clearly aligned with ours," said DeGroot during the tour of the stadium construction. "We are building a first-class organization in Miami and it is very clear to me that Quint runs his businesses in the same manner. So, this is super-exciting for us."
While Beloit might seem an unusual geographic fit for the Marlins on the surface given the location of their three other affiliates in Florida, DeGroot stressed the importance of Beloit to player development. Leaving Florida for a level of the Minor Leagues will help expose players to the types of weather and travel and a region of the country they will see often when they reach the Major Leagues.
Adding to the allure is how ABC Supply Stadium will immediately meet the desired requirements MLB has for Minor League facilities under the new player development system.
Beyond its fan experience, ABC Supply Stadium will offer state-of-the-art amenities for prospects and coaches in the clubhouses, player dining rooms, training and weight room areas, video scouting capabilities, and batting cages.
"We are going to be the first, and so far the only, ballpark in the country to be 100-percent compliant with the requirements listed in the latest contract between Major League and Minor League Baseball," said Jonathan Griffith, president of Studer Entertainment and Retail. "That's a pretty cool deal. We are consulting with the Marlins on a number of different things to ensure we're totally compliant. We've already added an additional 1,000 square feet to both clubhouses to make sure we are in compliance."
Beyond viewing Beloit's current and future stadiums, DeGroot also toured the town's downtown that surrounds ABC Supply Stadium.
"It's a great location, which is great for Beloit, great for the community. And location is everything," DeGroot said. "Just like it is with housing or any other aspect. We want to be the best, just like Quint wants to be the best, and we want to treat our players better than anyone else treats their players.
"For them to have a first class facility in Beloit, then coming to Pensacola, then Jacksonville, and Miami, (players) will have a really nice path along the way."
While construction is completed, Beloit Baseball will begin the 2021 season at Pohlman Field before transitioning to the new ballpark.
"We don't have details right now on when exactly the season will start," Griffith said. "But we do plan on starting the season at Pohlman Field before coming over whenever the park is ready to go."
Regardless of the stadium, fans in Beloit will have the opportunity to view top level talent in 2021 and future years. The Marlins Minor League system currently ranks among the best five in baseball.
"We pride ourselves in building from within," DeGroot said. "A few years ago, our farm system wasn't rated very high.Now, it's among the top five systems in all of baseball. And the good news for Beloit is that a lot of the top prospects are still at the lower levels, so in the next few years, Beloit is going to see a lot of talented players."
With Beloit and Pensacola linked as organizations, the partnership will greatly benefit the Marlins in terms of player movement, travel, housing and the transition of players between the two levels.
"It will help a ton, and it's all about communicating effectively. I know that me being here and getting to know Jon and Quint, it has already opened those lines of communication," DeGroot said. "We really will be working with the same people, so it makes all of our jobs a lot easier. We are all familiar with each other and only have to go to one place for information."