Dogs Feeling the Rhythm with Jamaican Bobsled Night
Club celebrates 25th anniversary of "Cool Runnings" with celebrity appearance, specialty jerseys and plenty of theme night fun on May 3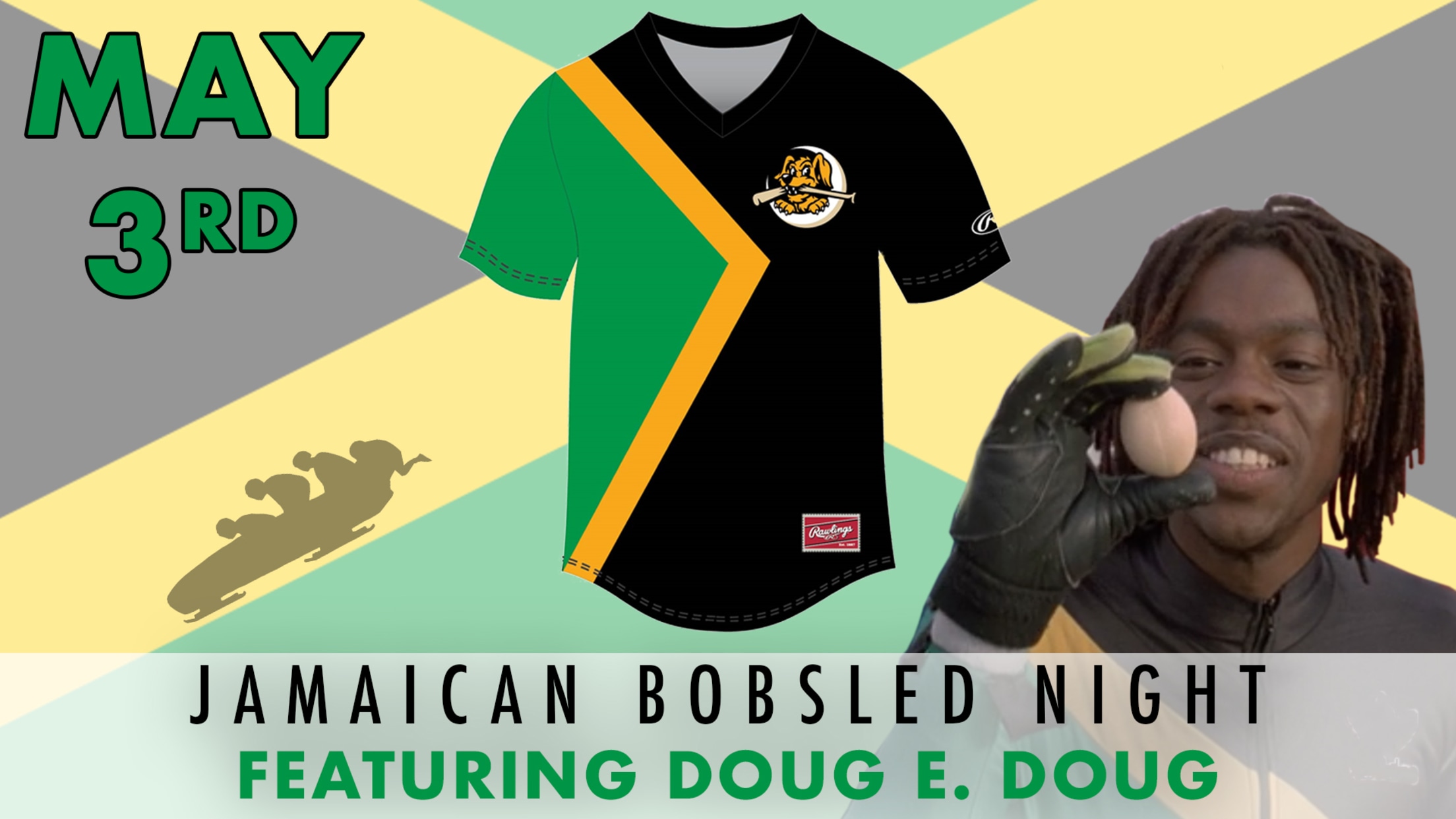 CHARLESTON, S.C. - On the heels of Jamaica sending their first women's bobsled team to this year's winter games, the Charleston RiverDogs will highlight one of the greatest underdog stories of all-time this season. The club will go for promotional gold as they host Jamaican Bobsled Night, featuring a guest
CHARLESTON, S.C. - On the heels of Jamaica sending their first women's bobsled team to this year's winter games, the Charleston RiverDogs will highlight one of the greatest underdog stories of all-time this season. The club will go for promotional gold as they host Jamaican Bobsled Night, featuring a guest appearance by one of the stars of Cool Runnings, Doug E. Doug, on Thursday, May 3 at Joe Riley Park.
The club will celebrate the 25th anniversary of Cool Runnings, the story of Jamaica's first bobsled team to qualify for the Olympic Games, highlighted by a guest appearance by the actor and comedian who starred as Sanka Coffie in the 1993 Disney hit film.
"I can't believe we get to do a night about Cool Runnings," said RiverDogs Director of Promotions Nate Kurant. "I'm looking forward to meeting Doug and breaking down the film line-for-line; the fans might even have a few minutes to meet with him, too."
Adding to the fun, the RiverDogs will wear specialty Jamaica-themed jerseys that will be auctioned off during the game, allowing fans to go home with a unique souvenir from the night.
The evening's festivities will feature a bobsled photo opportunity and meet and greet with Doug, along with push cart races, Olympic trivia, and medals awarded to the top competitors of the night.
It's also a Budweiser Thirsty Thursday featuring dollar beers in the Ashley View Pub as DJ Natty Heavy spins tunes, featuring inspiration from the Caribbean. Don't miss out on "Sanka Iced Coffee" drink specials to cool off during the game.
While Doug and the RiverDogs will have fans buzzing, the team isn't putting all their lucky eggs in one basket with plenty more in store for their "175th season in dog years." The full promotional schedule will be announced leading up to the season, and buckle up, buddy, cuz it's a good one.
The Charleston RiverDogs, the Class A affiliate of the 27-time World Champion New York Yankees, are Charleston's leader in affordable sports entertainment. Recently recognized with the Bob Freitas Award as the top Class A operation by Baseball America in 2017, the RiverDogs are coming off their most successful season when they welcomed over 300,000 fans through the turnstiles for the first time in franchise history.
RiverDogs season tickets, group tickets, and flex plans, including options to the Riley Park Club, are now available for the 2018 campaign, the club's 25th season as the RiverDogs and their "175th in dog years." The RiverDogs begin the season on April 12 when they host the Kannapolis Intimidators at The Joe after a week on the road and an exhibition opener at The Joe on April 3 against Myrtle Beach. Ticket information can be secured by contacting the box office at (843) 577-DOGS (3647) or online at www.riverdogs.com/tickets.
--RIVERDOGS--