Julio Mosquera Pegged as Next RiverDogs Manager
Former major league catcher looking to take the Dogs to their third consecutive playoff trip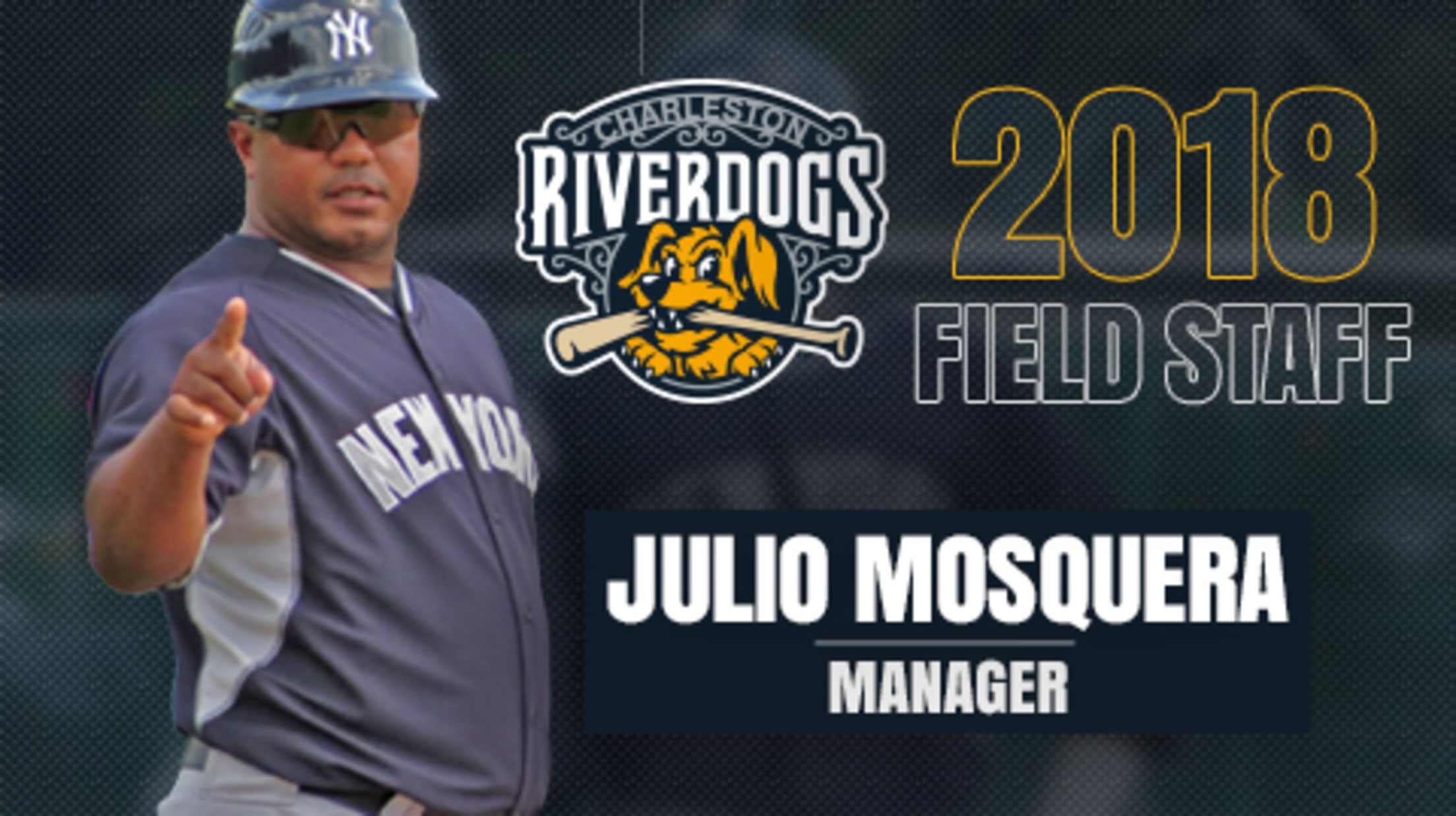 CHARLESTON, S.C. - The New York Yankees have announced that Julio Mosquera has been named the manager of the Charleston RiverDogs, becoming the 18th to hold the title in club history. The former big-league backstop enters his fourth season as a skipper with the Yankees, earning his first managerial position
CHARLESTON, S.C. - The New York Yankees have announced that Julio Mosquera has been named the manager of the Charleston RiverDogs, becoming the 18th to hold the title in club history. The former big-league backstop enters his fourth season as a skipper with the Yankees, earning his first managerial position at the Class A level.
Mosquera, 45, joins the RiverDogs for the first time in what will be his 13th season in the Yankees farm system, including leading Short Season Staten Island to a 46-29 record and a playoff berth last year. He held managerial gigs in the rookie ball Gulf Coast League in 2015-16 and served as a catching coordinator in the system for nine seasons prior (2006-2014).
"I've been in Charleston many, many times and like a lot of things about it: great city, great ballpark, great fans, so I'm excited to come there, especially with the good young talent throughout the minor league system," remarked Mosquera. "That's always something that excites me."
Mosquera's Staten Island pitching staff was a dominant force in 2017, leading the New York-Penn League in ERA (2.64), WHIP (1.10), and shutouts (11), a trait that the new RiverDogs skipper expects will carry over to the Lowcountry this year.
"The talent [the Yankees] have right now, it's amazing. We've got a great, great pitching staff, especially, and some of those guys that pitched for me last year, we led the league in almost every category, so I think that's going to be a strong point again this year [in Charleston]. I think that's going to be one of the biggest things we will have, a pitching staff that's going to keep us in the game and give us a chance to win some ballgames."
"Both with the pitching and our hitters, I think we'll have something together this year that the fans can cheer for."
Prior to his coaching career, the Panama native enjoyed a 15-year professional career as a player, highlighted by three stints in the Show, where he totaled 12 games between the Blue Jays and Brewers and tallied seven Major League hits. Originally signed by Toronto as an international free agent in 1991, Mosquera hit .277 with 51 home runs, 414 RBI, and 58 stolen bases across parts of 13 minor league seasons with the Blue Jays, Rays, Yankees, Rangers, Mariners, and Brewers. He currently resides in Tarpon Springs, Fla.
The RiverDogs are coming off back-to-back trips to the playoffs after a 2017 season in which Charleston were one of seven domestic affiliates in the Yankees system to make a postseason run, including each of the top six clubs on the ladder. Even after a slew of trades to bolster the big league roster, the Yankees were still graded as one of the four best farm systems in baseball by MLB.com midseason. The RiverDogs have featured five of the Yankees' top-30 prospects on their Opening Day roster each of the past two seasons.
About the RiverDogs
The Charleston RiverDogs, the Class A affiliate of the 27-time World Champion New York Yankees, are Charleston's leader in affordable sports entertainment. Recently recognized with the Bob Freitas Award as the top Class A operation by Baseball America in 2017, the RiverDogs are coming off their most successful season when they welcomed over 300,000 fans through the turnstiles for the first time in franchise history.
RiverDogs season tickets, group tickets, and flex plans, including options to the Riley Park Club, are now available for the 2018 campaign, the club's 25th season as the RiverDogs and their "175th in dog years." The RiverDogs begin the season on April 12 when they host the Kannapolis Intimidators at The Joe after a week on the road and an exhibition opener at The Joe on April 3 against Myrtle Beach. Ticket information can be secured by contacting the box office at (843) 577-DOGS (3647) or online at www.riverdogs.com/tickets.
--RIVERDOGS--