Top 7 Reasons Why Upcoming RiverDogs Homestand is so You
Courtesy of Buzzfeed, the RiverDogs list the top reasons to up your Instagram game at the upcoming 7-day stint at Riley Park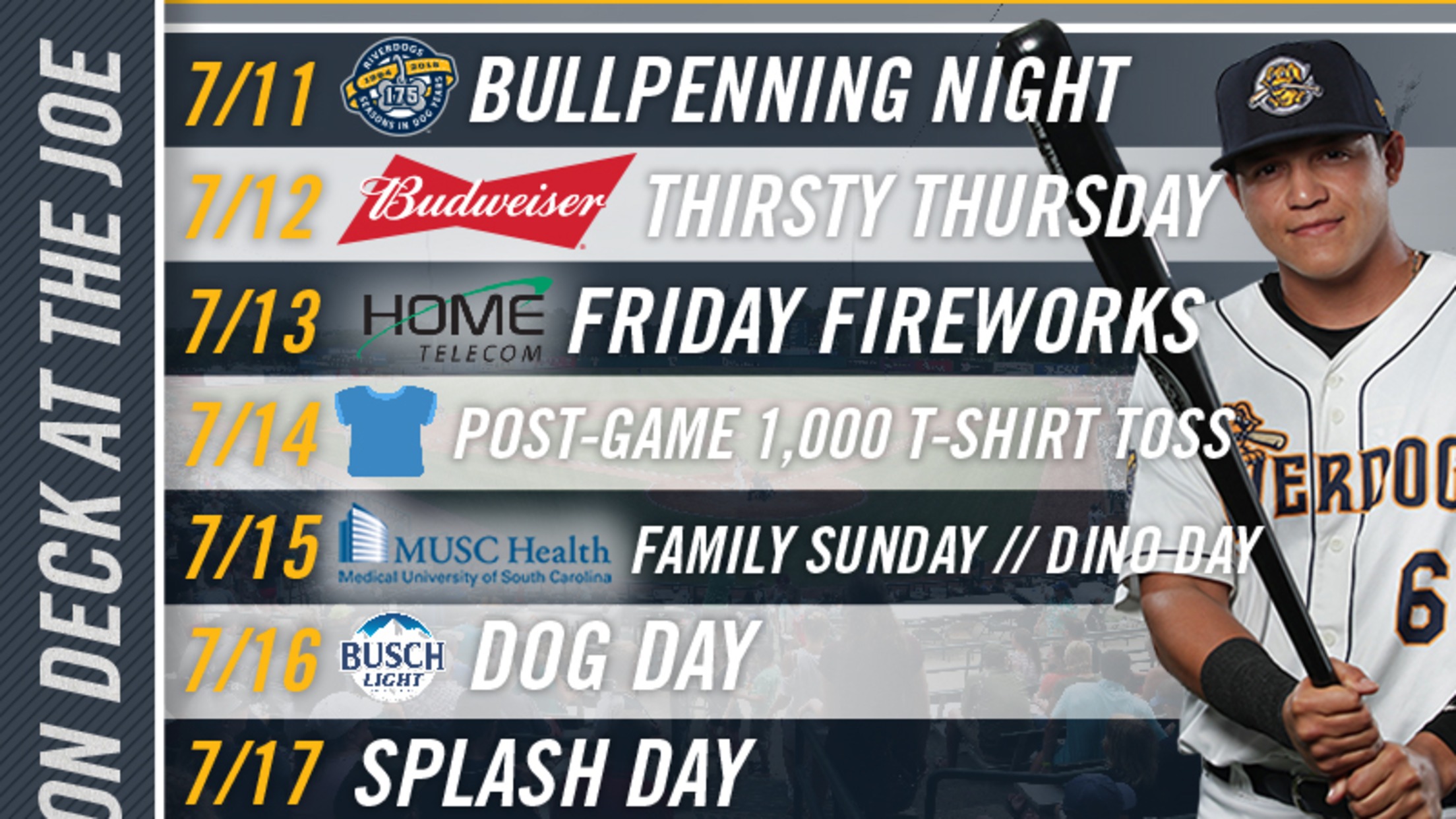 CHARLESTON, S.C. - The Charleston RiverDogs are constantly cooking up the zaniest promotions while playing in one of the most picturesque ballparks in baseball (#nofilter). You don't need a Buzzfeed quiz to tell you where you should be this week as the Dogs are back for a weeklong homestand starting
CHARLESTON, S.C. - The Charleston RiverDogs are constantly cooking up the zaniest promotions while playing in one of the most picturesque ballparks in baseball (#nofilter). You don't need a Buzzfeed quiz to tell you where you should be this week as the Dogs are back for a weeklong homestand starting on Wednesday at The Joe.
The Charleston club will first host the Delmarva Shorebirds for a three-game tilt followed by a four-gamer against the Hickory Crawdads. Here's the top seven reasons to spend your week #DownAtTheJoe:

via GIPHY

Thursday, July 12, 7:05 p.m.: Buzzfeed Night/Thirsty Thursday: Do you find yourself constantly taking quizzes to assess your personality type? Are GIFs the only way you know how to express your feelings? Is making a top-25 list honestly just the easiest way to organize your thoughts? It's not clickbait; it's the RiverDogs' Buzzfeed Night at The Joe, complete with a Budweiser Thirsty Thursday presented by 95SX. As they enjoy dollar beers in the Ashley View Pub with the musical stylings of DJ Natty Heavy, fans can take their very own RiverDogs Buzzfeed quizzes answering deep questions like "Which RiverDog Are You?," "Which Charlie logo is so you?," and "Who is your RiverDogs celebrity crush?" (Spoiler: it's Aaron Judge).
via GIPHY
Friday, July 13, 7:05 p.m.: Friday Fireworks/Domestic Violence Awareness: Local organizations from the Lowcountry will take part to raise awareness for domestic violence. The RiverDogs will auction off a Joe Torre signed baseball and jersey with all proceeds going toward domestic violence organizations. The first 500 fans at the gates will receive a Topps baseball card pack which will include a Joe Torre Safe at Home Foundation individual card. The night will wrap up with Home Telecom Friday Fireworks presented by WEZL and Live 5 News, featuring a women empowerment playlist. It's also a Red Shirt Friday at The Joe; fans that wear red can save a buck at the gate with the option to donate that dollar to the Palmetto Military Support Group.
via GIPHY
Saturday, July 14, 6:05 p.m.: Postgame T-Shirt Toss: Your RiverDogs wardrobe isn't complete until you get your hands on one of the 1,000 t-shirts commemorating the club's "175th season in dog years" that the RiverDogs will toss into the crowd following the series opener against Hickory. It's all part of a "Saturdays Live at The Joe" presentation presented by NASH FM and Fox 24 as you take in the postgame sunset sure to blow up your Insta feed. Fans are also encouraged to bring canned goods to donate to the BUSH's Food Drive; every fan that donates two or more canned food items will receive a complementary grandstand voucher and be entered to win four tickets to the Jim Gaffigan show at the North Charleston Coliseum on August 17.
via GIPHY
Sunday, July 15, 5:05 p.m: Holy City Sunday/Dinosaur Day: Harken back to a time before man walked the face of the Earth as dinosaurs take over The Joe for a family evening out at the ballpark. The night will be complete with family photo ops with dinos and a live dinosaur egg hatching at the ballpark. It's all part of an MUSC Health Family Sunday, meaning kids eat free, run the bases after the game, and everyone parks for free. Members of the MUSC Children's Health Kids Club (12 and under) also get in free. You'll be on your way to The Joe like…
via GIPHY
Monday, July 16, 7:05 p.m.: Monday Dog Day: It's man's best friend's night to shine as the RiverDogs open the gates for their four-legged fans on a Monday Dog Day presented by 98Rock. Humans can enjoy dollar beers and hot dogs courtesy of Busch Light.
via GIPHY
Tuesday, July 17, 12:05 p.m: Big Splash Day: The RiverDogs close out the homestand with a splash, welcoming in Lowcountry kids and summer camps on the annual Big Splash Day at The Joe. Pack you swim trunks as Riley Park turns into Charleston's biggest water park for the day; you will get wet!
via GIPHY
RiverDogs single-game tickets, including options to the Riley Park Club, are now available for the 2018 campaign, the club's 25th season as the RiverDogs and their "175th season in dog years." Ticket information can be secured by contacting the box office at (843) 577-DOGS (3647) or online at www.riverdogs.com/tickets.
--RIVERDOGS--
[Empty Body]