Working for Peanuts, RiverDogs Make Donation to Muscular Dystrophy Association
Club honors Tony the Peanut Man with contribution to MDA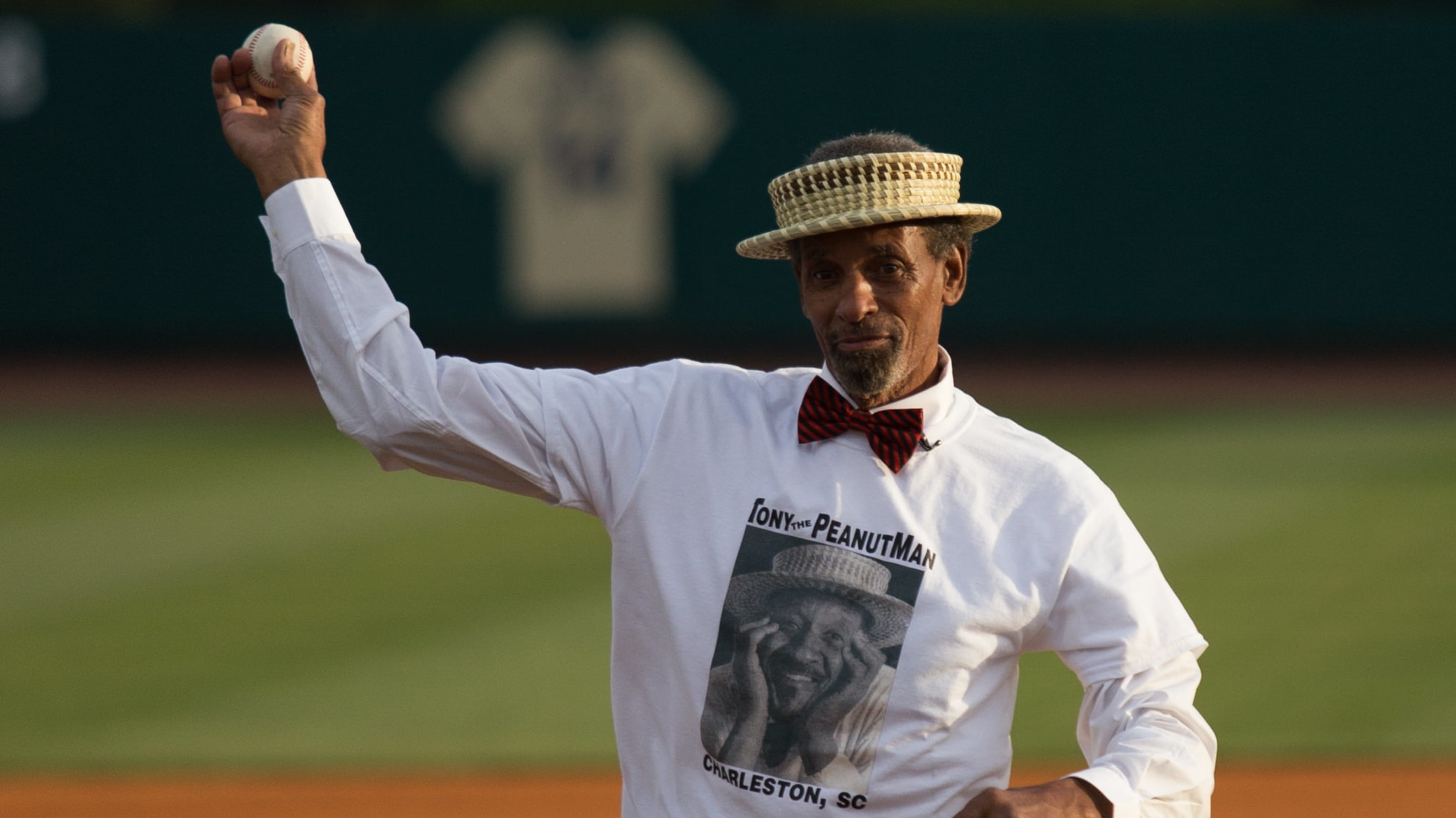 Tony's brother, William, fires the ceremonial first pitch before April 12th's contest against Augusta at The Joe. (Zach Bland)
CHARLESTON, S.C.- As part of their continued efforts to salute a ballpark icon, the Charleston RiverDogs have announced a donation of $5,000 to the Muscular Dystrophy Association (MDA) in honor of Anthony Wright, aka "Tony the Peanut Man.""Tony brought energy and charisma to The Joe that was sorely missed this
CHARLESTON, S.C.- As part of their continued efforts to salute a ballpark icon, the Charleston RiverDogs have announced a donation of $5,000 to the Muscular Dystrophy Association (MDA) in honor of Anthony Wright, aka "Tony the Peanut Man."
"Tony brought energy and charisma to The Joe that was sorely missed this past season," said RiverDogs President and General Manager Dave Echols. "As a staff, we wanted to create an ongoing message associated with Tony, and combining that message with this year's peanut sales at the park was a good start."
"We are thrilled to accept this donation from the Charleston RiverDogs to help provide the funds needed to find treatments and cures for muscular dystrophy, ALS, and related diseases that severely limit strength and mobility," said MDA Director of Business Development, Megan Relford. "The dedication of this organization to the MDA's mission, as well as Tony's memory is unwavering, and this donation will go a long way to help countless families living with muscle disease right here in the Lowcountry."
On April 12, the RiverDogs tipped their sweetgrass caps to Tony during their opening week of the 21st season of baseball at The Joe, where Wright became a local favorite as a longtime peanut vendor. The RiverDogs celebrated the evening with Tony's songs, peanuts, and their best impressions of his signature smile as the Charleston community celebrated the life of the beloved figure, who passed away shortly following the 2016 campaign.
As a season-long tribute to Tony, the RiverDogs also tossed out bags of his famous boiled peanuts to the crowd during the seventh inning stretch at each home game. The club also committed to donating a portion of their peanut sale proceeds to the MDA of which Tony was a proud supporter.
RiverDogs season tickets, half-season ticket packages, and flex plans are now available for the 2018 campaign. The RiverDogs begin the season on April 12 when they host the Kannapolis Intimidators at Joseph P. Riley, Jr. Park. Ticket information can be secured by contacting the box office at (843) 577-DOGS (3647) or online at www.riverdogs.com/tickets.
--RIVERDOGS--