Flashback Fridays: Charlie Manuel
Manuel's Legendary Career Spanned Two Stints in Charlotte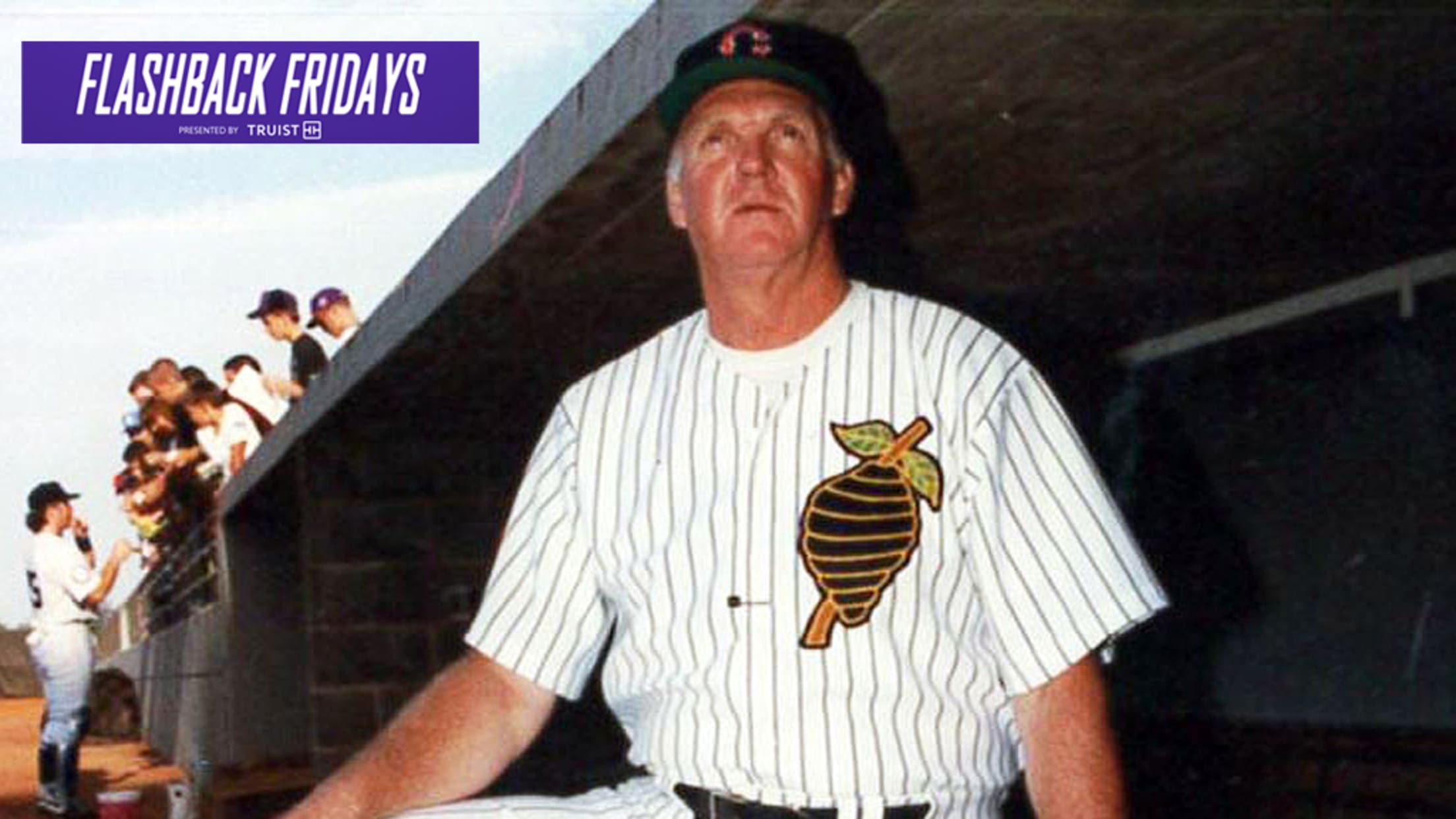 Charlie Manuel has spent a lifetime in the game of baseball. As a player, coach, manager, scout, and front office executive, Manuel has had an extraordinary career -- one that has spanned nearly 50 years. His memorable career also includes two stops in Charlotte -- both as a player and
Charlie Manuel has spent a lifetime in the game of baseball. As a player, coach, manager, scout, and front office executive, Manuel has had an extraordinary career -- one that has spanned nearly 50 years. His memorable career also includes two stops in Charlotte -- both as a player and as a manager. For his efforts, in 2016, he took his rightful place as one of the first members of the Charlotte Baseball Round Table of Honor.
EARLY DAYS
After signing with the Minnesota Twins in 1963, Charlie Manuel -- better known as Chuck Manuel in those days -- began his professional playing career as a 19-year-old with the Wytheville Twins of the Appalachian League that year. After making his way through Minnesota's system the next four years (1964-1967), Manuel found his way to the Queen City for the first time in 1968.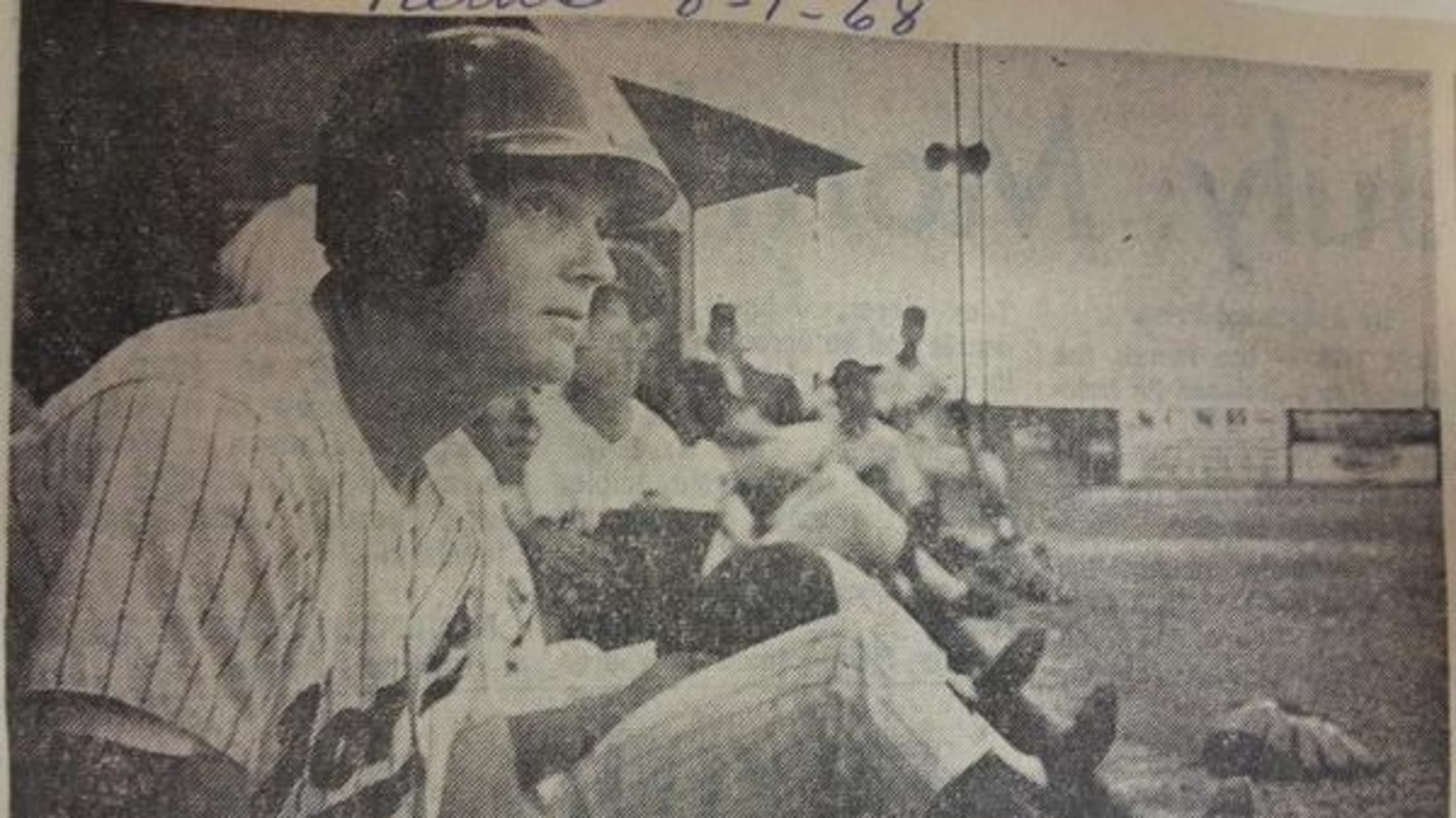 CHARLOTTE HORNETS
Manuel, a 6'4" left-handed slugger, first called Charlotte home in 1968 when he played for the Charlotte Hornets. That season, the Northfork, WV native mashed 13 home runs and drove in 79 runs for the Double-A affiliate of the Twins. He finished third in the Southern League that year in RBIs and hit .283. He was a Southern League All-Star and was in the midst of becoming a solid prospect in the organization. His success in Charlotte that year helped earn him an invitation to Minnesota Twins spring training in 1969.
CLARK GRIFFITH PARK
Manuel and the Hornets played their home games at Clark Griffith Park in Charlotte in 1968. Manuel talked about what it was like to play there in the '60s when he was back in Charlotte in 2016 for his induction into the Charlotte Baseball Round Table of Honor. The park opened in 1941 and later was renamed Jim Crockett Memorial Park (or Crockett Park), which housed the Charlotte O's.
MAJOR LEAGUE PLAYING CAREER
After making his major league debut on April 8, 1969 with the Twins, Manuel spent parts of four seasons with the team (1969-72). After the 1973 season, Manuel was traded to the Los Angeles Dodgers organization and spent two seasons in the organization. In all, he spent parts of six seasons at the major league level and appeared in 242 games. Manuel's final season as a big leaguer came with the Dodgers as a 31-year-old in 1975. Despite his big league career coming to an end, Manuel found success in another place as a hitter.
JAPAN CAREER
Manuel signed with the Yakult Swallows in 1976 and went on to spend six memorable seasons in Japan. From 1976 to 1981, Manuel hit .303 with 189 home runs and 491 RBIs for the Swallows and the Kintetsu Buffaloes. Over the course of that six-year span, he earned the MVP after hitting .324 average with 37 home runs and 94 RBIs in 1979. He was the first American player to be honored with the league's top award. A year later, he launched 48 home runs for the Buffaloes in 1980, which once stood as a record for an American player in Japan.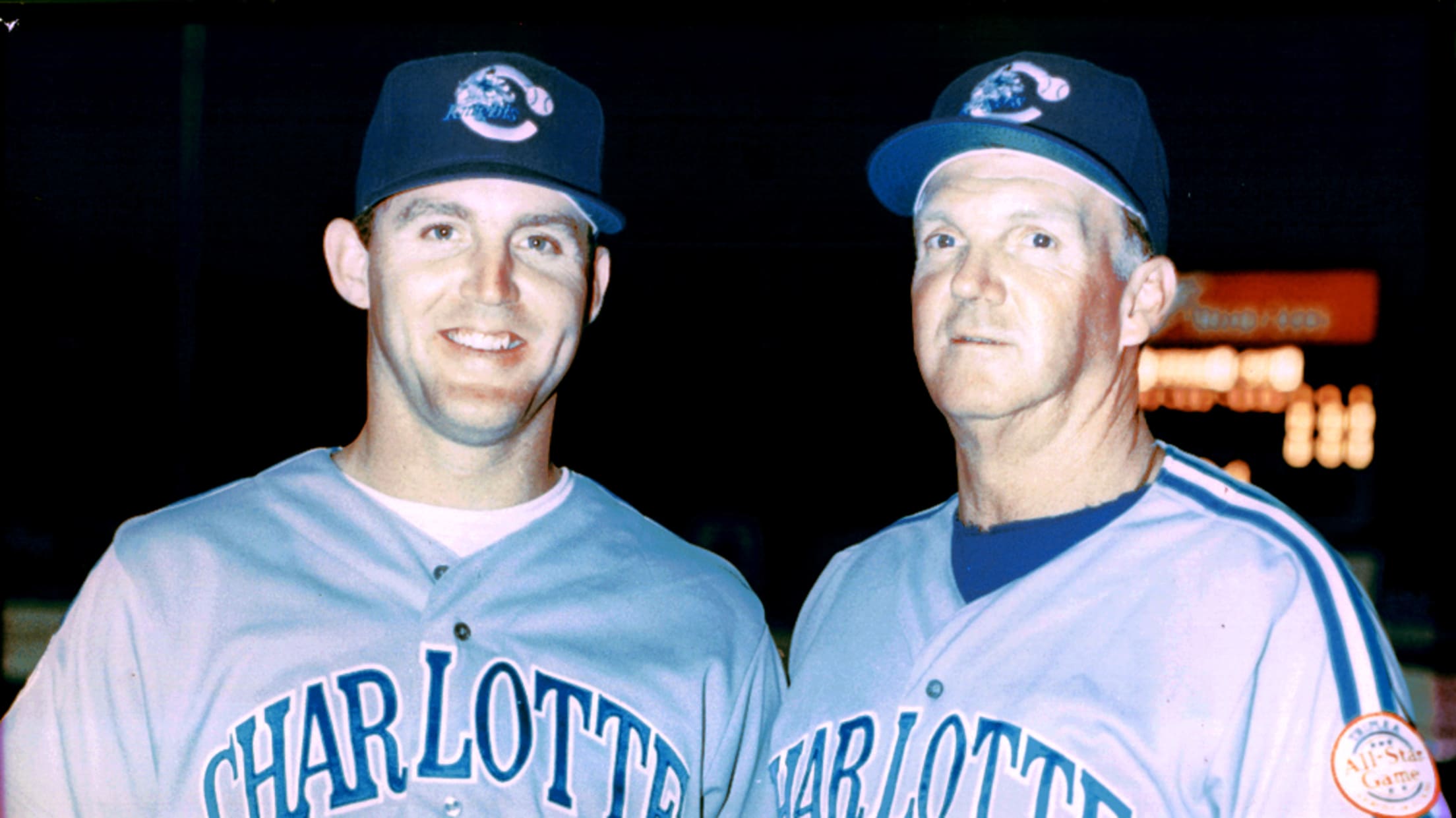 1993 CHARLOTTE KNIGHTS
Manuel joined the Cleveland Indians organization in 1988 as the major league hitting coach. After one season, Manuel returned to the minors to manage the organization's Triple-A squad -- just in time for the organization's resurgence as a wealth of young talented players came along. After three seasons as the Triple-A manager at Colorado Springs -- including a Pacific Coast League title and Manager of the Year honors in 1992 -- Manuel was back for another Triple-A season. This time, however, he was back in familiar territory.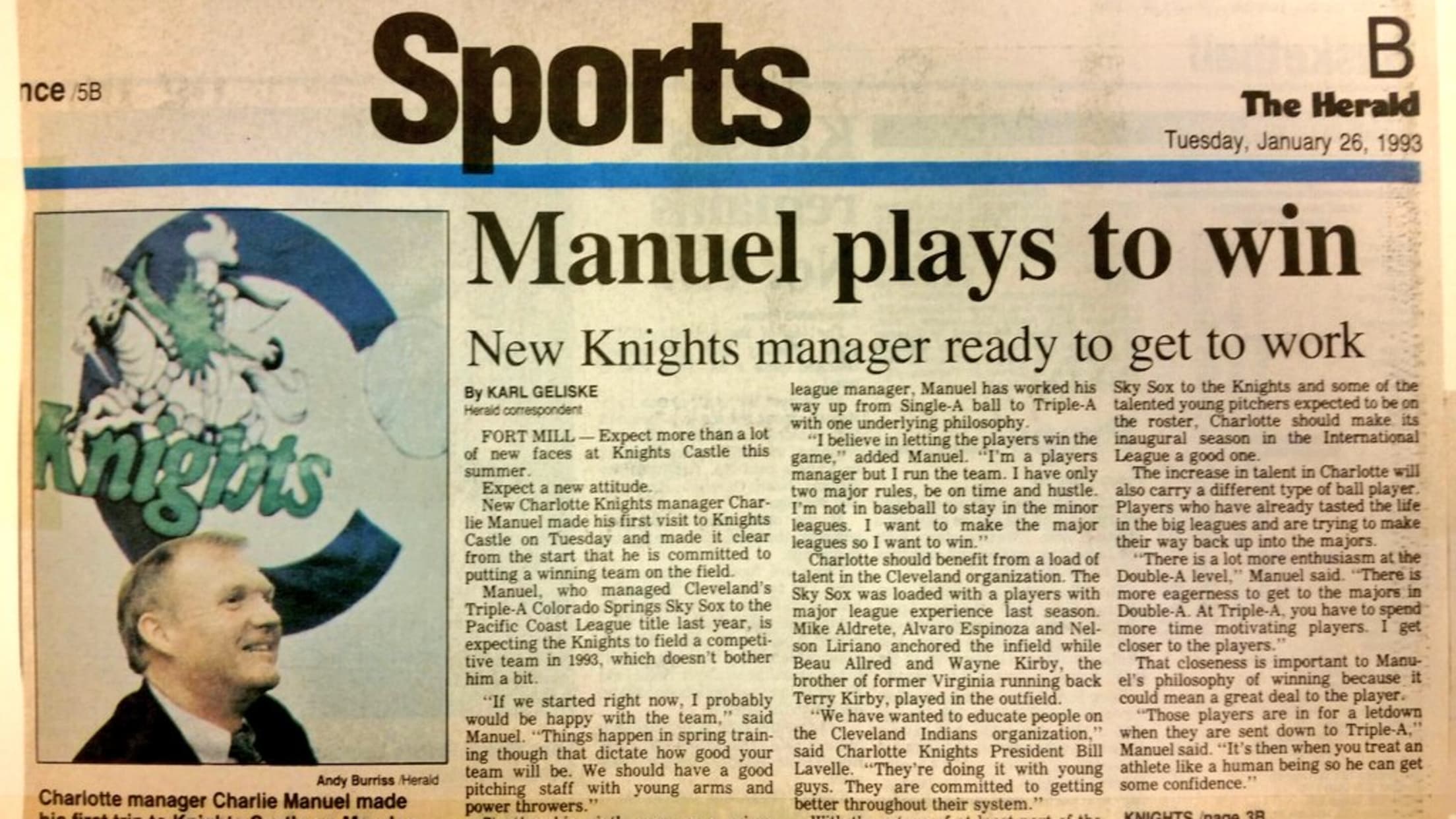 For the first time since playing in the Queen City in 1968, Manuel was named manager of the Charlotte Knights for the 1993 season after the Indians and Knights began an affiliation that year. For the Knights' organization, it was their first year as a Triple-A team after spending the previous seasons as a Double-A affiliate. For Manuel, it was business as usual at the helm as he led the Knights to their first Governors' Cup title in 1993 after 86 regular-season wins and a dominating playoff run. Combined with his outstanding knowledge of the game, his team was led by many veteran players and also featured some very talented youngsters such as Jim Thome, Mark Lewis, Chad Ogea, and Manny Ramirez. The 86 wins are the most in a season in Charlotte Knights franchise history.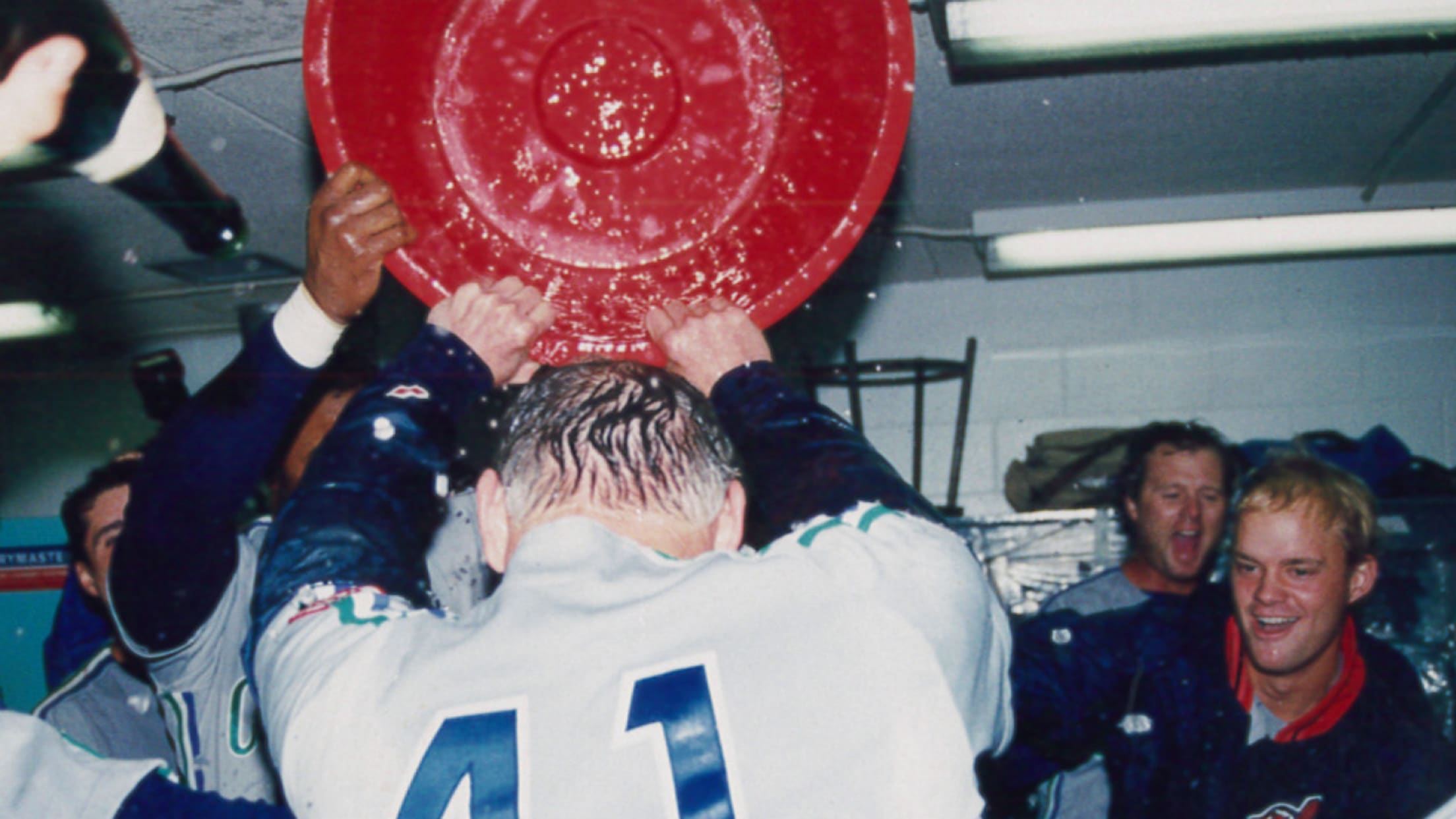 MAJOR LEAGUE MANAGER
After the success of the 1993 season, Manuel returned to Cleveland in 1994 and once again took over as the club's hitting coach. He held that title until 2000 when he took over as the team's big league manager after Mike Hargrove was relieved of his duties. For Manuel, the success as a hitting coach was already there. The Indians notched 100 wins in 144 games in 1995 and the team won the American League Central by 30 games. The 1995 and 1997 teams also won the AL pennant before falling in the World Series.
Manuel spent parts of three seasons as Cleveland's manager (2000-02) and compiled a 220-190 record (.537 win percentage). Despite his success, he was relieved of his duties in July of 2002. All-time winningest Knights manager Joel Skinner took his place on an interim basis that season.
WORLD SERIES CHAMPION
After the 2002 season, Manuel followed Jim Thome to Philadelphia and took a job as a special assistant to GM Ed Wade. In 2005, Manuel was named manager after the club fired Larry Bowa. For Manuel, he was back at the helm of a major league team and it didn't take long for him to have success. After 88 wins in 2005, 85 in 2006, and 89 in 2007, his hard work came full circle in 2008 as he guided his Philadelphia Phillies to a World Series Championship -- the organization's first since 1980. In all, Manuel won 1,055 games as a major league manager over 12 seasons.
CHARLOTTE BASEBALL ROUND TABLE OF HONOR
In February of 2016, the Charlotte Knights announced plans to revive the Charlotte Baseball Hall of Fame. Rebranded as the "Charlotte Baseball Roundtable of Honor", the Knights announced their first two selections into the class of 2016 in April of that year as Charlie Manuel and Jim Thome. Both Manuel and Thome attended the 2016 Triple-A All-Star Game on Wednesday, July 13th and were officially inducted at the Triple-A All-Star Game Luncheon at the Charlotte Convention Center earlier that morning.
THOME AND MANUEL
Manuel first managed Thome in 1992 at Colorado Springs. As a 21-year-old, Thome showed glimpses of a Hall of Fame future. Of course,a year later, the two had success in Charlotte in 1993 and later spent four seasons together in the big leagues. In 2016, it was only fitting that the two were the first inductees into the Charlotte Baseball Round Table of Honor.
After an on-field ceremony, Thome and Manuel threw out the first pitch at the 2016 Triple-A Baseball All-Star Game at BB&T Ballpark. The two also spent some time in the TV booth as the game was broadcast live on MLB Network.
PHILADELPHIA PHILLIES WALL OF FAME
Manuel was inducted into the Philadelphia Phillies Wall of Fame in 2014.
"He made every player feel like they were a great player," Jim Thome on Charlie Manuel.