The Dayton Dragons and Anthem Blue Cross and Blue Shield of Ohio have been partnering since 2004 to bring Dragons fans the iconic Home Run for Life program. Each season, Anthem and the Dragons recognize brave children who, with the help of their families, friends, and health care team, are presently battling or have successfully overcome significant medical events in their young life.
Home Run for Life events are promoted in advance through newspaper ads, radio spots and the Dragons game program, PlayBall! A personalized newspaper ad in the Dayton Daily News tells each honoree's story a few days prior to their event. And the honoree's photo and story are featured on the fold-out inside front cover of the complimentary PlayBall! game program handed out to all attendees on the night of their Home Run for Life.
During each Home Run for Life, Anthem hosts the honoree and his/her support team of family, friends, doctors, and Anthem representatives in a luxury suite.
Each honoree is recognized on the field during an inning break. The honoree, their family and support team are taken onto the field and the honoree gets to take a symbolic lap around the bases to a standing ovation from the crowd.
Learn more about this year's honorees:
---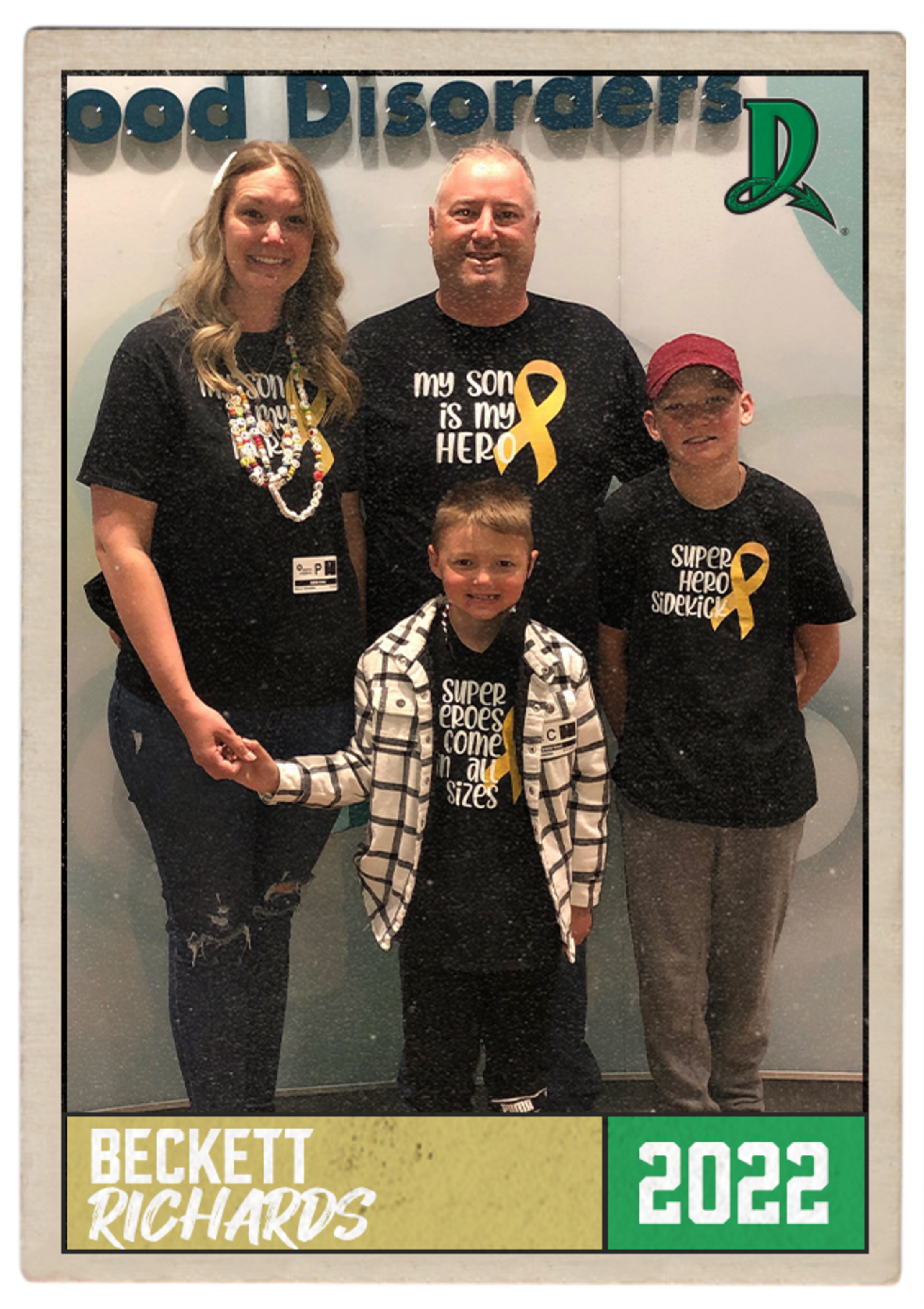 Beckett Richards
It was Wednesday, January 10, 2018, when Beckett Richards was rushed to the hospital after a phone call that changed his life. After recent blood tests, doctors were concerned with his white blood cell count – Beckett tested at 48,000 where the standard range is around 4,000 - 8,000. These numbers were indicators for leukemia. Not only that, but his red blood cell count was very low, he was anemic, and he needed a blood transfusion immediately.
Beckett's parents, Kelly and Nathan, picked up their family and rushed to the hospital. This 3-year-old received a bone marrow biopsy and a spinal tap confirming his diagnosis: acute lymphoblastic leukemia (ALL). This cancer, while having an 80% success rate, was going to take Beckett through a long 4-year journey. During that time, he received around 12 types of chemotherapy, 92 port infusions, over 1,200 oral chemo doses, among many other medications and procedures.
Beckett's journey was difficult, and just as the family was learning to cope with this change, COVID was sweeping the nation. Kelly and Nathan agreed that they couldn't risk Beckett being exposed at school during this time. They had taken him and his brother out of classes and homeschooled them while he received treatment.
The steroids, chemotherapy, and infusions are difficult on a child's body, and with Beckett having an extremely low immune system, can be even harder. During this difficult journey, Beckett was diagnosed with Veno-Occlusive Disease (VOD) from the high doses of medication. He was experiencing body discomfort, a bloated abdomen, and liver failure.
Beckett's journey with cancer is coming to a happy ending as he is in 'remission' having had his final treatment in April of 2021. Beckett will be returning to school at Harold Schnell and has the heart of a fighter. During his journey, Beckett reminded himself to "be strong" which drove him to finally ring the Survivors Bell at the hospital.
Anthem Blue Cross and Blue Shield and the Dayton Dragons applaud all those who have been instrumental in Beckett's life, including his mom, dad, older brother, and his entire medical team.
Joe Chiulli
In November of 2018, Joe Chiulli was experiencing extreme pain in his legs along with several respiratory infections. As he battled through the difficulties of breathing, the pain in his legs forced him to stop walking. His parents had exhausted all medical options to find a remedy to their son's pain, but little help was found.
For six months, Joe continued to suffer intense pain until a nurse noticed severe bloating in his abdomen. The medical staff sent Joey into testing, and a biopsy confirmed Joey had acute lymphocytic leukemia (ALL), a type of cancer found in the bone marrow of children. He underwent nine blood transfusions, a lumbar puncture, and a bone marrow transplant.
The 'induction' phase of the cancer treatment journey was extremely tough on Joe. The medications and steroids created negative reactions physically, mentally, and emotionally. This four-year-old faced extreme anxiety, anger, and depression. His reaction led doctors to believe he was chemo resistant – less than 10% of cancer patients fall into this category. As a result, his medical team included Joey in a new medical study where doctors targeted cancer genetically.
As April 2019 rolled around, Joey's thigh still hurt more than the rest of his body. A CT scan showed an abscess on this thigh; the infection was growing into his femur. Doctors immediately drained his bone three times to remove the disease. Finally, the road to recovery could begin, and Joey relearned how to walk.
Joey is in 'long term maintenance' having had his final spinal on June 17, 2022. Joey will be heading into first grade at Liberty Elementary and is wise beyond his years. He says, "if we all stay strong, everything will be ok."
Anthem Blue Cross and Blue Shield and the Dayton Dragons applaud all those who have been instrumental in Joe's life, including his family, Dr. Dolé, and his entire medical team.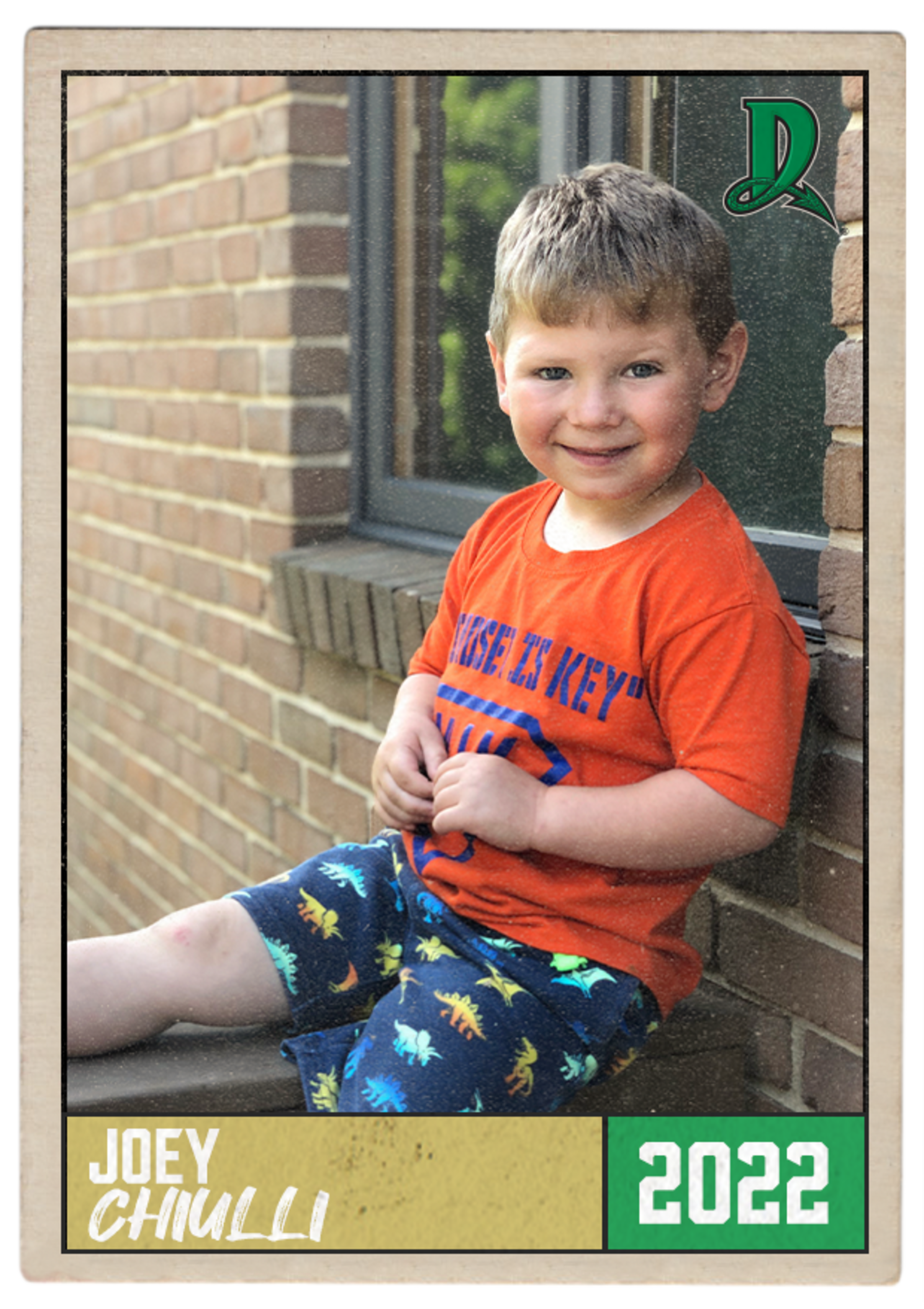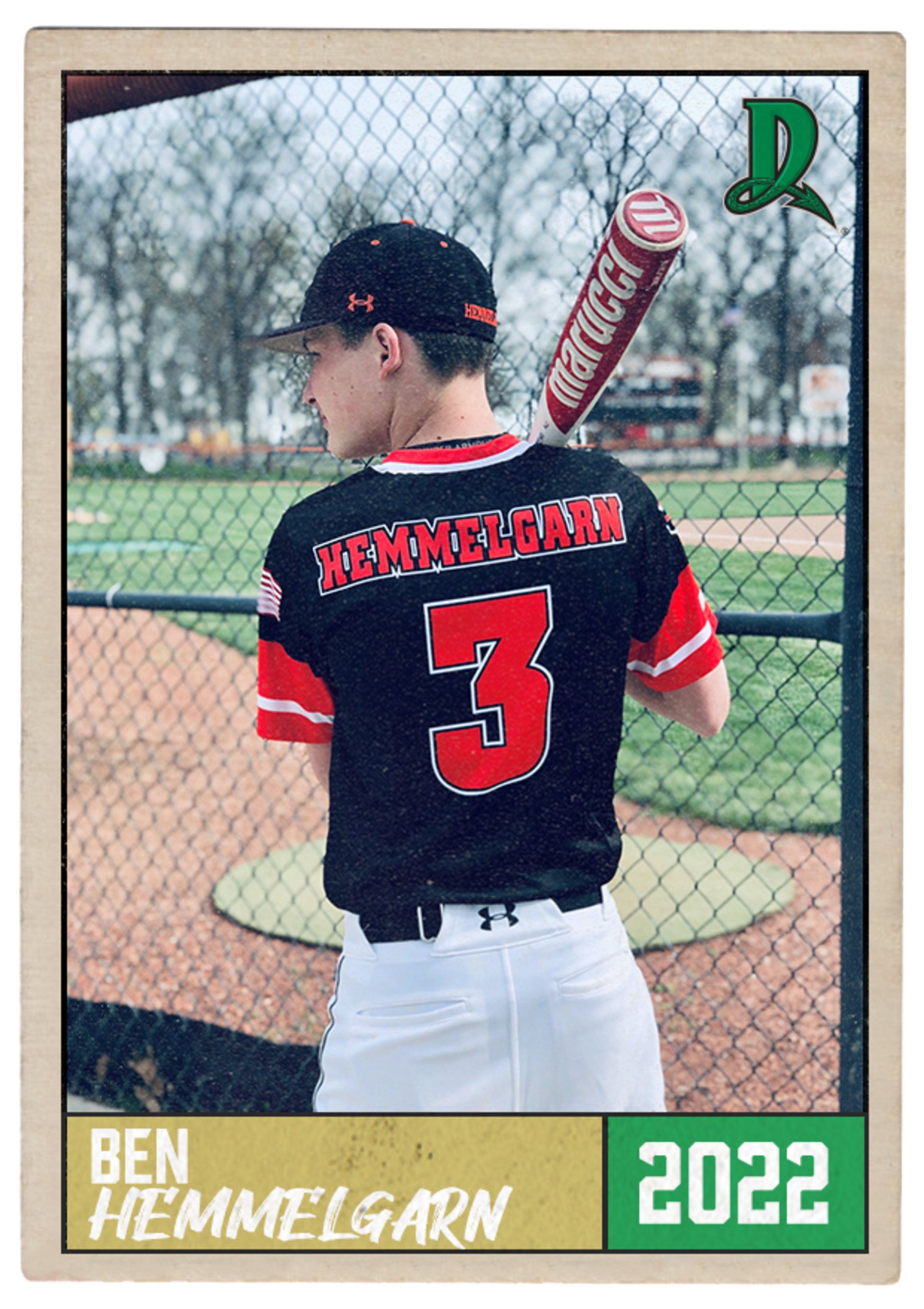 Ben Hemmelgarn
In December of 2018, Ben Hemmelgarn was a 7th grader experiencing extreme chest pain. Doctors prescribed him with antibiotics for what seemed like pneumonia. Several weeks later, he was still having a sharpness in his side, and a CT confirmed a lump on the right side of his chest.
A biopsy confirmed Ben had Ewing Sarcoma, a type of bone or soft tissue cancer that occurs in young children. Ben underwent six rounds of chemotherapy where he experienced a loss of taste and smell, hair loss, mouth sores, and numbness in his hands and feet.
After months of chemotherapy, an MRI scans showed that the tumor did shrink, but surgery was required to remove the remaining mass. The operation was successful however left Ben weak – it required doctors to also remove his 4th rib. Through September of 2019, his chemo treatments continued to ensure the cancer would not return. The 'End of Treatment' scans in October of 2019 confirmed that Bren was Cancer Free.
Today, Ben is a sophomore at Coldwater High School. Ben plays second base for the Cavaliers Baseball team, and recently earned his driver's license. After reflecting on his journey, he believes his perseverance was the driving force in his battle with cancer. He says "You can't beat the person who never gives up…and I always try to be that person."
For more information on the Home Run for Life program, please contact Brittany Snyder at

[email protected]

.