Bulls Rip Tides 11-2
Kelly crushes team-best 10th dinger, Pinto goes deep in AAA debut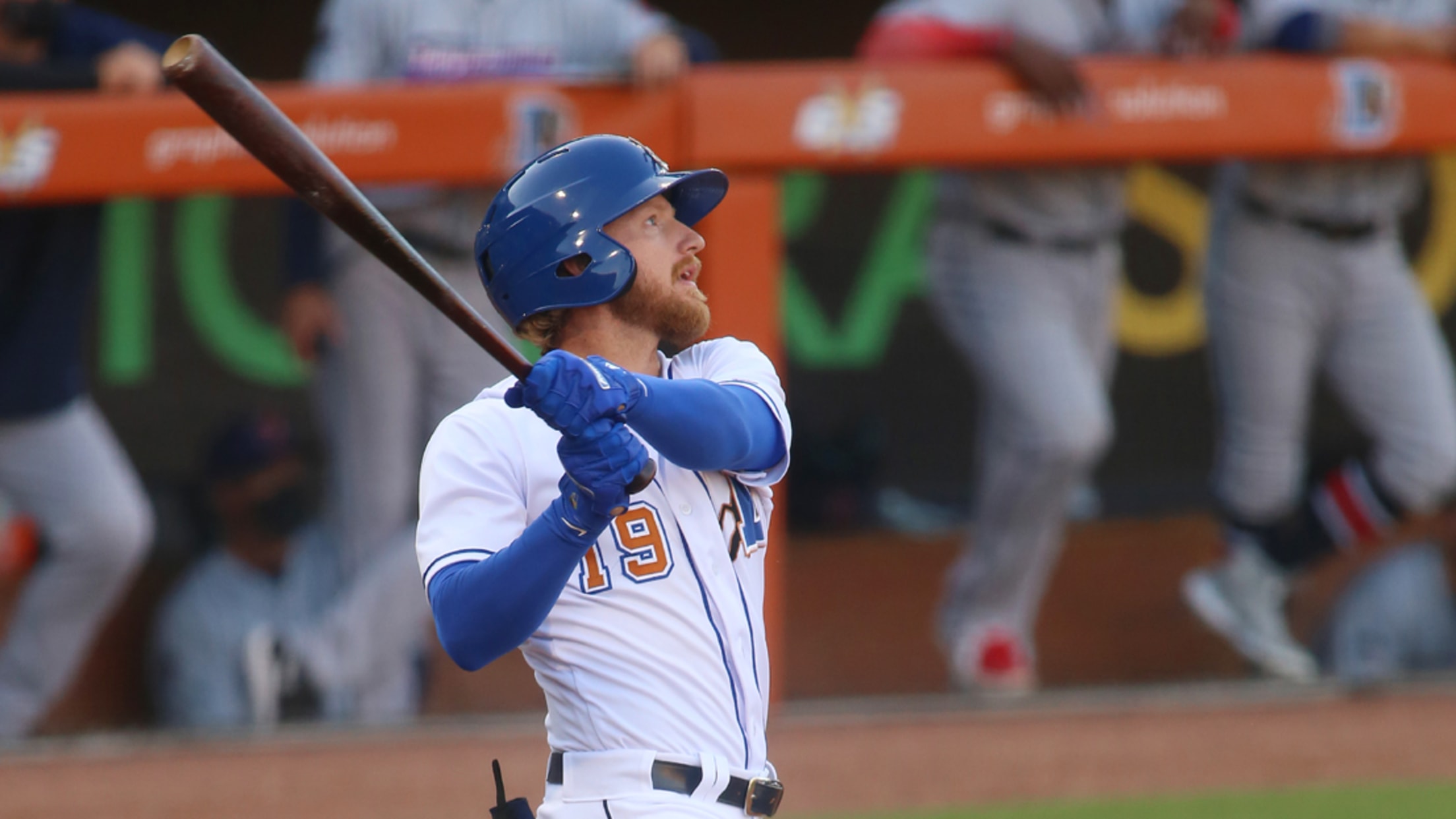 (Brian Fleming)
Bulls first baseman Dalton Kelly reached base five times, collecting three hits including a leadoff home run, while catcher Rene Pinto went deep and drove in four runs in his Triple-A debut as Durham earned their sixth straight win with an 11-2 victory over the Norfolk Tides on Wednesday night
Bulls first baseman Dalton Kelly reached base five times, collecting three hits including a leadoff home run, while catcher Rene Pinto went deep and drove in four runs in his Triple-A debut as Durham earned their sixth straight win with an 11-2 victory over the Norfolk Tides on Wednesday night at Harbor Park.
All nine Bulls batters recorded at least one knock, with Kelly (3-4, 3 R, 2B, HR, 2 RBI, 2 BB) leading the way with his trio of hits. CF Nathan Lukes (2-5, R, 2B, 3B, 2 RBI, BB), LF Josh Lowe (2-6, R, 2B), 3B Kevin Padlo (2-5, 2B, 2 RBI) and SS Tristan Gray (2-4, 2 R, BB) each posted multi-hit efforts. Lowe extended his hit streak to nine games, while Kelly upped his stretch to seven consecutive contests.
Kelly set the tone for the night on the second pitch of the game, bashing a leadoff home run to center, his team-best tenth longball of the year, with RF Ryan Boldt adding an RBI single to make it 2-0 after one frame. Pinto would then blast a three-run shot in his very first Triple-A at-bat to extend the advantage to five. Following single Tides tallies in the second and third, Durham would answer when Lukes laced a run-scoring triple in the fourth before the Bulls' four-run sixth frame highlighted by Pinto's sacrifice fly, as well as RBI doubles from Kelly and Padlo, for a 10-2 advantage. Lukes capped the scoring via an RBI double in the ninth.
Durham starter Dietrich Enns (5.0 IP, 5 H, 2 R, 2 ER, BB, 3 K) earned his second straight victory, while the Bulls bullpen continued their excellent season as the trio of Phoenix Sanders (2.0 IP, 4 K), Brent Honeywell Jr. (1.0 IP, BB, 2 K) and Louis Head (1.0 IP, K) combined for the final four shutout frames. Norfolk starter Mickey Jannis (4.0 IP, 9 H, 6 R, 6 ER, BB, 3 K) suffered the defeat.
The two teams are anticipated to face off again on Thursday evening, with first pitch scheduled for 7:05pm ET. RHP Shane Baz (1-0, 1.42) is slated to get the nod for Durham, with RHP Kyle Bradish (1-2, 4.20) expected to toe the rubber for Norfolk.
The Bulls return to Durham Bulls Athletic Park on Tuesday, July 13, to start a six-game series versus the Jacksonville Jumbo Shrimp. First pitch is scheduled for 6:35pm ET. Tickets for that game and all other remaining Bulls home games are also available at durhambulls.com.