Tobacconists Take Down Tides
Durham defeats Norfolk 11-6 in front of sellout crowd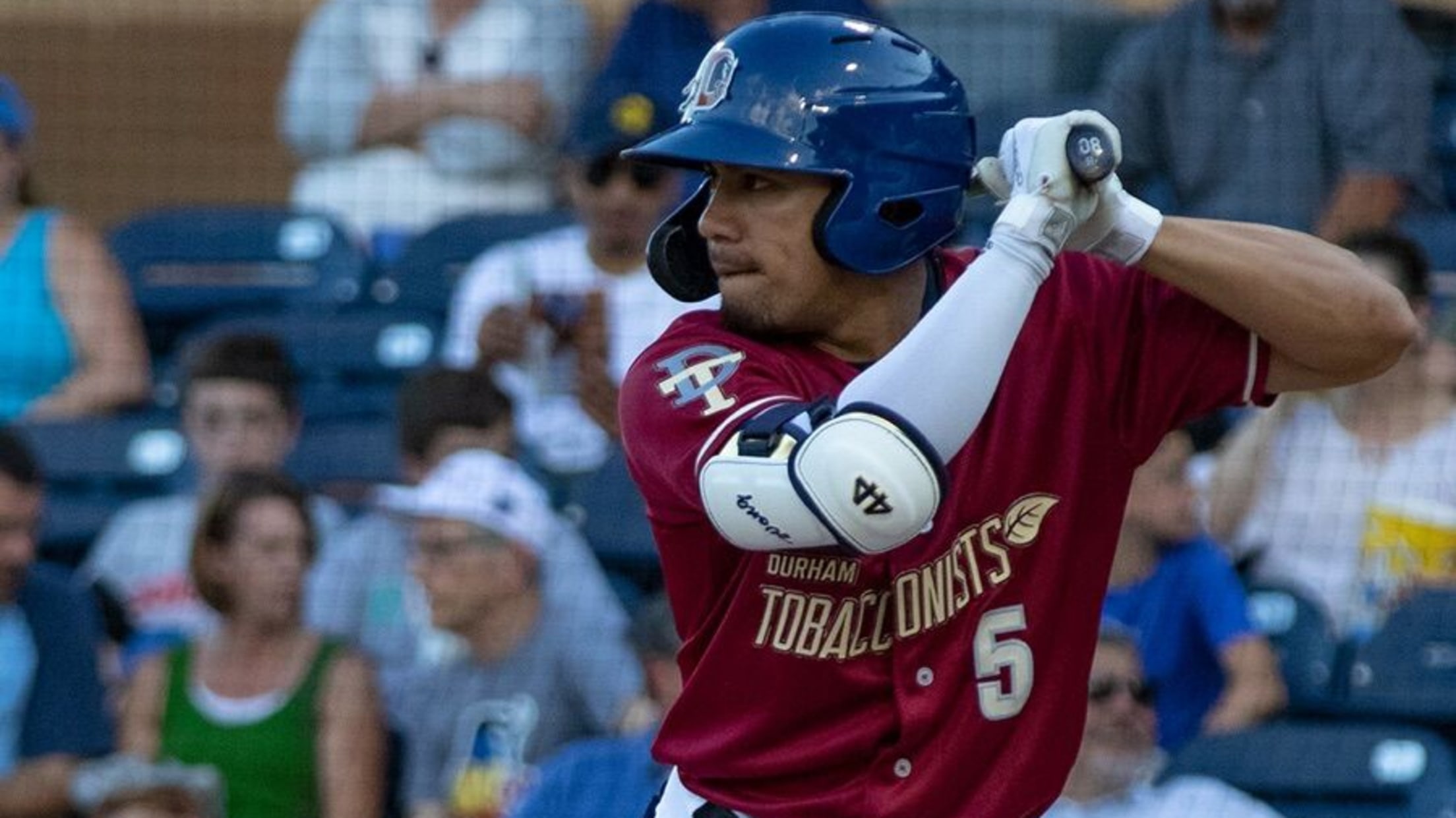 Kean Wong finished with two hits and three RBI in Durham's 11-6 victory Saturday night (Patrick Norwood / Durham Bulls)
DURHAM, NC - The Durham Bulls, playing in their alternate Durham Tobacconists uniforms, earned an 11-6 victory over the Norfolk Tides in front of a paid attendance of 10,167 Saturday at the DBAP. Aaron Slegers (4-4) recorded the victory for the Bulls, while Hunter Harvey (0-1) suffered the loss for
DURHAM, NC - The Durham Bulls, playing in their alternate Durham Tobacconists uniforms, earned an 11-6 victory over the Norfolk Tides in front of a paid attendance of 10,167 Saturday at the DBAP. Aaron Slegers (4-4) recorded the victory for the Bulls, while Hunter Harvey (0-1) suffered the loss for the Tides.
Austin Pruitt started for Durham and recorded five strikeouts over 4.0 innings pitched to reach 274 career strikeouts with the Bulls, passing Jason Standridge (272) for the franchise's career Triple-A record. Pruitt accomplished the feat in 265.2 innings in a Durham uniform, accomplishing the feat 189 innings faster.
The Tides jumped on Pruitt in the second inning, thanks a home run by Jace Peterson to right field to take a 1-0 lead. That lead increased further in the fourth inning, thanks to a Mason Williams solo home run and an RBI ground out to take a 3-0 advantage.
Nathan Lukes got the Bulls going in the fourth inning by reaching on a fielding error that scored a run to make it 3-1. Another error by the Tides shortstop Jack Reinheimer proved costly as Matt Duffy picked up an RBI on the fielder's choice to shrink the deficit to one. Kean Wong put the Bulls ahead quickly after, with a two-run single to take a 4-3 lead.
Peterson tied the game on his second solo home run of the game, but the Bulls continued their onslaught in the bottom of the seventh inning. Duffy continued his big day with a two-run double to put the Bulls ahead at 6-4, and Michael Perez put the icing on the cake with a three-run blast to right field to give the Bulls a 9-4 edge.
The Tides were able to get a run back on a Christopher Bostick RBI single but couldn't get it past a four-run deficit in the top of the eighth. Wong drove in his third run of the game on a single and Joe McCarthy added another run on a sacrifice fly to make it 11-5. Reinheimer tallied a solo home run in the ninth inning for the Tides, but their offense sputtered to close the scoring at 11-6.
The Bulls and Tides will wrap up a four-game series on Sunday at 5:05 p.m. at the DBAP. Durham will then head out on a seven-game road trip, beginning in Toledo to face the Mud Hens on Monday.