Wiener Waffle Highlights New Food Options for 2019
Mac and Cheese Dog, Waffle Mac also new season-long concession items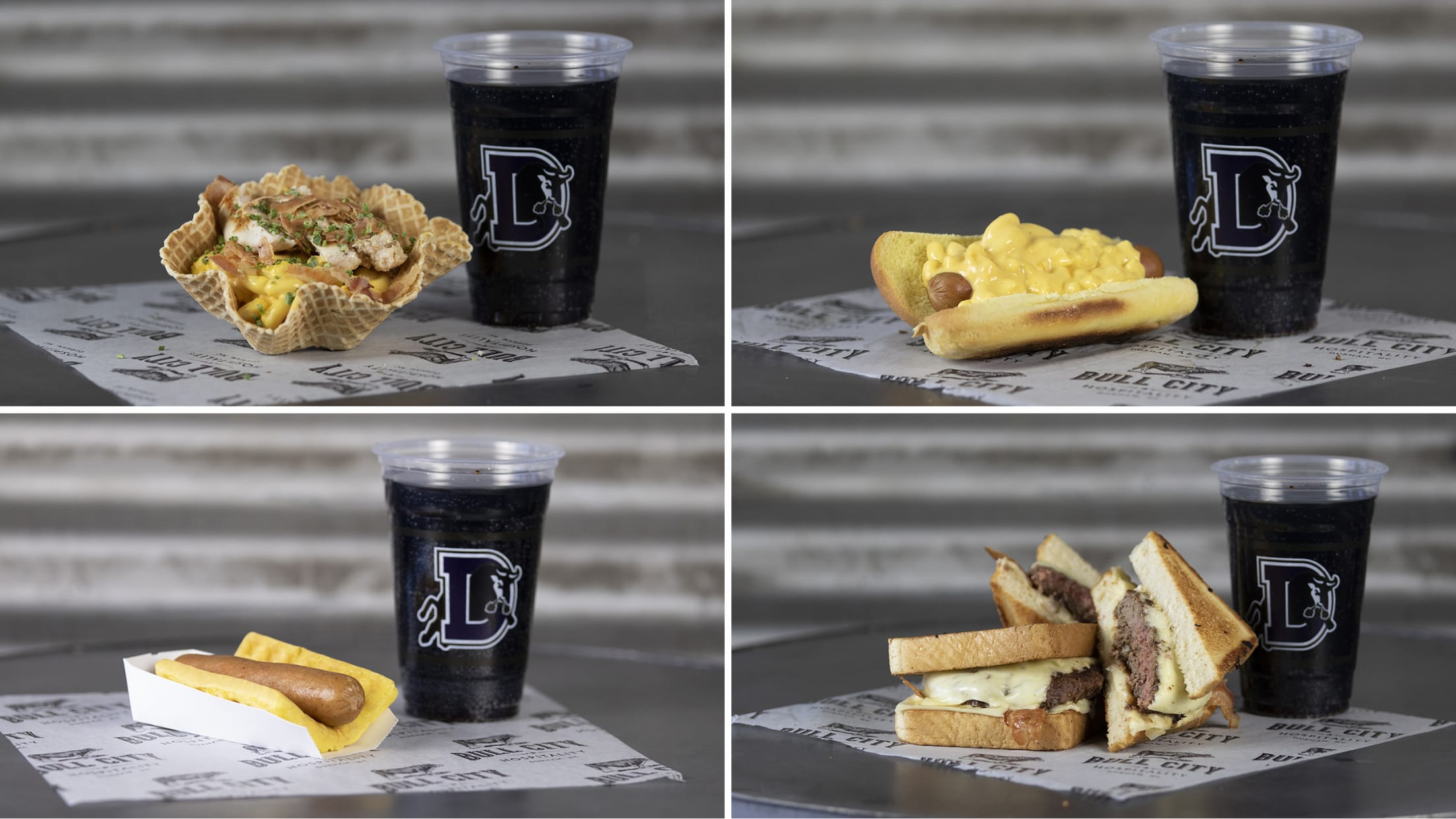 The Durham Bulls will feature a variety of new food items at Durham Bulls Athletic Park for the 2019 season, highlighted by the team's Wiener Waffle, Mac and Cheese Dog, Patty Melt, Waffle Mac and Mushroom Swiss Burger. All items have been created by Bull City Hospitality, the Bulls' food
The Durham Bulls will feature a variety of new food items at Durham Bulls Athletic Park for the 2019 season, highlighted by the team's Wiener Waffle, Mac and Cheese Dog, Patty Melt, Waffle Mac and Mushroom Swiss Burger. All items have been created by Bull City Hospitality, the Bulls' food and beverage company. View all the food items here.
The Wiener Waffle is a new take on the traditional hot dog, as the team's famous Bright Leaf Hot Dog will be served in a waffle bun. Fans will be encouraged to experiment with condiments, ranging from placing ketchup on a waffle to syrup on a hot dog.
"These new options are meant to be fun for our fans," Durham Bulls Vice President Mike Birling said. "Food is a huge part of the game day experience, and game days are meant to be fun. We hope everyone who comes to the DBAP this year enjoys all the food options we offer, and can get creative with them, too."
The Mac and Cheese Dog features mac and cheese loaded on top of a hot dog. The item is designed to be a nostalgic option for fans who grew up on hot dog pieces cut up and placed into a bowl of mac and cheese.
The Patty Melt is the stadium's delicious burger prepared in a new way. The meat will be padded down and served between two pieces of Texas Toast, topped with melted cheese, bacon and grilled onions.
Waffle Mac is just as much about the toppings as it is the main course. Served in a waffle bowl, mac and cheese will be topped with grilled chicken, bacon and chives.
The Applegate Mushroom Swiss Burger is 70 percent beef and 30 percent mushroom, blended into a burger patty. The new option will be served with swiss cheese, lettuce, tomato and onion.
All items previously listed will be available for all 70 regular season home games at the DBAP in 2019. In addition to these items, the team will also feature the following items for a limited time only:

Chicken and Biscuits (April 11-21): In celebration of the City of Durham's 150th anniversary, boneless chicken bites and biscuits will be served covered in gravy.
Yoda Soda (May 4): To celebrate Star Wars Night at the DBAP, the team will serve a special green soda concoction
Spicy Appetizer Platter (May 28-June 5): Spicy battered onion rings, spicy cauliflower and jalapeno poppers will be on the menu, and will be a featured food item for State Fair Night on June 2
Mike D's Chicken Sandwich (June 11-16): A grilled chicken breast will be smothered with Mike D's all-purpose rub.
Ham and Cheese Croissant with Frips (June 24-July4): In the heat of the summer, a cold ham and cheese sandwich on a croissant will cool anyone off, served with a side of fried chips.
Chicken and Waffles (July 11-14): Another local favorite, boneless chicken bites will be served in a waffle bowl and drenched in syrup, and topped with powdered sugar for extra sweetness.
Beef Barbacoa Tostadas with Sriracha Aioli (July 23-28): In conjunction with the team's Copa de la Diversion celebration, the team will feature an authentic Latino dish.
Sweet Potato Tots with BBQ and Cheese (August 6-11): In conjunction with Sweet Potato Night on August 10, dive in to a pile of sweet potato tots topped with BBQ and nacho cheese.