AquaSox Baseball Field Gets a Makeover
Turf replacement at Memorial Stadium begins this week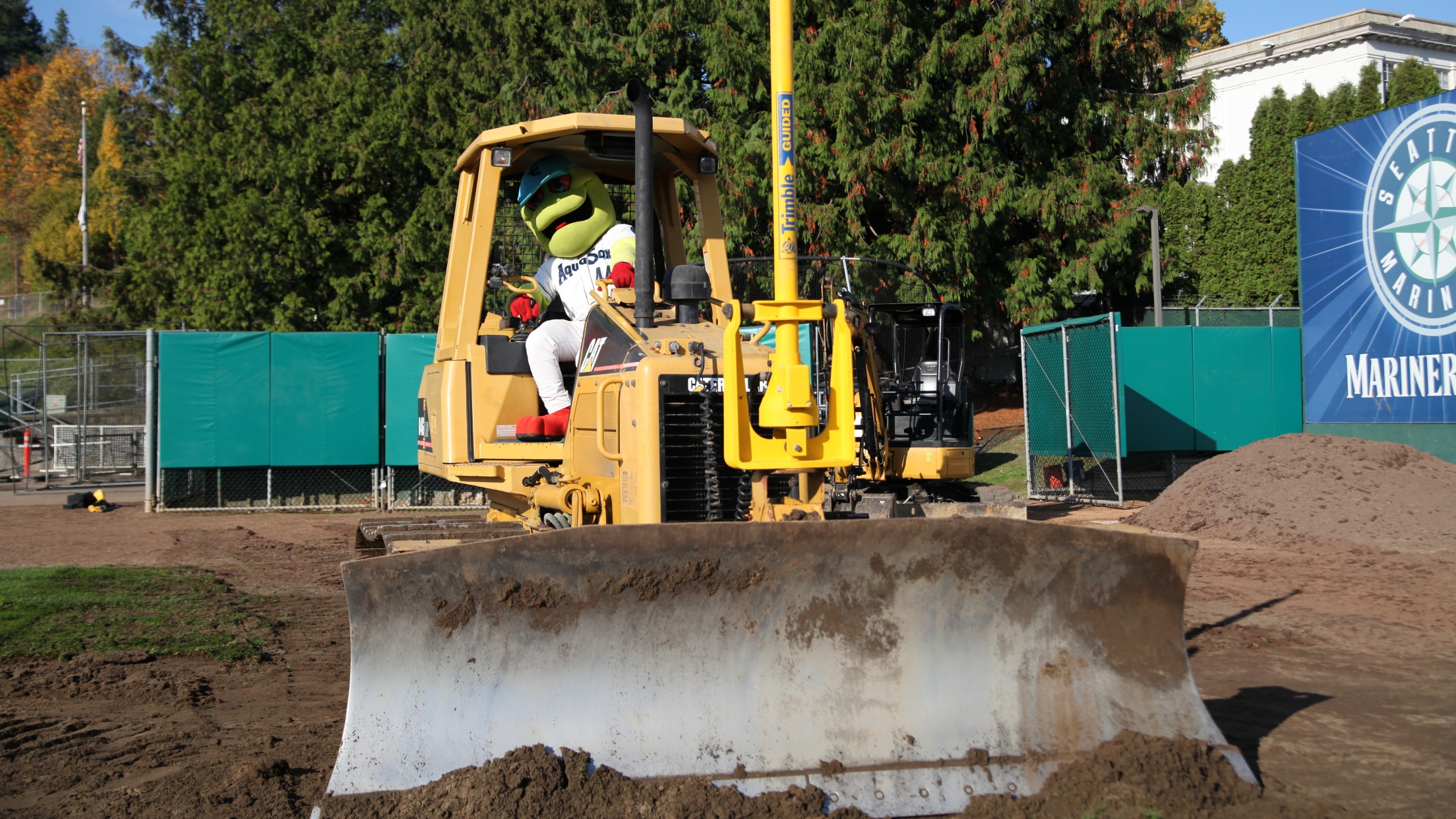 Work has begun to replace Memorial Stadium's field with synthetic turf. (Jason Grohoske/Everett AquaSox)
Everett, WA - Starting this week, you may see equipment at the Memorial Stadium to start replacing the baseball field to improve playability after rain events. The project includes removal of the infield, outfield and warning track, which will be replaced with a new synthetic turf playing surface. Initially, in
Everett, WA - Starting this week, you may see equipment at the Memorial Stadium to start replacing the baseball field to improve playability after rain events. The project includes removal of the infield, outfield and warning track, which will be replaced with a new synthetic turf playing surface. Initially, in early July, the plan was to replace existing natural grass surfaces with natural grass. That plan changed soon after to include synthetic turf for the infield, outfield and warning track surfaces.
The contractor estimates that, with the cooperation of typical weather for our region, students and baseball teams may start playing on the new field in March. If weather is worse than average, it may take longer. Better weather may allow a quicker completion.
The district is partnering with several regional entities to fund the project. Snohomish County and the AquaSox are each providing $300k and Everett Public Schools is paying the balance of what is expected to be a $1.8 million project total.
"Our partnership with Everett Public Schools and the AquaSox ensures that both school kids and our local baseball team have a year-round facility to use," shared Snohomish County Executive Dave Somers. "Memorial Stadium is good for our community, great for promoting healthy activities, and a boon for our local economy," Somers added.
"This is a crucial facility - both for Everett Public Schools, but also as a regional attraction as the home field of the Everett AquaSox," wrote Snohomish County Council Chair, Brian Sullivan. "By awarding this money from Snohomish County, I'm hoping that we can set an example that synergy and creating partnerships floats all our boats."
Everett Public Schools has had an agreement with the AquaSox for use of the baseball field since they began playing there as the Everett Giants in 1984. The agreement continued through 1995 when the team's name changed to the Everett AquaSox.
"The AquaSox are very excited to be a part of this ballpark project," stated AquaSox General Manager Danny Tetzlaff. "I'm an old school guy like a lot of folks - you just can't beat the smell of fresh-cut grass. But I also understand the weather we have here in the Pacific Northwest. This change will allow Everett High School, along with other users, to have more games and practices at their home ballpark. That's more at-bats and more innings pitched which leads to player development. Making this change to artificial turf is a win for everyone!"