Drive Hosts 16th Annual Green Day Celebration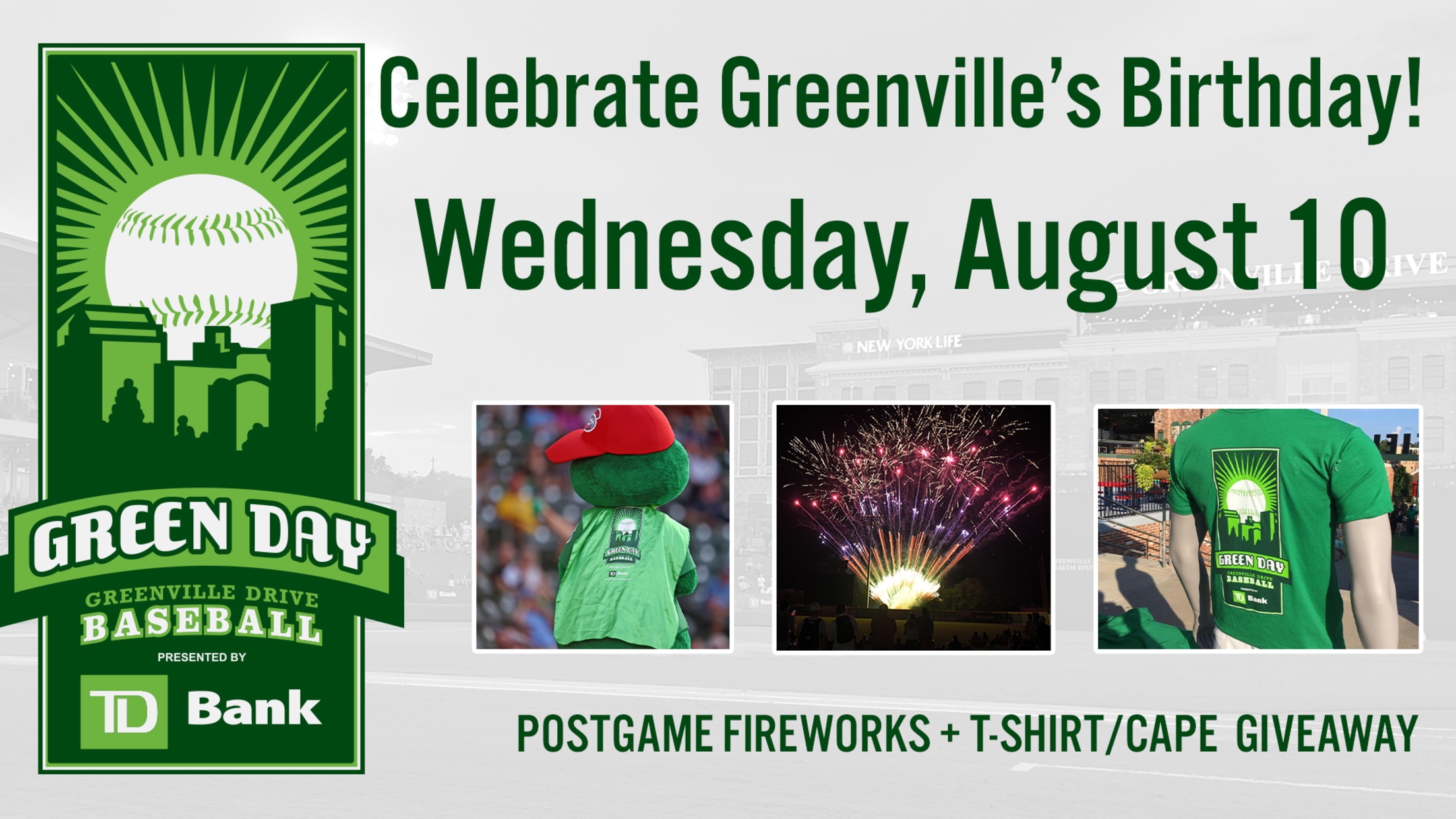 On Wednesday August 10th,The Greenville Drive will host their 16th annual Green Day Celebration to celebrate the city of Greenville's 191st Birthday! In honor of Green Day and Greenville's birthday celebration, Drive players will wear special green uniforms and caps on Green Day. The whole stadium will be decked out
On Wednesday August 10th,The Greenville Drive will host their 16th annual Green Day Celebration to celebrate the city of Greenville's 191st Birthday!
In honor of Green Day and Greenville's birthday celebration, Drive players will wear special green uniforms and caps on Green Day. The whole stadium will be decked out in green, so the Drive encourages fans to create a "green out" by sporting green, as well. The Drive is selling a special edition GVL tee for the night and you can purchase it HERE.
The fun will start at 5:45 PM with a ribbon cutting for the official opening of District 356! This family-friendly dedication will take place right outside the Field St. gates in the middle of the new District and comes complete with the Drive's inflatable games, face painters, balloon art, music, and more to celebrate the opening of this awesome addition to Fluor Field and the West End
When gates open at 6, the first 2,000 fans through the stadium gates will receive a commemorative Green Day t-shirt, and the first 1,000 kids will receive a commemorative Green Day cape, all courtesy of TD Bank.
In addition, Green Day Honoree Dr. Royster will be honored on the field just prior to the first pitch and again during the game. Read more about this year's honoree HERE.
Following the game, the Drive invites fans to stick around for a spectacular birthday firework show in celebration of Greenville's birthday.
Get tickets for this exciting night HERE.