Drive Welcome Crawdads to Town, June 15-20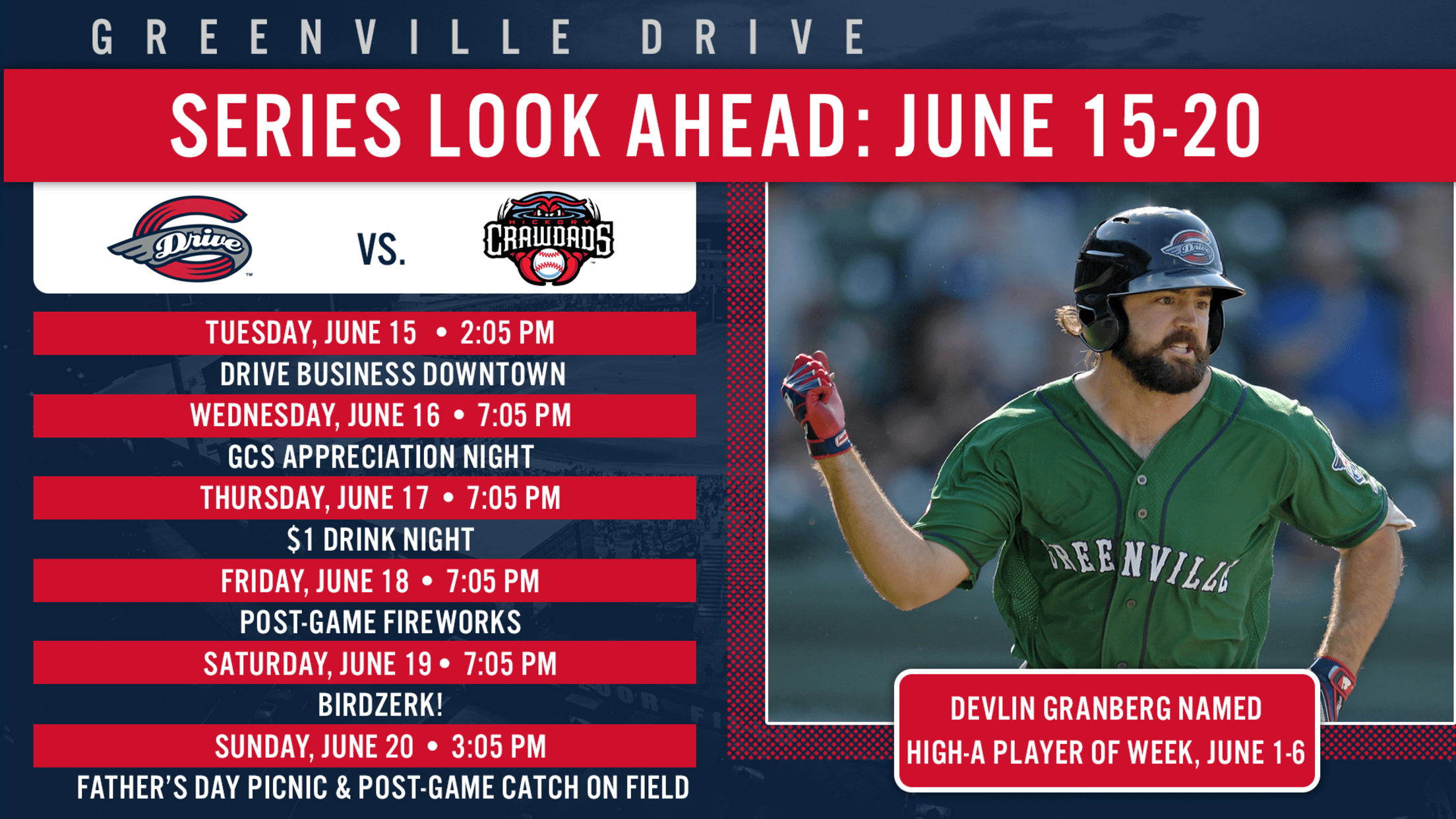 The Greenville Drive return to Fluor Field on Tuesday June 15th through Sunday June 20th to take on the Hickory Crawdads, the High-A affiliate of the Texas Rangers, for 6 straight games of action packed, family fun entertainment. Make plans to join us at Fluor Field this week as we
The Greenville Drive return to Fluor Field on Tuesday June 15th through Sunday June 20th to take on the Hickory Crawdads, the High-A affiliate of the Texas Rangers, for 6 straight games of action packed, family fun entertainment. Make plans to join us at Fluor Field this week as we celebrate our Downtown community, recognize & thank our school system teachers & staff, celebrate Dad on Father's Day, and much more!
The homestand kicks off on Tuesday June 15th with the Drive's only week-day, day-game of the 2021 season with first pitch is set for 2:05 PM. Tuesday marks the 10th Anniversary of the Drive's annual Drive Business Downtown event, proudly presented by long-time Drive partner Elliott Davis. 2021 marks the 10th Anniversary of Drive Business Downtown, an annual event at the ballpark where we celebrate the terrific downtown we all enjoy and the role it plays in the business and economic success of our Community. Also make sure to join us in the 500 Club for a special young professional networking event. Great networking opportunities will be provided along with light snacks as well as a complimentary first drink, courtesy of Euphoria.
On Wednesday June 16th, with first pitch set for 7:05, the Drive will recognize & thank all the teachers and employees from Greenville County School system on completing an incredibly challenging but successful school year. All GCS employees will receive a complimentary ticket as well as $5 ballpark voucher upon arrival (just show your ID), plus receive 20% off at the Drive team store all night. Join us at the ballpark on Wednesday as we celebrate all of our school teachers and staff for keeping our community and kids safe all year long.
Dollar Drink Night & Greenville's favorite fireworks show return to Fluor Field on June 17th and 18th. With first pitch scheduled for 7pm both nights, there's no better place to be than the ballpark on both Thursday & Friday night. On Thursday the 17th, enjoy 12 ounce $1 Coors Lights as well as $2 Blue Moon & Blue Moon Sky, the Drive's featured beer of the month for June. $1 Pepsi products will also be available at all ballpark concessions. And then make sure to join us again on Friday night for the Upstate's best fireworks show, presented by Hubbell Lighting. Join us for the Drive game and then stick around afterwards for Friday Night Fireworks.
On Saturday June 19th, the Drive welcome the most fun, memorable, and high-energy bird in all of baseball – BirdZERK! BirdZERK is "America's Ballpark Prankster" and has been a legend of funny in between inning moments for over 25 years. He is one of the most unique entertainment experiences you'll ever see and great fun for kids, families, and Drive fans of all ages. No one know what BirdZERK will do next so make sure to get your tickets and join us at Fluor Field on Saturday night.
The homestand wraps up on Sunday June 20th, first pitch at 3pm, with a special Father's Day celebration at Fluor Field. Celebrate Dad with a special $15 game ticket that includes an all-you-can-eat pre-game picnic buffet. All game attendees will be able to go on the field post-game play catch on the field, and also take a family picture in front of the iconic Green Monster! Bring your Dad to the ballpark on Sunday for a day he'll never forget!
We hope to see all of you at Fluor Field this week for great family fun and entertainment as the Drive continues its memorable 15th Anniversary season!