Get Ready for the Drive's First Homestand of the 2021 Season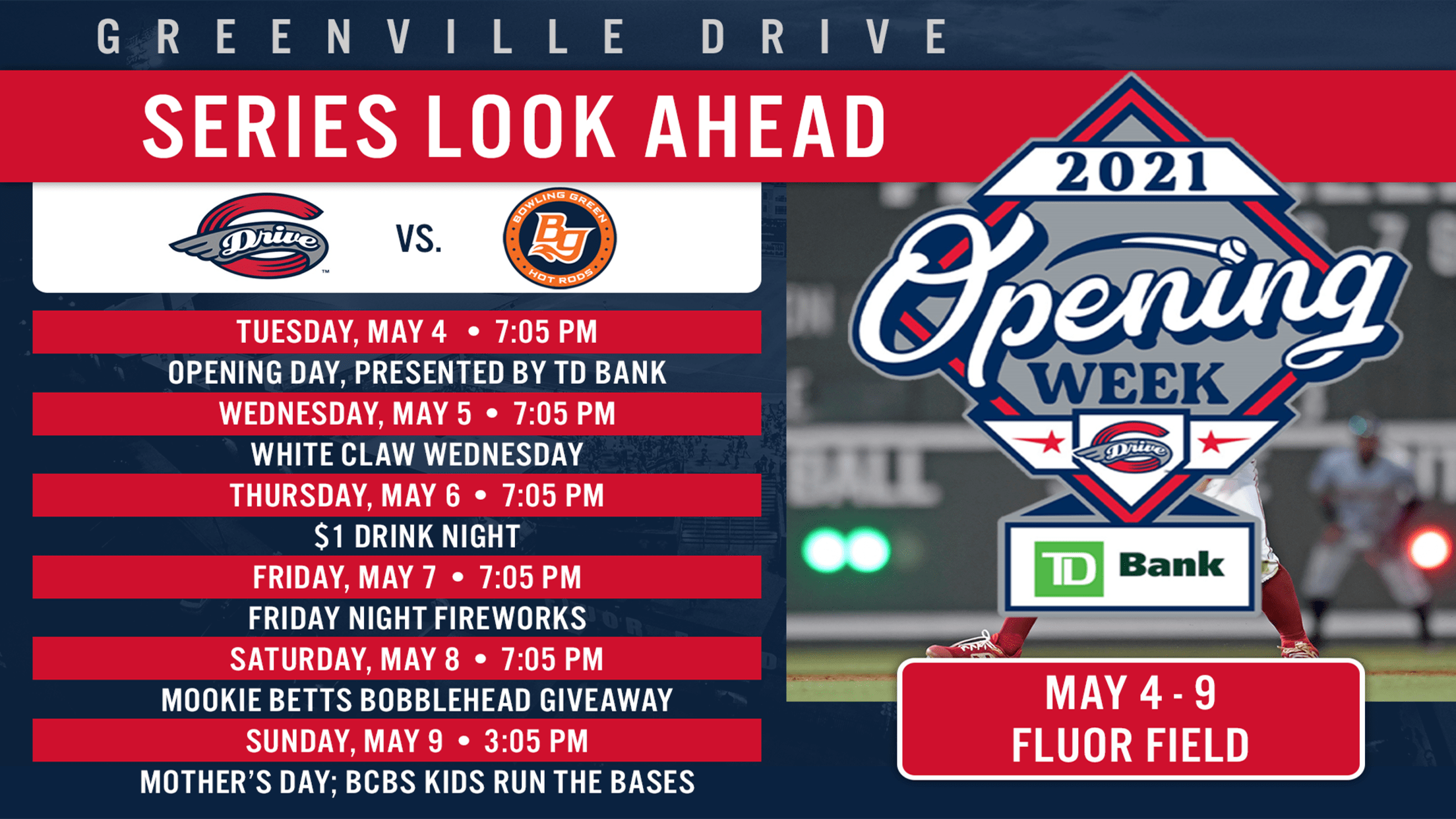 After a nearly 20-month hiatus, Greenville Drive baseball is returning to Downtown Greenville on Tuesday May 4th. Much has changed since the Drive's last game in August 2019, but what hasn't changed is the Drive's unrelenting commitment to the community; its appreciation for the most loyal fans in Minor League
After a nearly 20-month hiatus, Greenville Drive baseball is returning to Downtown Greenville on Tuesday May 4th. Much has changed since the Drive's last game in August 2019, but what hasn't changed is the Drive's unrelenting commitment to the community; its appreciation for the most loyal fans in Minor League Baseball; and the Drive's commitment to delivering the most electric, affordable, and entertaining experience in all of Sports.
In its 15th season at Fluor Field, the Drive are featuring a lot of new – a new level of play as the Advanced A Affiliate of the Boston Red Sox, new ballpark features and technologies plus new Major League Baseball safety protocols for the 2021 season, including a 50% capacity limit for all May games, required mask/face coverings and socially distant seating. We hope that with your cooperation that some of these new elements will disappear with time, but don't worry, the fan-favorite events and promotions, Reedy Rip'It, Sweet Caroline's ice cream cones and the unforgettable sunsets are on repeat all summer long!
The season kicks off with a 6-game series against the Bowling Green Hot Rods, the Tampa Bay Ray's affiliate. Gates open at 6pm with first pitch at 7:05pm each night of the series, except for Sunday, May 9 which is a 3:05pm first pitch (gates opening at 2pm).
Opening Week, presented by TD Bank, will be a celebration of some of the key groups of heroes that have helped our community move forward through a most unprecedented time of our history. Join us as we recognize, honor and thank our local Health Care workers, First Responders, Teachers, Moms, and other heroes via special pregame honorary recognitions & in-game features all week long.
Saturday, May 8, get here early to snag 1 of 500 complimentary Mookie Betts Bobbleheads at the gates. Voted the favorite Drive alum in last year's social media bracket challenge, 2018 Major League Baseball MVP, Mookie Betts, got his start here in Greenville at Fluor Field.
We'll end the series on Sunday, May 9, with our Mother's Day game highlighting, none other, than Mom! Don't forget to enter our Mother's Day Giveaway where one lucky Drive mama will win a $500 shopping spree at Hale's Jewelers, tickets to the May 9th game, the TD Bank "Most Convenient" parking spot for that game, Drive swag and the title of "Mom of the Game"! Winners will be drawn on Wednesday, May 5th, so enter today!
It wouldn't be Drive baseball without these additional fan-favorite nights each and every homestand this season:
White Claw Wednesday - $2 White Claws each Wednesday of the season
Dollar Drink Night - Fans 21 years and up can enjoy a cold $1 Coors Light or $2 Beer of the Month, Sweetwater 420. Look for additional Dollar Drink distribution points throughout the stadium to alleviate lines and help with social distancing. Pepsi Fountain Products are also just a $1 at 7th Inning Stretch or Splendid Splinter concession stands.
Thirst Inning – Friday & Saturday nights during the 1st inning Budweiser, Bud Light and Michelob Ultra's are just $2 at the Budweiser Beer Carts! Additional distribution points added on the Green Monster and at the Home Field Advantage Beer Cart this season.
Hubbell Lighting's "Light It Up" Friday Fireworks – the best fireworks show in town is right here at Fluor Field following each Friday night game
Blue Cross Blue Shield Kids Run the Bases – Run the bases with Reedy Rip'It after every Sunday game
It's been too long! We know WE'RE excited. We hope YOU are excited and we can't wait to see you! Baseball is Back!