Paulino's grand slam seals series victory over Hot Rods, 7-3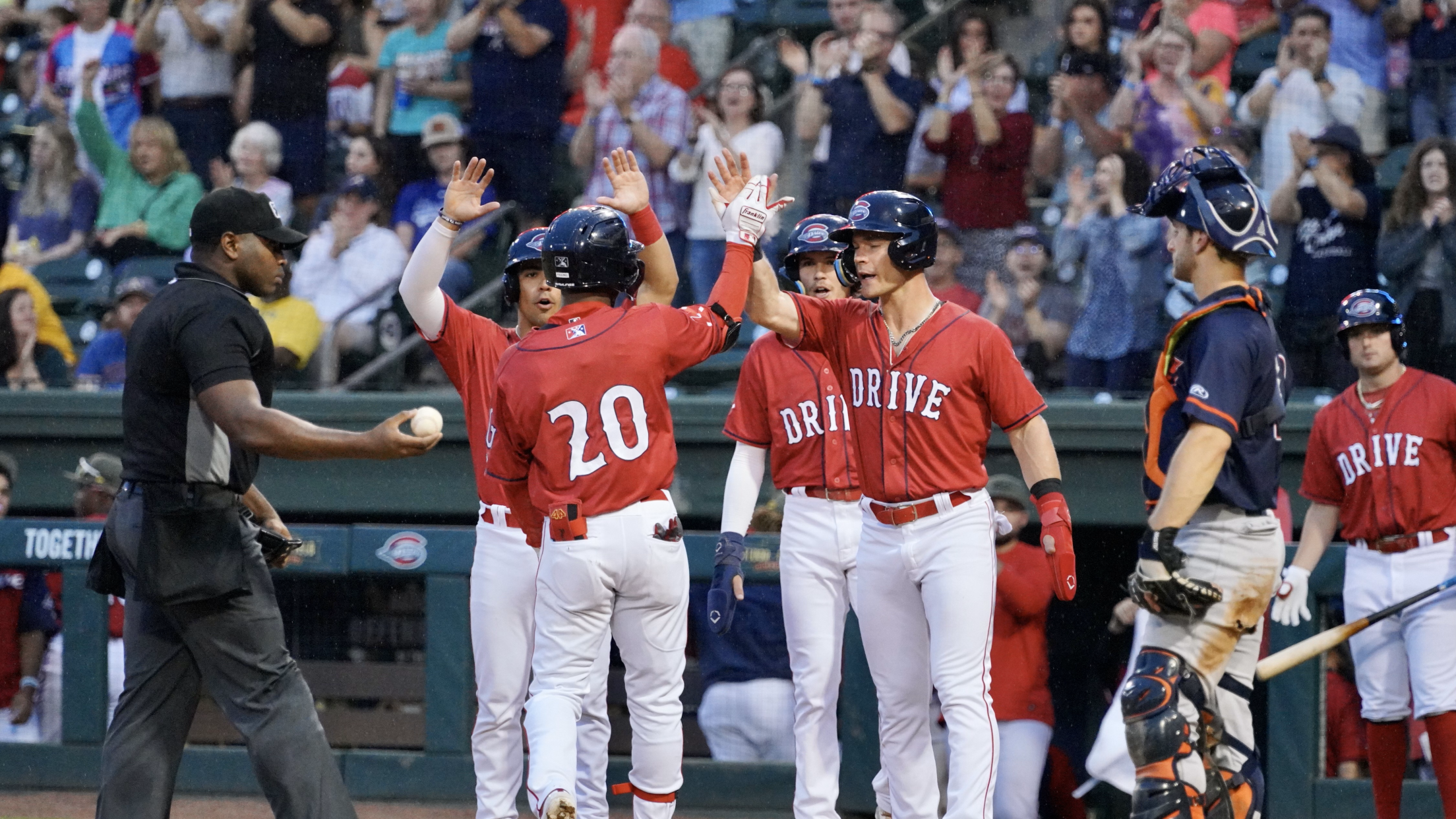 Paulino 3-for-4 with grand slam, double, 5 RBI Eddinson Paulino's fifth inning two-out grand slam sealed a Saturday night victory for the Greenville Drive (18-19) as they dispatched the Bowling Green Hot Rods (18-18), 7-3. Paulino's 400-foot blast to rightfield capped a five run fifth and bolstered another stellar night
Paulino 3-for-4 with grand slam, double, 5 RBI
Eddinson Paulino's fifth inning two-out grand slam sealed a Saturday night victory for the Greenville Drive (18-19) as they dispatched the Bowling Green Hot Rods (18-18), 7-3. Paulino's 400-foot blast to rightfield capped a five run fifth and bolstered another stellar night of Drive pitching that began with six-strong innings from starter Hunter Dobbins.
Bowling Green scratched the first runs of the game across in the first inning, thanks to a two-out blast to centerfield off the bat of Willy Vasquez. Despite the early runs, Dobbins settled into the game, including a one-two-three second inning. He'd also pick up three-double plays over the next three innings, burying pitches in prime double-play spots in the strike zone.
Stunted by Hot Rods' starter Roel Garcia III through four innings, the Drive found their patience paying off in the bottom of the fifth. The Drive loaded the bases thanks to a fielding error and two walks. With two outs, Max Ferguson's discipline ws fruitful as he walked, brining in Miller from third to put the Drive on the board.
On the second pitch he saw of the at-bat, Eddinson Paulino launched a 400-foot, no-doubt grand slam to right field, sending the crowd of 5,065 people into a frenzy and giving the Drive a 5-2 lead.
Dobbins spun the sixth for the Drive giving up two singles but that's all the Hot Rods could muster. He exited the night tossing six frames, giving up 2 runs on 6 hits, 1 walk and striking out 4.
Nate Tellier tossed the seventh and eighth for the Drive, delivering two perfect innings, while picking up two strikeouts.
The Drive stretched the lead in the seventh as a Ferguson groundout scored Erro from third and a Paulino single scored Nick Decker from third on the ensuing at-bat putting the Drive up 7-2.
Later in the ninth, Christopher Troye gave up a solo-homer to Vasquez to make it 7-3 before he shut the door on the Hot Rods preserving a Drive victory.
The Drive (Boston Red Sox) close out a 12-game homestand and their series with the Bowling Green Hot Rods (Tampa Bay Rays) tomorrow, May 21 at Fluor Field with first pitch set for 3:05 p.m. The Drive clinched a series victory with today's win and currently lead the series, 4-1.