Pitching, Long Ball Power Drive Past Tourists
Casas goes 3-for-4, 3 RBI in Drive win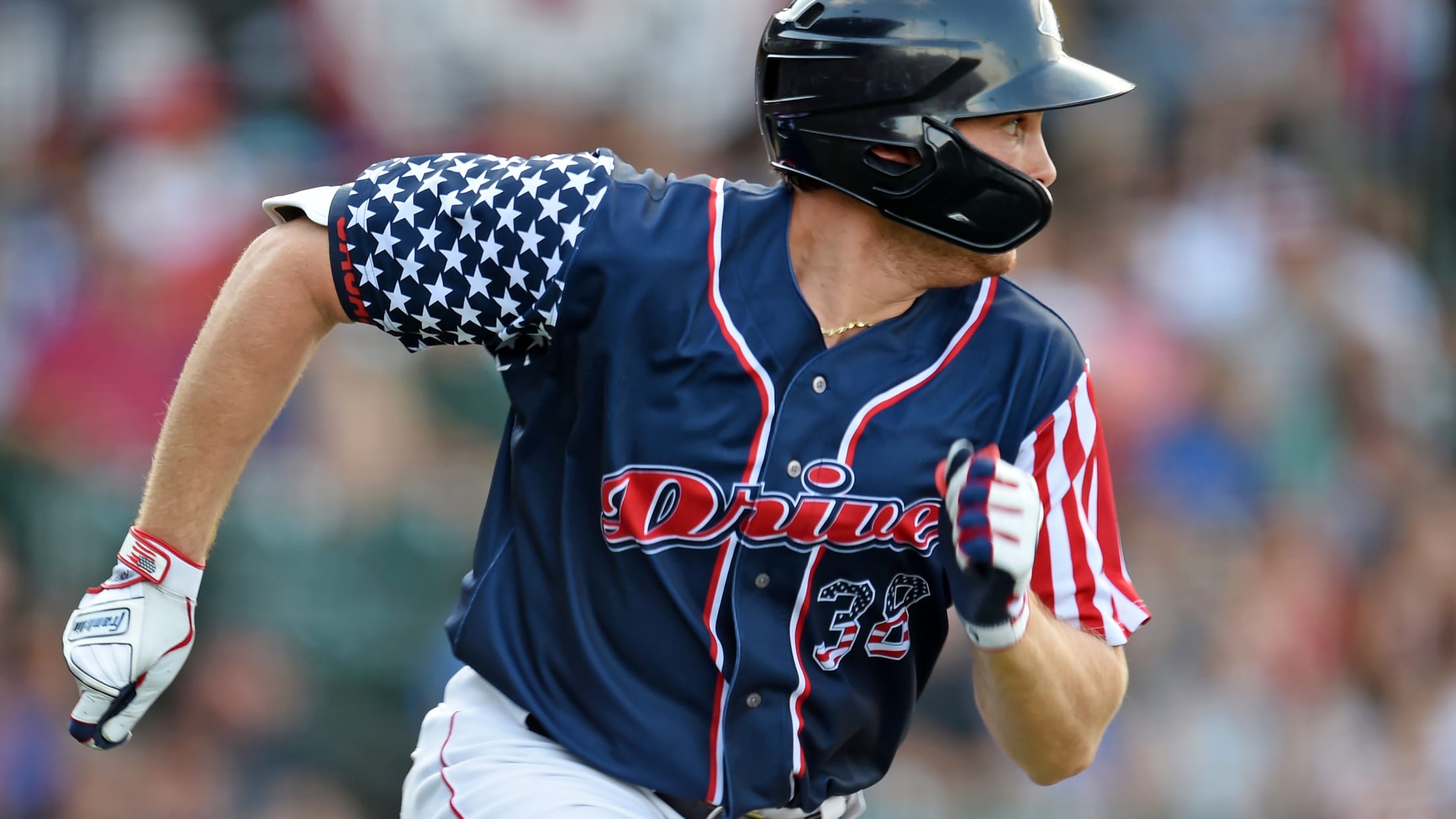 The Greenville Drive played host to the Charleston RiverDogs in a South Atlantic League baseball game Thursday, July 4, 2019. GWINN DAVIS / GREENVILLE DRIVE (GWINN DAVIS / GREENVILLE DRIVE)
GREENVILLE, S.C. - Three pitchers combined for eight shutout innings and the Greenville Drive scored four unanswered runs to down the Asheville Tourists, 4-1, on Tuesday evening, clinching a series win.Asheville got on the board first, as Danny Edgeworth bounced one off the top of the wall in deep left
GREENVILLE, S.C. - Three pitchers combined for eight shutout innings and the Greenville Drive scored four unanswered runs to down the Asheville Tourists, 4-1, on Tuesday evening, clinching a series win.
Asheville got on the board first, as Danny Edgeworth bounced one off the top of the wall in deep left center for his seventh homer of the year, the only real damage off of Drive starter Hunter Haworth in the first three innings.
Tyler Dearden picked up the Drive's first hit in the bottom of the third, but was eventually erased on a caught stealing, keeping Greenville off the board through the third.
After Haworth kept the Tourists off the board in the top of the fourth, Greenville plated its first run of the night. Everlouis Lozada led off the inning, reaching second on a single and Asheville error. Tyler Esplin followed with a single to put runners on the corners for Triston Casas, who singled to center to tie the game at one.
Lozada gave the Drive the lead in the bottom of the sixth, leading off the inning with his third homer of the year. Casas and Devlin Granberg each followed with one-out singles but were stranded with the Drive holding a 2-1 lead after six complete innings.
After Esplin led off the bottom of the eighth with a single, Casas deposited his 17th homer of the year on top of the Green Monster to extend Greenville's lead to 4-1. Drive reliever Logan Browning sat the Tourists down in order in the bottom of the 9th, securing the Drive's 4-1 win.
Greenville pitching held Asheville to just five hits on the night, with relievers Alex Demchak and Browning combining to allow just one baserunner in 3.1 innings of work. Haworth turned in a solid start for Greenville, allowing one run (a homer) on five hits, with four strikeouts and no walks in 5.2 innings pitched. Demchak (2-1) earned the win, allowing just one walk in 2.1 innings, while Browning picked up his eighth save of the season.
Asheville starter Shane Lackey (3-10) was tagged with the loss, allowing two runs (one earned) on seven hits with a walk and five strikeouts.
Casas went 3-for-4 with a home run and three of Greenville's four RBI to lead the Drive at the plate, while Lozada was 2-for-4 with a home run and the Drive's fourth RBI. Esplin also went 2-for-4 on the night, while Granberg, Dearden, and Grant Williams each added a hit.
The Drive close out the series against the Tourists on Wednesday morning at 11:05 a.m.