Stewart Spinks to be Honored on 13th Annual Green Day
Community leader to be recognized during City of Greenville's 187th birthday on August 1st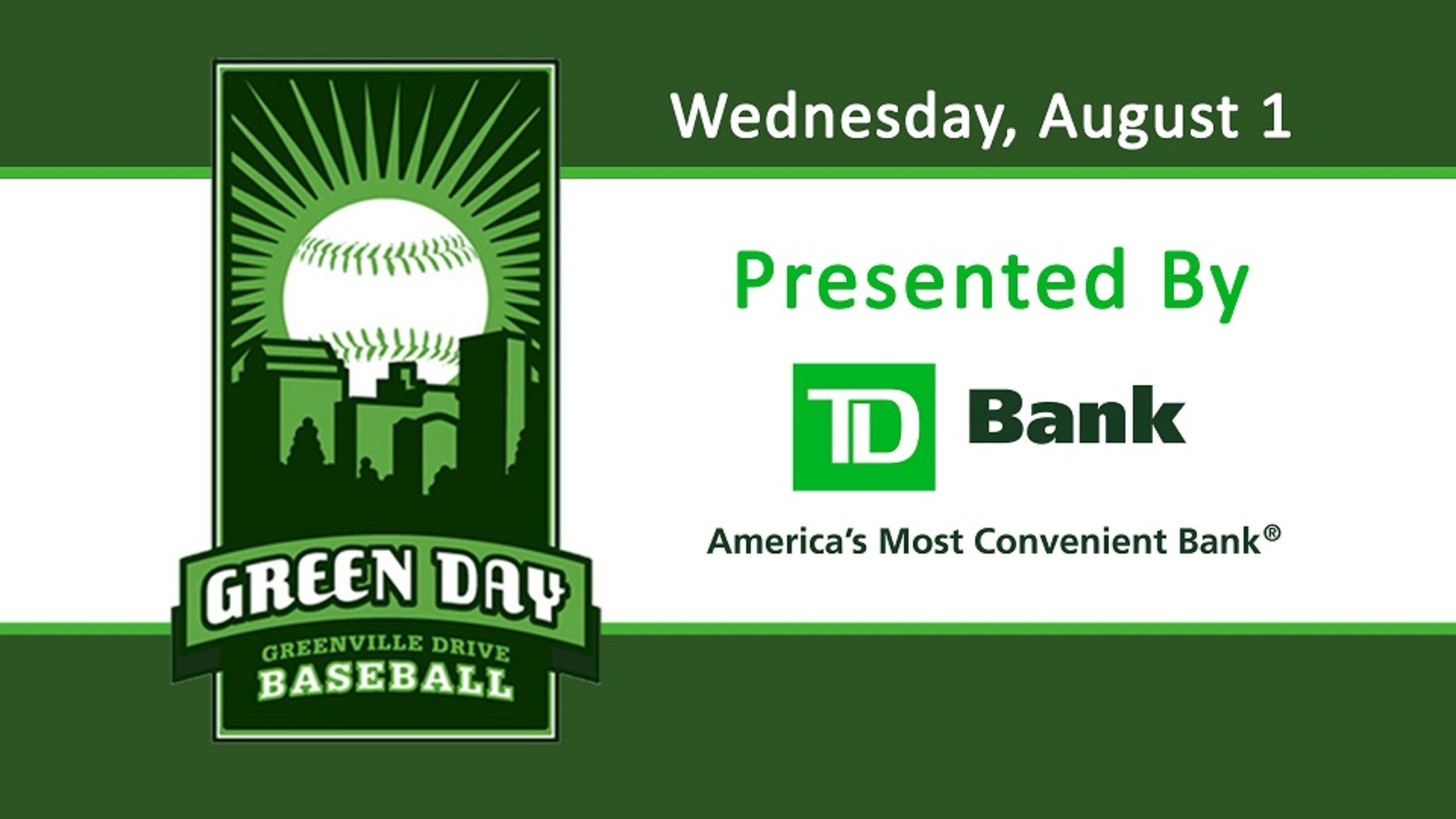 Greenville, SC - The Greenville Drive have announced that Stewart Spinks, Chairman of The Spinx Company, has been selected as the honoree for the team's annual Green Day event. The 13th annual Green Day celebration presented by TD Bank will be held Wednesday, August 1st at Fluor Field when the
Greenville, SC - The Greenville Drive have announced that Stewart Spinks, Chairman of The Spinx Company, has been selected as the honoree for the team's annual Green Day event. The 13th annual Green Day celebration presented by TD Bank will be held Wednesday, August 1st at Fluor Field when the Drive host the Asheville Tourists at 7:05 PM.
Each year, the Drive pay tribute to an individual who has helped make Greenville one of the most dynamic cities in the country. Spinks has been chosen as the 2018 honoree because of his commitment to serving the Greenville community through his role as the founder of The Spinx Company, which is the largest privately-owned retail company headquartered in S.C. with 81 locations and more than 1,400 associates. Spinks built his business through his unwavering commitment to customers and willingness to take risks and bring new offerings to Spinx stores, including his legendary fried chicken.
In addition to his tremendous business success, Stewart's commitment to the Greenville community is even more impressive. As a community and civic leader, Stewart's accomplishments are profound and include induction to the Convenience Store News Hall of Fame, American Cancer Society's Susan Eison Award recipient, Greenville Tech Foundation's Workforce Development honoree, Greenville Tech Entrepreneur Award recipient, Furman University Riley Institute Diversity Fellow, and Boy Scout-Blue Ridge Council Outstanding Leadership Award recipient. Spinks also served as the Chairman of the Greenville Chamber of Commerce in 2005 after chairing the Small Business Committee for three years.
"Stewart has devoted his life to serving others, both as a family man and a businessman, and he is undoubtedly deserving of recognition for his leadership in the Upstate community," said Craig Brown, Drive Owner and Team President. "Coming from humble beginnings, Stewart worked tirelessly to ensure his customers were treated with respect and had access to quality products, and that level of customer service has made Spinx an Upstate fixture for almost five decades. Stewart welcomed me to Greenville with open arms when the Drive arrived in 2005 and we are thrilled to celebrate his leadership and dedication as part of our Green Day celebration on August 1st."
"Greenville is such a special place because of the incredible organizations like the Greenville Drive committed to its growth and success, and I'm honored to be recognized on this exciting birthday celebration," said Spinks. "It takes a lot of hard work and vision to build and maintain a city of this caliber, and I commend all of the leaders for contributing to Greenville's success for 187 years. I'm humbled to be among the previous Green Day honorees and accept this on behalf of my wife Martha, my family, all Spinx Company associates and the community for allowing me the opportunity to be a part of this remarkable town I'm proud to call home."
Spinks joins an acclaimed group of Green Day honorees, including former Greenville Mayor Max Heller and his wife, Trudy (2006); Greenville City Councilwoman Lillian Brock Flemming and Greenville County Councilwoman Xanthene Norris (2007); former Greenville Technical College President Dr. Tom Barton (2008); businessman and philanthropist C. Dan Joyner (2009); civic leader, judge and attorney Merl Code (2010); former S.C. Governor and U.S. Secretary of Education Dick Riley (2011); South Carolina Governor's School for the Arts and Humanities Founder Dr. Virginia Uldrick (2012); environmentalist and attorney Tommy Wyche (2013); philanthropists Hayne and Anna Kate Hipp (2014); Centennial American Properties CEO David Glenn (2015); Erwin Penland Co-Founder Joe Erwin (2016); and Hughes Development Corporation Chairman Bob Hughes (2017).
In honor of Greenville's 187th birthday, Drive players will wear special green uniforms and caps on Green Day, and fans are encouraged to create a "green out" by sporting green as well. First pitch is at 7:05 PM, and the first 1,000 adults who enter when the gates open at 6:00 will receive a commemorative Green Day T-shirt, while the first 1,000 kids at Fluor Field will receive a commemorative Green Day superhero cape, all courtesy of TD Bank. Following the game, fans are invited to stick around for a spectacular fireworks show in celebration of Greenville.