Schooled: HV falls to BK on Education Day
Yulie strikes out eight against Brooklyn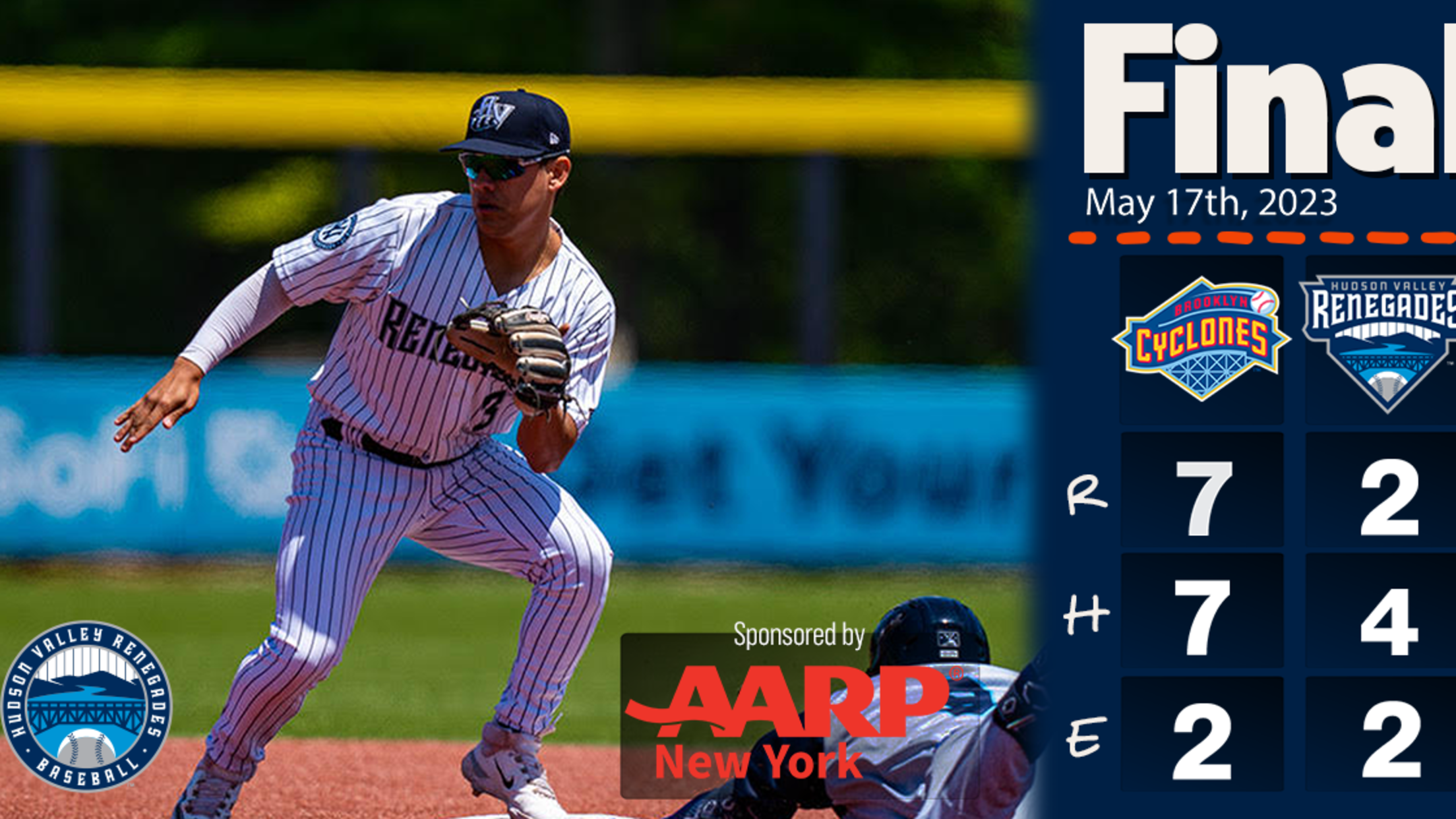 Eduardo Torrealba stole his second base of the season with the Renegades on Wednesday. (Dave Janosz)
WAPPINGERS FALLS, N.Y. (May 17, 2023) — The Hudson Valley Renegades fell to the Brooklyn Cyclones 7-2 on Wednesday morning at Heritage Financial Park on Education Day to snap the Renegades' four-game win streak. The Cyclones struck first in the second when Chase Estep hit a two-run triple off Tyrone
WAPPINGERS FALLS, N.Y. (May 17, 2023) — The Hudson Valley Renegades fell to the Brooklyn Cyclones 7-2 on Wednesday morning at Heritage Financial Park on Education Day to snap the Renegades' four-game win streak.
The Cyclones struck first in the second when Chase Estep hit a two-run triple off Tyrone Yulie to open up a 2-0 advantage. Hudson Valley threatened against Blade Tidwell in each of the first two innings, but the Brooklyn right-hander was able to strand runners at second and third in each inning to keep the Gades off the board.
The Renegades broke through in the fourth with a pair of runs off Tidwell (1-3). Spencer Henson and Aldenis Sánchez each walked, and on an attempted double steal with Ben Cowles at the plate, Tidwell threw to third wildly, allowing Henson to score and Sánchez to advance to third on the error. Later in the at-bat, Cowles ripped a single through the left side of the infield to plate Sánchez and tie the game at 2-2.
RBI single by @benjamin_cowles and Aldenis Sanchez makes it home!
2-2 tied up pic.twitter.com/FS0kdUejrw

— Hudson Valley Renegades (@HVRenegades) May 17, 2023
Yulie (1-2) retired the next 12 batters after the Estep triple, but ran into more trouble in the top of the sixth. Brooklyn erupted for four runs thanks to two hit batters and a throwing error, and opened up a 6-2 lead. Yulie allowed six runs on five hits in 5.1 innings, walking one and striking out eight.
Nick Paciorek and Carlos Gomez tossed 3.2 combined innings of relief to close out the game for Hudson Valley, with an unearned run coming home in the ninth off Gomez to extend the Brooklyn lead to 7-2. The Renegades threatened, but could not score in the final four innings against Cyclones relievers Daniel Juarez and Paul Geravase.
Hudson Valley will continue its six-game series against the Cyclones on Thursday night. First pitch is scheduled for 6:05 p.m. with coverage on the Renegades Baseball Network beginning at 5:45 p.m. The Renegades will send RHP Zach Messinger (0-1, 2.03) to the mound opposite of RHP Cameron Foster (0-3, 6.20) for the Cyclones.