Streak Stopper: Gades get back in win column on Tuesday
Torrealba, Narvaez and Sweeney all go deep in 8-2 win at Jersey Shore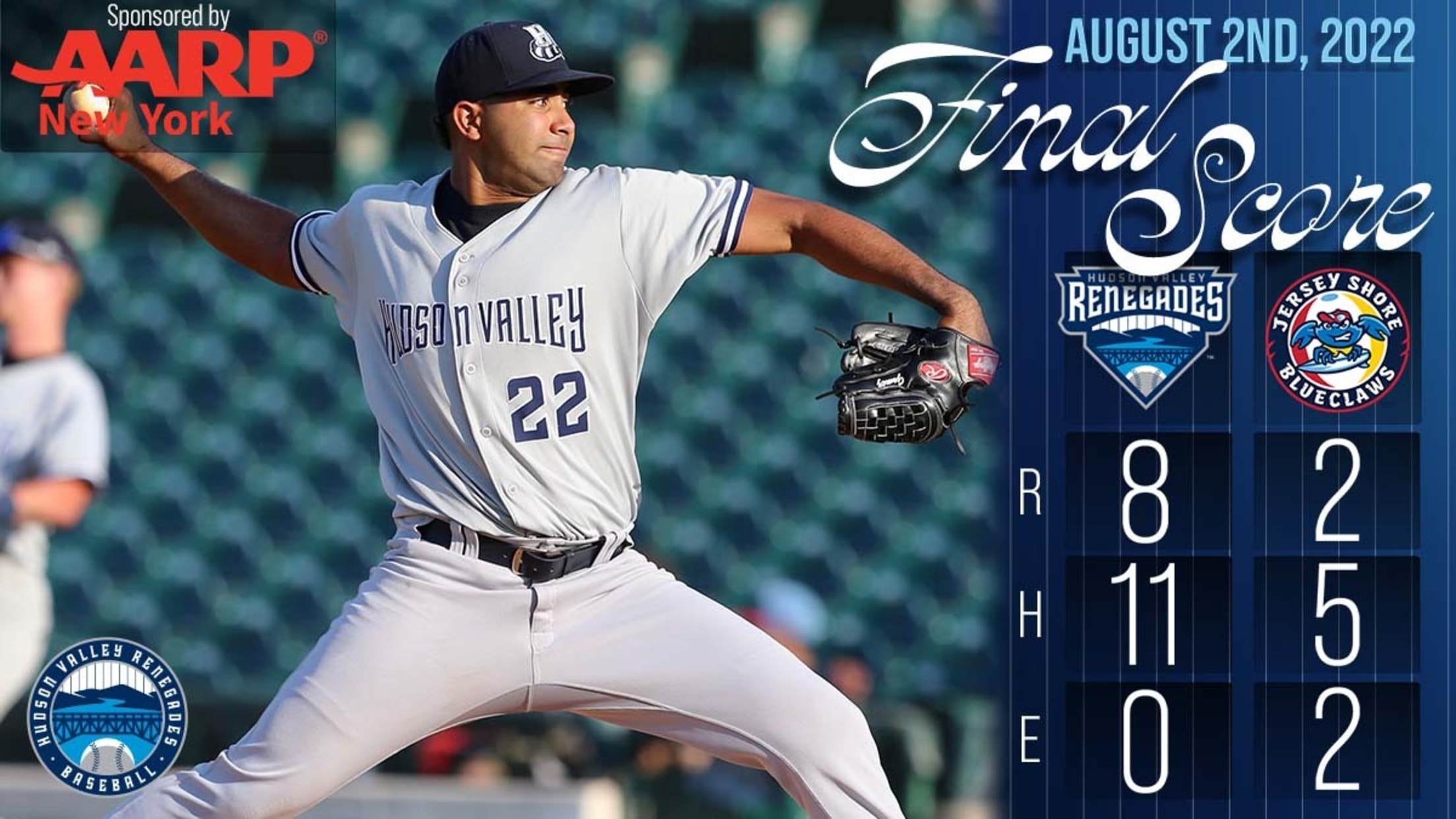 Yoendrys Gomez struck out two in 2.1 innings on Tuesday at Jersey Shore. (Scott Greenwald)
Lakewood, N.J. (Aug. 2, 2022) – Behind strong pitching and three home runs, the Hudson Valley Renegades defeated the Jersey Shore BlueClaws 8-2 at ShoreTown Ballpark. The win stopped a three-game losing streak for the Gades. The Renegades took the lead in the top of the first inning, loading the
Lakewood, N.J. (Aug. 2, 2022) – Behind strong pitching and three home runs, the Hudson Valley Renegades defeated the Jersey Shore BlueClaws 8-2 at ShoreTown Ballpark. The win stopped a three-game losing streak for the Gades.
The Renegades took the lead in the top of the first inning, loading the bases with no outs against Matt Russell. Tyler Hardman grounded into a double play which scored Trey Sweeney to give the Gades a 1-0 lead.
Yoendrys Gómez opened the game for Hudson Valley, tossing 2.1 innings while yielding one run on three hits, walking one and striking out two.
After Jersey Shore tied the game at 1-1 on an Arturo De Freitas sacrifice fly, Eduardo Torrealba led off the third with a line drive home run to center to put the Renegades in front, 2-1.
Hudson Valley extended its lead on back-to-back doubles by Grant Richardson and Carlos Narvaez in the top of the fourth, and a Hardman sac fly made it 4-1 in the fifth. Pat DeMarco drove in Richardson with a single in the sixth to run the advantage to 5-1.
In the top of the eighth, the Renegades broke the game open with three runs thanks to two home runs. Narvaez led off with a monster blast to left, and Trey Sweeney followed three batters later with a drive to the berm in right to extend the lead to 8-1.
TREY. SWEENEY. 💣💣💣

A 2-RUN SHOT GIVES THE GADES AN 8-1 LEAD! #RepBX pic.twitter.com/lN8jxwOKSj

— Hudson Valley Renegades (@HVRenegades) August 3, 2022
Jersey Shore only mustered one run on two hits in 6.2 innings against the Renegades bullpen trio of Nelson Alvarez, Ryan Miller and Charlie Ruegger. Alvarez (5-1) picked up the win with a season-high 3.2 innings of shutout relief.
The win was Hudson Valley's ninth straight over Jersey Shore, and 10th in the last 11 meetings between the two clubs.
The Renegades continue their series with the BlueClaws on Wednesday morning at ShoreTown Ballpark. RHP Shawn Semple (0-0, 5.40) gets the start for Hudson Valley, while Jersey Shore counters with LHP Rafael Marcano. First pitch is scheduled for 11:05 a.m., with pregame coverage on the Renegades Baseball Network starting at 10:45.