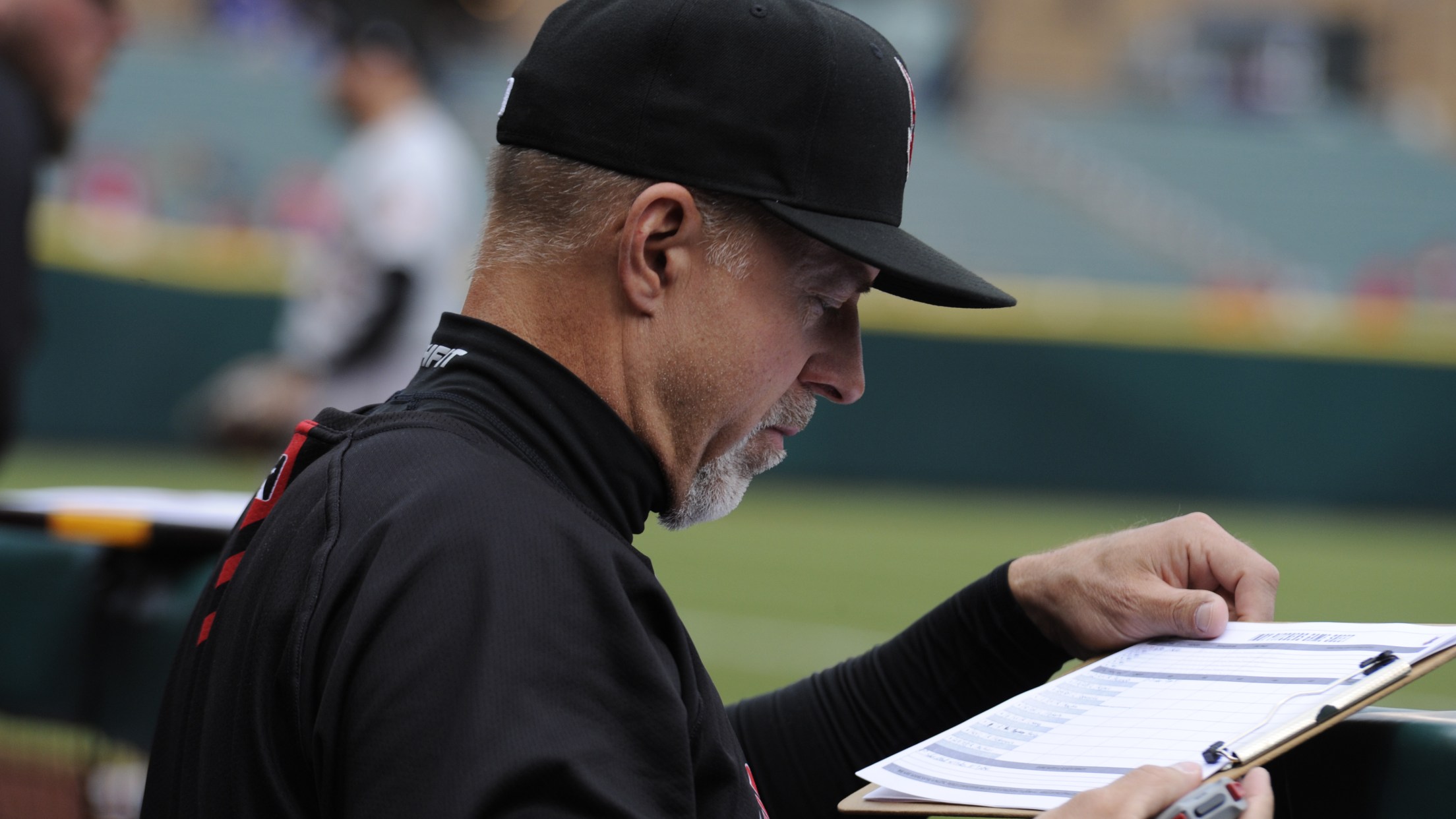 Tribe pitching coach Bryan Hickerson has seen it all and then some, going from former big leaguer to ministry work with the U.S. military overseas. (Photo by Cat Wood)
INDIANAPOLIS - There will be times this season when a pitcher for the Indians needs a mood adjustment. Moments when the numbers are not good, and the game is hard. That's when Bryan Hickerson might look him in the eye and tell him about the days he went riding with
INDIANAPOLIS - There will be times this season when a pitcher for the Indians needs a mood adjustment. Moments when the numbers are not good, and the game is hard. That's when Bryan Hickerson might look him in the eye and tell him about the days he went riding with American troops through Afghanistan, hoping their vehicle didn't blow up.
Not your garden variety road, the new pitching coach of the Indians has taken the Victory Field. Or as Hickerson said this spring, "I didn't script any of this, because I think if I had, it wouldn't have turned out like this."
Here's his bio. Some of the lines seem your typical baseball lifer.
Drafted out of the University of Minnesota in the seventh round by the Twins in 1986, Tommy John surgery in 1988, major league debut with San Francisco in 1991, five seasons in the big leagues with the Giants, Cubs and Rockies, a 21-21 overall record with 279 strikeouts. Yes, yes, pretty normal. Nice career. Then coached in the Giants system in 1997-98 and joined the Pirates organization in 2017 and then…wait a minute.
That hole between 1998 and 2017. That's a long rain delay in a baseball career, so to speak. And it was then, Bryan Hickerson learned an awful lot about life.
His faith had deepened during his seasons in baseball, and he developed a longing to help those around him, for athletes have needs, too. "Young men are given this kind of status and wealth," he said of baseball, "and you mix that with guys that age, it's difficult to handle."
Then he began pondering taking ministerial help to another kind of team-the U.S. military. He would join with other former players of like mind and head off wherever they could be of use. Let him take it from there.
"I'd tell (the other players) it's a chance to go out and serve instead of being served. Let's go out and serve some soldiers somewhere. If they were the type of player that was willing to be last in line, in the last row on the bus, take the worst seat on the airplane, I was going to take those guys. I didn't want to go somewhere and be treated like VIPs. Soldiers get enough of that. We were coming in to be with them, not in front of them.
"We flew in Black Hawks right to the front line in Afghanistan to visit troops in remote forward operating bases. I'll never forget that. The same thing in Iraq. We did that in Kosovo. That's a special pressure in what they do, it really makes baseball seem like a game. It is just a game. It was an extreme privilege to make those trips.
"We went outside the wires so to speak, in a convoy to bring hot food to soldiers who hadn't had it in two weeks. I don't know if I'd say fear because I trusted who I was with. But when you're told, Mr. Hickerson, the only time you're going to get out of this vehicle is if it's on fire,' that's your briefing for the trip…that was riding through IED country on that. I told commanders I will go wherever you'll take us. And they took us. Guys were out there sayingwhat are you doing out here? Nobody comes out here.'"
He did that for 14 years, took 75 trips from his home in Warsaw, Ind., organizing spiritual house calls to whoever asked. Saw places he could never have imagined and situations he could never forget. And it taught him a few things, which he would reflect upon when he returned to baseball.
"I remember coming back from places like Zimbabwe, some parts of the Philippines, remote parts of Thailand, coming back to the United States and wrestling with the abundance we have and how much we take it for granted. It gave me the perspective there's a lot of life on this planet that has a much tougher time living than we do. What it does is help me understand, you know what guys, there's a lot of game pressure, all this pressure to perform and make money, but when you have that perspective, a bigger one than the stadium, I think it can temper the anxieties that many athletes experience about whether they can make it and stay in the big leagues.
"It's just a game. I don't want to diminish the game at all, but I think players are at their best when they play like a kid on the playground playing for fun, and if they fail, they can try it again. They have that kind of freedom. All the traveling I did helped me see the game more like that. In fact, I wish I would have seen it like that when I was playing."
One more twist in his road came in 2012, when he got involved in Intercession Haiti, organizing all manners of help for that hurricane ravaged country. By 2016, he had the urge to get back into baseball. But with whom?
He was a different man now, with more complex perspectives. He had experience with the Pirates and their organization and sensed a kinship. He spent some time with them and was asked to describe his passion.
"I want to work with a group of people who are using their abilities and gifts to pull together and accomplish something special. They're committed with each other and they trust each other to do that. I think when you get a group of people doing that, that's what really gets things done. I just perceive them (the Pirates) to be that kind of group. That's what they're cultivating, that's what they're about."
They talked about a possible job. Hickerson discussed it with his wife, and they both realized how right it felt. "All I did was call them back and said, I don't care where or when or how, if you've got a spot for me, I'll be interested.'"<br>The spot was Altoona for two seasons. The Curve staff finished first in the league in fewest homers allowed, second in saves and third in ERA in 2017, and second in batting average against, tied for second in shutouts and fourth in ERA in 2018.<br>And now he's here, at the age of 55, with a backstory few others own in baseball.<br>Not that there aren't traditional baseball tales in his past.<br>There was Bryan Hickerson, the little boy growing up in Minnesota who loved basketball but found his calling in baseball.<br>"When I was a young kid, I loved to throw things. I was always throwing stuff at something. I got in trouble enough, whether it was snow balls, pine cones, locks, whatever. I guess I was pretty good at it, and my dad finally got me a glove and saidOK, we're going to take this to the baseball field.'"
Hold it a second. Locks? Well, there was the day in middle school when another student as a joke hooked a combination lock through a belt loop in the back of Hickerson's pants. Hickerson didn't think it was all that funny, ripped off the lock and nailed the guy in the back.
"Unfortunately the assistant principal was in the hallway that day. My first confrontation pitch, and the guy wasn't even looking at me."
There was Bryan Hickerson, the growing prospect in the game.
"I didn't watch baseball as a kid, I didn't have any guys I looked up to that I wanted to be like. I just loved to play. All I cared about is who do we get to play against and when do we play? Even when I was in college I didn't think much about pro ball. Getting to the big leagues probably wasn't something I focused on until I was drafted and signed.
"I was always focused on, is there another level I can get to? I found myself in the big leagues one day."
To be precise, July 25, 1991. He vividly remembers that first day, like they all do.
He flew from Albuquerque to San Francisco, was picked up at the airport and rushed to the ballpark, hurriedly put on a uniform and got to the field in time for batting practice, hardly knowing any of his new teammates. In the eighth inning, Giants manager Roger Craig called the bullpen. Hickerson would be working the ninth against the New York Mets. Nearly three decades later, he still remembers his first reaction.
"Holy crap.
"It's kind of embarrassing. I didn't really follow the major leagues. I faced Howard Johnson, Kevin McReynolds and Vince Coleman my first three hitters and I didn't know any of them, who they were."
He struck out two, got a groundout and walked off the mound, when a sudden thought flashed through his head.
"I just pitched in the major leagues."
Five good years followed, the most lasting image the mixed feelings of 1993 with the Giants. There is still the glow of being part of a close-knit team that won 103 games, but also the frustration of not even making the playoffs. Atlanta had 104 and won the West. The foul fate of Hickerson's Giants was the final push to implement the wild card system.
Hickerson doesn't have much memorabilia saved from his major league pitching years. "I've never been a collector."
But he is a collector of life experiences, and they mean so much to him. Count in there meeting his future wife at the University of Minnesota. He and Jo have been married 31 years with four children, through all his traveling. "She's a gamer. It wasn't easy to raise four kids when I'm on the other side of the world."
Count in Tommy John surgery, which he figures also helps him as a coach, working with pitchers facing the same ordeal.
"I know how disconnected you can feel from an organization or from your teammates when you're on the disabled list, and when your competition becomes getting healthy. When they know that you have that same scar they now have, and you're talking to them about it, there's at least some connectedness there and trust, because they know you've gone through it as well."
And count in all those miles, to all those places, and all those faces he met. He still hears from some of them.
"When I left college, if someone told me this is going to happen to you, here's what you're going to do, you're going to spend 14 years traveling around the globe - I never wanted to go outside the United States - I would have laughed at them. Looking back now, I wouldn't trade it for anything."
Now he looks ahead to the Indians. New team, new level, new challenge, though some of his pitchers were with him in Altoona.
"I try to tell some of the players, there's a reason your windshield is bigger than your rearview mirror. Where you've gone matters, but where you want to go matters more."
By the way, there was another event this experience collector was eager to add. It was due the first home game.
Bryan Hickerson had been to Asia, Africa, the Middle East, hither and yon.
But never to Victory Field.