Mel Rojas Jr. Shines in Korea, Where Baseball Beats On
Baseball in Korea was first to take center stage when the sports world fell silent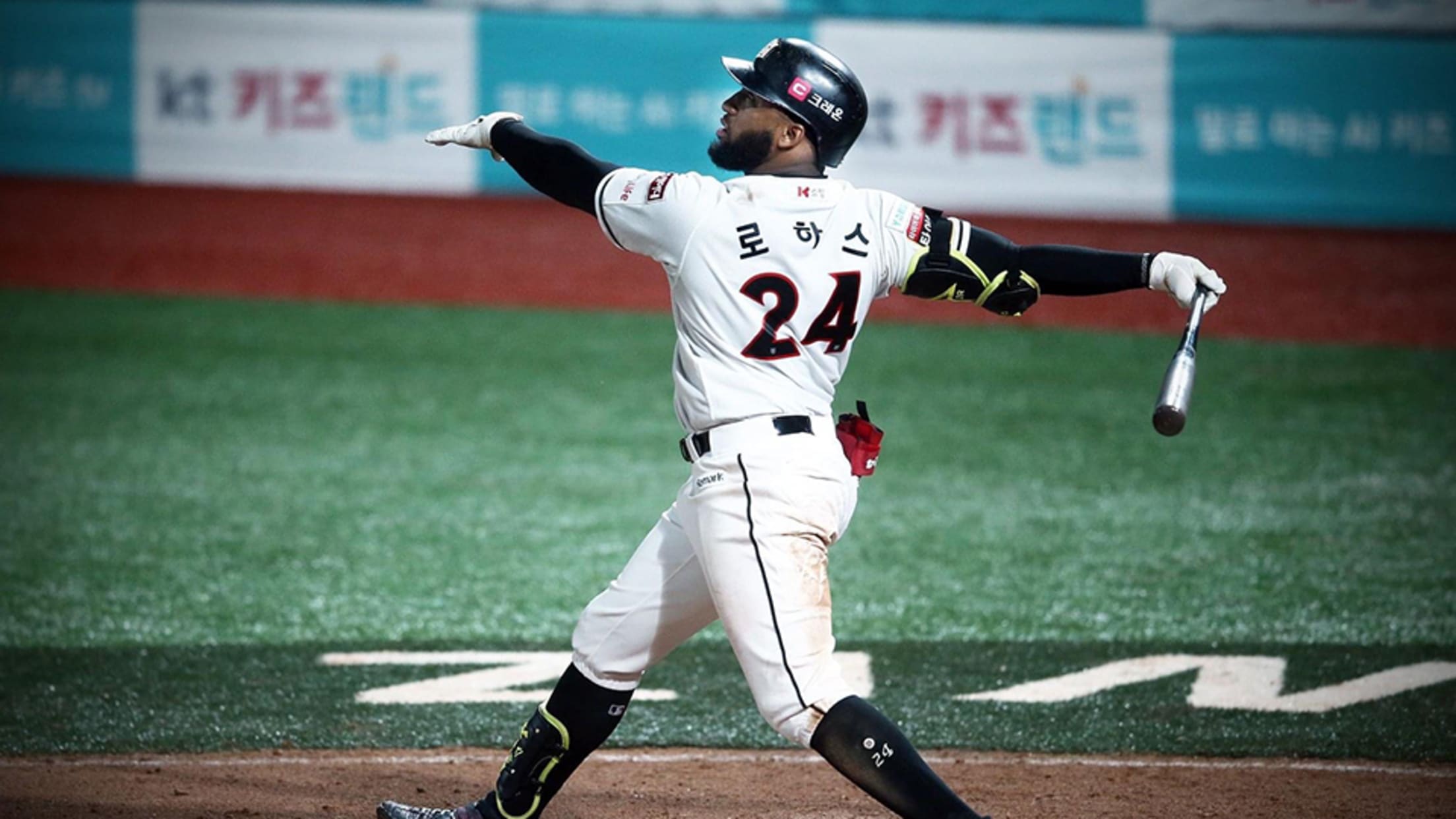 Mel Rojas Jr. hit the 100th home run of his KBO career on June 25. (Photo by KT Wiz)
When the novel coronavirus emerged in a seafood and poultry market in Wuhan, China in December 2019, few foresaw the disease spreading in the way health officials understand today. Just three months after the first known case and thousands already killed by the disease, one single COVID-19 diagnosis in the
When the novel coronavirus emerged in a seafood and poultry market in Wuhan, China in December 2019, few foresaw the disease spreading in the way health officials understand today. Just three months after the first known case and thousands already killed by the disease, one single COVID-19 diagnosis in the National Basketball Association on Wednesday, March 11, put sports leagues on edge in the United States.
It took only four minutes for the NBA to suspend its 2019-20 regular season indefinitely after Utah Jazz center Rudy Gobert tested positive for the virus. And the dominos quickly began to fall.
Major NCAA conference basketball tournaments, already with early-round action in a number of those tournaments completed or underway, were not far behind with cancellations. The next day, the NHL paused its regular season and MLB – only two weeks away from Opening Day – canceled the rest of spring training and postponed the start of its season by at least two weeks. MLB only recently came to terms on a restart for Spring Training 2.0 and forecasted regular season start of July 23-24.
But on the other side of the world in South Korea, the wheels had been in motion and the 2020 Korean Baseball Organization (KBO) season was already in park. The 39th KBO season was set to open on March 28, but just two days after KBO spring training concluded, its regular season was postponed on March 10 due to the pandemic – only one day before the U.S. sports scene was blindsided by the COVID-19 freight train. KBO officials hoped to start the season near the end of April but were forced to settle on May 5, when its 144-game slate officially got underway.
All the while, former Indianapolis Indians outfielder Mel Rojas Jr. – entering his fourth season in the KBO with the KT Wiz – experienced it all, trying to evade the pandemic along the way. Unlike the 30-team major leagues where players spend spring training in either Arizona or Florida, the 10-team KBO spreads its wings to twice as many locations as MLB – Arizona, Florida, Japan and Australia. For Rojas Jr. and the KT Wiz, their 1 ½-month spring training home was set in Arizona.
"When spring training ended on March 8, [my teammates and I] were told to come back to Korea, where the pandemic was very bad," Rojas Jr. said. "I asked the [KT Wiz] coaches and front office if I could stay back [in the United States] until the pandemic calmed down in Korea, and they let me [stay]."
For the next two weeks, Rojas Jr. spent time in Miami, Fla. as he watched the sports world unravel. When the virus began to spread like wildfire in the United States, the KT Wiz asked that he report to Korea, where the pandemic had reached its peak and the curve was flattening. What Rojas Jr. wasn't told, however, is that when he would arrive to Korea, he and his teammates would be forced to self-quarantine for 14 days.
"We were season ready and then we had to start back from the beginning," Rojas Jr. remembered. "Those two weeks in my apartment were terrible. I asked my [Korean] translator to find me a PlayStation 4… I did that and watched a lot of Netflix."
Once out of quarantine, KBO exhibitions began on April 21. Two weeks later, Opening Day. The game of baseball in Korea and Rojas Jr. didn't miss a beat, the latter picking up where he left off in three previous KBO seasons, feasting on opposing pitchers. Through play on June 25, Rojas Jr.'s campaign overseas is on track to be his best, and that's saying something since he clubbed 43 homers and drove in 114 runs in 2018. This summer he owns a .384 average, 15 home runs, 43 RBI, 68 hits, .718 slugging percentage, 1.145 OPS and 127 total bases through 44 games. He is the league leader or has a share of the lead in all seven categories. The Triple Crown and an MVP season are firmly in sight with 100 games to play. His 15th long ball on June 25 – a no-doubt, three-run shot during a 10-run eighth inning in a 19-6 win over the NC Dinos – was the 100th of his KBO career. He reached that feat in only 413 games. For perspective, he hit 46 homers in 837 career minor league games.
His father, Mel Rojas, pitched for the Tribe in 1990, '91 and '92, when the Indians were the Triple-A affiliate of the Montreal Expos. But unlike his dad, Jr.'s damage doesn't come on the mound; instead, the damage comes against those on the mound. And while he's putting up gaudy numbers in empty stadiums due to public health protocols enforced in Korea, an ESPN-KBO agreement has allowed his wife and son, family and friends to watch him from afar. South Korea's clock is 13 hours ahead of the Eastern Time Zone, but that doesn't matter to his loved ones, who can't join him overseas because of the pandemic.
"I miss [playing in front of] the fans, it's just so quiet [when we're playing]," Rojas Jr. said. "But to know that my family and friends get to watch me [on ESPN] when they otherwise wouldn't see me play at all is really cool. In my mind, I can hear them cheering."
Playing in Korea was never a part of Rojas Jr.'s original plans, as he was once an up-and-coming prospect in Pittsburgh's farm system after being selected in the third round of the 2010 First-Year Player Draft. He reached Triple-A in 2014 and played for Indy each of the next three years, including appearances in Games 4 and 5 of the 2015 Governors' Cup championship. But today in Korea he is thriving as the league's most feared hitter. The locals treat him well, and having a season only briefly interrupted by the COVID-19 pandemic has the 30-year-old counting his blessings.
"I'm lucky to be playing baseball."