Staff Spotlight, Featuring Trevor Wilt Broadcasting and Baseball Operations Manager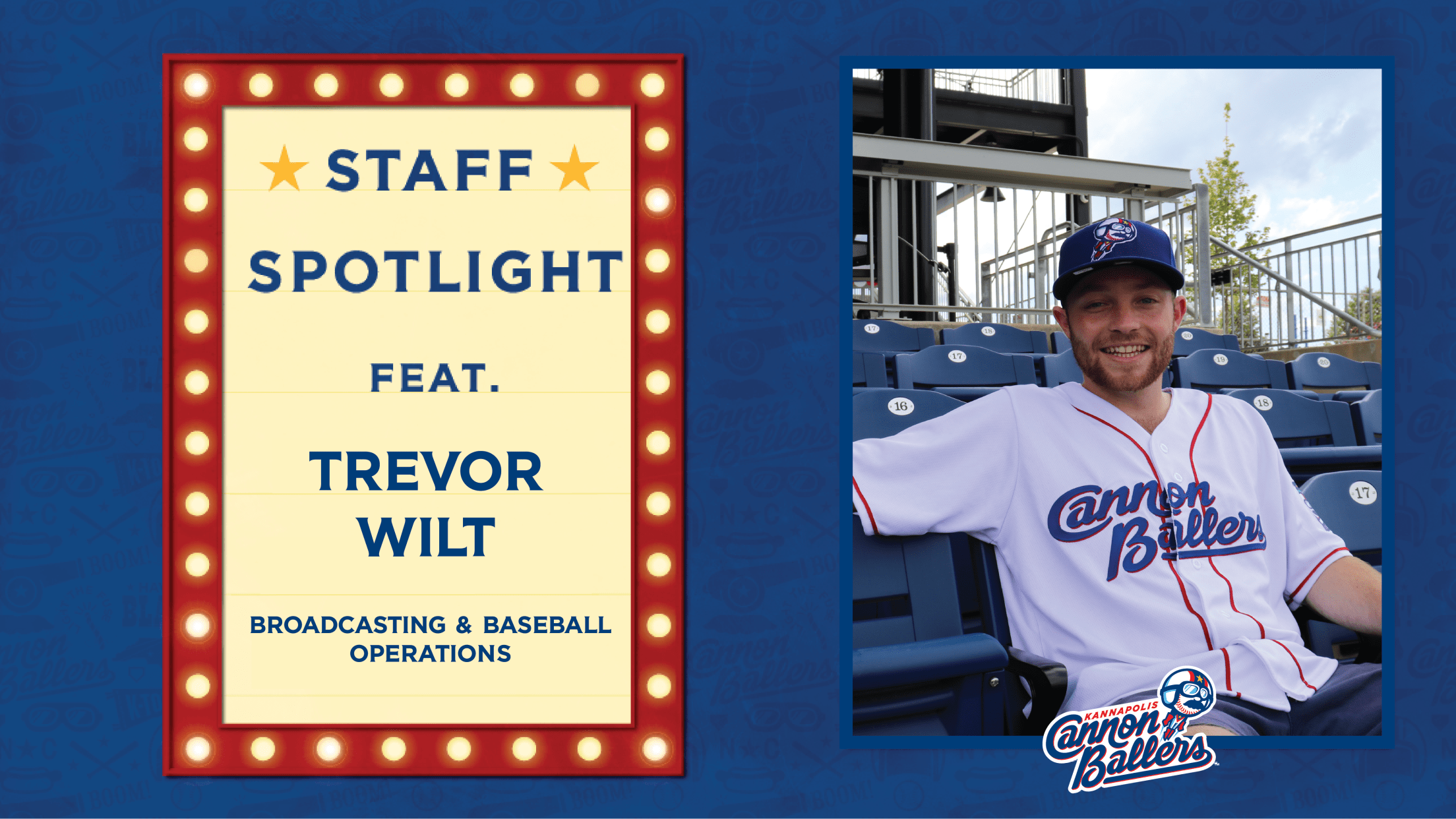 Trevor Wilt | Broadcasting & Baseball Operations Manager | Birthday: 1/4 | Hometown: Concord, NC A native of Concord, North Carolina, Wilt enters his 3rd season in Kannapolis after graduating from UNC Charlotte in 2017 with a degree in Communications and a minor in Journalism. During the off-season, Wilt calls
Trevor Wilt | Broadcasting & Baseball Operations Manager | Birthday: 1/4 | Hometown: Concord, NC
A native of Concord, North Carolina, Wilt enters his 3rd season in Kannapolis after graduating from UNC Charlotte in 2017 with a degree in Communications and a minor in Journalism. During the off-season, Wilt calls men's basketball games for the Charlotte 49ers as the color analyst alongside the Charlotte Knights' legendary broadcaster, Matt Swierad.
As a student at Charlotte, he was the play-by-play broadcaster for seven different sports, including baseball, his true passion. Along with broadcasting, Wilt was the sports editor for the campus paper, the Niner Times, where he also hosted a weekly sports radio show that highlighted sports around the Charlotte area.
In his free time, you can typically find Wilt watching The Office, playing/watching sports or hanging with his friends and family. Feel free to come up to the press box and talk baseball with him and his radio partner, Ron Burgundy (yes, he has a 6-foot cutout of his favorite movie character).
W**hat song do you have completely memorized from start to finish?**
The Show Goes On by Lupe Fiasco. It was my walk-up song when I played high school baseball, although I didn't hit much because I sucked at hitting.
What is your favorite family tradition?
My favorite family tradition is going down to Largo, Florida to see my Dad's side of the family every Thanksgiving. I have not missed a Thanksgiving in 25 years. I almost missed last year but with the help of my awesome Aunt Gaynel, I pulled off a pretty awesome surprise when I showed up on Thanksgiving Day! Mark my words, I will retire in Florida.
What is your favorite baseball memory?
My favorite baseball memory is when I went down to Atlanta a couple years ago with two of my buddies to watch a Braves game (my Dad is from Atlanta so that's why I am a Braves fan). After we stayed at a family friend's house the night before, we went to SunTrust Park for the first time, which is the nicest ballpark that I have been to (Fenway was better but not nicer - yes, there is a difference). We had great seats in left field but then the rain came. Tempted to leave after a 3.5 hour delay in the middle of the game, we powered through the delay, and then received a free upgrade to sit right behind home plate with the 50-75 people that stayed. Fox Sports came to us right before the game resumed and told us that he wanted us to be the fans that were going crazy on the screen when they came back on air. That was freaking awesome. Anyways, the game resumed and then Matt Adams hit a walk-off single to give the Bravos the win! Oh yeah, I forgot to mention, the game ended at 1:52 a.m. Best part about that, there was absolutely no traffic in Atlanta!
When you were a kid, what did you want to be when you grew up?
I wanted to be a Major League Baseball player but I received a couple bad genes (can't run fast or jump high) from my parents. Well, that's what I like to blame it on. But hey, now I am talking everyday on the radio about future MLB players so I almost did what I wanted to do, right?
What's the best compliment you've ever received?
"Hey Trevor, you remind me of Michael Scott." I feel like this is the best compliment any person can receive.
What three words would your friends and family use to describe you?
Funny (looking), Joyful, Passionate
Are you a dog person or a cat person (or neither)?
I am a BIG dog person. Cats are dumb. Cats do nothing but sit there and whine (purr). There are so many different dogs to satisfy someone's wants or needs. Can't say the same with cats. Sorry, I'll stop. I could go on for days. Dogs Rule - Cats Drool.
What's your most used emoji?
The crying laughing emoji face by far. Not even close. If I don't send you that emoji in the first few times that we text, we can't be friends. Jk, but seriously. "Insert crying laughing emoji face"
What's your favorite TV show—the one you're always watching on repeat?
The Office. I am still searching for a profession that will allow me to watch The Office from 9:00 a.m. - 5:00 p.m. Until that time comes, I guess I will talk about baseball for a living. Michael Scott, Creed Bratton, Dwight K. Schrute, the list goes on... Just comedic gold from top to bottom. Now that I think about it, there is no bottom. They are all at the top.
What is your favorite quote?
"In life, sometimes people don't need you to preach a sermon, they need you to live one. So when they see you living it, they can connect and identify with that." - Inky Johnson
If you weren't working in baseball what would be your other career path?
Late-night talk show host. I want to do it with only athletes though. ESPN's Katie Nolan does it but I'm not the biggest fan of her show. I would take the stand-up ability of Conan O'Brien, the interview ability of Jimmy Kimmel and the execution-of-game ability of Jimmy Fallon to create late-night comedy gold.