On the Road: Potomac and Hagerstown
Ben's final trip of 2019 includes a goodbye to P-Nats, 'The Pfitz'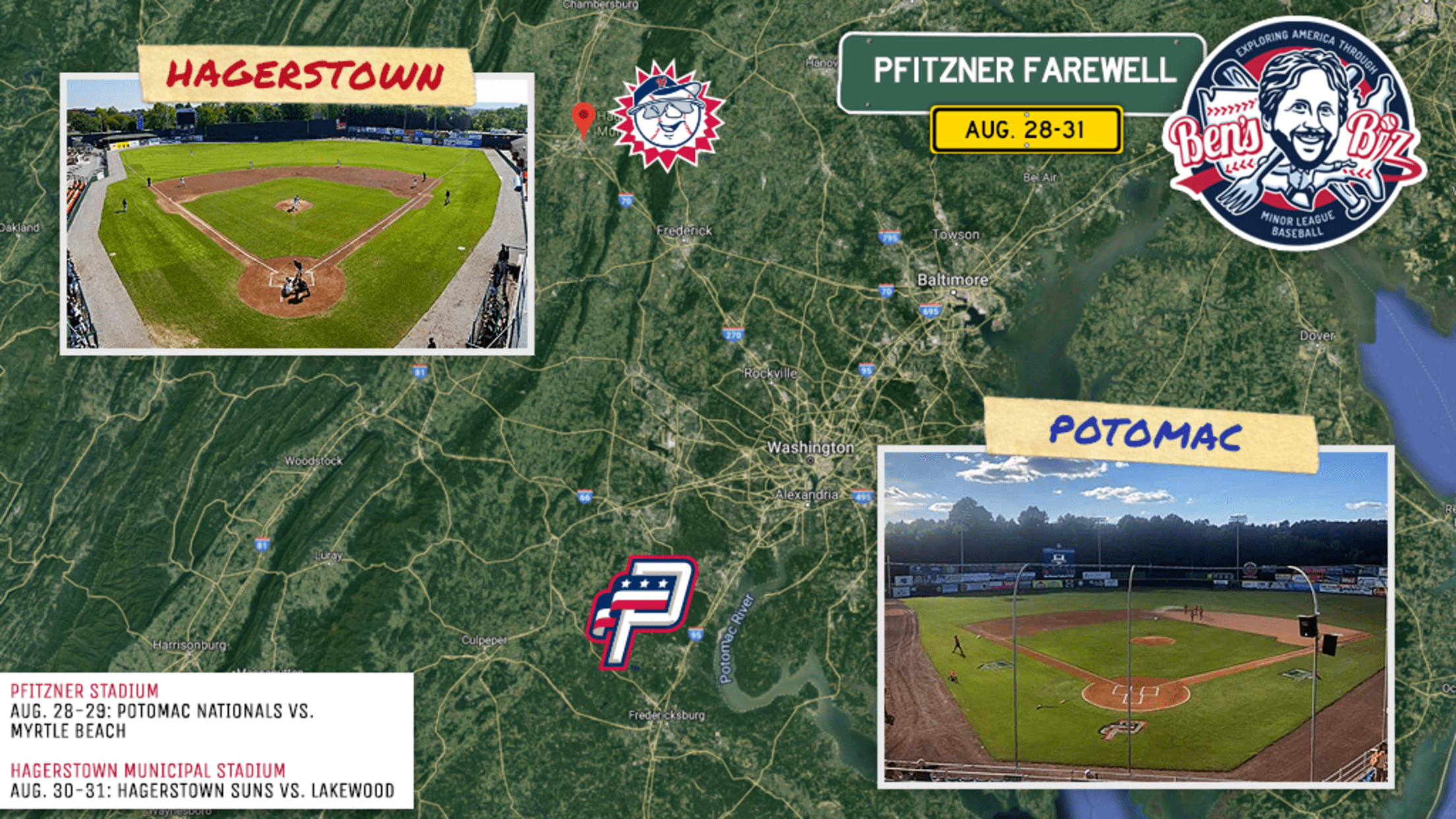 Between 2010 and 2018 I visited 174 stadiums, including every active Minor League park. That quest continued anew in 2019, as I visited the Minors' three new ballparks making their debut (as well as quite a few others along the way). For links to previous road trip content -- and
Between 2010 and 2018 I visited 174 stadiums, including every active Minor League park. That quest continued anew in 2019, as I visited the Minors' three new ballparks making their debut (as well as quite a few others along the way). For links to previous road trip content -- and much more -- visit the Ben's Biz page.
Most of my trips this season were centered around visiting a new ballpark. I was in Fayetteville in May, Amarillo in June and Las Vegas in July. This month, I'm taking a different approach and visiting two stadiums that are most decidedly old.
Pfitzner Stadium (a.k.a. The Pfitz, home of the Potomac Nationals)
August 28: Potomac vs. Myrtle Beach Pelicans, 7:05 p.m.
August 29: Potomac vs. Myrtle Beach Pelicans, 7:05 p.m. (final game at the Pfitz, featuring infield dirt giveaway)
Municipal Stadium (home of the Hagerstown Suns)

August 30: Hagerstown vs. Lakewood BlueClaws 6:05 p.m. (Mystery Bobblehead Night)
August 31: Hagerstown vs. Lakewood BlueClaws 2:05 p.m.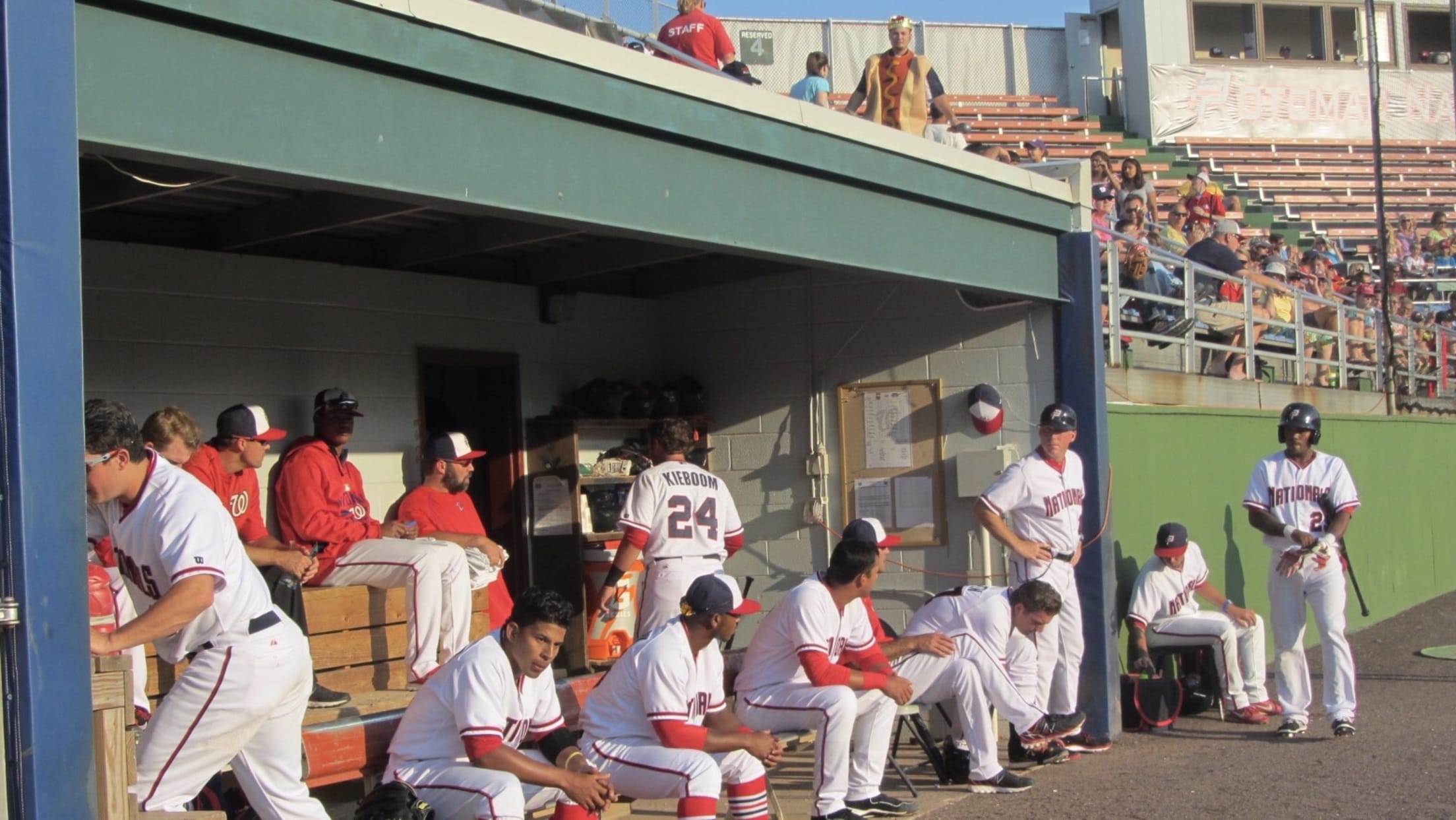 My previous visit to Potomac's "The Pfitz" occurred during the 2015 season.
The Rationale
Pfitzner Stadium, home of the Potomac Nationals, is in its 36th and final season of hosting a Minor League Baseball team. In 2020, the Class A Advanced Washington Nationals affiliate will move some 30 miles south to Fredericksburg, Virginia. August 28th and 29th are the final two games to be played at the Pfitz, and I will be there to document the end of an era. My previous visit to this venerable facility occurred in 2015, when I witnessed the Intern Olympics and got to know the members of Ken's Place. And, yes, before you tell me on Twitter: I am aware that the P-Nats might make the playoffs, and/or the new Fredericksburg facility might not be ready in time for Opening Day 2020. At the very least, this will be the Pfitz's last regular season finale, and that's milestone enough for me.
Efforts to replace the Pfitz had been underway for a long time. So, too, have there been efforts to replace Hagerstown's Municipal Stadium with something more modern. These efforts have thus far been unsuccessful, and Municipal Stadium still hosts the Hagerstown Suns (Class A affiliate of the Washington Nationals). I am motivated to swing by because my first and only visit to Municipal Stadium was in 2010; there is only one other team -- the Burlington Bees -- that I first visted in 2010 without making a return appearance. I am overdue, to say the least, and Hagerstown's proximity to Potomac made it an easy addition to this late August Mid-Atlantic jaunt. Both Potomac and Hagerstown are Washington Nationals affiliates. This season, I also managed to visit Washington's Triple-A affiliate (Fresno) as well as its Class A Short-Season affiliate (Auburn). Double-A Harrisburg, the odd team out on the 2019 docket, was part of my 2018 itinerary.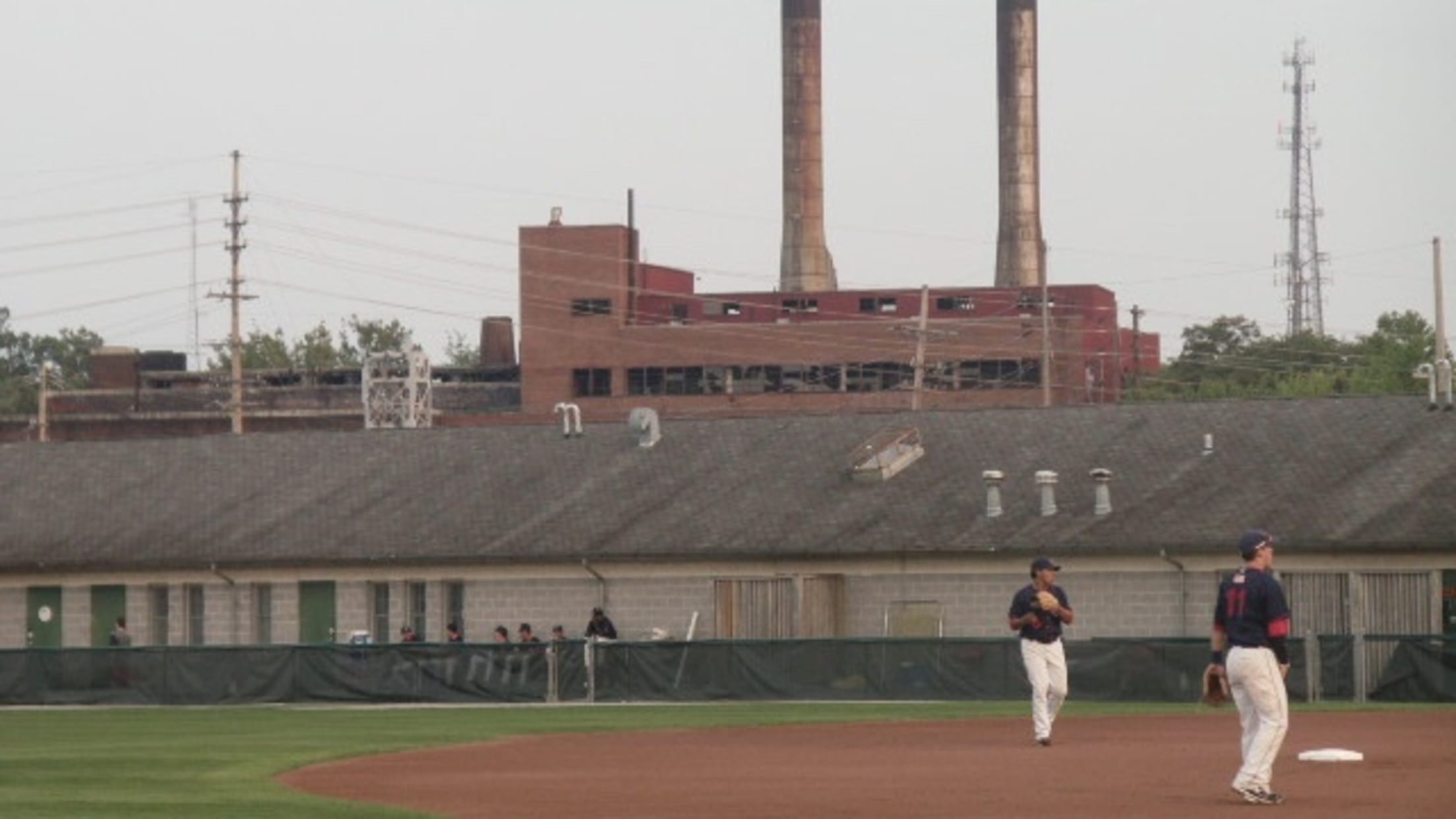 Hagerstown's Municipal Stadium, as seen during a game in 2010.
Designated Eater
For the sixth consecutive season, I'll recruit Designated Eaters at most locations I visit. Their job, of course, is to consume the ballpark cuisine that my gluten-free diet prohibits. If you want to be a Designated Eater in Potomac or Hagerstown, please do the following:
- Email me -- [email protected] -- with the subject line stating "Designated Eater" as well as the team you are interested in. (I only need one Designated Eater for each location, date negotiable).
- In this email, please explain (in at least 50 but no more than 500,000 words) why you would make a good Designated Eater. I'm looking for those with a sense of humor and a passion for Minor League Baseball. A willingness to potentially embarrass one's self is a prerequisite. Another prerequisite is a willingness to eat just about anything that may be on that team's concession menu.
- Send this email by Wednesday, August 21st. Designated Eaters for this trip will be announced on Friday, August 23rd.