Looking at 10 best performances from 2019
Relive most memorable outings of past Minor League season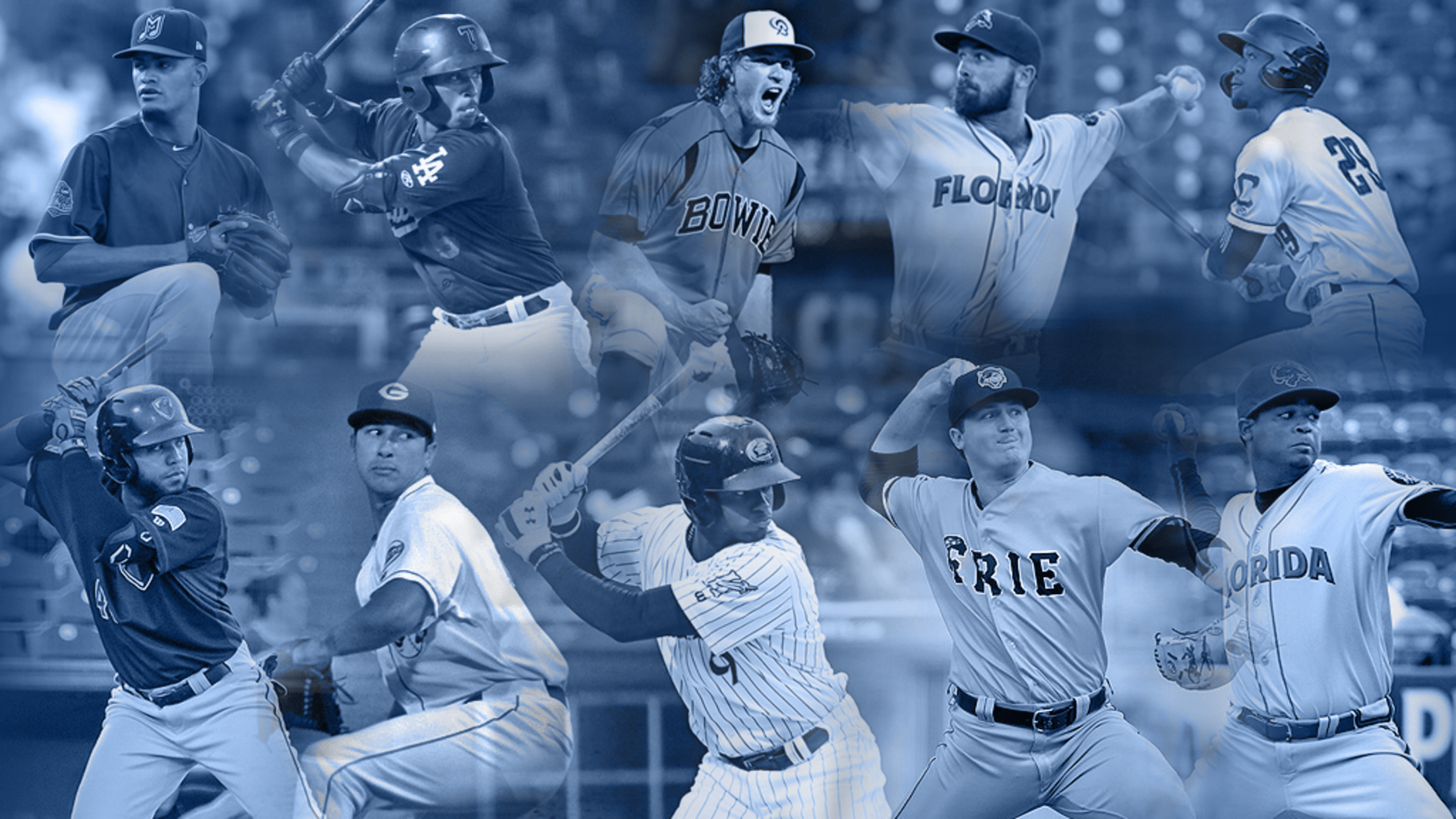 From Opening Day through the final championship game, MiLB.com chronicled the top on-field achievements throughout the 2019 season. This week we're looking back and rolling out the 10 best performances as voted by our staff. Below is the fully updated list:10. Downs homers three times in Texas League Finals
From Opening Day through the final championship game, MiLB.com chronicled the top on-field achievements throughout the 2019 season. This week we're looking back and rolling out the 10 best performances as voted by our staff. Below is the fully updated list:

10. Downs homers three times in Texas League Finals
Jeter Downs waited until the perfect time to have his first career three-homer game.
The fifth-ranked Dodgers prospect took the first pitch of the game from Padres No. 28 prospectJacob Nix and knocked it over the left-field wall for Double-A Tulsa on Sept. 11 in Game 2 of the Texas League Finals.
"It was an amazing feeling, first pitch of the game, in a big bounce game for us after the Game 1 loss," the 21-year-old shortstop told MiLB.com. "Good way to start off and set the tone that we're here to fight. Got the guys amped up a bit."
He wasn't done. Another first-pitch swing in the fifth resulted in another solo shot to left, this time off right-hander Elliot Ashbeck. A third solo homer followed in the ninth, swatting a 2-0 pitch from righty Jordan Guerrero to give the Drillers a 17-9 lead.
MLB.com's No. 87 overall prospect reached base six times -- he also singled -- and scored five times. In 12 regular-season games with the Drillers, he posted a .333/.429/.688 slash line with five long balls, two doubles, 14 runs scored and 11 RBIs. At Class A Advanced Rancho Cucamonga prior to the promotion, the Columbia native batted .269 with 19 homers, 33 doubles, four triples, 78 runs and 75 RBIs in 107 games.

9. Baumann's nine-inning no-no for Baysox
In his three-year career, Michael Baumann had never pitched into the eighth inning. That changed on July 16, when the ninth-ranked Orioles prospect twirled a no-hitter for Double-A Bowie against Harrisburg.
"It's a great feeling, my head is still spinning trying to wrap around what happened," Baumann told MiLB.com. "It was a great feeling."
After walking leadoff batter Michael A. Taylor in the first inning, Baumann was in control, sitting down the next 19 batters in a row before issuing a two-out walk to Drew Ward in the seventh. What he was on the cusp of accomplishing dawned on the 6-foot-4 righty.
"It started to sink in and made me realize that this actually might happen," he said at the time. "But yeah, my head is still spinning. There was a lot of adrenaline going on."
With two outs in the ninth and on the brink of the historic feat, Baumann struck out Taylor looking and set off a celebration. Bowie pitching coach Kennie Steenstra was jubilant for his player.
"He works extremely hard and you love seeing good things happen to good people," he said.
Baumann went on to post a 7-6 record with a 2.98 ERA, striking out 142 batters over 124 innings while holding hitters to a .194 average between Bowie and Class A Advanced Frederick. He was named the Orioles' Jim Palmer Minor League Co-Pitcher of the Year.

8. Redbirds' Cabrera fans nine straight
Setting a Pacific Coast League record in a hitting category may seem like an everyday occurrence. In pitching, it is rare. That is what made what Génesis Cabrera did for Triple-A Memphis on Aug. 24 so special.
The ninth-ranked Cardinals prospect whiffed nine Omaha hitters in a row, tying a PCL record set by the Redbirds' Alex Reyes the previous season.
"It's unbelievable. I have no words for either time," Memphis pitching coach Dernier Orozco told MiLB.com. "They were impressive. ... When you see a performance like today, or like Reyes last year, it's just fun to watch."
In all, Cabrera struck out 12, tying a career high he set on June 4, 2018 with Double-A Montgomery. He allowed just one hit and two walks over seven scoreless frames in the Redbirds' 4-0 victory.
"Everything was working," Orozco said at the time. "His curveball was a lot better than his last outing and there was better location on the fastball. Batters had more of a chance to swing and miss."
In 20 appearances (18 starts) for Memphis, the 6-foot-2 southpaw whiffed 106 batters while posting a 5.91 ERA over 99 innings in between trips up to the Majors. He made 13 appearances for St. Louis, allowing 16 runs and fanning 19 in 20 1/3 frames.

7. Robert rolls lucky seven in Triple-A debut
There's a certain pressure that comes with being ranked the the third-ranked overall prospect, but Luis Robert didn't seem bothered by that in his first International League game with Triple-A Charlotte on July 11.
The top White Sox prospect introduced himself to the International League with a bang, going yard twice and driving in seven runs. Bolstering those gaudy numbers was the first grand slam of his career.
In the third inning, Robert came to the plate with the bases loaded and knocked a ball well clear of the fence in left-center field. In the fifth, he went over the same portion of the outfield wall with a solo shot. The performance was exactly what Cuba native was looking for.
"Ever since I got to Double-A, all the guys talked about was how the ball didn't travel much," Robert told MiLB.com through Knights coach Anthony Santiago. "They told me, 'Don't worry. Wait until you get to Charlotte and see how the ball travels there.' Thank God, today I had a good game. I want to keep working hard and try to get better every day."
The 6-foot-3 center fielder ended the season with a .328 average, 32 homers, 11 triples, 31 doubles, 108 runs and 92 RBIs over 122 games at three different levels.

6. Castro blasts off three times for JetHawks
Luis Castro hadn't hit more than eight home runs in a season as a professional, so his power numbers -- 27 dingers, 105 RBIs -- in 2019 were unexpected. Three of those homers came on May 26 against as the Class A Advanced Lancaster first baseman neared half his career high in one game against Rancho Cucamonga.
In the fourth inning, it was a two-run shot off Dodgers No. 22 prospect Gerardo Carrillo. The next inning, Castro knocked a solo shot against lefty Leo Crawford. He saved his best for last, though. With two runners on and his team down, 12-9, in the top of the 11th, the Venezuela native took a pitch from southpaw Connor Mitchell and knocked it over the wall in center to tie the game.
"Every swing has a purpose and a plan and he understands what he's trying to do in there," Lancaster hitting coach Tom Sutaris told MiLB.com. "Today he was just very determined that we need to get this series, and he came in with as much intent as I've ever seen him -- and he always has intent."
In addition to the three dingers, Castro walked three times and singled.
Along with the career high in home runs, the 24-year-old finished with a .304 average, 25 doubles and 106 runs between Lancaster and Double-A Hartford. This offseason, he was signed by the Brewers as a free agent.

5. Greeneville's Wynne strikes out 17
Randy Wynne
didn't have much time to get used to his surroundings during his first year as a pro, climbing from the Arizona League to the Appalachian League to the Midwest League all in a summer's time.
His best performance came at Rookie Advanced Greeneville. In his second career start on Aug. 20, the 6-foot-1 righty
struck out 17 batters
while allowing just one hit over eight innings in a 2-0 win over Burlington.
"That's definitely a career high," Wynne told MiLB.com. "I've had a couple other pretty good games in my life, some complete-game shutouts and stuff like that but not with that many strikeouts. I'm not usually a high strikeout guy. Today might've been the peak."
The 26-year-old knew early on he might have his best stuff. And in the first, Wynne delivered an immaculate inning.
"I couldn't help but smile a little bit," he said at the time. "I knew after the eighth pitch what I was about to do. I was just trying to throw a strike. I actually dirted a curveball and the guy swung through it. I guess it was more luck than anything on that one."
Over three levels in 2019, Wynne posted a 5-3 record with a 3.34 ERA while fanning 69 over 67 1/3 innings.
4. Pfeifer also racks up 17 K's for Fire Frogs
Philip Pfeifer
only became a starter again halfway through the season. And that decision proved wise when the southpaw delivered the game of his career on July 18,
fanning 17 batters
over eight scoreless frames in Class A Advanced Florida's 4-2 victory over Palm Beach.
"There's some days where you just have everything working, and tonight was one of those nights," Pfeifer told MiLB.com. "I had a good plan in place and I was able to execute it. And really, as a team, we were just kind of vibing off each other. We were able to execute a lot of pitches, I got a little fortunate a couple of times, had some things go my way, but I'll take it."
Execute, indeed. The lefty threw 73 of 94 pitches for strikes and allowed just three hits without a walk while tying his longest start of the season.
"There was also something about his fastball," Florida pitching coach Dan Meyer said at the time." He not only commanded it to both corners, it had a little extra life to it too."
After two more starts in which Pfeifer gave up two earned runs in 14 innings, he was promoted to Double-A Mississippi. Following four Southern League starts, the Vanderbilt product jumped to Triple-A Gwinnett. For the season, Pfeifer posted a 2.97 ERA, whiffing 159 batters over 133 1/3 innings.
3. De La Cruz hurls 89-pitch no-hitter
Was there something in the water in Kissimmee, Florida? The Fire Frogs delivered some amazing pitching performances .
It took only 89 pitches for
Jasseel De La Cruz
to go the distance against Florida in
the team's first no-hitter
on May 18. The
Braves' No. 14 prospect
struck out four and walked two, throwing 54 of 89 pitches for strikes.
"I've seen no-hitters as a player, but to be on the coaching side for one, it was a special thing to be a part of," Meyer told MiLB.com. "Our defense was great and Jasseel just did a great job sticking to the gameplan and pitching to his strengths. He threw more changeups, commanded his fastball better. As a whole, it just all came together tonight, and I think it showed."
After a two-out walk to
Isael Soto
in the second, the 6-foot-1 right-hander retired the next 13 Hammerheads before issuing a walk to
Riley Mahan
in the seventh. That was the only threat Jupiter mounted against De La Cruz.
With
Marlins No. 13 prospect
Víctor Víctor Mesa
at the plate and a full count with two outs in the ninth, the Dominican Republic native induced a groundout to short to cap the feat.
2. Benson captains four-homer night
The Minors may see a lot of trifectas, but four long balls in the same game are more of a rarity. So
Will Benson
's teammates can be forgiven for being a little shocked when the 21-year-old outfielder
did just that
on April 18.
"To look into the eyes of my teammates and to see that they were amazed, that's what made it, 'Oh, this is legit,'" Benson told MiLB.com. "Most homers are cool, but this time, everyone's faces were different. It was nice."
In the first inning, the
Indians' No. 18 prospect
clubbed a two-run shot to right off South Bend's
Eury Ramos
. In the third, Benson knocked the righty's first pitch over the fence in right-center for a solo homer.
#Indians OF prospect Will Benson was 4-5 tonight with 4 HR -- the first 4 HR-game in MiLB since 2014

his 3rd HR of the night was a grand slam and UH WELL LOOK AT THE BAT FLIPpic.twitter.com/8mvXJioP3B

— Céspedes Family BBQ (@CespedesBBQ) April 19, 2019
The 21-year-old's third at-bat will remain with him for a long time. With the bases loaded and facing righty Zach Mort, Benson got ahead with a 2-1 count and fouled off six consecutive pitches before nailing the 10th pitch of the at-bat up and far, clearing the wall in right-center for a grand slam.
"Honestly, that's probably my favorite at-bat of my whole life," he said at the time. "The only thing that I vividly remember is that it was just a battle. I was on the fastball. Yeah, that'll probably be the at-bat that I'll remember for the rest of my career. That was awesome. ... There's not an at-bat that I've had that equals that at all."
But his night still wasn't over. On a full-count pitch by Jeffrey Passantino, a righty Benson admitted had dominated him in their seven previous matchups, the 6-foot-5 left-handed hitter went over the fence in right-center a fourth time. It brought his day's output to eight RBIs.
"Once I hit it, I was like, 'Wow, that's incredible," Benson said. "I was just thanking God all around the bases. ... I'm just very thankful and blessed to go out there and do that. I don't want to say it was a dream come true, but it's something that you'll never forget."
Neither will his teammates.

1. Mize tosses no-no in Double-A debut
Casey Mize
can always count on his friends back home in Alabama to keep him grounded, even when he's at the top of his game.
The No. 7 overall prospect
had just thrown a no-hitter
in his Eastern League debut for Erie, more than living up to the ample hype that has followed him since he was the top overall pick in the 2018 Draft. His buddies wanted more.
"OK, the next outing, you are going to go nine innings perfect," they all said, Mize recalled.
While they might have been kidding, they were right about one thing: They predicted the feat as the SeaWolves dominated the Curve, 1-0, on April 29.
"It was funny because my first four starts of the season I went five innings, six innings, seven innings, eight innings and then I got called up," the Auburn product said recently. "In my last start in high-A, I went eight innings and gave up one hit and they said, 'OK, the next start, you are going to go nine-inning no-hitter.' Fortunately, I was able to do that."
That day in Altoona, Mize said he did not have great fastball command. Looking back, he backtracked somewhat.
"I think after, I said my fastball command was horrible," the top-ranked Tigers prospect said. "I don't think it was horrible, but I do think I had a point where it was not great. It was not what I expect out of myself. I had my other pitches, which stepped up big. I was able to throw my cutter, splitter and slider for strikes, but my fastball command wasn't horrible -- like I might have said -- but it definitely wasn't as good as I like it to be."
SeaWolves pitching coach Mark Johnson didn't think Mize's fastball was that bad.
"If he says he didn't have his best fastball, he still threw well enough," Johnson said recently. "He kept them off balance and kept them guessing. He has four quality pitches and he has a good mix and feel for what he wants to do."
Either way, the right-hander had enough to get through nine frames on 98 pitches. Mize struck out seven, but it was his teammates behind him who provided him with a comfort level on the mound.
"I was finding a lot of bats but missing a lot of barrels and my defense made a lot of great plays behind me," he said. "I think it was Derek Hill, Jose Azocar and Sergio Alcántara who made the three best plays of the game, but there were others in there that were included as well. Really spectacular plays that allowed me to go out there and do that."
Comfort was crucial to a 22-year-old making his first start for a new team in a new park in a new league. Noting that he had played with many of his teammates during Spring Training and with Class A Advanced Lakeland, it was the one guy he hadn't worked with who might have made the biggest difference -- catcher Jake Rogers.
"That was my first time throwing to him and he did an outstanding job," Mize said. "The way I went under 100 pitches was trusting my defense and trusting Jake, what he was putting down back there and just trying to find bats but miss barrels."
The Springville, Alabama, native was thinking about making history as the game went on and he just wanted to get back on the mound, even with just a one-run lead.
With two outs in the ninth, Mize induced a popout from Pirates No. 11 prospectJared Oliva to set off a celebration. He had plunked Oliva with his third pitch of the game and walked Bligh Madris with two outs in the seventh -- the only flaws in his debut.
"I think there was a lot of excitement and that I made a pretty good first impression, which was good," Mize said. "I knew I wanted to make a good first impression because I was probably going to spend most of my season -- if not all -- which I did there."
Of course, that came with a drawback many people would welcome, namely that such domination might be expected for every outing.
"The bar was definitely set high," Mize said, "but I think people knew I wasn't going to be able to keep that pace."
But rest assured, his friends back home still want more.
Brian Stultz is a contributor to MiLB.com. Follow him on Twitter @brianjstultz.