Designated Eater: Prairie 'Dogs' in Amarillo
Trevor Wyatt samples Sod Poodles' intriguing hot dog triumvirate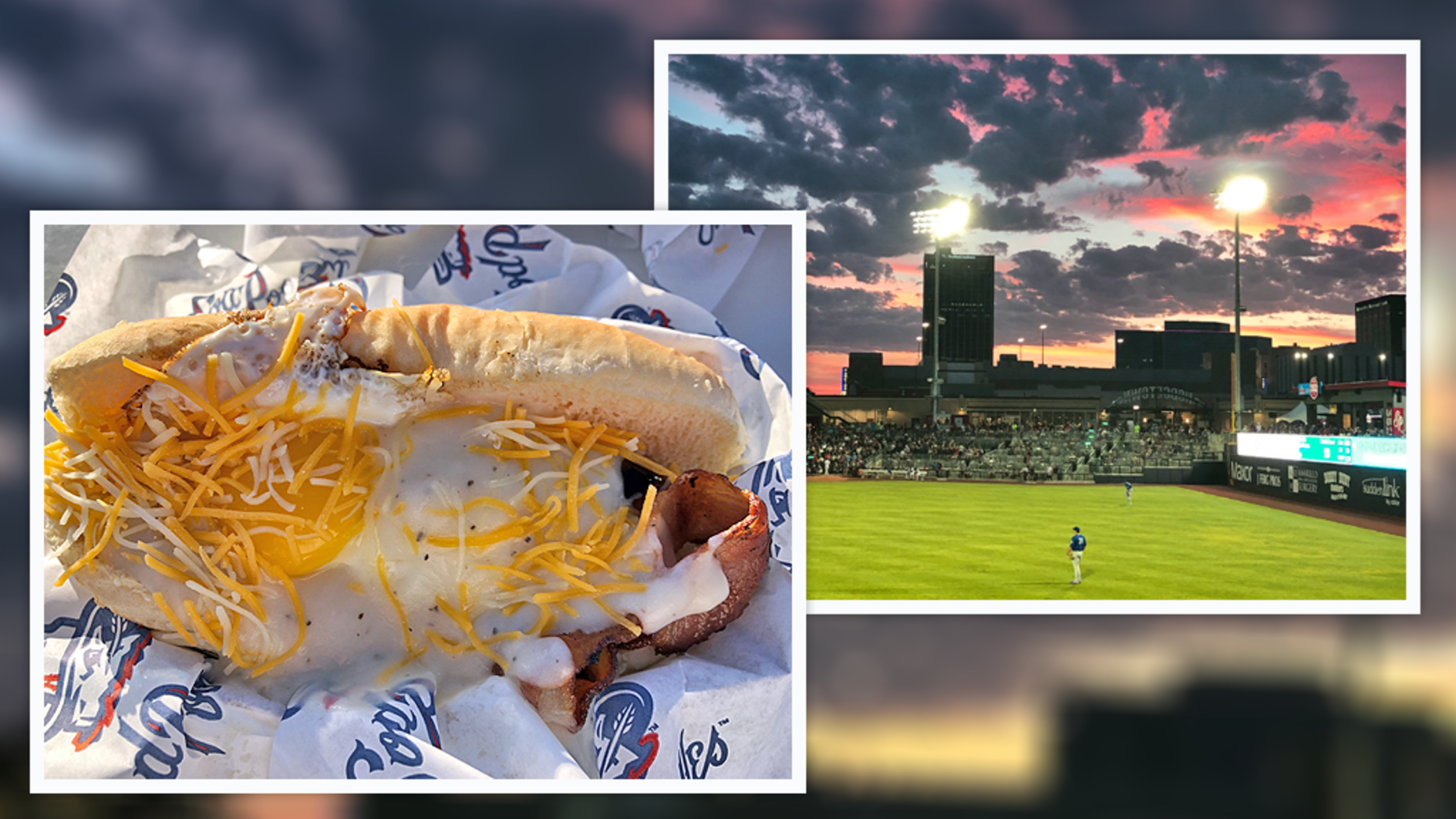 At the Amarillo Sod Poodles' home of HODGETOWN, one can enjoy a breakfast-themed Sunrise Dog while the sun sets.
I was in Amarillo to check out the dogs. "Dogs" as in "prairie dogs" as in the Sod Poodles, Amarillo's new Minor League Baseball team. But also dogs as in "hot dogs" as in "what you are most likely to eat while attending a baseball game." 
I was in Amarillo to check out the dogs.
"Dogs" as in "prairie dogs" as in the Sod Poodles, Amarillo's new Minor League Baseball team. But also dogs as in "hot dogs" as in "what you are most likely to eat while attending a baseball game."
On hand to assist me in checking out the Sod Poodles' frankfurter scene was Trevor Wyatt, my Designated Eater. It would be Trevor's job to consume that which my gluten-free diet prohibits (i.e. "pretty much everything at the ballpark").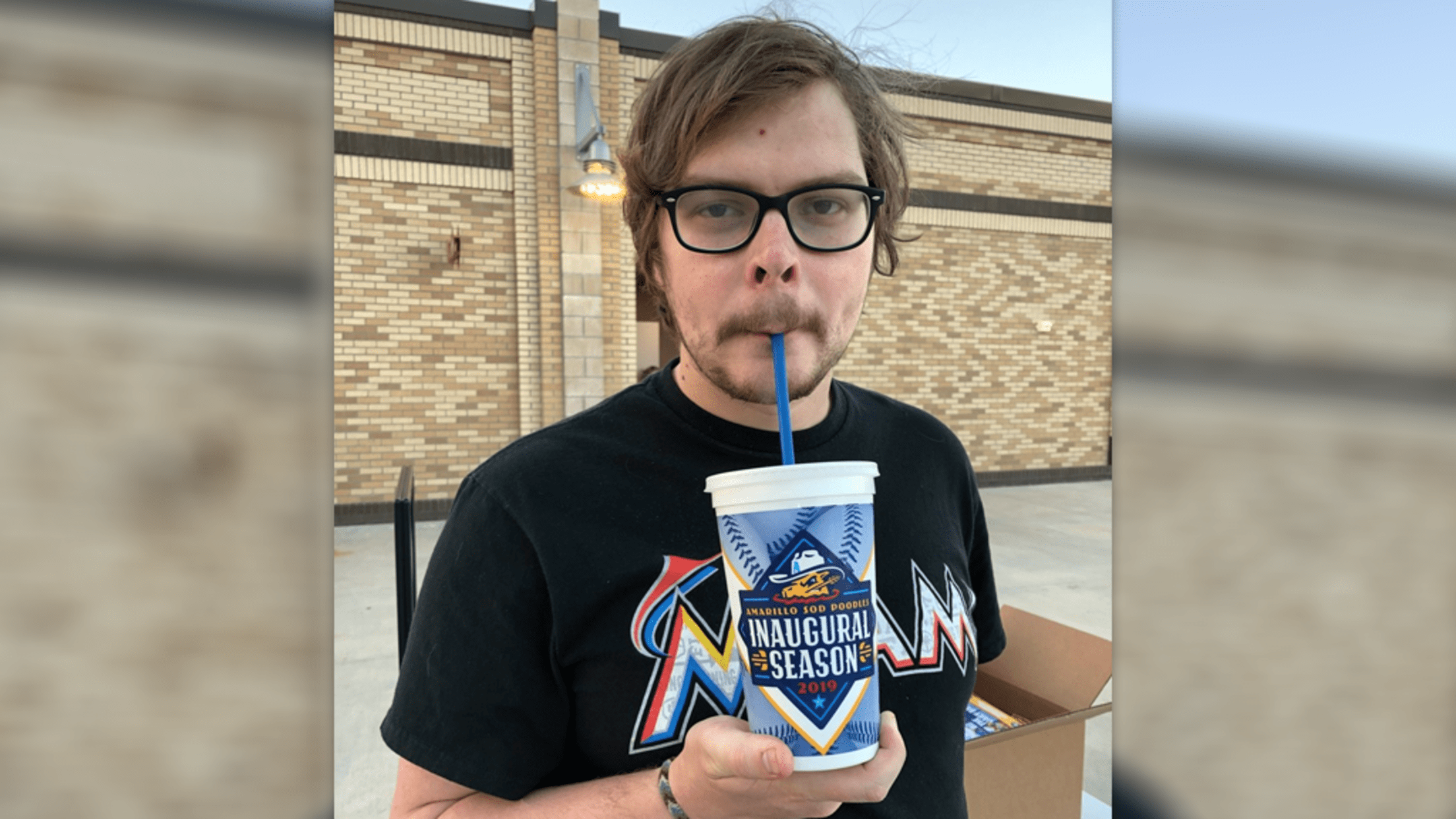 Trevor Wyatt, Amarillo Sod Poodles Designated Eater
Trevor, 24 years old and originally from Fort Worth, Texas, is, among other things, an eighth of an inch shy of being six feet tall. A soon-to-be graduate of Abilene Christian University, he's a writer and musician who is looking to break into the world of sports journalism. Trevor has always had an interest in sports, and said he first became a baseball fan after seeing former Baltimore Oriole David Segui play as a member of the Gary Railcats (his dad is a big Orioles fan and his mother's from Indiana, so it all made sense).
This was to be a memorable evening for Trevor, above and beyond enjoying his exalted status as a Designated Eater. After five years observing a kosher diet, Trevor had decided to eat pork. He said that he had made the decision to eat kosher after hearing the results of his uncle's DNA test, which revealed that he was at least 35% Ashekenazi Jew.
"I started taking [Judaism] more seriously during my junior year of high school," he said. "Eventually I started eating kosher. I've had bites of pork since then, but it was always accidental."
So why'd he start eating pork?
"Stuff was put on this Earth for us to eat," said Trevor. "It's been a long time since I'd had pork, and I wanted to see if I remembered what it tasted like and what the texture's like."
With the assistance of Sod Poodles food and beverage general manager Mike Lindal, Trevor and I procured three hot dogs from the Hot Diggity Dog stand (located behind home plate). From left to right, there's the Philly Dog, Amarillo Dog and Sunrise Dog. The latter two of these were definitely not kosher.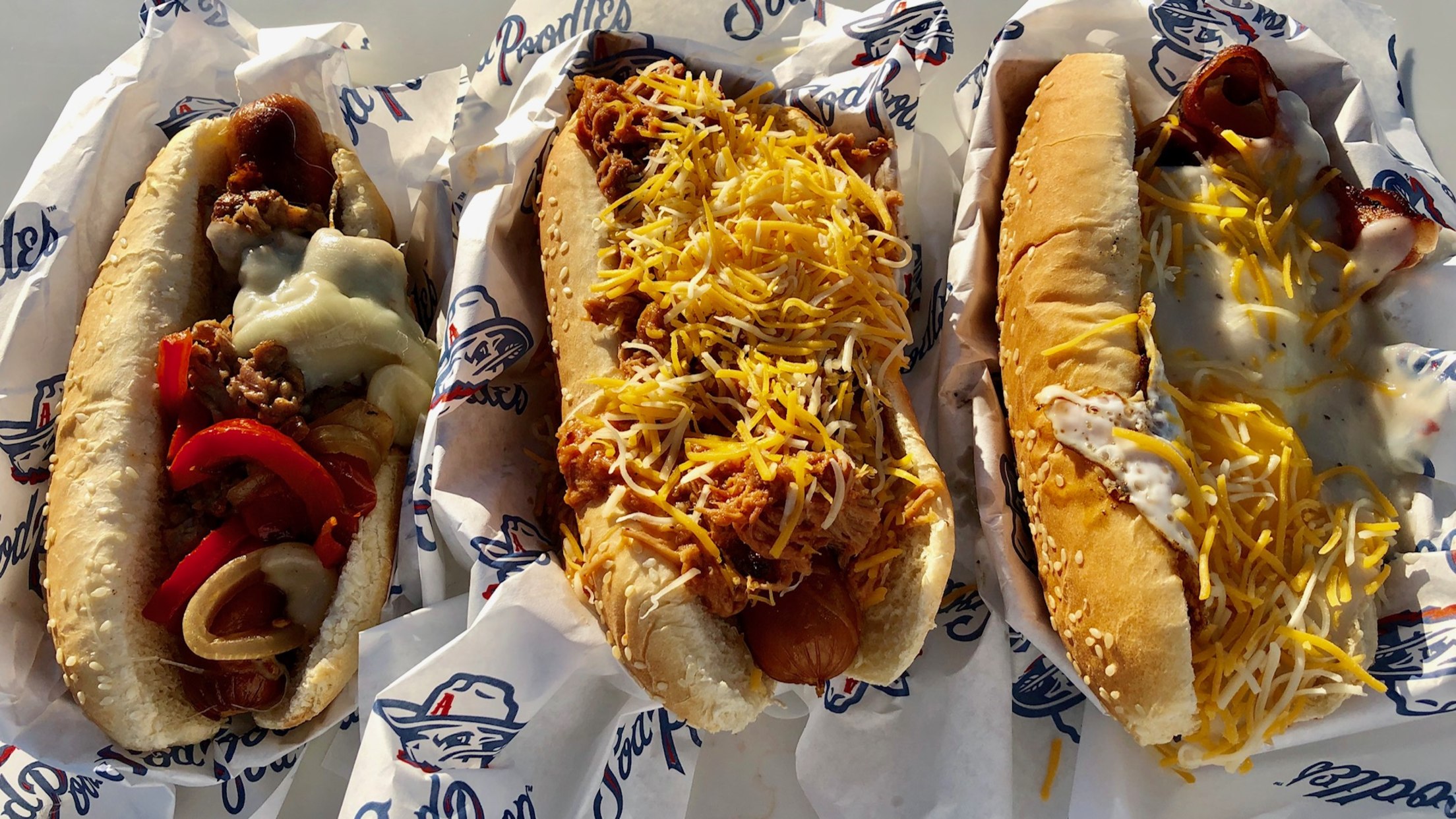 We began with the Amarillo Dog, a bacon-wrapped hot dog smothered with pulled pork and topped with barbecue sauce and shredded cheese. (For the record, the Sod Poodles use Wimmer's hot dogs and Bimbo buns.)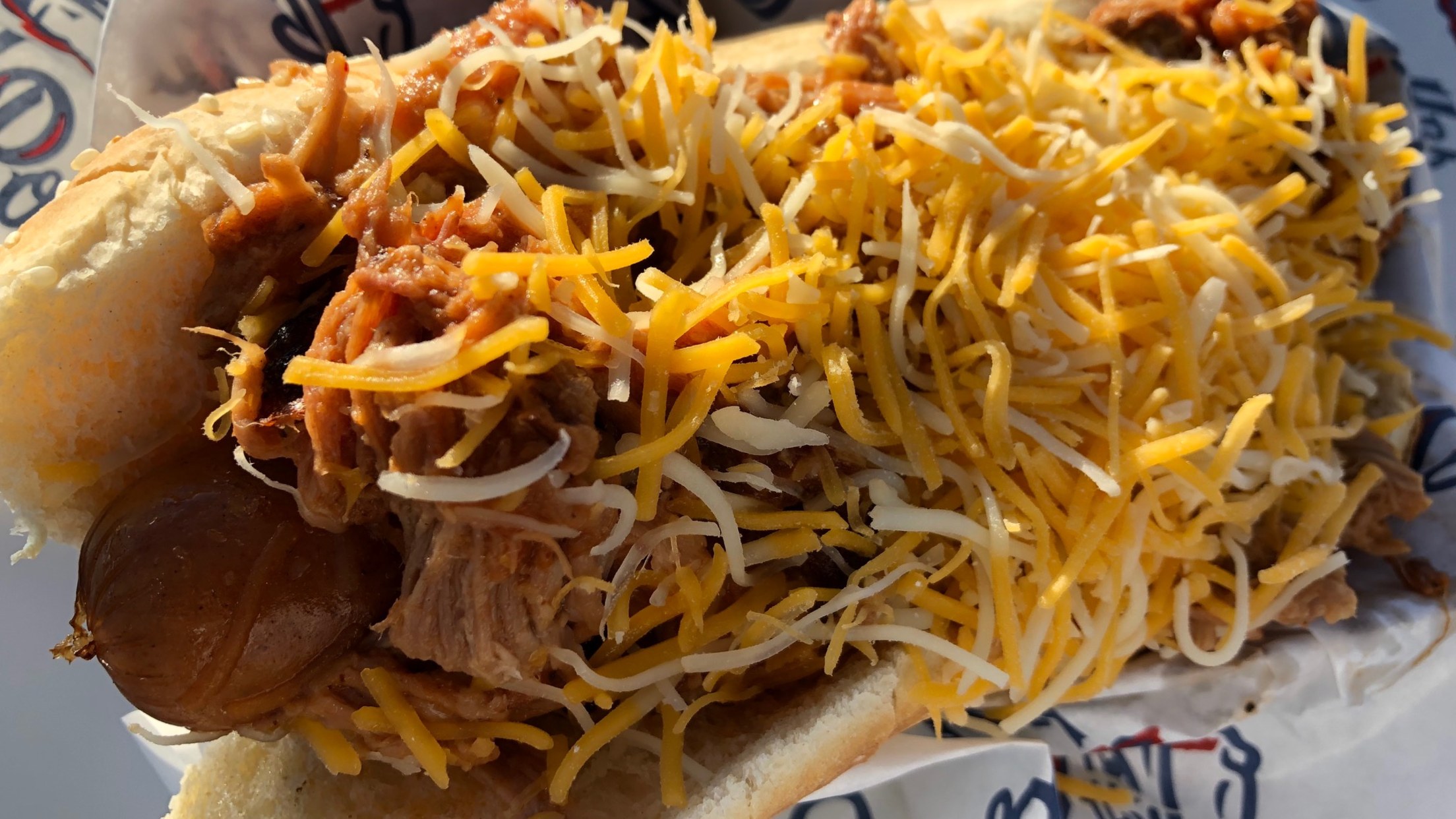 Tweet from @bensbiz: Amarillo @sodpoodles Designated Eater Trevor Wyatt @ballhawkdawg checks in with an Amarillo Dog. Topped with cheese, pulled pork, bbq sauce and wrapped in bacon. Trevor has followed a kosher diet for the last six years...until now. pic.twitter.com/LkfUd94oyT
"It's obviously very porky," said Trevor. "It's wrapped in bacon but you don't get that until after you taste the pork and the hot dog. It's a nice texture thing."
Trevor then took the time to reflect on pork.
"It's a different kind of meat than beef, the flavors and the seasoning. It's good."
More pork was on the way in the form of the breakfast-themed Sunrise Dog - a sausage smothered with country gravy and topped with bacon, cheddar cheese and a fried egg.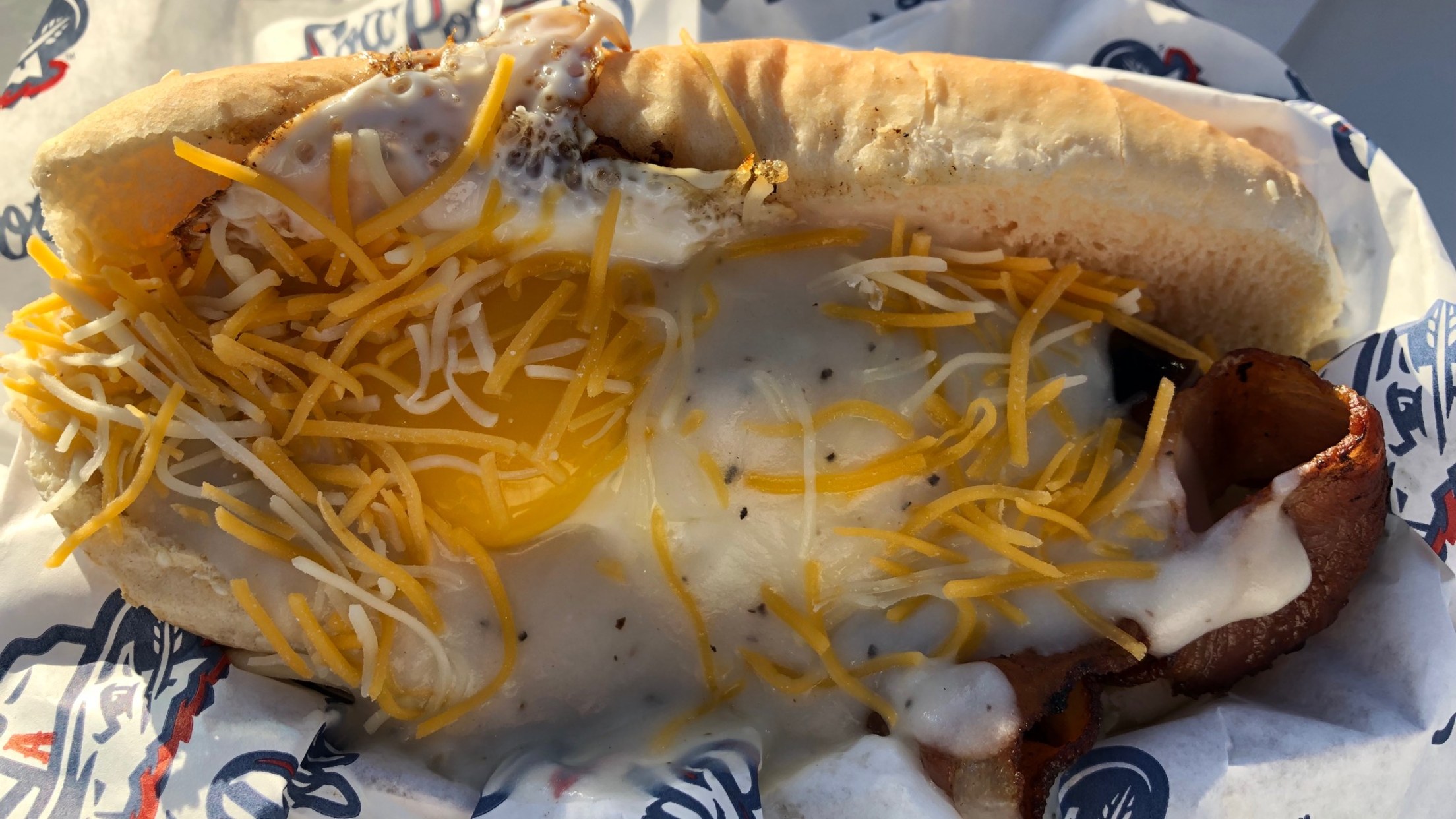 This one is messy, to say the least. Trevor later explained that his unorthodox "start from the middle" approach was motivated by his desire to eat as much of the egg as possible in one bite.
Tweet from @bensbiz: The Sunrise Dog is...not easy to eat gracefully pic.twitter.com/zpl4naqgL2
Trevor said that the egg was "okay" and the bacon "good," but that he was "overwhelmed by the gravy."
"It tastes like a Texas breakfast, reminds me of having sausage in the morning," he said. "Like something my Dad would make."
Finally, there was the Philly Dog. It's pretty self-explanatory: A hot dog topped with chopped steak, cheese and peppers.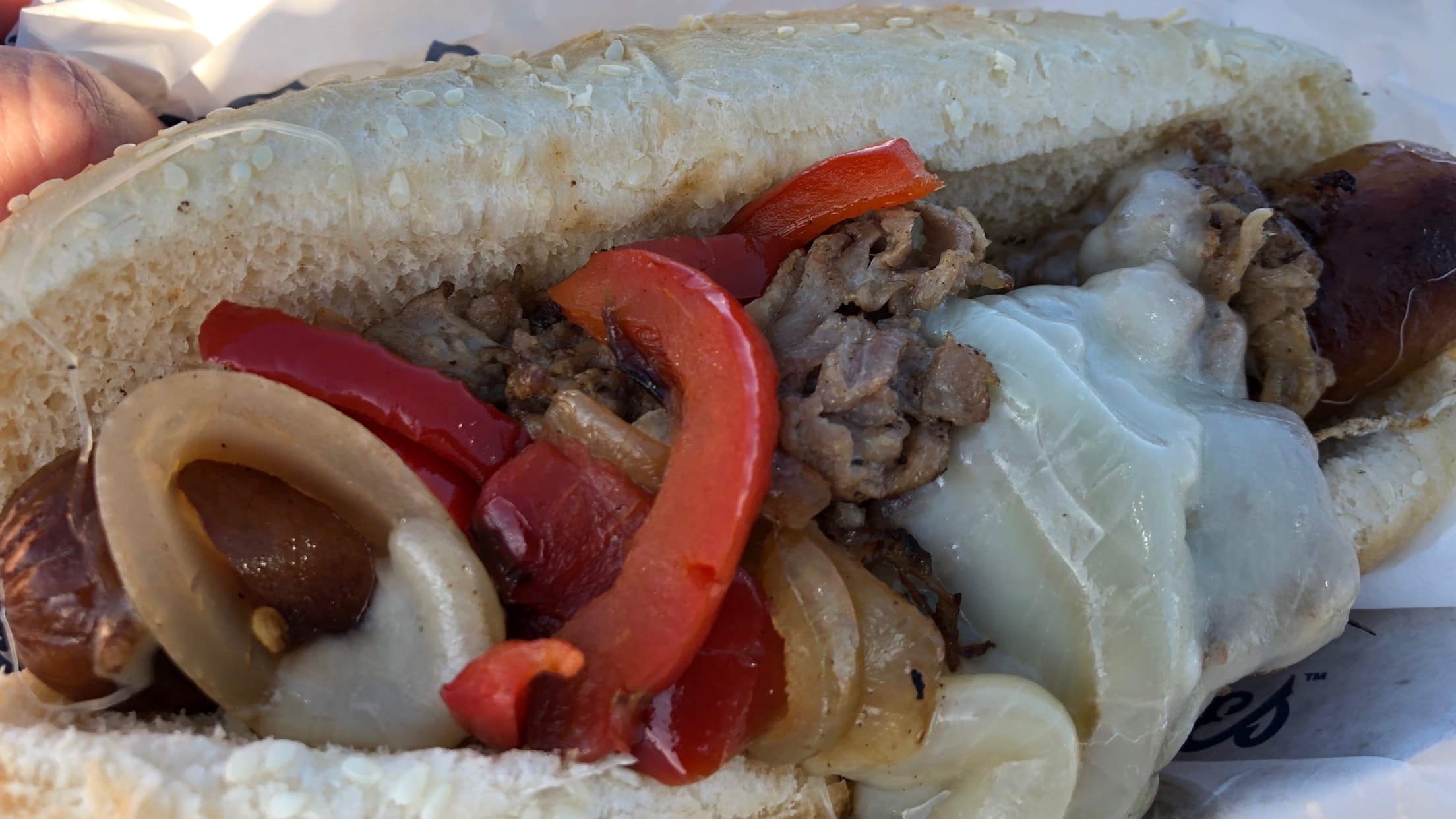 "It's pretty good, and a nice break from all the pork," said Trevor. "And this is the first time I've ever said this to someone, but I like the onions!"
Trevor then explained that he's never liked onions, primarily because his dad "put them on everything and I'd be overwhelmed by the smell."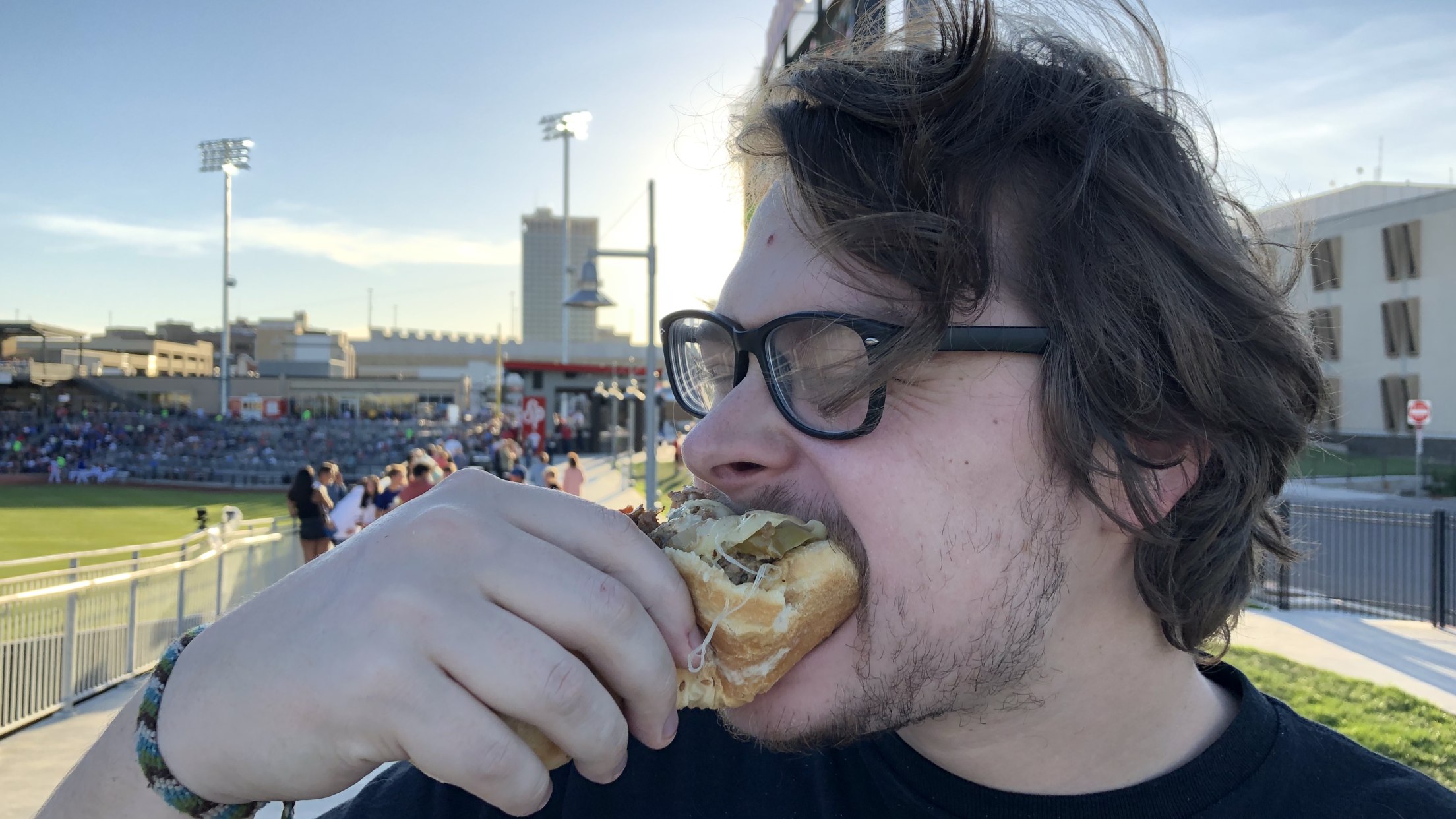 Trevor needed a drink after all these hot dogs, so we hit up the HTeaO sweet tea stand. I can't remember what flavor Trevor picked, but there was a lot to choose from (sweet regular, unsweet regular, sweet mint, Ryan Palmer, sweet blueberry green, sweet coconut, unsweet coconut, sweet Georgia peach, unsweet Georgia peach, sweet wild raspberry, sweet watermelon and, finally, unsweet watermelon).
Tweet from @bensbiz: We conclude with a #cupdate, 32 ounces of Sweet Tea procured from the only Sweet Tea stand in @MiLB pic.twitter.com/KIsBsqm57J
Trevor's time as a Designated Eater had now come to a close. His final words?
"The dogs are good here."