On the Road: Rancho's veteran Rallysaurus
For two decades, Aaron Bishop has brought Quakes' Tremor to life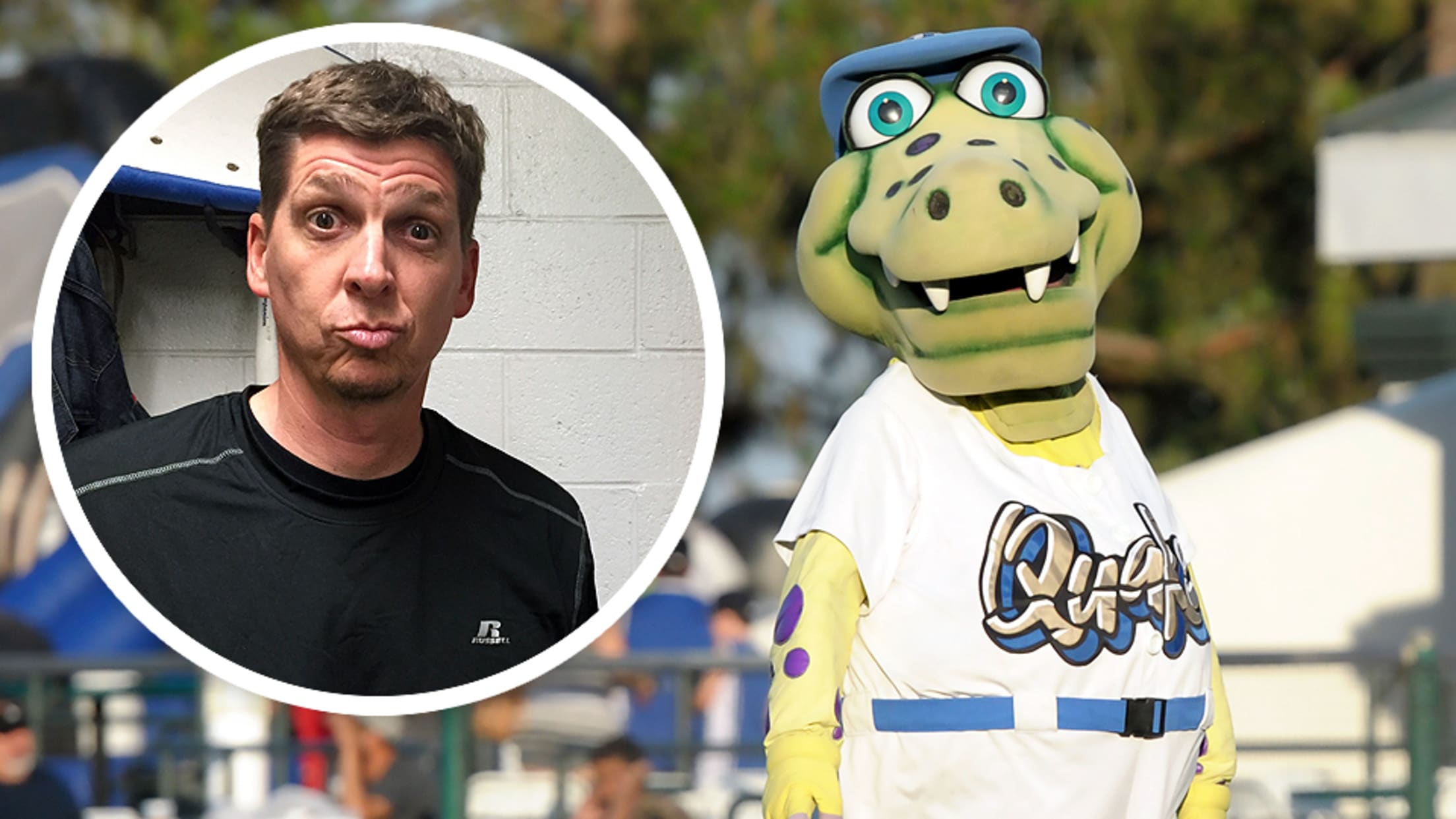 For 20 years, high school teacher Aaron Bishop has suited up as Rancho Cucamonga Quakes mascot Tremor the Rallysaurus.
Tremor, the Rancho Cucamonga Quakes' dinosaur mascot, is 20-something years old, seven-feet tall and comprised of what the team describes as "3,000 pounds of Rallysaurus muscle."Aaron Bishop, meanwhile, is a 40-something human of somewhat lesser height and much lesser girth. He's married with three kids and teaches U.S. and World
Tremor, the Rancho Cucamonga Quakes' dinosaur mascot, is 20-something years old, seven-feet tall and comprised of what the team describes as "3,000 pounds of Rallysaurus muscle."
Aaron Bishop, meanwhile, is a 40-something human of somewhat lesser height and much lesser girth. He's married with three kids and teaches U.S. and World History at Rancho Cucamonga High School.
Bishop and Tremor are inextricably linked, despite their considerable differences, as for the past two decades Bishop has been the man who brings Tremor to life.
Bishop, originally from Orange County, California, made the northward move to the Rancho Cucamonga area three decades ago. In high school, he was voted "most likely to be a game show host," an honor, of sorts, that illustrates his longtime predilection for performance. Bishop's mascot debut came "on a dare" while he was a student at the University of California, Santa Barbara.
"At UC Santa Barbara there was great energy, but they didn't have a [mascot]," said Bishop, in-between weary exhalations as he cooled down and rehydrated within a cramped, moderately well-ventilated changing room. "My mom made me a cape, and I had some goggles from when I was taking a swim class, and I just ran out there. And they liked me."
Bishop's Minor League Baseball debut, at a Quakes game during the 1994 season, was also the result of a dare.
"Tremor was dancing on the dugout. I'm not the original [Tremor]," he said. "I jumped out onto the dugout and started dancing and the [Quakes] general manager says, 'Hey, we can use you.' So I became the dancing base coach, the dancing umpire, the dancing grounds crew, the dancing everything."
The Quakes, currently the Class A Advanced affiliate of the Los Angeles Dodgers, were then a San Diego Padres farm club. Bishop's "dancing everything" routines ended up catching the attention of the parent club.
"The Padres said to me, 'Hey, come try out for Pongo the Orangutan,'" said Bishop, before breaking into an exaggerated stage whisper. "It. Was. Terrible."
He continued, "[The Padres] were averaging about 8,000 fans a game at Jack Murphy Stadium. So it was a mess, but I thought 'Hey, I'm in the big leagues. I'm getting paid about $30 a game.'"
The Padres executive who hired Bishop was none other than Theo Epstein, now regarded as baseball's preeminent front-office superstar as a result of playing a key role in constructing the rosters of championship-winning teams in the title-starved locales of Boston and Chicago.
"I guess I was his first major baseball deal," said Bishop. "I said, 'Can I get a raise?' He said, 'You're just the mascot.' That's what he would always say to me. A young Theo Epstein."
*
The strike-interrupted 1994 season put a premature end to Bishop's time as Pongo the Orangutan. After a brief stint doing mascot work for the Quakes' California League compatriots, the Lake Elsinore Storm, Bishop made his way back to Rancho. The original Tremor had left, the Quakes needed a new Rallysaurus, and he was the man for the job.
"The hardest thing to do, 20 years ago, was to convince my fiancee's dad that I would like my future wife to move to Rancho Cucamonga because I have a job," said Bishop. "He said, 'What job is that?' I said, 'I'm a mascot.' Talk about a hard sell. Then I became a substitute teacher, but the first secure job was mascotting."
Over the past 20 seasons, Bishop has brought Tremor to life at LoanMart Field (a 24-year-old facility originally known as "The Epicenter").
"Tremor's a friendly, dancing, friendly dinosaur," he said, before realizing this was a perhaps less-than-articulate description. "Oh, man. I might have to get back to you on that."
Bishop keeps a detailed logbook, going back more than a decade, of the skits he's performed at each game, the songs that accompanied them and the umpires who worked the games.
"It's all about the personal relationships, especially my personal relationships with the umps," he said. "They'll come in [to the dressing room]. 'Hey, you're Tremor? We've heard about you.' These guys like that I respect the game. Every time we do a skit, I'll ask them beforehand. Then, three outs before I'll go out and ask, 'Are we good?' Because if they just threw out the manager, then I'll just burn it. I respect their job. The best job on the field is the players. Second's the umps. Third's the mascot. So, it's cool. These guys are cool -- the umps are all cool."
Bishop also enjoys interacting with the players, the "hungry" strivers of the California League as well as the Major Leaguers who pass through Rancho Cucamonga on rehab assignments (in this capacity, he mentions having met the likes of Randy Johnson, Jim Edmonds, Clayton Kershaw, Yasiel Puig and Matt Kemp).
"I always judge everybody by 'Will you give me a high-five when you run out here?'" he said. "Just give me a high-five. I'm not asking you for an autograph. Just give me a high-five."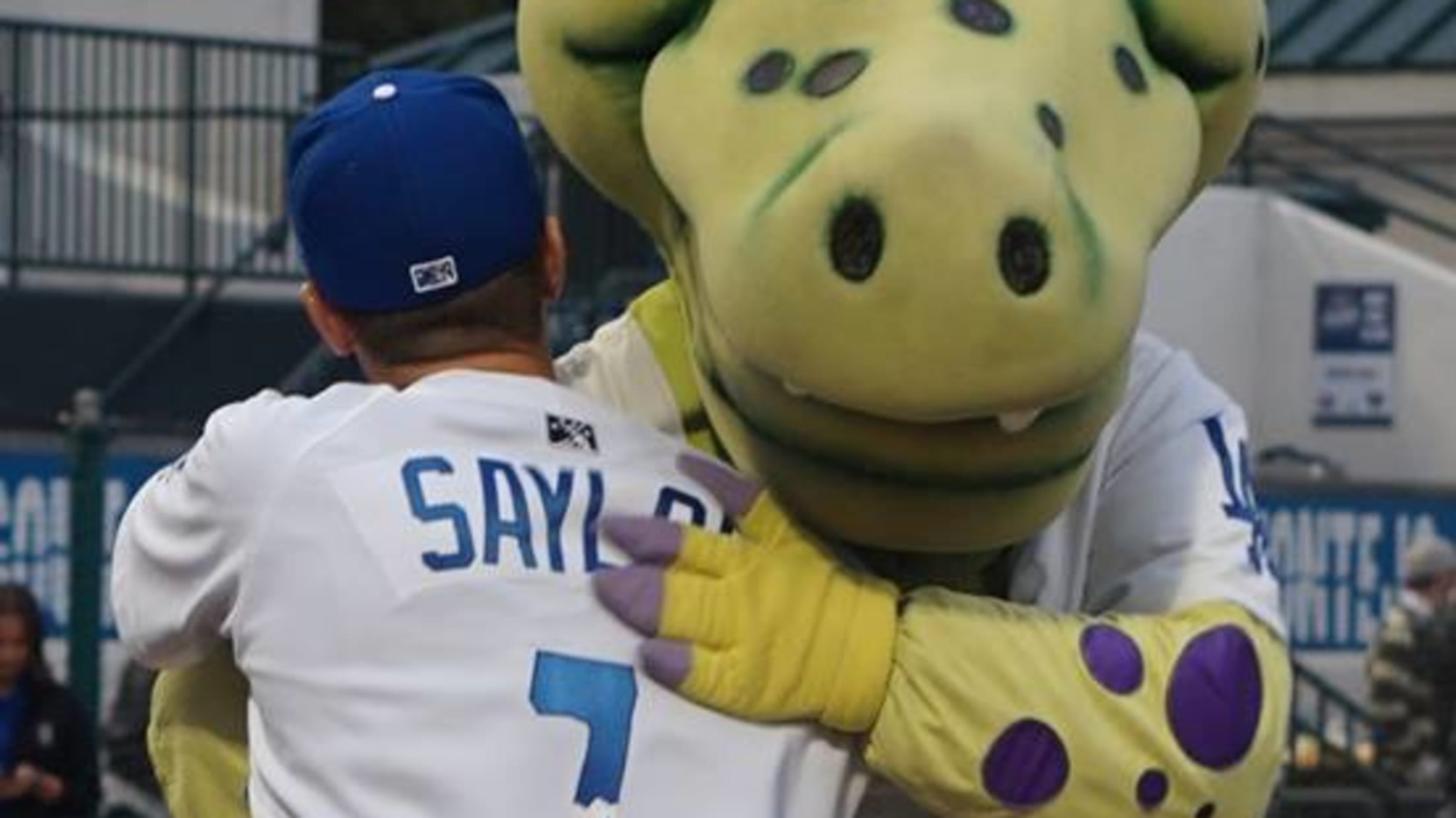 Bishop's initial substitute teaching gig led to a full-time job, and over the years he's become adept at juggling the roles of teacher, husband, father and "friendly, dancing, friendly dinosaur." As for whether his students are aware of his Tremor the Rallysaurus alter-ego, he said that "it's the biggest secret everybody knows."
"[Teaching] is a great job, and then it allows me to do this in the summer. So this is why I think I've had this longevity, because I have the summers off," he said. "I've thought about hanging it up many times, but my kids like that I do it now. They're in fifth grade and eighth grade, and my daughter's a sophomore. She's in my first-period class. At this point it's a community thing. I have people coming here [to LoanMart Field], asking about my wife, asking about my kids. They want their kids in my class. It's crazy."
The schedule works out, and his kids and students get a kick out of it. Regardless, being a mascot is a physically grueling job. When asked how much longer he can endure, Bishop let out a sharp, sarcastic "Ha! Ha!"
"Good question. When I was 20 years old, I'd walk in [the dressing room] with nachos, a double cheeseburger, a Coke," he said. "Oh, man. Now it's brutal. I have, like, Vitamin Zero. An apple. A banana. I have -- where is it? -- a squirty [packet] of applesauce. I've lost 12 pounds in one night, just sweating it out. Dude, I'll show you a video. My calf this first homestand -- it was like I had aliens in my leg. Just a cramp, but..."
Bishop's voice then trailed off into a soft, anguished groan.
Despite such complaints, and no matter how they're articulated, Bishop's love for his craft keeps him going.
"As long as it's fun, I'll keep doing it. Some people hang on too long, and I don't want to be the guy hanging on for too long," he said. "But 20 years! 20 years times 70 games. Oh, man. Is there an Iron Horse of mascotting? But no, not yet. Tremor's not going extinct."