On the Road: At the halfway mark in Buies Creek
Astros' Carolina League affiliate biding time at Campbell University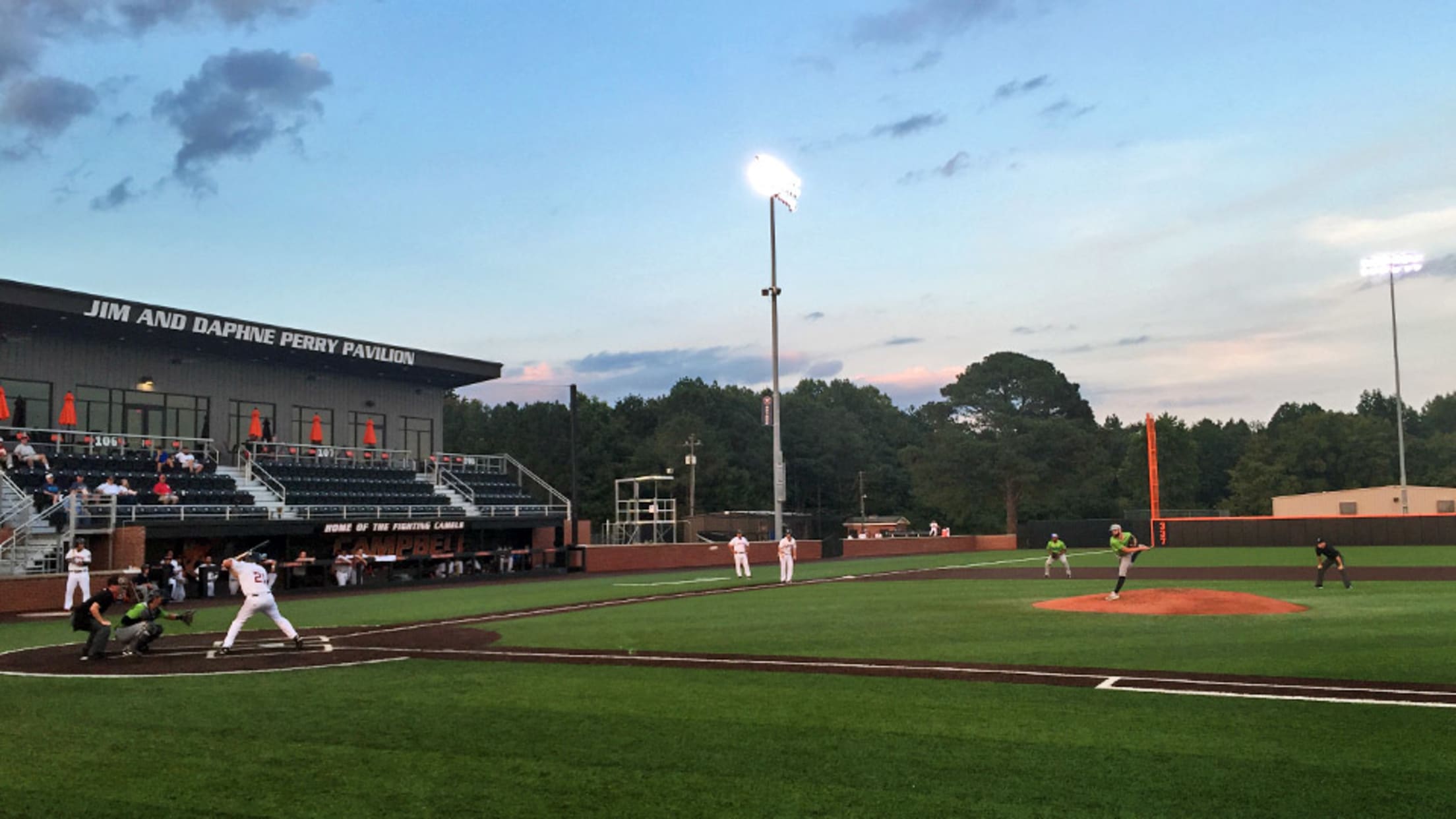 Jim Perry Stadium, home of the Buies Creek Astros, offers an idyllic, no-frills and disconcertingly quiet Minor League Baseball experience.
The Buies Creek Astros just finished up their inaugural campaign. Now, it's time to prepare for the final season.
The Buies Creek Astros just finished up their inaugural campaign. Now, it's time to prepare for the final season.
Such is the reality of the Buies Creek Astros, who play at Campbell University's Jim Perry Stadium. The Astros are a stopgap Carolina League entity that, in 2019, will relocate approximately 35 miles south to a new ballpark in Fayetteville, North Carolina. The team came into being following the 2016 season, in the wake of news involving a California League contraction and corresponding Carolina League expansion. The Houston Astros, who own the club, searched far and wide within North Carolina for a temporary location for their new Class A Advanced affiliate. They found what they were looking for in Buies Creek, a town that's not really a town at all.
"It's basically a fire district, and has a ZIP code because of the university," said Ricky Ray, Campbell University's associate AD of external affairs. "So, this is it. It's just the campus. There's no real town. You go five minutes [west], you hit Lillington; 10 minutes [east], you hit Angier. But there is an actual creek. It's by the golf course over by the football stadium."
Campbell University is a private institution whose sports teams compete within the Division I Big South Conference. The Astros share Jim Perry Stadium -- named after the 1970 American League Cy Young winner, an alumnus -- with the university's Fighting Camels baseball team (a 2,800 pound, nine-foot-tall "Fighting Camel" statue is a campus centerpiece). The approximately 1,000-seat facility was renovated extensively in 2011 and 2012 with further improvements (including a new artificial turf playing surface) added prior to this season. Ray called Jim Perry Stadium "plug and play" in regards to its ability to meet Minor League Baseball's professional standards. A few exceptions had to be made, however, for unchangeable anomalies such as the orange foul poles rising up beyond the outfield walls.
The Houston organization also owns their Rookie-level affiliate, the Greeneville Astros. That team's general manager, David Lane, officially serves as GM of Buies Creek. But the day-to-day operations are handled by Ray. He is, in essence, a one-man front office.
Ray, a native of Zebulon, North Carolina, is a Campbell University alumnus. But prior to returning to the school in his current position, he spent several seasons working for the Zebulon-based Carolina Mudcats. His familiarity with Minor League Baseball operations was one of the reasons why the Houston Astros settled on Buies Creek as a location for the team.
"David Lane had reached out to a ton of different places," said Ray, speaking prior to Aug. 22nd's game against the Lynchburg Hillcats. "SA group from Houston came in and looked at everything, and the appeal to them, I think, was that we had the facility space. We had locker rooms that could be utilized without having to build something new. We had an existing infrastructure, and we're not so close to Fayetteville where there'd be any confusion that this is what the Fayetteville team's going to be. So we kind of checked off all the boxes."
Campbell University had the infrastructure, but that doesn't mean it's been easy to juggle the needs of a robust, multifaceted athletic program with those of a professional baseball club. On the day in which I visited, campus roads were closed off to accommodate a street fair for newly arrived students. The nearby arena (full name: John W. Pope Jr. Convocation Center) was hosting an orientation dinner for student athletes. Directly beneath the arena floor, one found the locker rooms. Astros' players were hanging out in what is normally a media room, playing cards and eating a pregame meal. Several Lynchburg players were working out in the weight room. Track and field hurdles were lined up along the hallway walls. If everything seemed to be happening at once, it was because everything was.
Ray said the athletic department didn't have much manpower to devote to the Astros, as his marketing staff was already responsible for running 120 events a year.
"They'd have revolted. Quit," he said, with a laugh. "But I think a lot of people appreciate it. They come and watch baseball, and it's just baseball. It's not the sideshow. Where we're located, you can go to Winston-Salem [Dash], Durham [Bulls], Greensboro [Grasshoppers] -- all these places you can go locally if you want the sideshow. But you come here and just watch the game."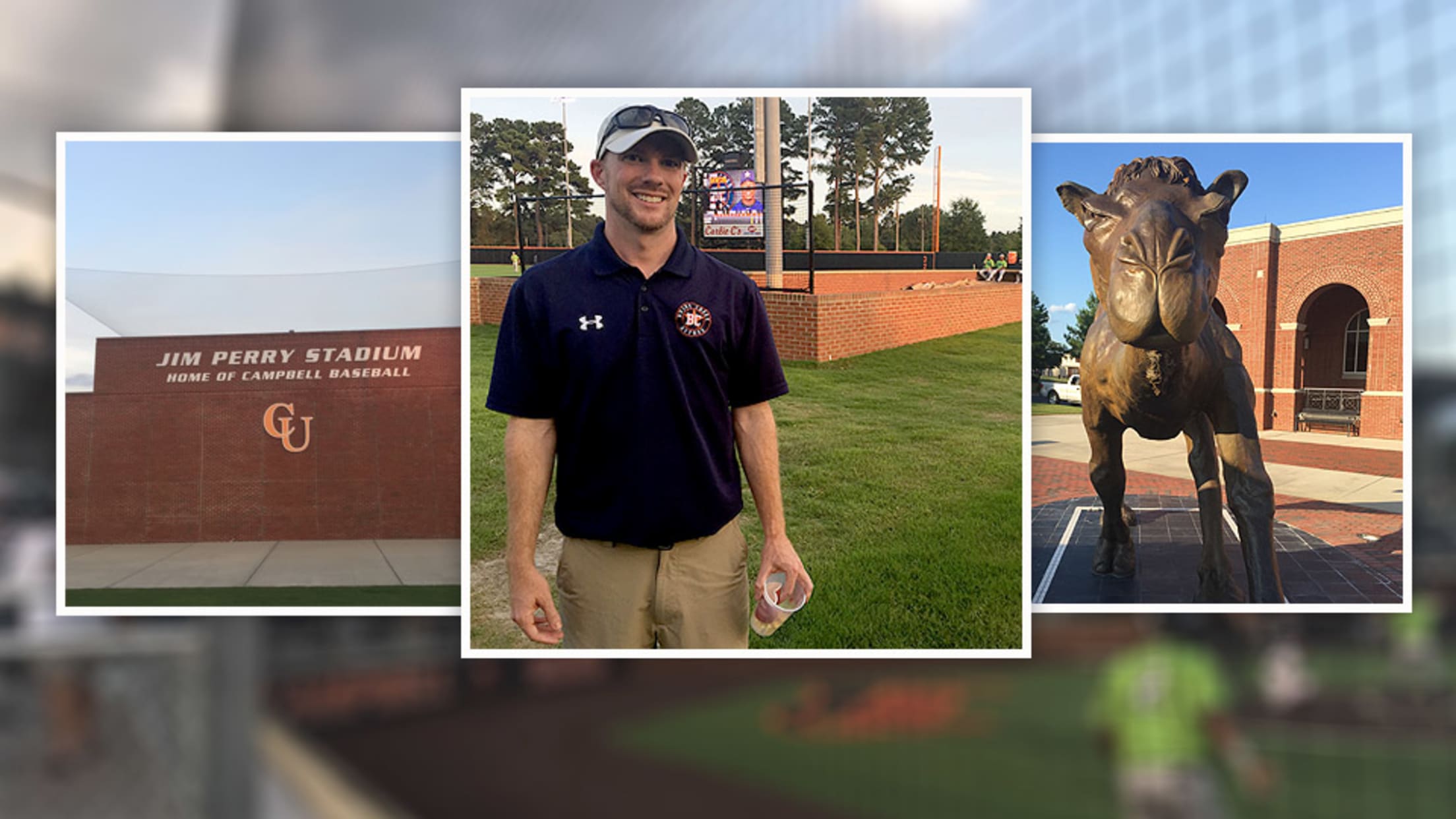 Ricky Ray (center) handles the day-to-day operations of the Buies Creek Astros. The team shares Jim Perry Stadium with Campbell University's Fighting Camels.
Buies Creek players have their own walkup songs, and Jim Perry Stadium is equipped with an HD videoboard (the largest in the Big South Conference, for those keeping score at home). But beyond that, there are none of the extraneous entertainment elements that are prevalent at literally every other Minor League park. Only once all season was there a live rendition of the national anthem. The only individual to throw out a first pitch was Jim Perry himself, on Opening Night. There are no between-inning contests, and no mascot. The most exotic aspect of the minimalist concessions menu is being able to choose between a "red" or "brown" hot dog. Team merchandise (not sold online, though Ray is amenable to fulfilling orders for those who contact him) is displayed within a small trailer.
"We had to have pennants, mini-bats, baseballs, T-shirts, hoodies and hats," said Ray. "After that, you're just showing off."
The no-frills atmosphere, combined with consistently small crowds (the team averaged approximately 500 fans per game), results in a disconcertingly quiet ballpark experience. Ray said this was in line with what was expected, and that the mere presence of the Astros has been a good PR boost for the university.
"We've seen a lot of the type of people who do ballpark tours in the summer. A lot of people who said, 'I've gotta see this,'" he said. "And there have been more local people who had not been here before. They leave with our football pocket schedule, or ask, 'When's basketball season start?'"
The contract between the Houston Astros and Campbell University includes an option for 2019, in case the new ballpark in Fayetteville ends up behind schedule. But if all goes according to plan, 2018 will be the Buies Creek Astros' second and final season.
"I think we'll keep it very similar," said Ray. "The biggest thing from the university perspective is that we'll have more time to prepare, so next year maybe I can get a few interns involved so we can actually do a few things on the field."
Regardless of the specifics, Buies Creek's time as a Minor League Baseball location will soon be in the rear-view mirror. As the years go by, it may be hard to believe the Astros were ever here.
"It's funny to me to think that, 20 years from now, some kid will be flipping through baseball cards and see 'Buies Creek Astros,'" said Ray. "Like 'Huh? What? They played where?'"
"But it's been kinda neat. We definitely did not see this coming."