Blue Wahoos Stadium, Hospitality Well Received At Cox Invitational 
Field condition, tournament operations impress traveling teams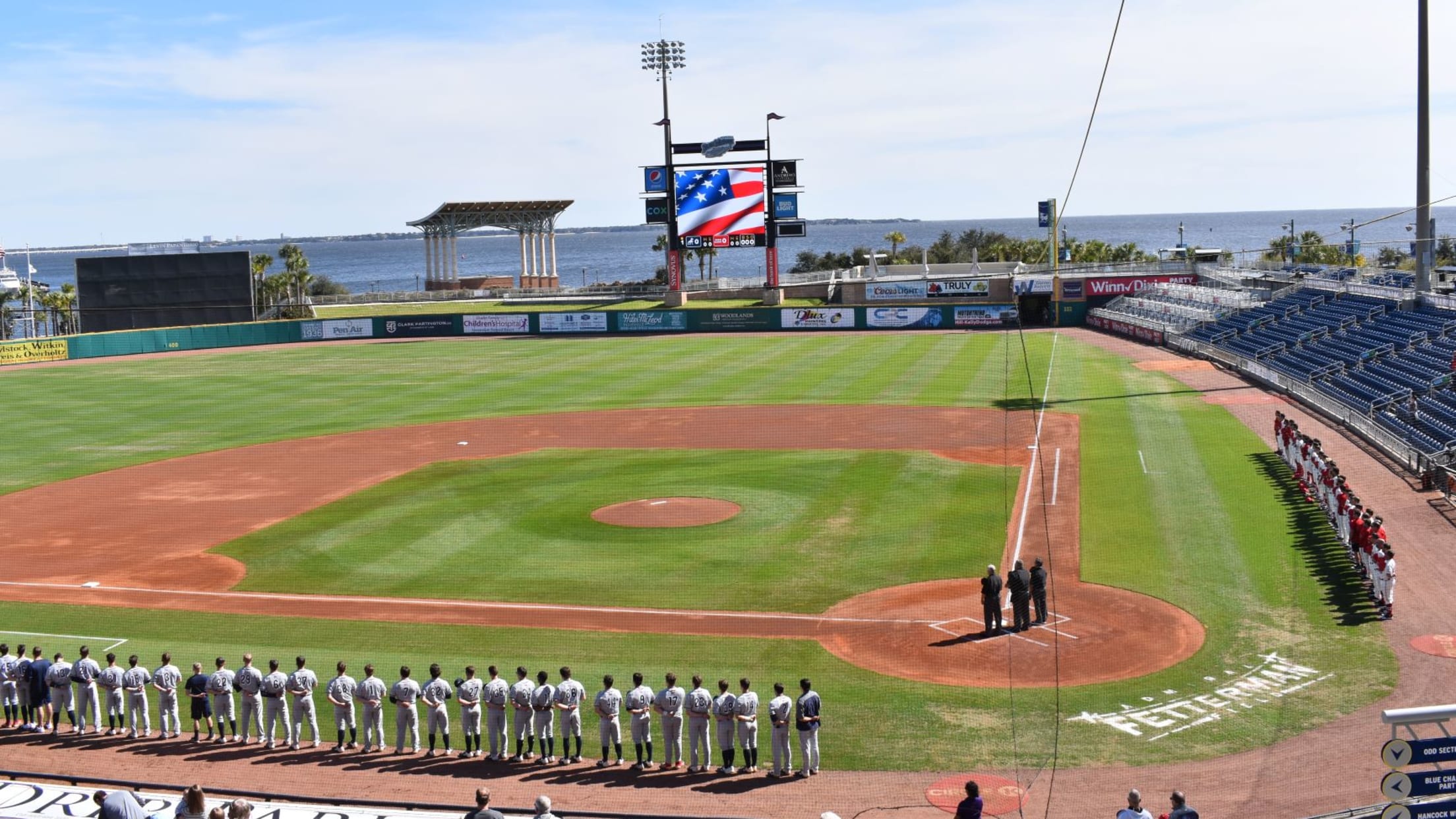 Michigan State quickly agreed years ago to return in 2020 to Pensacola and Blue Wahoos Stadium for the Cox Diamond Invitational. The experience the Spartans enjoyed, along with the other three collegiate baseball teams last weekend, reinforced their decision. The three-day, six games event, presented by Pensacola Sports and sponsored
Michigan State quickly agreed years ago to return in 2020 to Pensacola and Blue Wahoos Stadium for the Cox Diamond Invitational.
The experience the Spartans enjoyed, along with the other three collegiate baseball teams last weekend, reinforced their decision. The three-day, six games event, presented by Pensacola Sports and sponsored by Cox Communications, showcased enough talent to attract scouts from 21 different Major League Baseball teams.
Cox Sports Television broadcast both Sunday games, as well as provided local broadcast for the first two days. The eight-year event has been held at Blue Wahoos Stadium since its inception.
"First of all, it's a beautiful park," said MSU coach Jake Boss Jr., whose team played in the 2016 Cox Diamond Invitational. The Spartans went 1-2 against the field of Troy, University of Louisiana and Samford.
"People have been more than accommodating," Boss said. "From the Blue Wahoos (staff) to Pensacola Sports, the communication has been outstanding. All the details that have been taken care of makes it really easy. All we had to do was show up and play."
"What I like about the tournament… the competition is very good and is very good simulation for a conference weekend for us."
Conference play for NCAA Division I baseball teams begins March 13-15. The Cox Diamond Invitational, played amid clear skies and mild temperatures much of the weekend, was a final tuneup, of sorts, for that next phase.
This was Troy's fourth time in the event. The Trojans have been an eager return participant.
"We jumped on it as soon as we could," said Troy coach Mark Smartt. "We take great pride in coming here. We have great support, we have a great alumni group here in Pensacola. We had great competition here.
"So I am really pleased we were able to come back."
Part of the reason is the ability to play at Blue Wahoos Stadium. Each team praised the field conditions and the fast work handled by Blue Wahoos head groundskeeper Dustin Hannah to get the infield ready for each of the six games in three days.
"All of our guys talked about the quality of the surface and the job the grounds crew does to accommodate college baseball on this field," said Samford coach Casey Dunn, a former All-American catcher for the Auburn Tigers in the late 1990's. "It is something we all appreciate."
Adding to their impression was knowing the stadium hosts football games as the University of West Florida's home field. This year, the Argos 5-0 home record enabled them to reach post-season and make their run to the 2019 Division II national championship.
"That is pretty impressive for a grounds crew to flip (field configurations) this time of year and there is no remnants of something that happened three months ago," Smartt said. "I told the grounds crew how much I appreciate them. You can tell how connected they are to their surface and how clean it is.
"And that also is a very good reason to come down here. You just don't find this level of care anywhere. Especially for an outside team like us. They owe us nothing. And yet they treat us and every team that comes in here like a Double-A team.
"That makes it a very unique experience."
Friday night, Troy fell to Michigan State 1-0 in a pitching showcase that attracted 16 different major league teams with scouting representatives.
Both Troy starter Levi Thomas (6 IP, 2 H, 11 strikeouts) and Michigan State's Mason Eria (7 IP, 2 H, 12 strikeouts, 1 walk) were outstanding. Thomas took the loss, only the third of his career.
"I think that speaks to the level of play in Division I baseball," Smartt said. "You've got two marquee pitchers. Their guy and our guy both threw exceptionally well. Both have bright futures.
"And it is kinda neat to do this in a minor league setting. For them, they might be in this situation, playing in this stadium again one day (as Double A pro pitchers) It was really a cool experience."
Samford (12-2) continued its fast start by beating Louisiana in the tournament opening game on Friday, then followed a 5-3 loss to Troy on Saturday with a 5-3 win against Michigan State on Sunday.
"It was a great weekend for us. You get the opportunity to play in a great venue in a good city against three quality teams," Dunn said. "For us I know our guys really enjoyed it. The hospitality was awesome, the playing surface for this facility is great. Definitely it was something we enjoyed."
COX DIAMOND INVITATONAL
March 6 Scores
Samford 12, Louisiana 4
Michigan State 1, Troy 0
March 7
Troy 5, Samford 3
Louisiana 6, Michigan State 3
March 8
Samford 5, Michigan State 3
Louisiana 8, Troy 4