Silver Anniversary Team: Alex Wells, Left-Handed Starting Pitcher
Aussie won Palmer Award, didn't issue walk for two months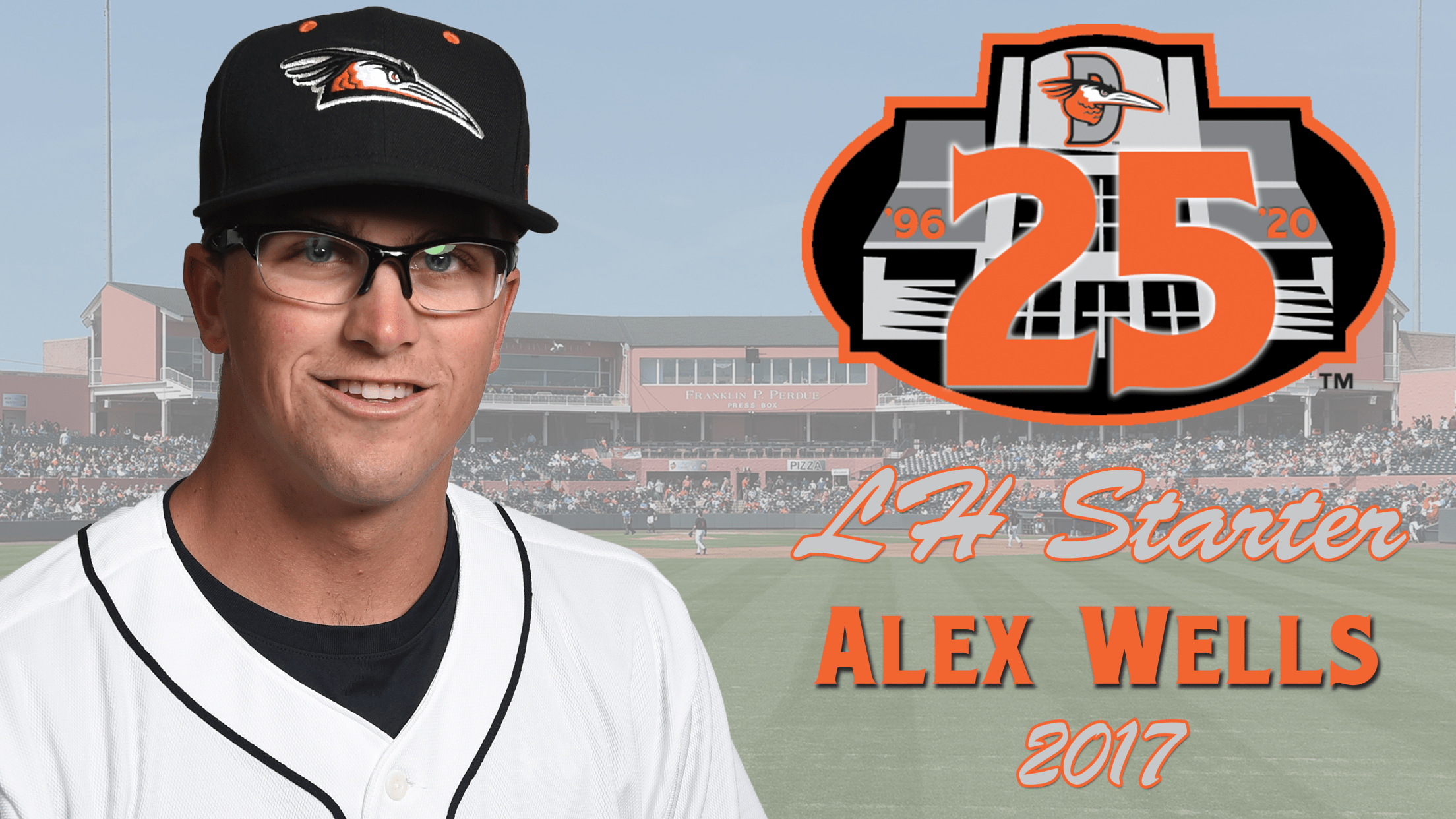 It's time to meet the left-handed starting pitcher on our Shorebirds Silver Anniversary Team. As with the balloting for the right-handed starter, our expert panel initially voted for multiple starters and were later presented a runoff ballot exclusively for lefties. A left-handed ace can be a game-changer, especially in the
It's time to meet the left-handed starting pitcher on our Shorebirds Silver Anniversary Team. As with the balloting for the right-handed starter, our expert panel initially voted for multiple starters and were later presented a runoff ballot exclusively for lefties.
A left-handed ace can be a game-changer, especially in the minor leagues. Opposing managers have to tinker with their everyday lineups, often withholding their top power bats, for facing a southpaw is an entirely different animal. The Shorebirds have hosted many superstar lefties, several of whom enjoyed long and fruitful major league careers and still others who promise to be top Orioles options in the coming years. Three seasons ago our panel's pick gave Sally League opposition nightmares every fifth day, presenting such surgical precision of the strike zone that he rendered even solitary baserunners into endangered species.
Left-Handed Starting Pitcher: Alex Wells, 2017
25 G (25 GS), 11-5, 2.38 ERA, 140.0 IP, 10 BB, 113 K, 0.914 WHIP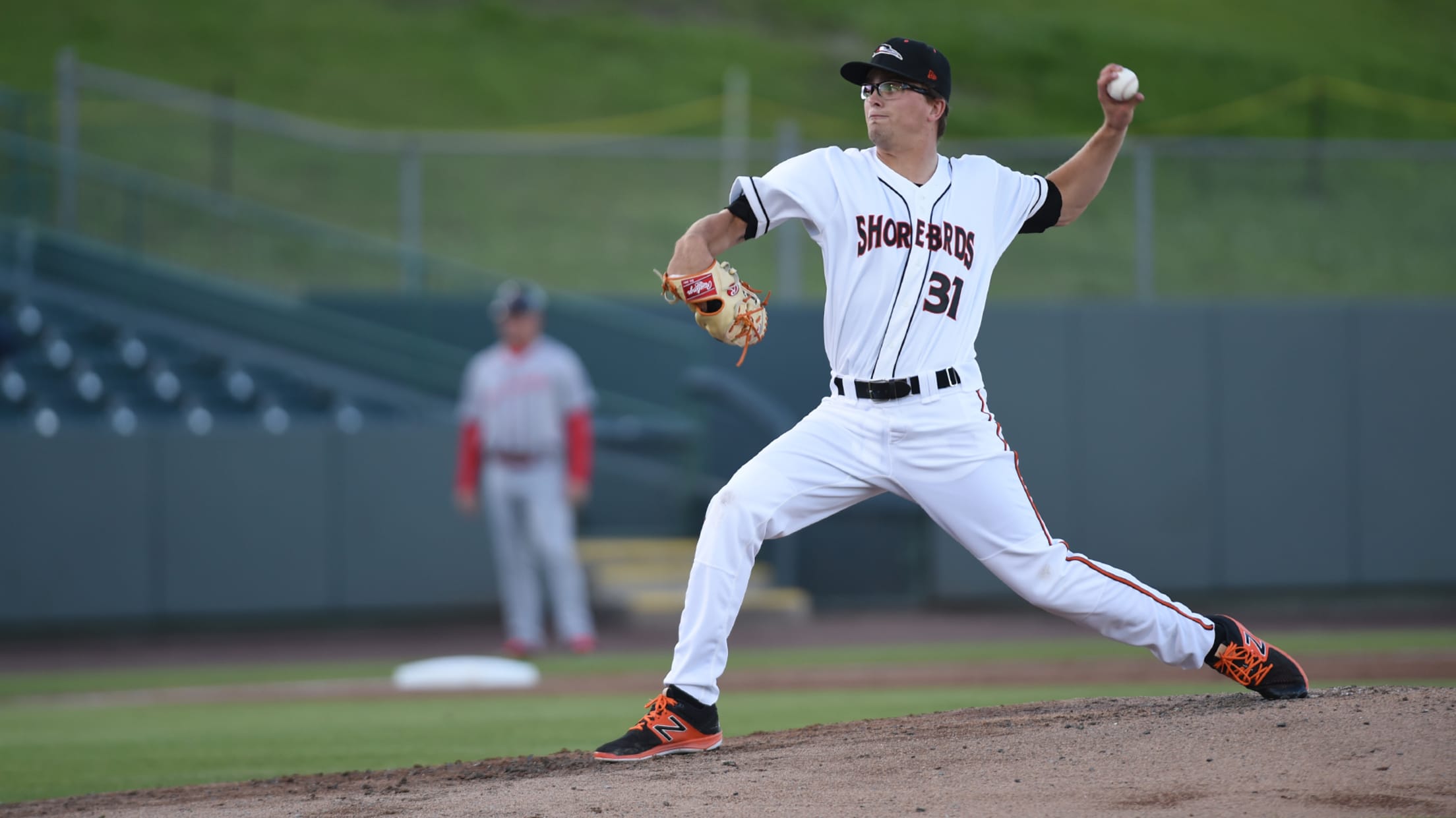 It's noteworthy when a pitcher goes an entire start without walking a batter. In modern-day baseball where the emphasis on power pitching and strikeouts means walks are a routine side effect, it's downright impressive. In 2017, Alex Wells finished the season with the equivalent of seven complete-game starts without issuing a walk…plus five more innings to spare.
From his first second half start on June 25 through his final outing on August 27, Wells logged 68 consecutive innings without issuing a base on balls. The Australian southpaw shattered the old South Atlantic League record of 40, set by future big-leaguer Buddy Carlyle for the Charleston (WV) AlleyCats in 1997. While minor league records before a certain date are all but lost to history, it's safe to assume Wells' walkless streak rivals that of anybody who has ever played professional baseball.
The record-setting control was just one facet of a remarkable full-season debut for Wells, who at season's end was named the Orioles' Jim Palmer Award winner as the organization's top pitching prospect. His 2.38 ERA and 0.914 WHIP were the class of the South Atlantic League by a wide margin, and his 11 wins were just one off the league lead. While snubbed from the SAL Postseason All-Star team, Wells still pitched in the Sally League All-Star Game in Columbia and was eventually named a Class-A All-Star by Baseball America.
From the downbeat, Wells set the tone as a well-oiled, ultra-efficient machine. In his first start at Perdue Stadium on April 15, he clocked six scoreless innings to anchor a shutout win over Hagerstown in just 2 hours 6 minutes. Nowhere was Wells' penchant for speediness more apparent than in a morning doubleheader outing on April 26 against Lakewood: he struck out the side in the first inning on 10 pitches over just two minutes of real time, going six innings out of seven to help the Shorebirds win 2-1 and assuring an exceedingly rare game that both started and finished before high noon.
After an All-Star caliber first half, Wells took it to the next level in the second half. He finished off June with two Quality Starts for two wins, then opened July with a seven-inning three-hit gem to beat Lakewood. He would not allow a run for the entire month, eventually stringing together a 36-inning scoreless streak from June 30 through July 30. Wells' meticulous control that month earned him accolades from both his league (SAL Player of the Month) and parent club (O's Pitcher of the Month).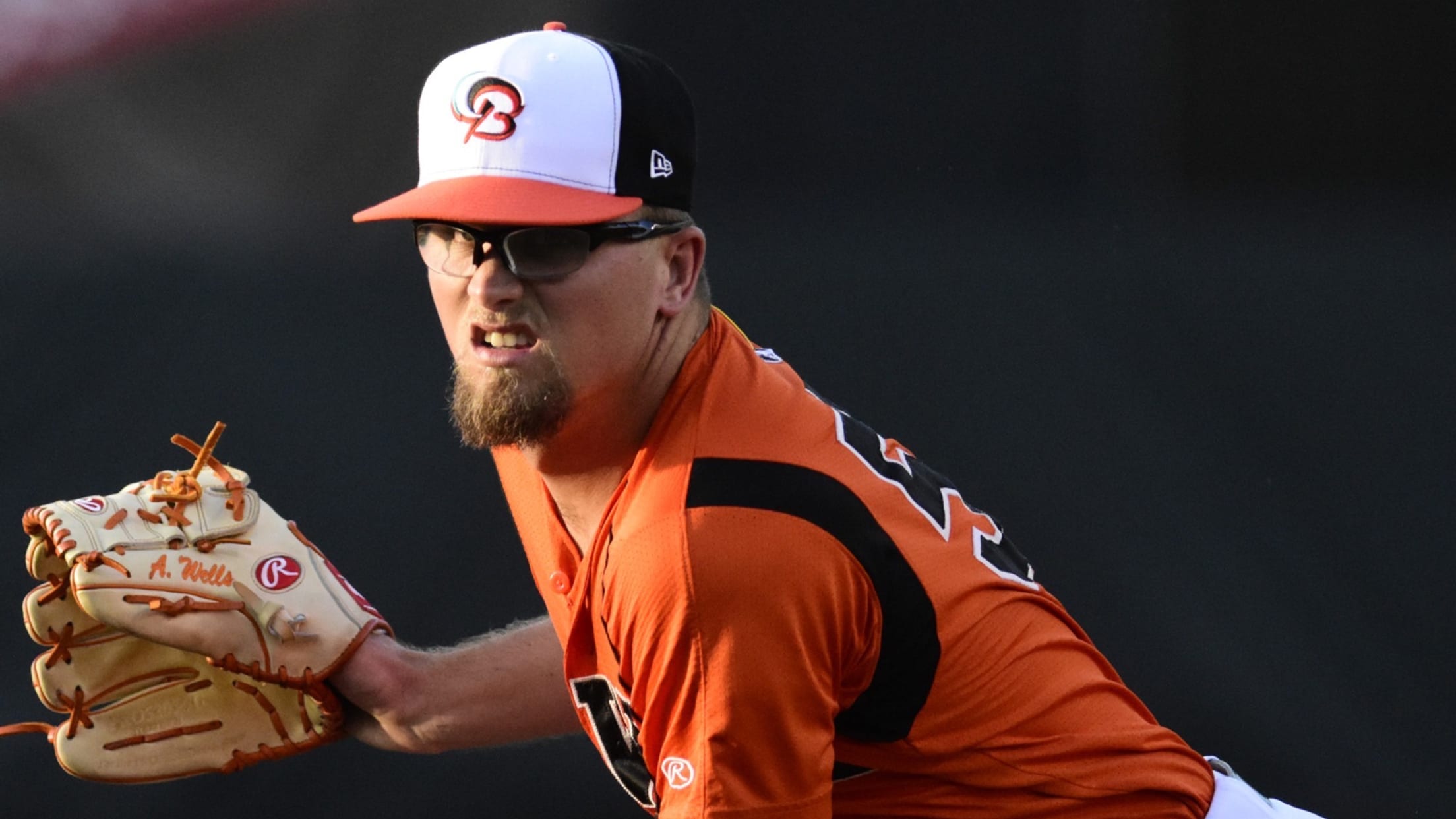 Success with the Shorebirds proved to be a harbinger of greater glories for Wells, who finished 2017 as the No. 16 prospect in the Baltimore farm system (currently No. 15). He has earned All-Star laurels in each of his first four pro seasons, representing Aberdeen, Delmarva, Frederick, and Bowie in each of their leagues' midsummer classics. In 2019 he was part of a blue-chip rotation for the Double-A Baysox, who went from a 7-23 start to a division title and berth in the Eastern League Championship Series. Wells got his first taste of postseason baseball that September, winning the clinching game of the West Division series over Harrisburg with six innings of one-run ball.
In the modern game, Wells is a certified throwback. His fastball only sits in the low-90s, but his Zen-like control allows him to mystify the competition across every level. He knows exactly where the ball is headed when it leaves his left hand, and to opposing batters that can be as unnerving as facing a fastball in the high-90s. Working at a rate of one level a year, Wells will almost certainly begin 2020 in Triple-A Norfolk, one level shy of The Show. At a time when Oriole Park is in dire need of a doctor, the O's are about to get a surgeon. And it all started with a 2017 residency at Arthur W.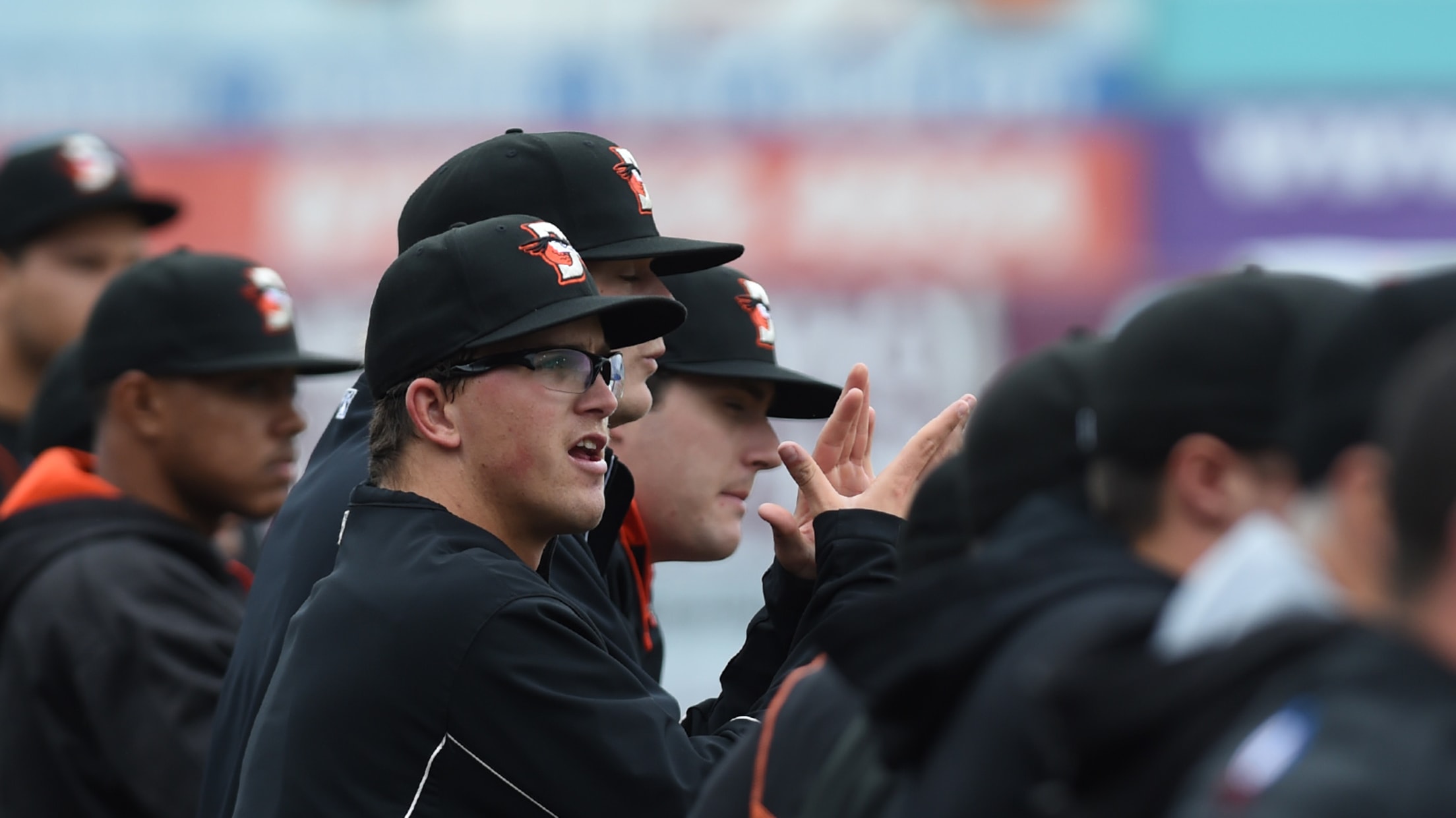 Best of the Rest
Erik Bedard (2000) – Bedard was a jack of all trades during the Shorebirds' most recent championship run, going 9-4 and striking out 131 batters over 111 innings. Within two years he was in the majors and became one of the Orioles' most reliable starters in the 2000s; he even finished fifth in AL Cy Young voting in 2007 after going 13-5 with a 3.16 ERA. Bedard lasted all or parts of 11 seasons in the big leagues, making 241 appearances with the O's, Mariners, Red Sox, Pirates, Astros, and Rays through the end of 2014.
Zack Britton (2008) – Though he eventually became arguably the greatest closer in Baltimore history, Britton was a starter for Delmarva in 2008, going 12-7 with a 3.12 ERA. The next season with Frederick he became Carolina League Pitcher of the Year and first cracked The Show in 2011. By 2014 Britton had remade himself into a reliever and ascended into the Orioles' ninth inning role; from 2015 through 2017 he converted an American League record 60 consecutive saves, earning two All-Star bids and a fourth place Cy Young finish in 2016. Shorebirds fans got to see him twice more on a rehab assignment in June 2017, thrilled by the sound of AC/DC pulsing through the airwaves as he emerged from the bullpen. The next summer the O's traded Britton to the Yankees, where he's been a more-than-effective setup man.
John Means (2015) – Means was a reliable piece for a winning Shorebirds team, winning nine games with a 3.50 ERA in 23 starts. He tossed six scoreless innings in an Opening Day shutout win over Greensboro and spun a seven-inning no-hitter against Charleston on July 31. While he made a big league cameo in 2018, Means' true breakout came last season when he went 12-11 with a 3.60 ERA in 31 games, making the AL All-Star Team and finishing second in the Rookie of the Year voting. Two days after the silver Rookie of the Year finish, Means slipped a gold wedding band on his finger and married former professional soccer goalkeeper Caroline Stanley.
DL Hall (2018) – While the O's kept the then 19-year-old on a tight leash with the Shorebirds, fans got to see Hall dominate in small doses as he boasted a 2.10 ERA over 22 outings, striking out 100 batters in 94.1 innings. The 2017 first round pick from Valdosta, Ga., won back-to-back SAL Pitcher of the Week awards in July 2018, after dominating Charleston and West Virginia to the tune of 18 punchouts in 12 frames. Hall dealt with control issues but still put up fine numbers with High-A Frederick in 2019 and joined fellow first rounder Grayson Rodriguez in the Futures Game, where he dodged a broken bat to put up a scoreless inning.
Delmarva Shorebirds Silver Anniversary Team
First Base: Calvin Pickering (1997)
Second Base: Willie Harris (1999-2000)
Third Base: Ryan Minor (1997; mgr. 2010-12, 2014-17)
Shortstop: Orlando Cabrera (1996)
Left Field: Jason Fransz (2004-05)
Center Field: Zach Jarrett (2018)
Right Field: Nick Markakis (2004)
Designated Hitter: Manny Machado (2011)
Right-Handed Starting Pitcher: Grayson Rodriguez (2019)
Left-Handed Starting Pitcher: Alex Wells (2017)
Right-Handed Reliever: March 26
Left-Handed Reliever: April 2
Full 25-Man Roster: April 9
The Delmarva Shorebirds Silver Anniversary Team was voted on by a panel of experts who have deep, longstanding ties to the Shorebirds organization. The panel considered several factors to make well-rounded decisions on who best represents the history of the Delmarva franchise as both a competitive team in its own right and as a step on the road to major league glory. Members of the panel include: Chris Bitters, Shorebirds general manager; Will DeBoer, Director of Broadcasting & Communications; Gil Dunn, Delmarva Shorebirds Fan Club president; Dr. Richard A. Passwater, a.k.a. "Doc Shorebird," team historian; Ricky Pollitt, The Daily Times sportswriter; Bryan Records, longtime Shorebirds clubhouse assistant; Randy Scott, Froggy 99.9 FM radio personality and former Shorebirds broadcaster; and Jimmy Sweet, Shorebirds assistant general manager.