Silver Anniversary Team: Manny Machado, Designated Hitter
Future MLB superstar first caught fire with Delmarva in 2011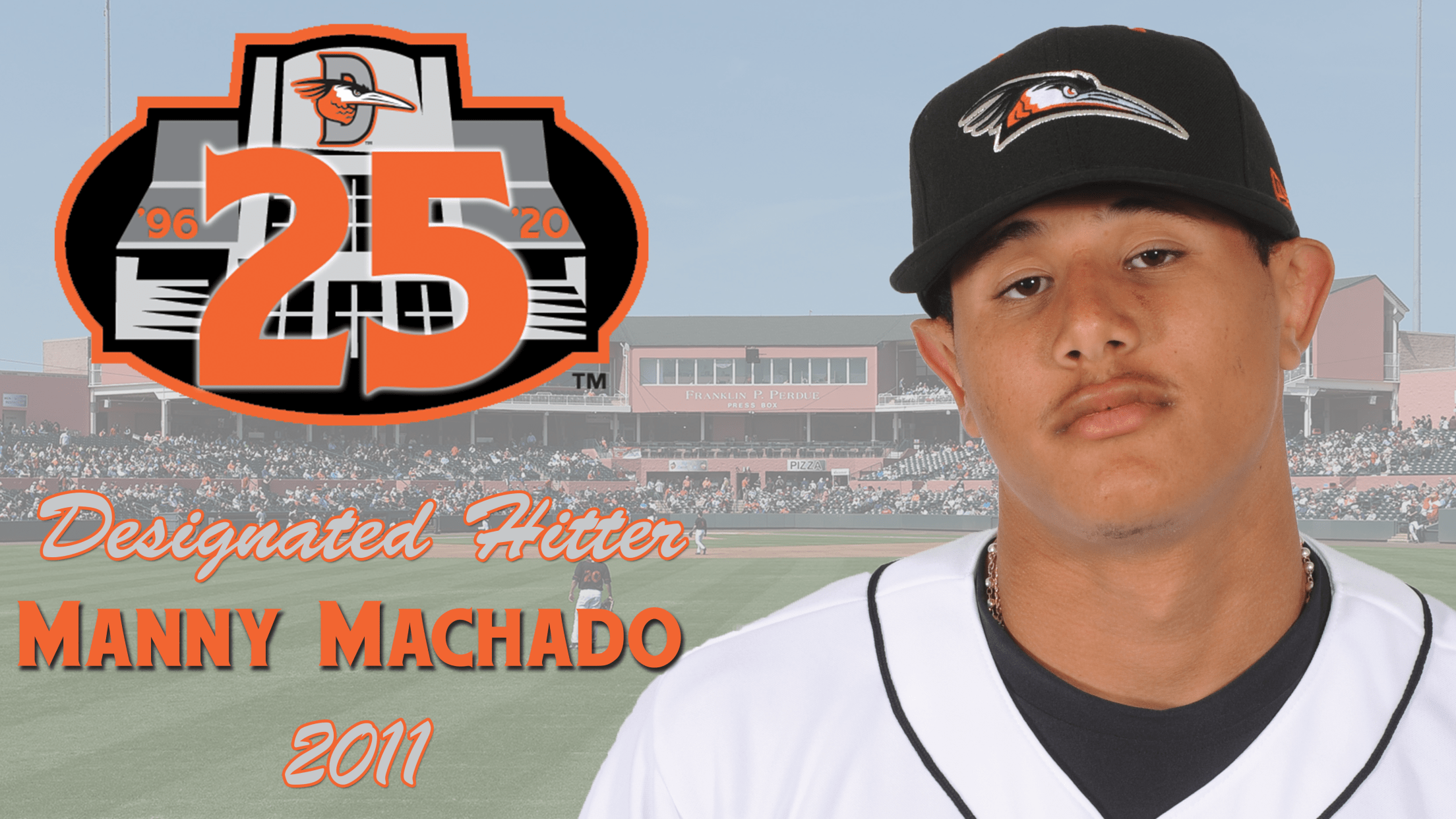 It's time to reveal the final batter on our Shorebirds Silver Anniversary Team: the designated hitter. In a way the position is the most democratic in baseball; hitters of any other position can be DH for a night, and ballplayers who are otherwise boxed out of the everyday lineup can
It's time to reveal the final batter on our Shorebirds Silver Anniversary Team: the designated hitter. In a way the position is the most democratic in baseball; hitters of any other position can be DH for a night, and ballplayers who are otherwise boxed out of the everyday lineup can still contribute to their teams.
For this position, our esteemed panel submitted names for a designated hitter on their initial ballots in order to whittle down the selection pool. They later received a formal ballot featuring those original names – minus the ones that had already made the team as position players – plus a handful of players who endured razor-thin margins of defeat on their positional votes. From this final vote came the panel's pick, who originally finished one vote shy of making the team as a shortstop but now reigns as our hitting ace in the hole.
Designated Hitter: Manny Machado, 2011
38 games, .276/.376/.483, 24 R, 8 2B, 2 3B, 6 HR, 24 RBI, .859 OPS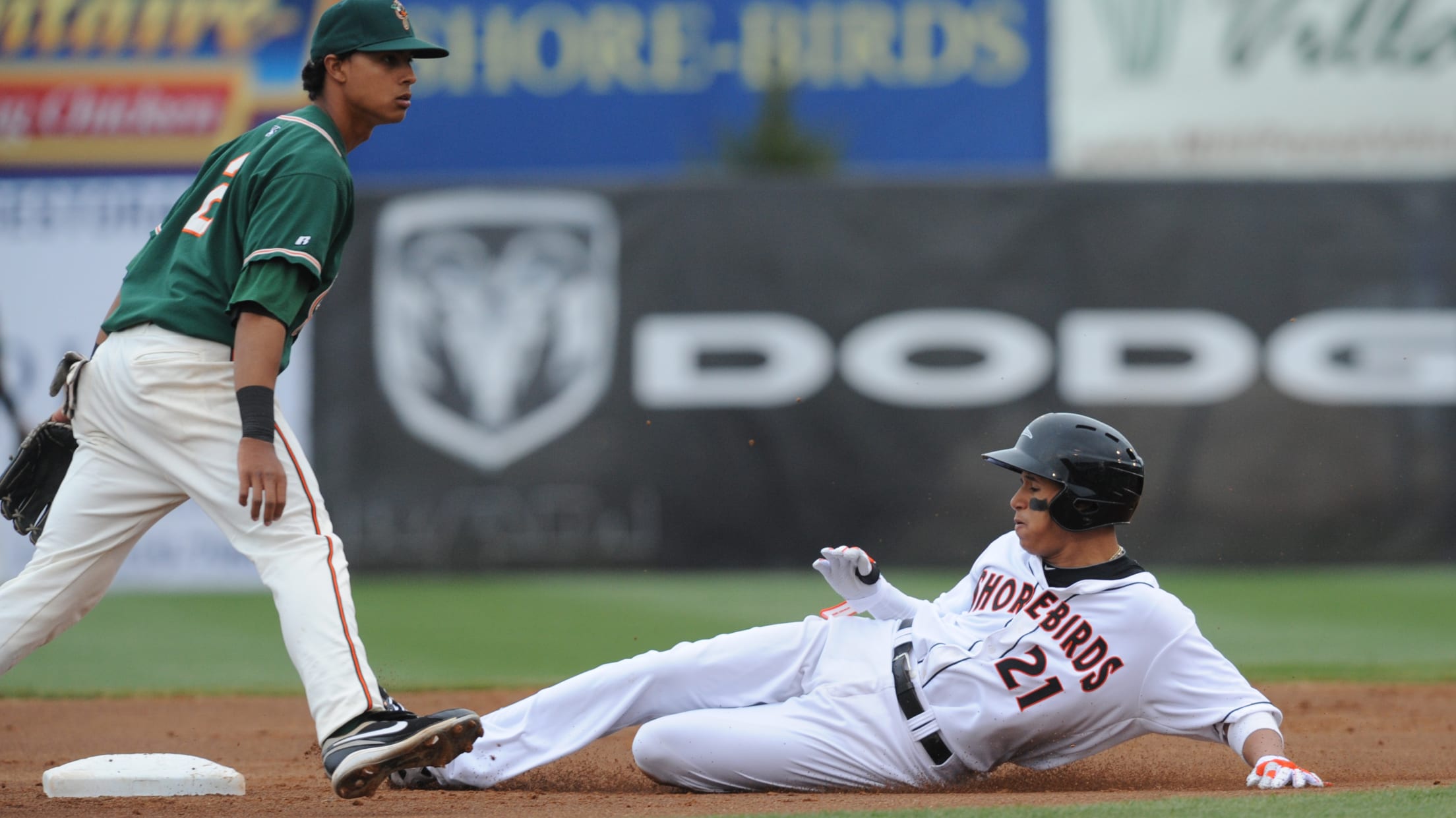 It may be almost a decade since he put on a Delmarva uniform, but the first name that comes to mind for a good deal of Shorebirds fans is Manny Machado. More than almost every other player to pass through the clubhouse doors at Arthur W. Perdue Stadium, Machado captured the imagination of local fans young and old. That he donned the Shorebird uniform for barely two months only adds to his legend on the Eastern Shore.
Instantly christened the savior of a franchise stuck in the doldrums, Machado became the Baltimore Orioles' No. 3 overall draft pick out of Brito Miami Private School. When he arrived in Salisbury the next April he was the highest pick to ever play for Delmarva, a mark only broken last August by top overall choice Adley Rutschman. Expectations were high when Machado first took the diamond at shortstop on April 7 against Greensboro.
Nearly 3,000 fans cleared the turnstiles on a chilly and overcast Opening Night on the Peninsula, and Machado made sure they got their money's worth. Down 1-0 in the bottom of the sixth, he slashed a two-run triple to right field. He may have been thrown out at home trying to stretch it into an inside-the-park homer, but Machado's lightning bolt provided the difference in a 2-1 win over a Grasshoppers team that featured future major league stars Christian Yelich, Marcell Ozuna, and J.T. Realmuto.
It was a sign of things to come for the man they'd eventually dub the Baby-Faced Assassin, but nobody could have foreseen what Machado would do during a homestand from April 25 through May 3. The 18-year-old forged arguably the hottest eight-game stretch in Shorebirds history, slashing .500/.611/1.107 with two doubles, five home runs, eight runs scored, and 13 RBIs. He homered in three straight games against Savannah to open the homestand, then went yard in consecutive games days later against Charleston. It was no wonder that Delmarva won all eight of those contests as part of a 10-game winning streak.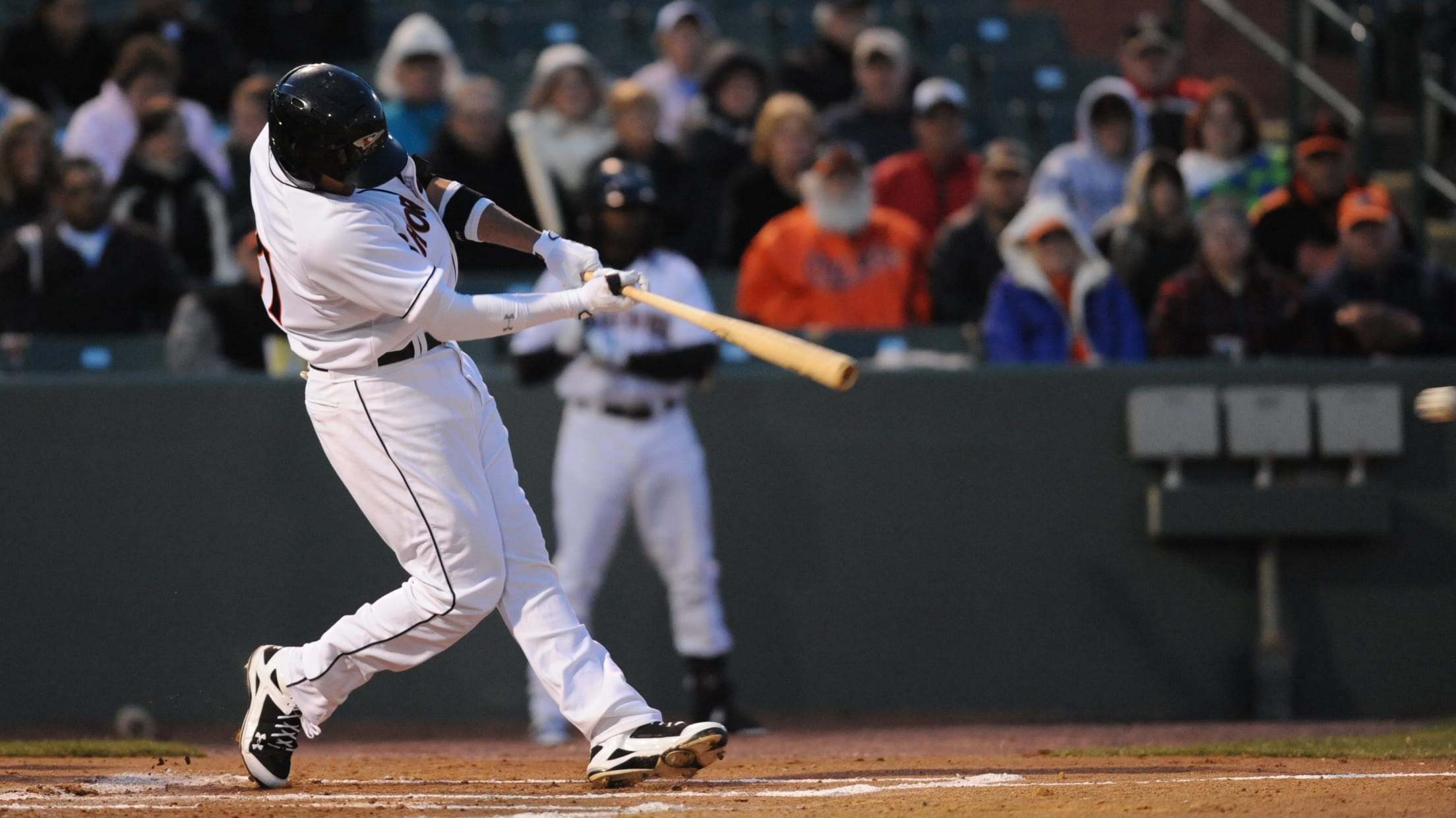 Two days later, the Machado train came to a grinding halt as he hurt his left knee during a game in Asheville, sidelining him for a month. When he finally returned to action, Machado didn't miss a beat, bashing a solo homer to right in his first at-bat back at Perdue Stadium on June 9.
The cherry on top of Machado Summer, of course, came on June 21 when Delmarva hosted its second South Atlantic League All-Star Game. Even in a game that featured future National League MVPs in Bryce Harper and Christian Yelich, Machado was front and center, going 2-for-4 with a run scored and playing the entire game at shortstop. For the 7,410 fans who packed into Perdue Stadium that night, it was a night they'd never forget.
It was also the last chance Shorebird fans would get to see their budding superstar. The next day he was out the door, heading west across the Chesapeake Bay to High-A Frederick. Always one to make an impression, Machado homered in his first game for the Keys, a third-inning bomb to left in front of over 5,000 adoring fans at Harry Grove Stadium.
Oriole fans can take it from there. Then came the arrival of that fresh-faced 19-year-old to Camden Yards in 2012. Then the four All-Star campaigns, the two Gold Gloves, the two top-five American League MVP finishes, the three trips to the postseason. Then the trade to the Dodgers that brought back a boatload of pieces for the future. Then the record-smashing $300 million contract with the Padres, all but assuring this son of Miami will play out the rest of his prime in the San Diego sun.
To the minor league teams he left behind, the memory doesn't so much linger as it burns white-hot, even years later. Machado-based promotions were amongst the best-sellers at Perdue Stadium for years. He's been a bobblehead, a life-size cutout, even a Star Wars stormtrooper. And he's still synonymous with the team he called his own for two months in 2011. Manny Machado is an Oriole no more, but he'll be a Shorebird forever.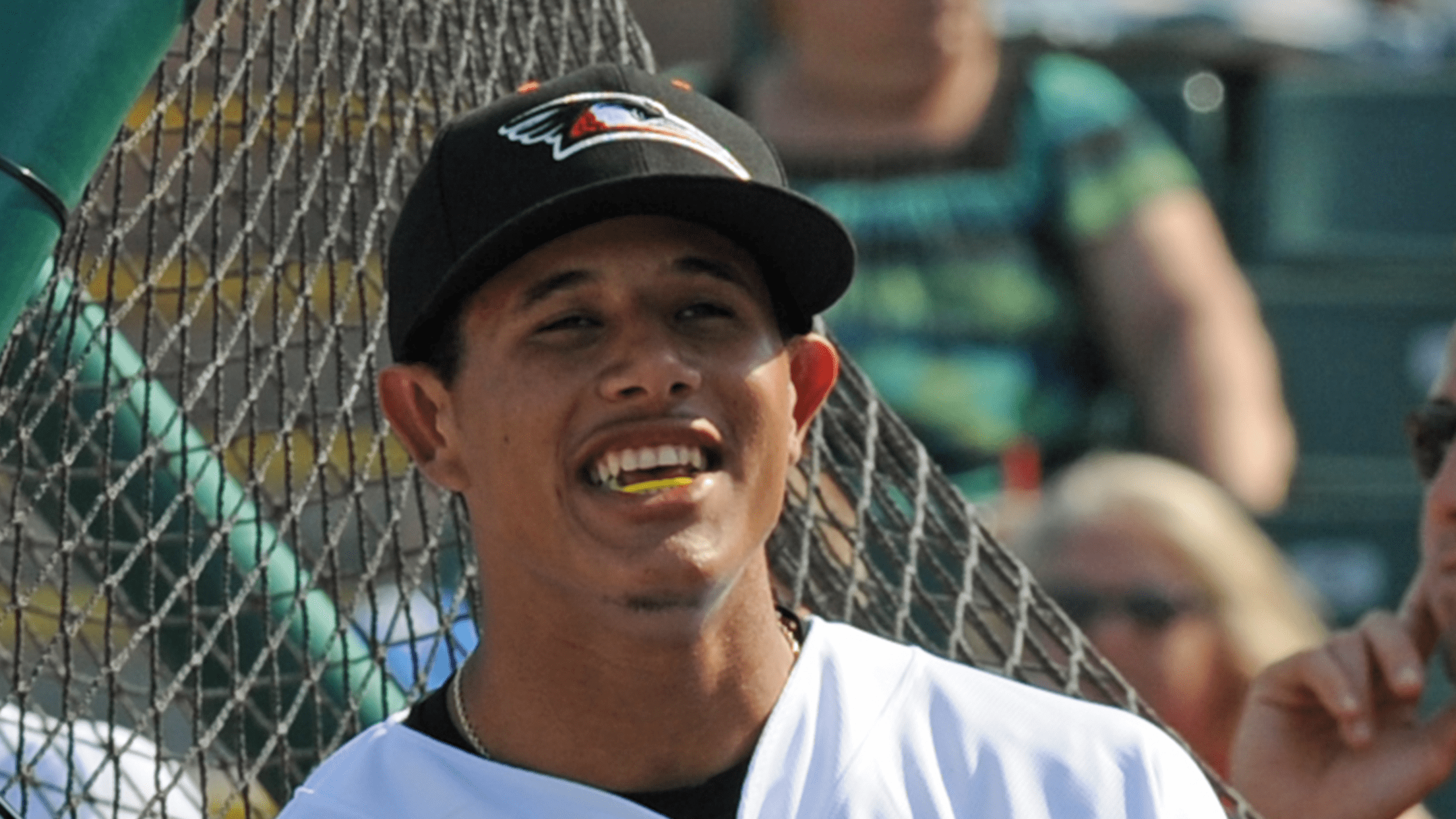 Best of the Rest
Tim Raines, Jr. (OF, 1999) – Son of the Hall-of-Famer, "Little Rock" hit 24 doubles and eight triples, scored 80 runs and stole 49 bases over 117 games, even hitting for the cycle for the 1999 Shorebirds. Raines made his major league debut two years later and got to play in the same Oriole outfield with his father on October 4, 2001. He played 75 games for the O's through 2004 and then suited up for four other organizations, plus a couple years on the independent circuit, before retiring in 2011 and transitioning into a coaching role in the Baltimore system.
Brandon Tripp (OF, 2007) – Remembered fondly by several longtime committee members, Tripp ripped it up for 104 All-Star caliber games with Delmarva, smashing 19 home runs with 79 RBIs; that pace would have given him a franchise-record 26 if he had played a full 140 games, but his 19 still stands tied for fourth in team history. He made the Carolina League All-Star team the next year with Frederick and again in the Southern League with Double-A Jacksonville for the Marlins in 2010. Tripp also played in the Phillies system and for the famous independent outfit St. Paul Saints before retiring following his age-29 season in 2014.
Yermin Mercedes (C, 2015-16) – Author of the highest single-season average in franchise history, Mercedes won the SAL batting title in 2016, hitting .353 with 25 doubles, 14 home runs, and 60 RBIs in 91 games before an August promotion to Frederick. The White Sox took him in the Rule 5 Draft after the 2017 season and he put up solid numbers in Double- and Triple-A over two seasons, earning a spot on Chicago's 40-Man Roster in November.
Adam Hall (2B, 2019) – A second-round pick for the O's in 2017, Hall earned midseason and postseason (utility infielder) All-Star nods in the SAL, batting .298 (one hit shy of .300) with 31 extra-base hits, 78 runs, and 33 stolen bases for a Shorebirds team that won a minor league-best 90 games. Playing most of the season with his mind on his father Tyler, who was battling multiple myeloma, Adam got to throw out the first pitch to his dad on Strike Out Cancer Night on July 27, scoring the run that iced a shutout win for Delmarva over Charleston.
Delmarva Shorebirds Silver Anniversary Team
First Base: Calvin Pickering (1997)
Second Base: Willie Harris (1999-2000)
Third Base: Ryan Minor (1997; mgr. 2010-12, 2014-17)
Shortstop: Orlando Cabrera (1996)
Left Field: Jason Fransz (2004-05)
Center Field: Zach Jarrett (2018)
Right Field: Nick Markakis (2004)
Designated Hitter: Manny Machado (2011)
Right-Handed Starting Pitcher: March 12
Left-Handed Starting Pitcher: March 19
Right-Handed Reliever: March 26
Left-Handed Reliever: April 2
The Delmarva Shorebirds Silver Anniversary Team was voted on by a panel of experts who have deep, longstanding ties to the Shorebirds organization. The panel considered several factors to make well-rounded decisions on who best represents the history of the Delmarva franchise as both a competitive team in its own right and as a step on the road to major league glory. Members of the panel include: Chris Bitters, Shorebirds general manager; Will DeBoer, Director of Broadcasting & Communications; Gil Dunn, Delmarva Shorebirds Fan Club president; Dr. Richard A. Passwater, a.k.a. "Doc Shorebird," team historian; Ricky Pollitt, The Daily Times sportswriter; Bryan Records, longtime Shorebirds clubhouse assistant; Randy Scott, Froggy 99.9 FM radio personality and former Shorebirds broadcaster; and Jimmy Sweet, Shorebirds assistant general manager.