Silver Anniversary Team: Zach Jarrett, Center Field
Son of NASCAR legend notched three walkoffs, charmed community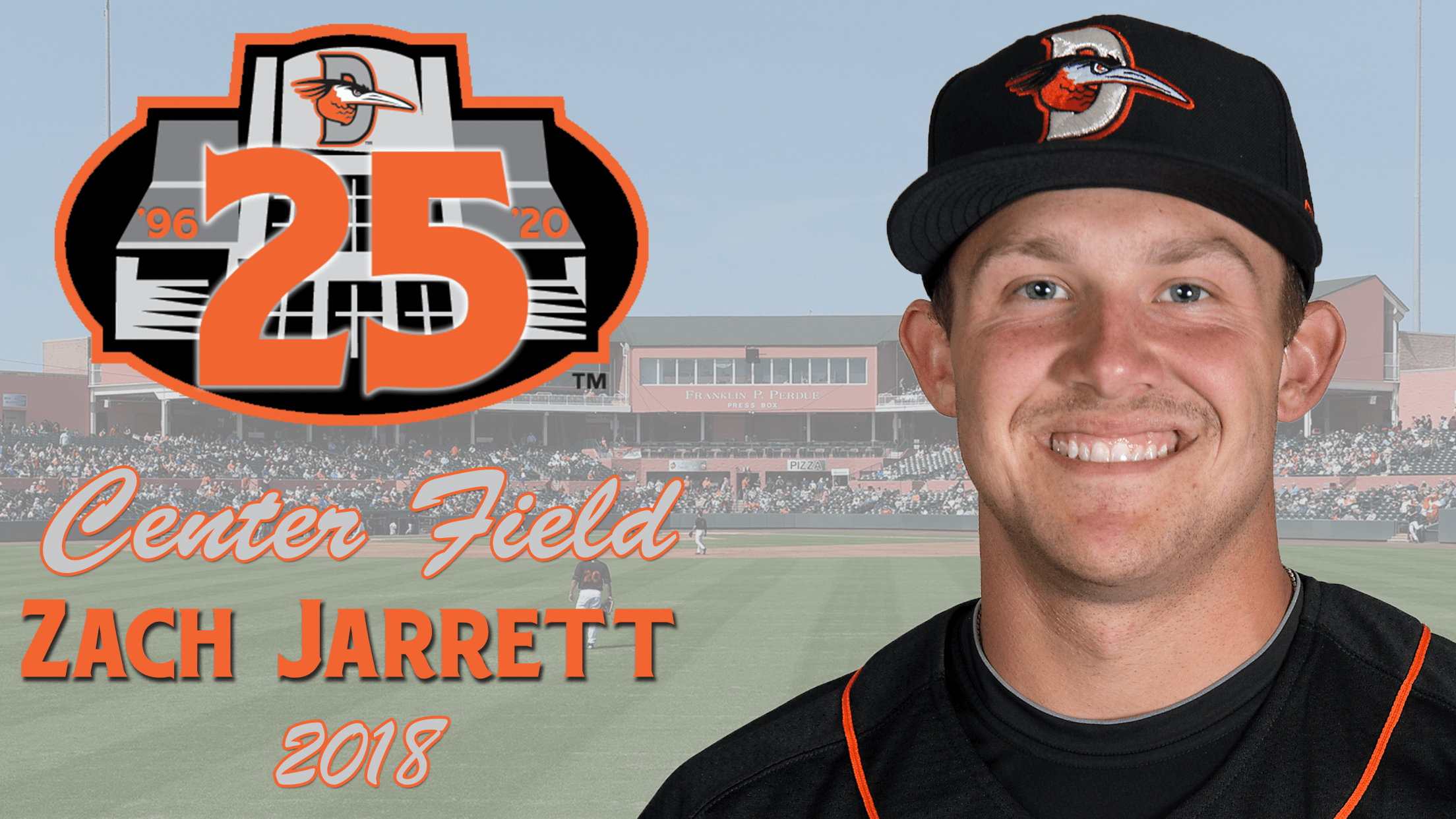 We march along to center field for our Shorebirds Silver Anniversary Team. The de facto captain of the outfield, the center fielder casts a long shadow on the baseball diamond, often casting an even longer one off of it. This position had a lot of star power and required a
We march along to center field for our Shorebirds Silver Anniversary Team. The de facto captain of the outfield, the center fielder casts a long shadow on the baseball diamond, often casting an even longer one off of it. This position had a lot of star power and required a runoff ballot, but eventually our esteemed panel pinned down a center fielder that endeared himself to the greater Delmarva community in every way possible.
Center Field: Zach Jarrett, 2018
129 games, .277/.342/.437, 74 R, 26 2B, 6 3B, 14 HR, 72 RBI, .779 OPS

Zach Jarrett's first full season in the minor leagues started one day late; he was left out of the Shorebirds' Opening Day lineup in 2018. He made his presence known in Game 2 on April 6, though, taking away a home run in the second inning and blasting his own in his first at-bat one inning later to help Delmarva pull out a 6-5 win over Asheville. It wasn't so much a taste but a Big Gulp of what was to come for Jarrett.
"[Delmarva] was my first full season, which was a really great experience," said Jarrett via phone from Sarasota, where he and his Orioles minor league teammates have gathered for Spring Training. "It was a first full taste of the grind, the whole thing. We had a lot of great memories that year."
The best memory for Jarrett came three weeks after his outstanding debut on April 26. The Shorebirds were trailing Kannapolis 3-2 and down to their final out in the ninth when Jarrett stepped to the plate with a man on first. On an 0-2 pitch, he walloped a deep flyball to left for a game-ending two-run home run, his first of three walkoff hits for him on the year. From there Delmarva loaded up the bus and drove down to Jarrett's hometown of Hickory, where he capped a stellar April by playing in front of his friends and family.
Video: Jarrett bashes walkoff HR
Jarrett earned Orioles Minor League Player of the Month for that star turn, batting .338 with seven dingers, 14 RBIs, and a 1.063 OPS over 21 games. He helped the Shorebirds go on a tear in the first six weeks: Delmarva went a South Atlantic League-best 25-12 over the first six weeks before enduring a slew of player promotions before the All-Star Break. That Shorebirds team finished 68-66 under first-year manager Buck Britton, while Jarrett made the All-Star Game and was also named a Sally League Postseason All-Star.
As strong as his impact was in uniform, Jarrett was immeasurably valuable as a citizen of his temporary home. He became the Shorebirds' top community ambassador for the season, committing valuable time to meet and greet fans all around the Delmarva Peninsula. Amongst Jarrett's many community appearances, his presence at the Summer Reading Program and as an instructor at the team's summer baseball camps stand out.
"It's great to even have the opportunities to do that, and for the organization to set those opportunities up for us, it's just nice to give back," said Jarrett, who was the Shorebirds' nominee for the MiLB Community Service Award in 2018. "You've got all those fans that might not know much about where all us come from, but they come out and are completely invested in it each night, whether it was cold and rainy or really hot in the middle of the day. It's just nice to talk to them and share our stories with them but hear their stories as well."
Jarrett learned at an early age how important it was to make the fans feel valued. The son and grandson of NASCAR Hall-of-Famers Dale and "Gentleman Ned" Jarrett, he had a front row seat to watch two masters in a sport that engages fans arguably better than any other.
"I think being able to grow up in that nature and see how my dad went about his business and how he went about dealing with fans…that definitely set a standard for me that if I ever made it to that point, that that's how I wanted to handle myself and conduct myself with fans," said Jarrett.
After another mid- and postseason All-Star turn in Frederick and a monthlong cameo with Bowie, Jarrett is expected to break 2020 camp in Double-A, just two steps from the major leagues. As he keeps climbing up the O's system more and more fans will get a taste of that thousand-watt smile that charmed fans young and old and helped make 2018 one of the more memorable Delmarva summers in recent memory.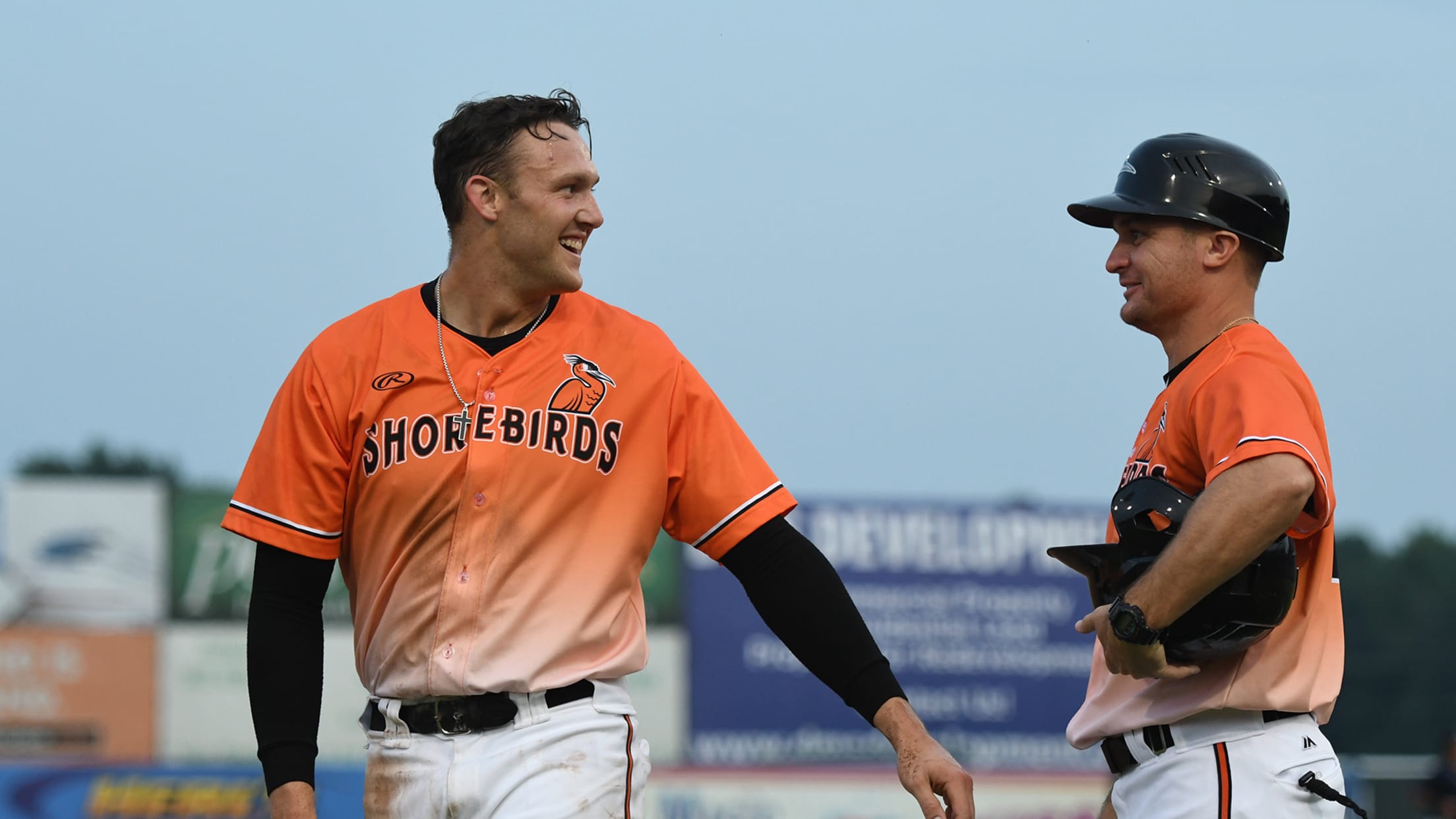 Best of the Rest
Tim Raines, Jr. (1999) - Son of the Hall-of-Famer, "Little Rock" hit 24 doubles and eight triples, scored 80 runs and stole 49 bases over 117 games, even hitting for the cycle for the 1999 Shorebirds. Raines made his major league debut two years later and got to play in the same Oriole outfield with his father on October 4, 2001. He played 75 games for the O's through 2004 and then suited up for four other organizations, plus a couple years on the independent circuit, before retiring in 2011 and transitioning into a coaching role in the Baltimore system.
B.J. Littleton (2001-03) - Littleton finished with 25 triples and scored 134 runs in 231 career games with Delmarva, setting then-SAL record with 18 triples in 2001; no other Shorebird has sniffed the mark in 15 years. He began the next season in Delmarva before earning a midseason promotion to High-A Frederick, and in 2003 he spent 34 more games with the Shorebirds in a season that saw him reach Triple-A Ottawa. Littleton's Oriole career stalled and he was released after the 2004 campaign; after half a season in High-A with the Phillies he retired at age 25 in 2005.
Val Majewski (2002-03) - The former third-rounder cracked Delmarva for seven games as a rookie in 2002, but it was the next season when he really found his All-Star form at Perdue Stadium. Majewski slashed .303/.383/.553 with 30 extra-base hits and 48 RBIs over just 56 games with the Shorebirds, at one point stringing together a 14-game hitting streak. After a stellar 2004 with Double-A Bowie he played in nine games for the Orioles that September but never made it back to The Show. Majewski soldiered on until 2013, putting up high-power numbers for four more organizations, plus a couple star turns for the Atlantic League's York Revolution.
Cedric Mullins (2016) - Mullins authored a 19-game hitting streak from July 24 through August 19, the longest in franchise history, on the way to hitting .273 with a .785 OPS and 61 extra-base hits, the latter of which is tied for second in single-season Shorebirds history. A two-time O's organizational All-Star, Mullins matriculated to Camden Yards as the heir apparent to Adam Jones in center field in late 2018. After a rough start to 2019 he was sent to find himself again in the minors, eventually helping Double-A Bowie make it to the Eastern League Championship Series.
Delmarva Shorebirds Silver Anniversary Team
Catcher: Chance Sisco (2014)
First Base: Calvin Pickering (1997)
Second Base: Willie Harris (1999-2000)
Third Base: Ryan Minor (1997; mgr. 2010-12, 2014-17)
Shortstop: Orlando Cabrera (1996)
Left Field: Jason Fransz (2004-05)
Center Field: Zach Jarrett (2018)
Right Field: February 27
Designated Hitter: March 5
Right-Handed Starting Pitcher: March 12
Left-Handed Starting Pitcher: March 19
Right-Handed Reliever: March 26
Left-Handed Reliever: April 2
The Delmarva Shorebirds Silver Anniversary Team was voted on by a panel of experts who have deep, longstanding ties to the Shorebirds organization. The panel considered several factors to make well-rounded decisions on who best represents the history of the Delmarva franchise as both a competitive team in its own right and as a step on the road to major league glory. Members of the panel include: Chris Bitters, Shorebirds general manager; Will DeBoer, Director of Broadcasting & Communications; Gil Dunn, Delmarva Shorebirds Fan Club president; Dr. Richard A. Passwater, a.k.a. "Doc Shorebird," team historian; Ricky Pollitt, The Daily Times sportswriter; Bryan Records, longtime Shorebirds clubhouse assistant; Randy Scott, Froggy 99.9 FM radio personality and former Shorebirds broadcaster; and Jimmy Sweet, Shorebirds assistant general manager.