Silver Anniversary Team: Grayson Rodriguez, Right-Handed Starting Pitcher
Ace won Top MLB Prospect, helped '19 'Birds win 90 games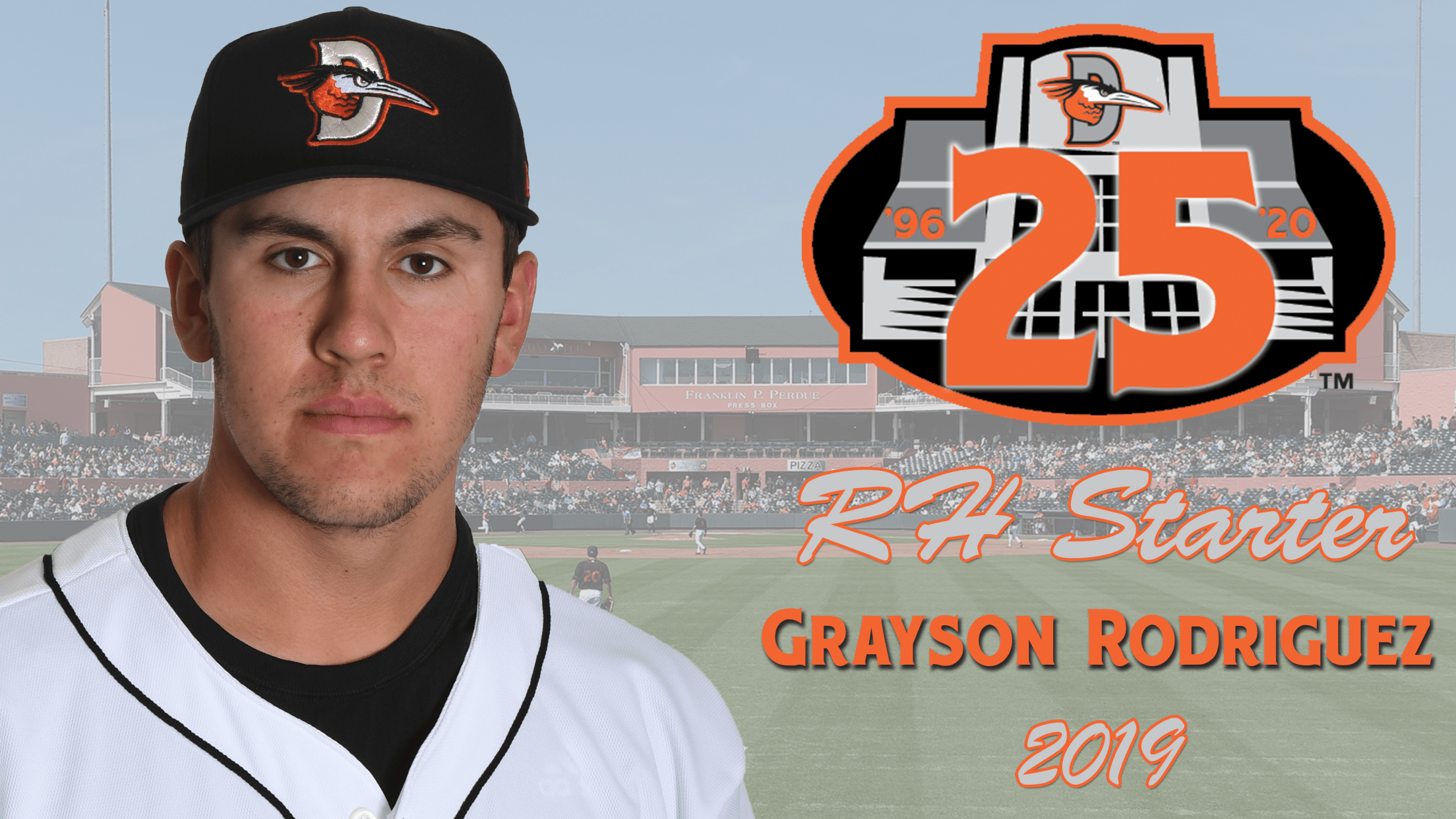 With the position players set, it's time to unveil our first of four pitchers on the Shorebirds Silver Anniversary Team. Our esteemed panel initially voted for multiple starters and relievers as separate groups, but the selections were eventually pared down to highlight a starter and reliever of each handedness. Starting
With the position players set, it's time to unveil our first of four pitchers on the Shorebirds Silver Anniversary Team. Our esteemed panel initially voted for multiple starters and relievers as separate groups, but the selections were eventually pared down to highlight a starter and reliever of each handedness.
Starting pitching has been a strength for Delmarva since the beginning. The first man to start a game for the Shorebirds at Arthur W. Perdue Stadium went on to have a 14-year major league career. Others have run the gamut from perennial all-star to reliable journeyman. Despite all that depth, the panel had no trouble locking in on a right-handed starter. It was a unanimous selection for a pitcher whose final stat line is still sizzling six months after he threw his final Sally League pitch.
Right-Handed Starting Pitcher: Grayson Rodriguez, 2019
20 G (20 GS), 10-4, 2.68 ERA, 94.0 IP, 36 BB, 129 K, 0.989 WHIP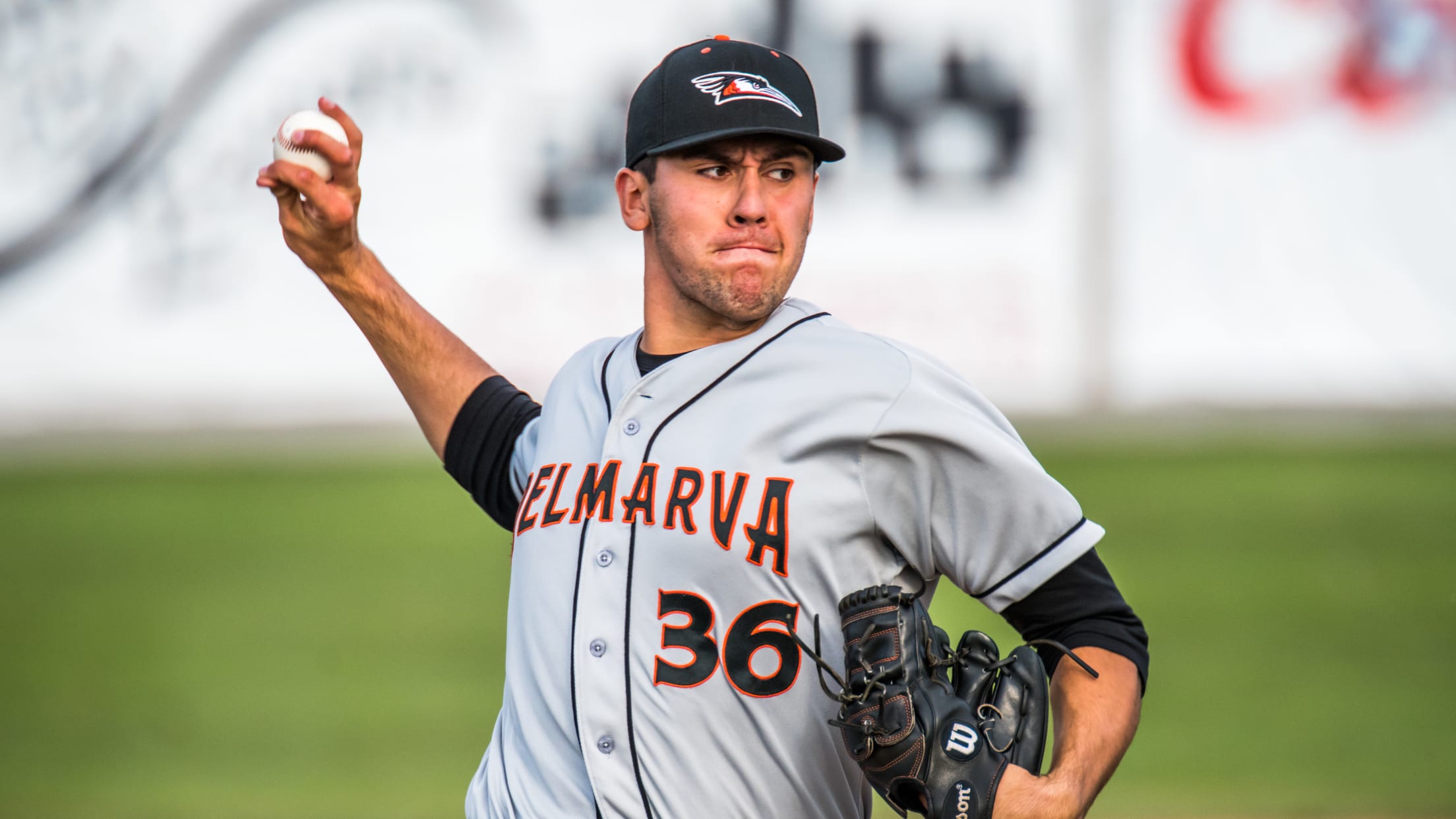 Even in the midst of a season where every game had the chance to be remarkable, there was something special about looking at a Shorebirds lineup card in 2019 and seeing Grayson Rodriguez earmarked as that night's starter. There was a different energy in Perdue Stadium when the 6-foot 5-inch East Texan first took the mound and began pounding in warmup pitches, often to the sound of the Blake Shelton stomper "God's Country." Ask that 19-year-old who dazzled fans and opposing batters alike, though, and he'll tell you each time it was just another night.
"I just tried to take it week by week," said Rodriguez, now 20, via text from the O's Spring Training home in Sarasota, as he prepares for the next step in his pro career. "Never thinking about the next start, or the one after that, I just focused on the task at hand every time I got the ball."
That laser focus was evident from the onset. Rodriguez – drafted 11th overall by Baltimore the previous summer – made his Shorebird start on April 5 in Lexington and stole the show from the defending Sally League champs, striking out 10 batters over five scoreless innings to spearhead a 3-0 shutout win. Seven days later he debuted on Delmarva to a familiar tune, fanning 10 more batters in six one-hit innings against Lakewood.
The numbers and accolades started piling up. First came the season's first SAL Pitcher of the Week and a spot in the MLB Pipeline Team of the Week. After another start in which he struck out eight and stretched his season-opening scoreless streak to 14.2 innings, Orioles Minor League Pitcher of the Month was in the bag. May rolled along and the wins kept on coming – six in a row to start his season. By early June he was a no-brainer to start the Sally League All-Star Game for the Northern Division.
He became the face of a Shorebird team that had become a minor league juggernaut and rolled to a first half division title. Even then, Rodriguez refused to let the big moments get the best of him.
"Mentally I treat every game the exact same," said Rodriguez. "Some games just have better results than others. Every start I feel pretty locked in."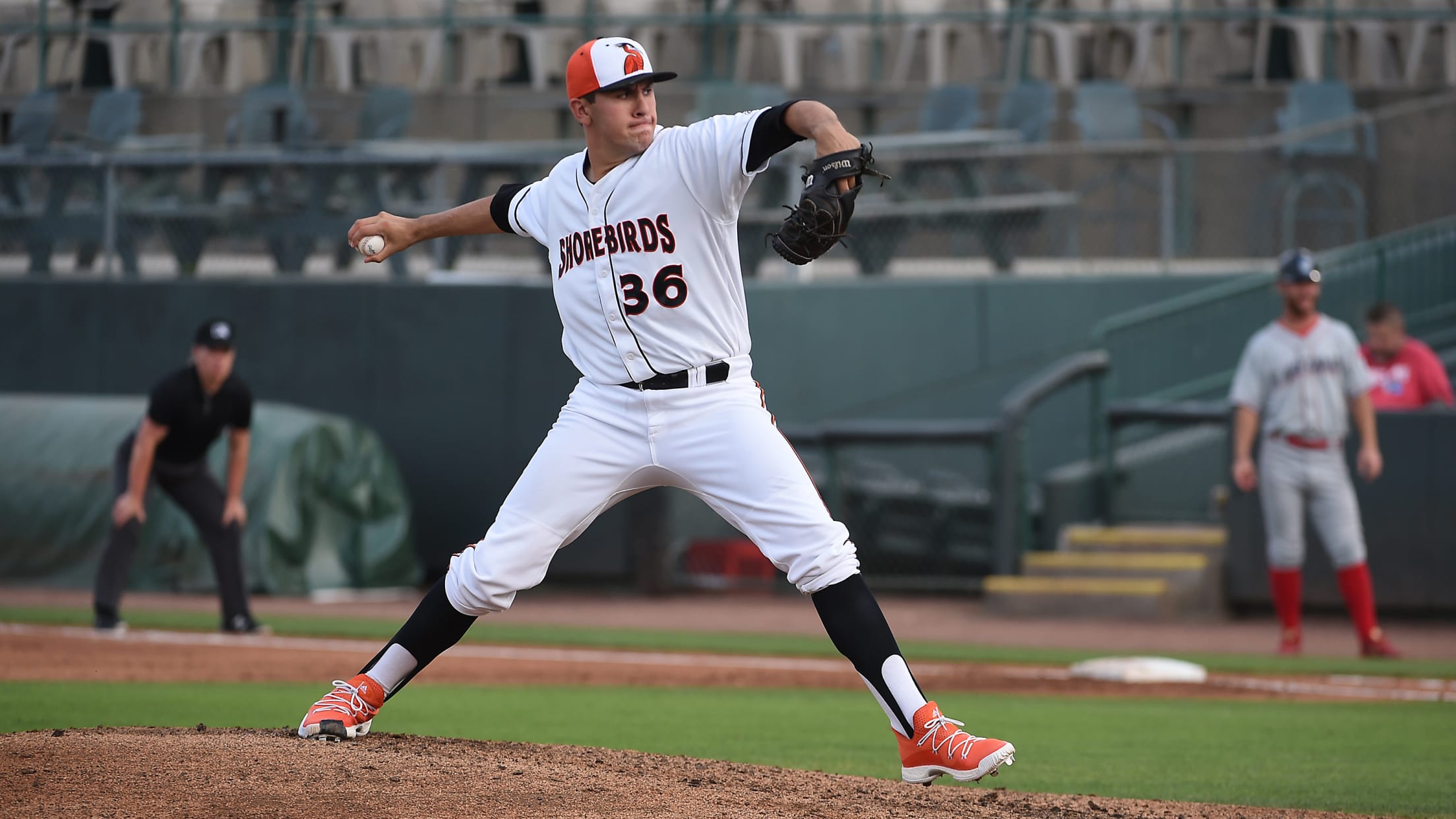 Nowhere did Rodriguez's poise shine more than on July 7. Just one of two players from low Class-A at the MLB Futures Game, he impressed analysists and a national TV audience at Cleveland's Progressive Field, retiring all three batters he faced in a perfect eighth inning. Since the eighth was technically an extra frame of a seven-inning, Rodriguez had to pitch with an automatic runner at second base, a foreign concept for a young starting pitcher, but he showed himself more than able to adapt to unfamiliar circumstances.
The one place never unfamiliar to Rodriguez was his own friendly confines. He was an absolute buzz saw in Salisbury, going 6-0 with an 0.82 ERA in eight home starts. The bigger the crowd, the better he pitched. Nearly 7,000 fans packed themselves into Arthur W. on August 10 for what would turn out to be Rodriguez's final home start. All he did was vaporize Kannapolis to the tune of five no-hit innings, striking out 10 batters for the fourth time on the season.
"It was always great pitching in front of the home crowd," said Rodriguez on the "electric" atmosphere at Perdue Stadium. "The Eastern Shore has great baseball fans and it's always an honor getting throw in front of them."
By the end of the year Rodriguez had put up numbers that would have been impressive for an SAL pitcher three or four years his senior. He finished top-10 in the league in wins (10) and strikeouts (129) and was the runaway pick for Most Outstanding MLB Prospect. The honor was perhaps the most notable in a cache of awards picked up by the Shorebirds, who went a minors-best 90-48 and set a Sally League record with 1,389 team strikeouts.
"We definitely had a great season that benefited everybody," said Rodriguez, who started Delmarva's first playoff game in 14 years last September. "Everyone learned a lot this past season and it boosted our minor league system a ton."
Rodriguez enters his age-20 season as the Orioles' No. 2 prospect and will likely open the summer with High-A Frederick. With Baltimore in the midst of a deep rebuild there's no rush to get Rodriguez to Oriole Park. But Keys, Baysox, Tides, and O's fans will eventually learn what Shorebirds fans have taken to heart: there's a hurricane coming through Birdland. Every fifth night will simply feel electric.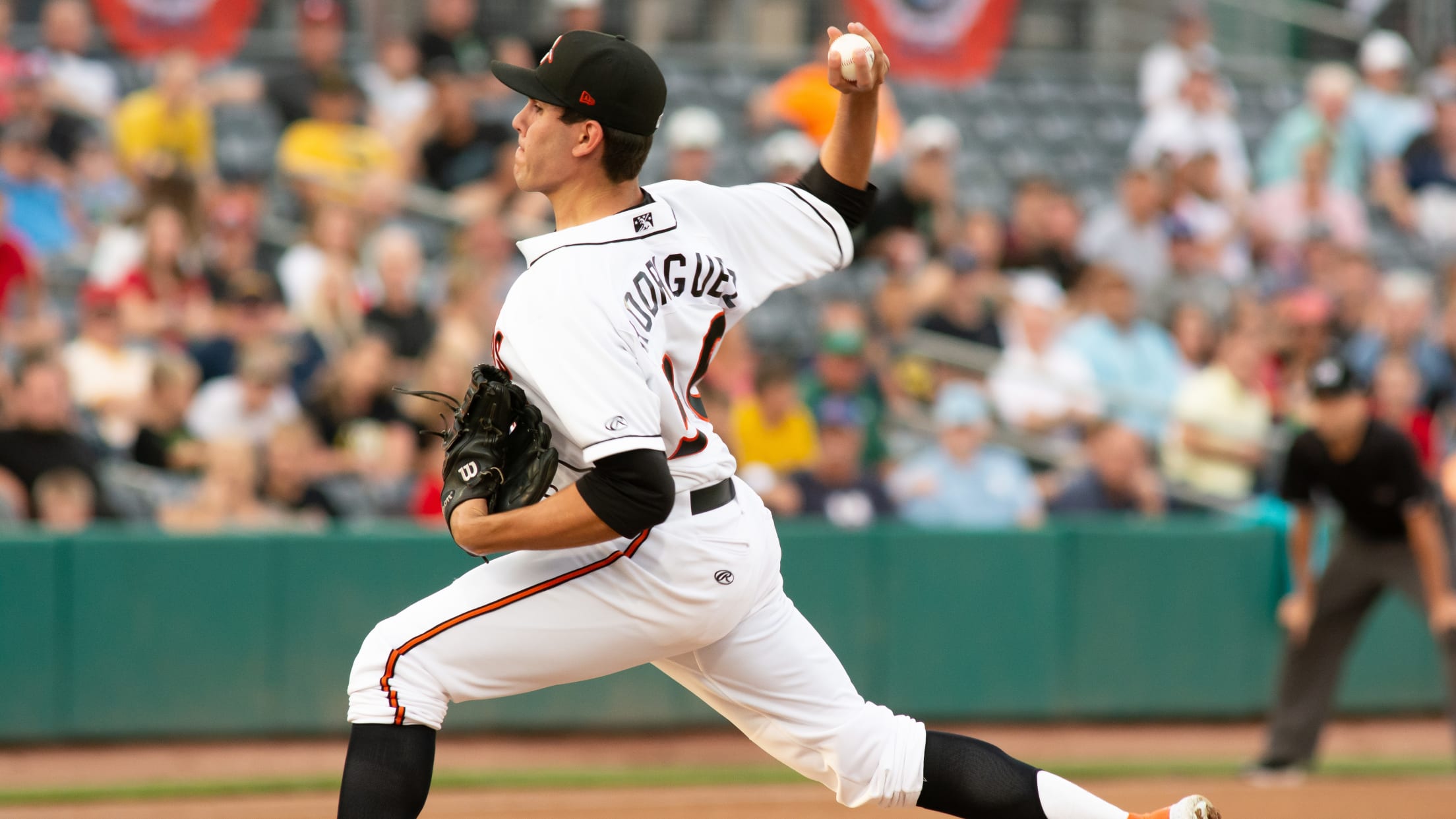 Best of the Rest
Javier Vazquez (1996) – Vazquez set the bar high when he threw the first pitch at Perdue Stadium. He won that first start and 13 more games for the 83-win inaugural Shorebirds; his 14 wins are still a franchise record and have never been seriously approached in a quarter century since. Vazquez debuted with the Expos in 1998 and spent six seasons in Montreal before being traded to the Yankees in 2004, where he made his only All-Star Game. After stops with the White Sox, Braves, and Marlins, Vazquez retired after 14 big leagues seasons in 2011, amassing a 165-160 record and 4.22 ERA over 450 appearances.
John Maine (2002-03) – A sixth-rounder in 2002, Maine made it to Delmarva that summer and boasted a staggering 1.36 ERA over six outings. He opened with the Shorebirds in 2003 and was even better, going 7-3 with a 1.36 ERA over 14 starts before a well-earned promotion to Frederick. By the next summer Maine was in The Show but never caught on with Baltimore, who flipped him to the Mets in 2006. He helped New York win the NL East that year and seemed destined to be a rock in the rotation for years to come, but shoulder problems derailed what was a promising future. Maine made just nine starts in 2010 and would pitch just four more games in the bigs as a reliever with Miami in 2013; he finished his career 41-36 with a 4.45 ERA over 112 outings.
Dylan Bundy (2012) – Talk about a phenom. A true rookie with Delmarva in 2012, a then-19-year-old Bundy made eight starts for the Shorebirds and allowed just two unearned runs. Of the 99 batters he faced over 30 innings, only *nine* reached base (five hits, two walks, two HBPs). It was clear by late May Bundy was ready for a new challenge; he passed both Frederick and Bowie with flying colors and made his big-league debut with the Orioles that September, one of an exceedingly rare club of Shorebirds to make it from Delmarva to The Show in the same calendar year. Bundy missed almost three full seasons with elbow and shoulder troubles but became one of Baltimore's most prominent starters for four years. He never reached the potential of those early years, though, and the O's shipped him off to the L.A. Angels for four prospects last December.
Hunter Harvey (2014, 2017) – The last Shorebird to directly represent the team at the Futures Game before Rodriguez, Harvey went 7-5 with a 3.18 ERA and 106 punchouts in 87.2 innings during an All-Star 2014 campaign with Delmarva. He was shut down that July with the first of a long line of injuries; in 2017 he returned to the Shorebirds for three rehab starts. After spending a few days on the major league roster in 2018 but not pitching, Harvey finally made his long-awaited Orioles debut last August 17 at Fenway Park, striking out two Red Sox over a scoreless eighth. Harvey made seven outings for the O's, boasting a 1.42 ERA and 11 strikeouts in 6.1 frames, and could finally be a marquee fixture in the bullpen in 2020 and beyond.
Delmarva Shorebirds Silver Anniversary Team
First Base: Calvin Pickering (1997)
Second Base: Willie Harris (1999-2000)
Third Base: Ryan Minor (1997; mgr. 2010-12, 2014-17)
Shortstop: Orlando Cabrera (1996)
Left Field: Jason Fransz (2004-05)
Center Field: Zach Jarrett (2018)
Right Field: Nick Markakis (2004)
Designated Hitter: Manny Machado (2011)
Right-Handed Starting Pitcher: Grayson Rodriguez (2019)
Left-Handed Starting Pitcher: March 19
Right-Handed Reliever: March 26
Left-Handed Reliever: April 2
The Delmarva Shorebirds Silver Anniversary Team was voted on by a panel of experts who have deep, longstanding ties to the Shorebirds organization. The panel considered several factors to make well-rounded decisions on who best represents the history of the Delmarva franchise as both a competitive team in its own right and as a step on the road to major league glory. Members of the panel include: Chris Bitters, Shorebirds general manager; Will DeBoer, Director of Broadcasting & Communications; Gil Dunn, Delmarva Shorebirds Fan Club president; Dr. Richard A. Passwater, a.k.a. "Doc Shorebird," team historian; Ricky Pollitt, The Daily Times sportswriter; Bryan Records, longtime Shorebirds clubhouse assistant; Randy Scott, Froggy 99.9 FM radio personality and former Shorebirds broadcaster; and Jimmy Sweet, Shorebirds assistant general manager.