Brock Burke makes big league debut
Lefty tossed six scoreless innings vs. Angels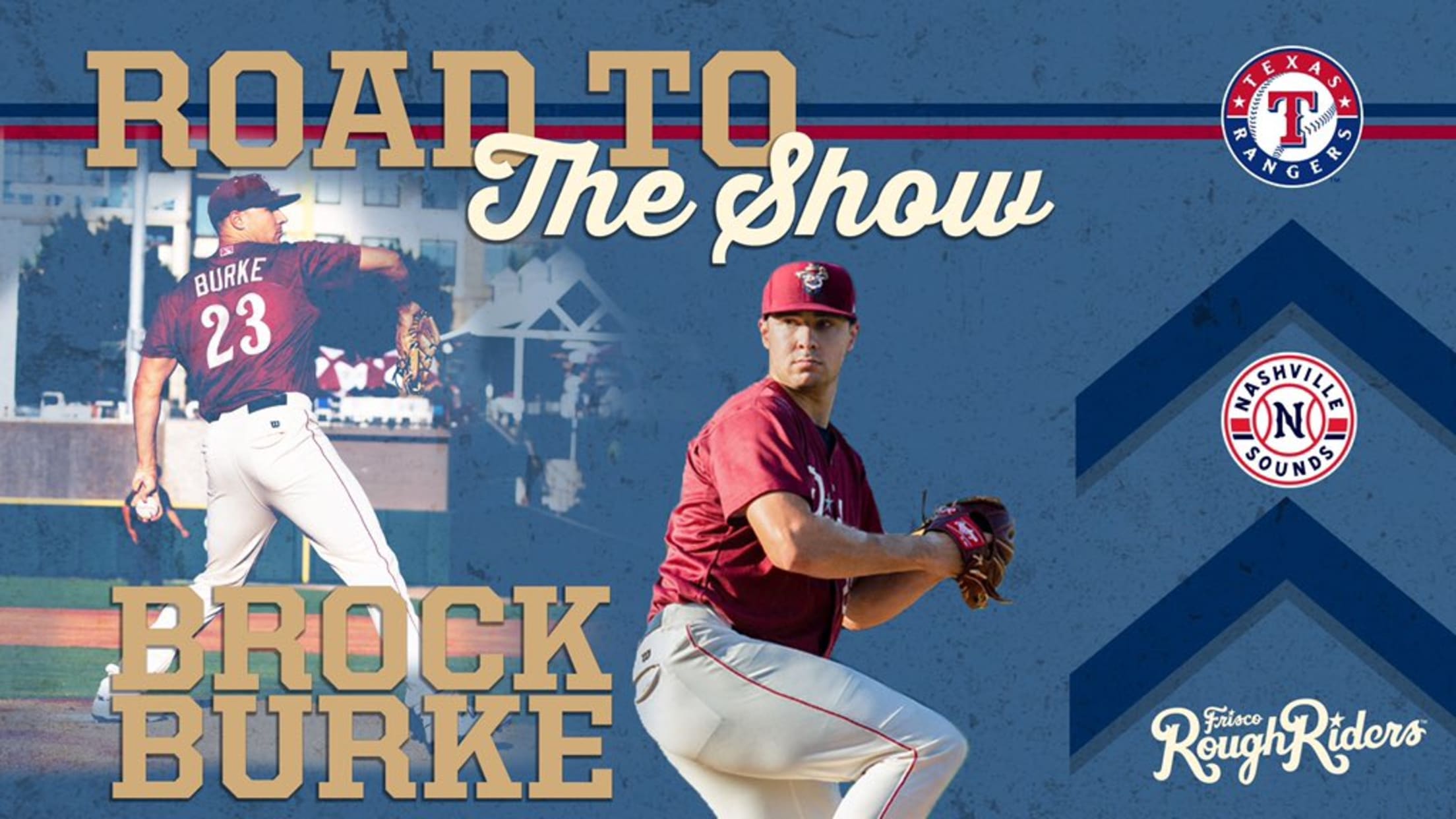 Former Riders pitcher Brock Burke made his Major League debut with the Rangers Tuesday night at Globe Life Park.Burke fired six scoreless innings, allowing just four hits, as part of the Rangers' 11-inning win over the Angels. The lefty began 2019 with the Riders, where he posted a 3.18 ERA
Sounds Edge Grizzlies in Game 2
Nashville off to a 2-0 start on 7-game California road trip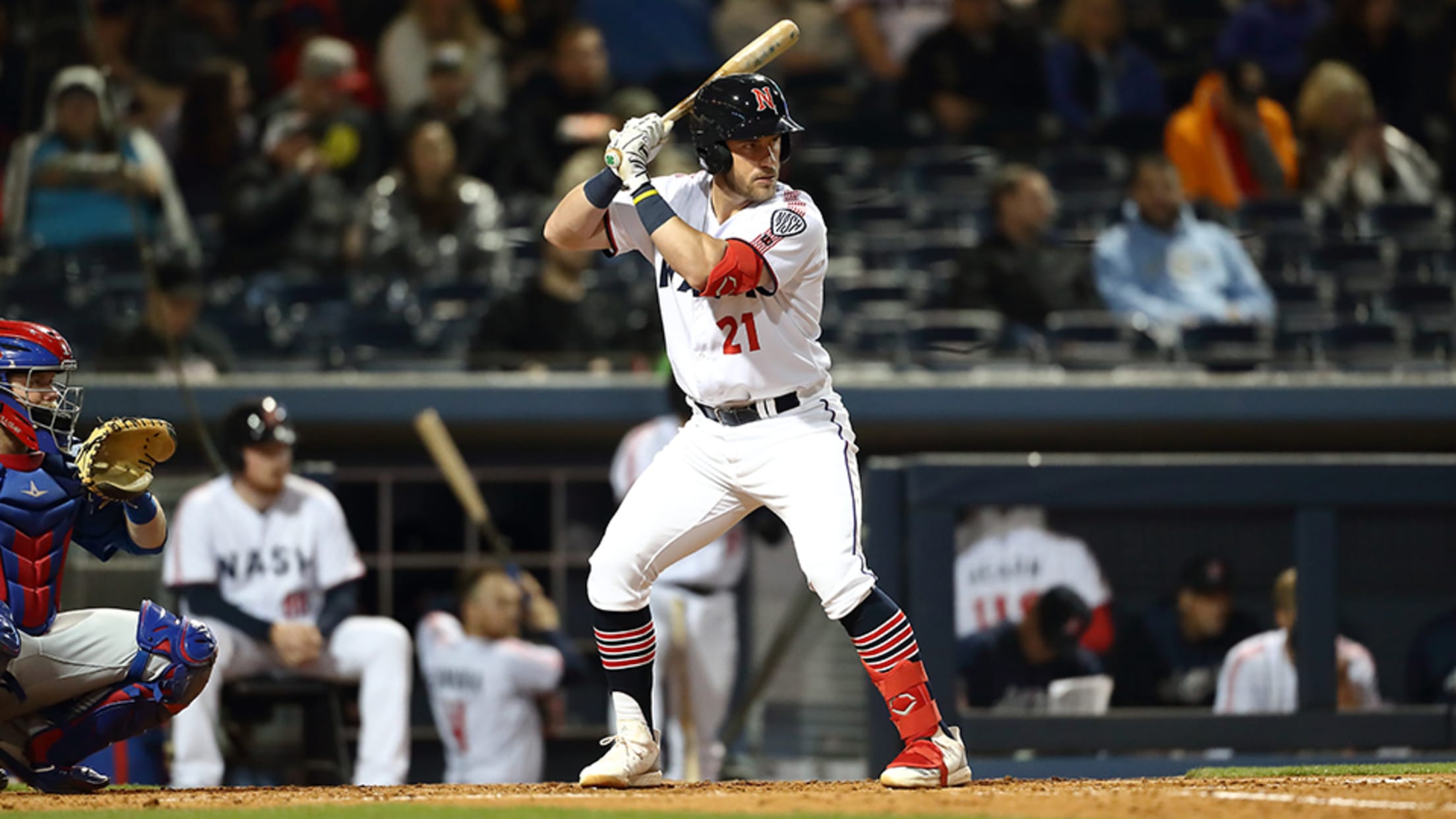 FRESNO, Calif. - The Nashville Sounds broke a 6-6 tie with a ninth-inning rally and defeated the Fresno Grizzlies 8-6 on Thursday night at Chukchansi Park. The Sounds had let a 6-1 lead slip away in the bottom of the eighth before recovering to win their second consecutive game in
Burke bests Amarillo in 5-2 win
Three-run sixth inning helps seal the deal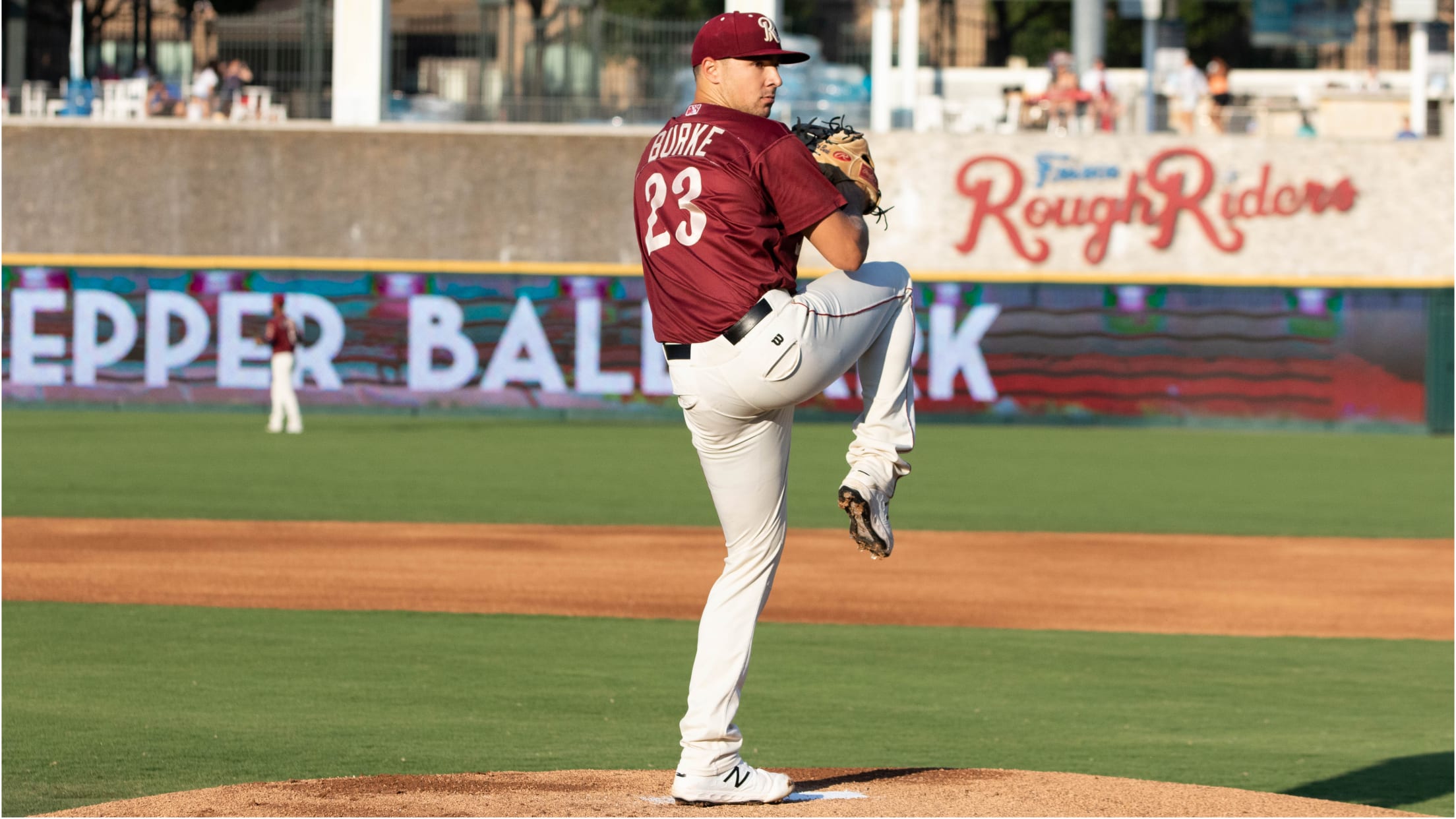 AMARILLO, Texas (Aug. 2, 2019) - Brock Burke t0ssed six innings of one-run ball and struck out seven to lead the Riders to a 5-2 win over Amarillo Friday.SYNOPSIS* Frisco extended their lead to four with a three-run sixth inning with RBIs from Alex Kowalczyk and Leody Taveras .* After allowing
Burke bowls down Travs in 3-1 win
Kiner-Falefa homers for second night in a row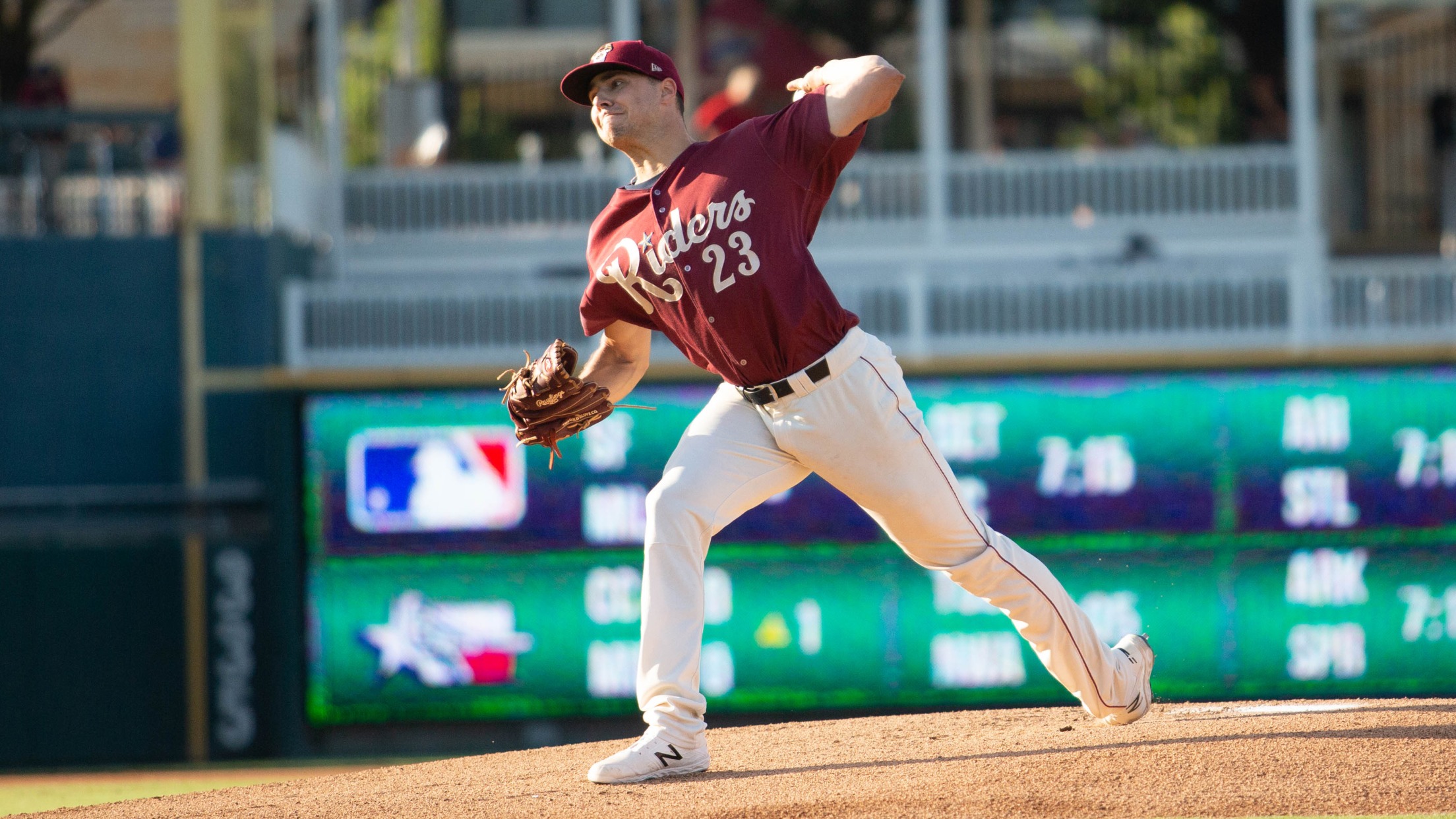 FRISCO, Texas (July 27, 2019) - Another solid start from Brock Burke helped lead the Frisco RoughRiders to a 3-1 win over Arkansas Saturday night.SYNOPSIS* Burke worked 5 2/3 innings, allowing his only run in the first inning. He struck out seven and didn't allow any walks to earn his second
Riders just miss tossing no-hitter Friday
Burke deals five perfect innings in 3-0 win over Travs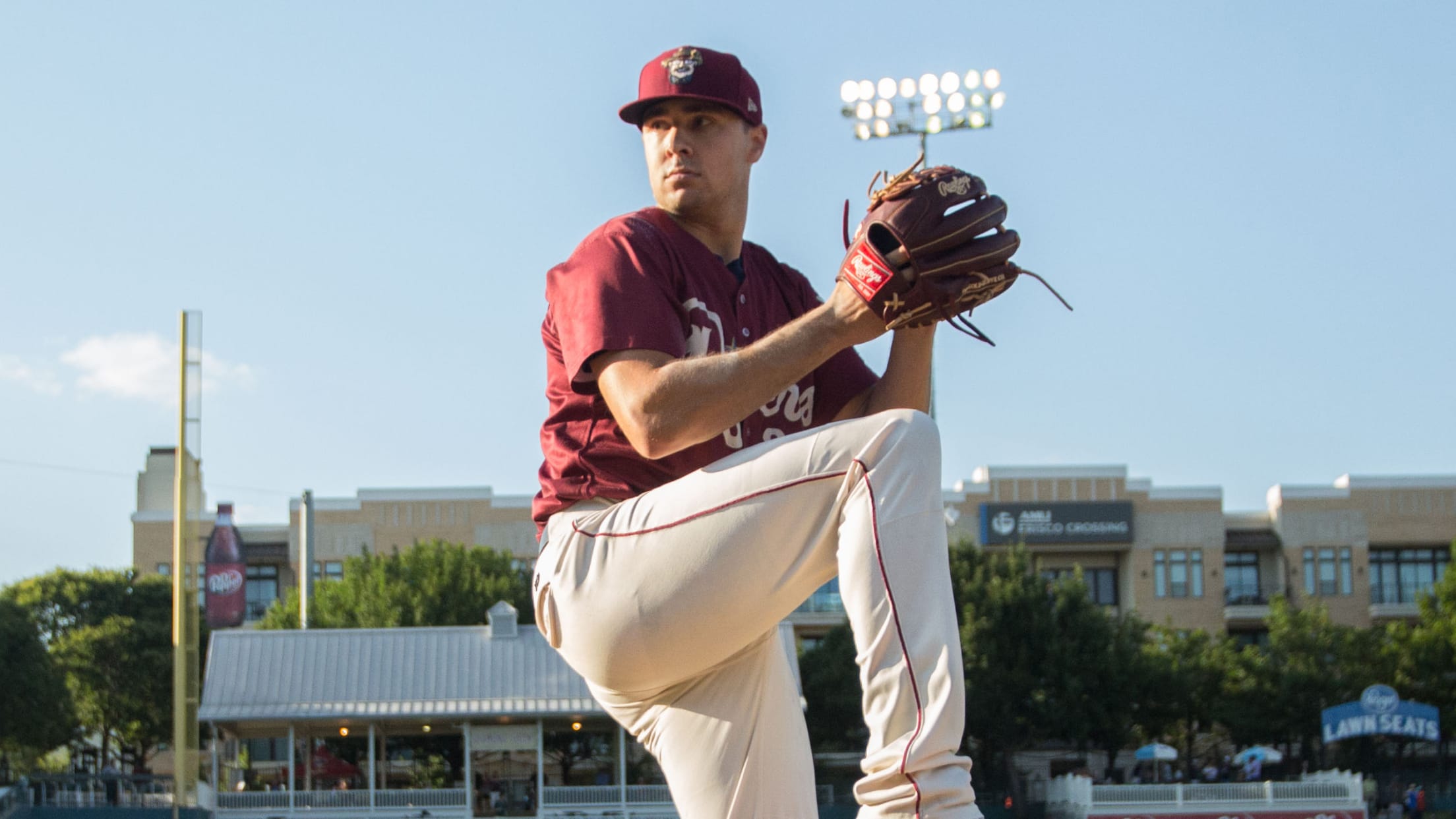 NORTH LITTLE ROCK, Ark. (July 19, 2019) - Four Riders pitchers helped carry a combined no-hitter into the ninth inning, ultimately settling for a one-hit shutout in a 3-0 win at Arkansas.SYNOPSIS* The quartet of Brock Burke, James Jones, Jake Lemoine and Emmanuel Clase went 8 1/3 innings before Arkansas' Jordan
Burke perfect in RoughRiders' one-hitter
Rangers No. 9 prospect retires all 15 batters, strikes out six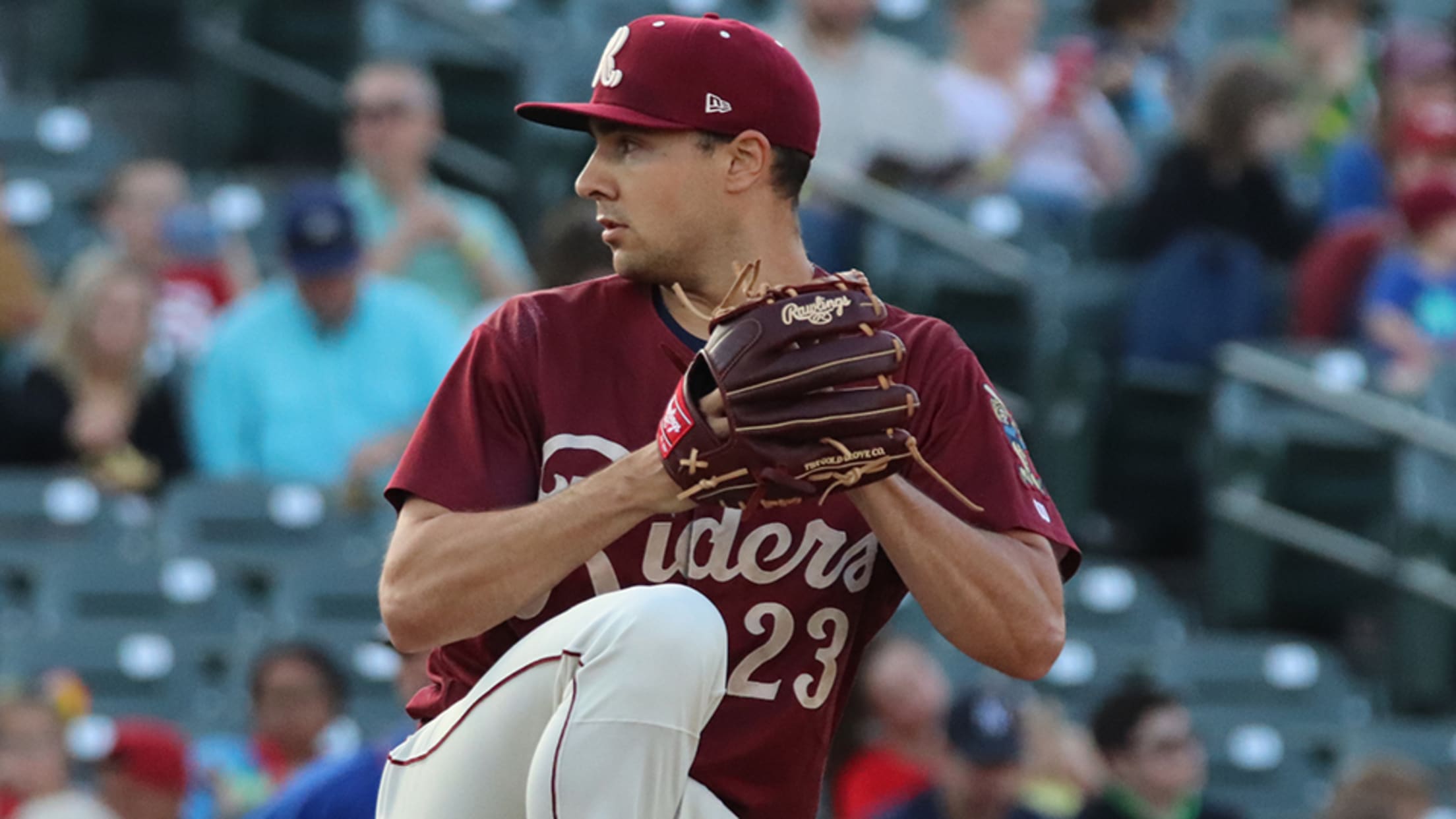 Brock Burke was perfect on Friday night. The Double-A Frisco bullpen almost followed suit.The ninth-ranked Rangers prospect did not allow a baserunner while striking out six over five innings, teaming with three relievers on a one-hitter, as the RoughRiders blanked Arkansas, 3-0, at Dickey-Stephens Park.
Burke's quality start not enough in 5-0 loss
Lefty logs first quality start of 2019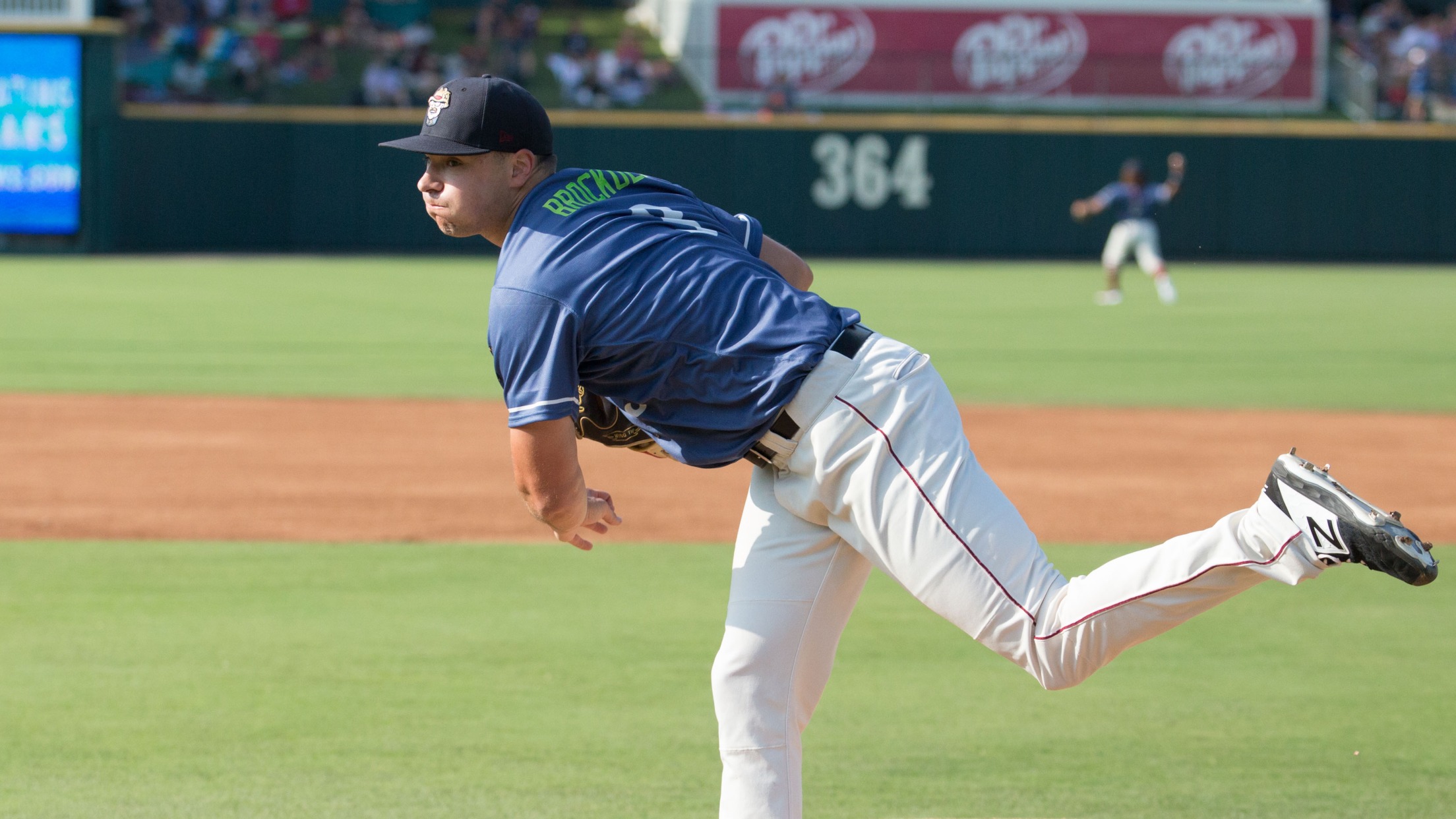 AMARILLO, Texas (July 6, 2019) - Southpaw Brock Burke logged his first quality start of the season Saturday in Amarillo but the Riders fell 5-0 to the Sod Poodles.SYNOPSIS* Burke didn't allow a hit through 4 2/3 innings before a two-out, two-run homer saddled him with his only runs of the
Burke's brilliant outing not enough in 3-0 loss
Beck delivers three-hit night in season opener
FRISCO, Texas (April 4, 2019) - Despite a dazzling outing from starter Brock Burke , the Frisco RoughRiders dropped their season opener, 3-0, to the Midland RockHounds Thursday night at Dr Pepper Ballpark.WORTH KNOWING* Burke allowed just one unearned run on six hits in five innings of work, striking out four
Trio of star starters part of Riders initial roster
2019 season begins next Thursday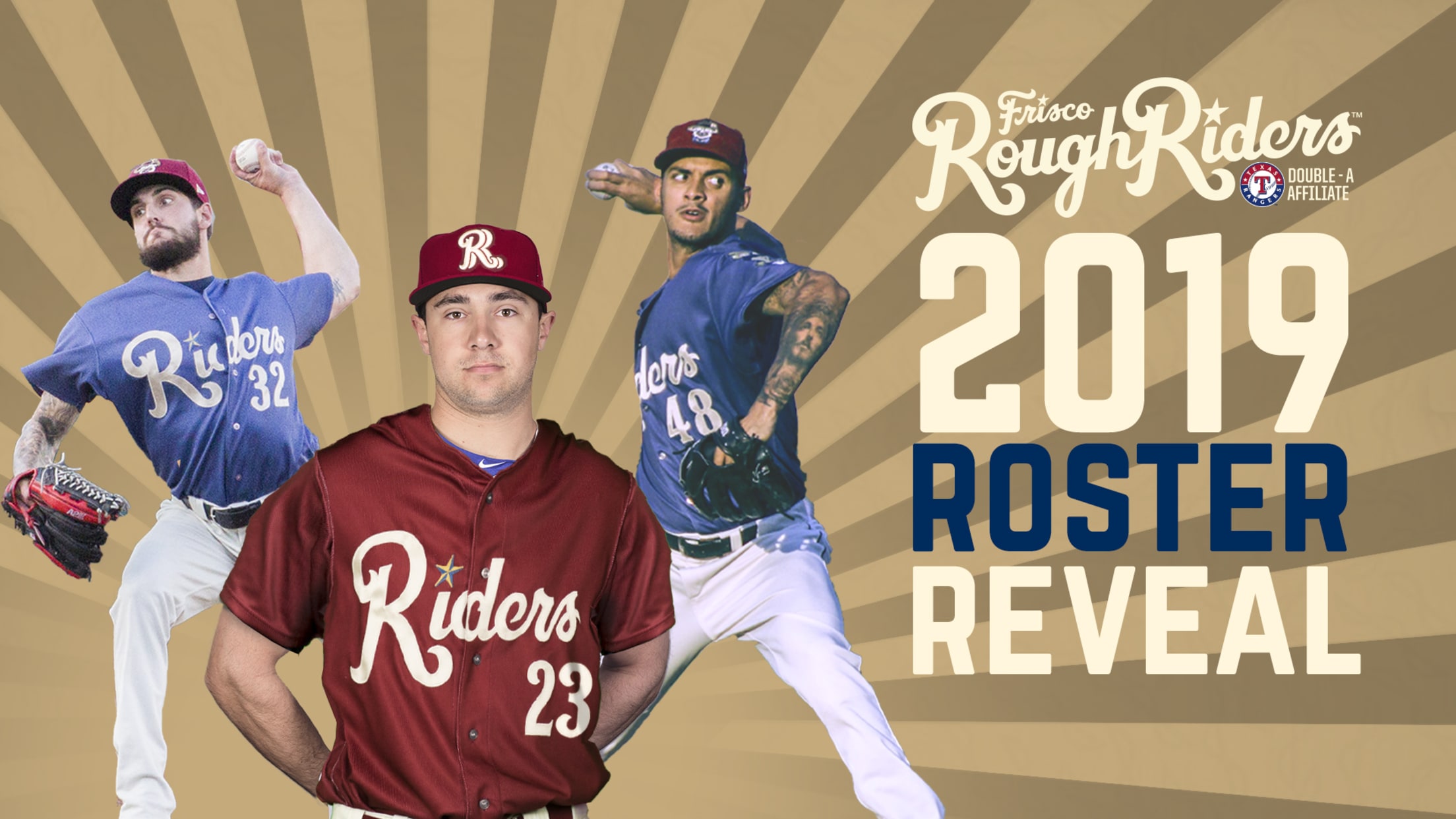 FRISCO, Texas (Mar. 27, 2019) - Three of the top arms in the Rangers farm system - Jonathan Hernández , Brock Burke and Joe Palumbo - headline the Frisco RoughRiders initial roster for the 2019 season, the Texas Rangers announced Wednesday.All three pitchers rank in the top 10 of MLB
Rangers acquire White, Burke in trade
A's, Rays also involved in deal that sends Profar to Oakland
Nothing like some last-minute holiday shopping.The Rangers picked up four Minor Leaguers, most notably infielder Eli White and left-hander Brock Burke, in a three-team swap with the A's and Rays on Friday, the clubs announced. Texas also acquired pitchers Kyle Bird and Yoel Espinal as well as international bonus pool
SL Weekly Award Winners: August 13-19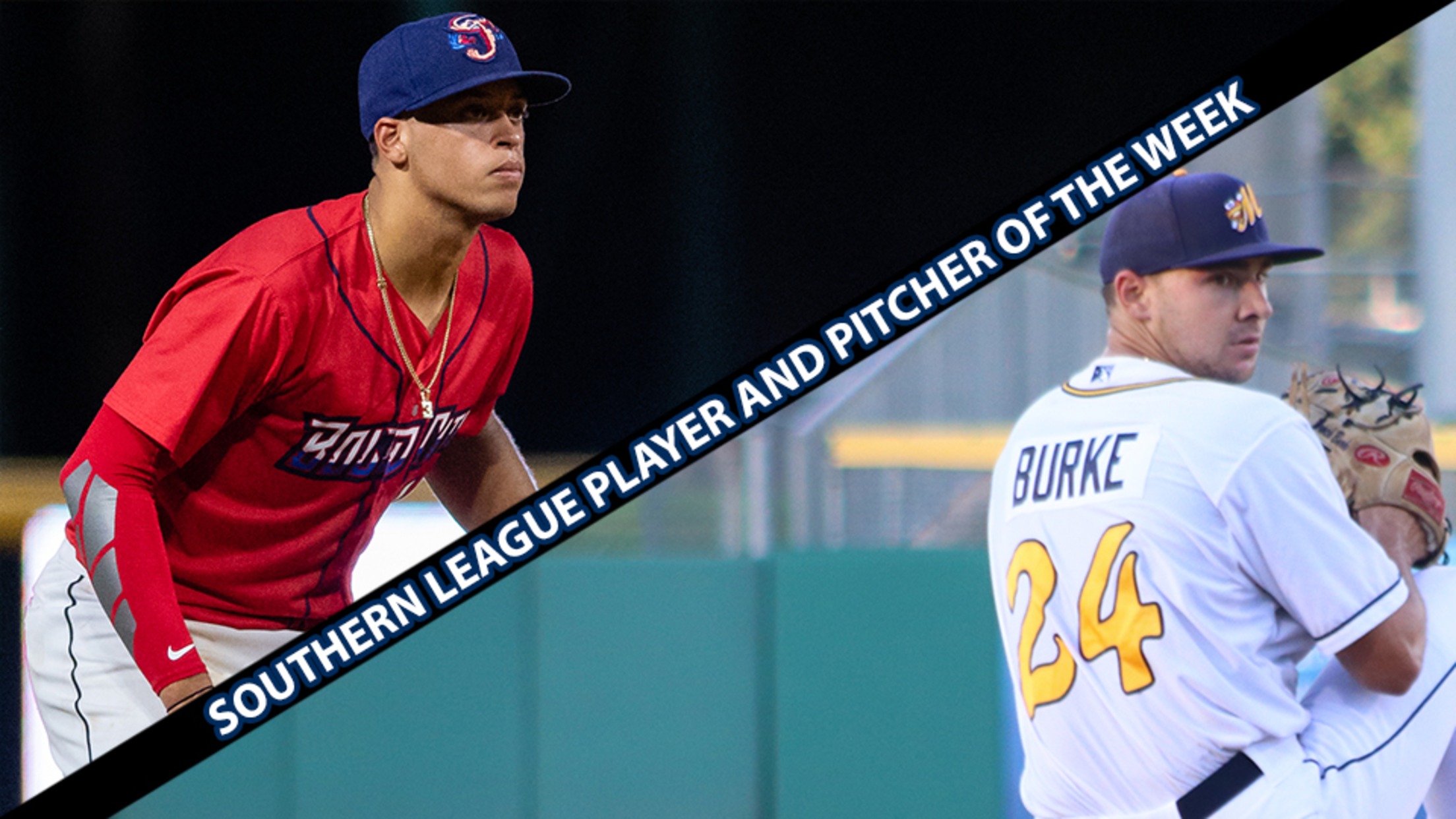 MARIETTA, GA - The Southern League of Professional Baseball Clubs are proud to announce that Jacksonville Jumbo Shrimp infielder Joe Dunand has been named Player of the Week and Montgomery Biscuits starter Brock Burke has been named Pitcher of the Week. Both awards recognize these players' performances for games during
Stone Crabs blow out Fire Frogs 13-4
Eight-run fifth highlights offensive barrage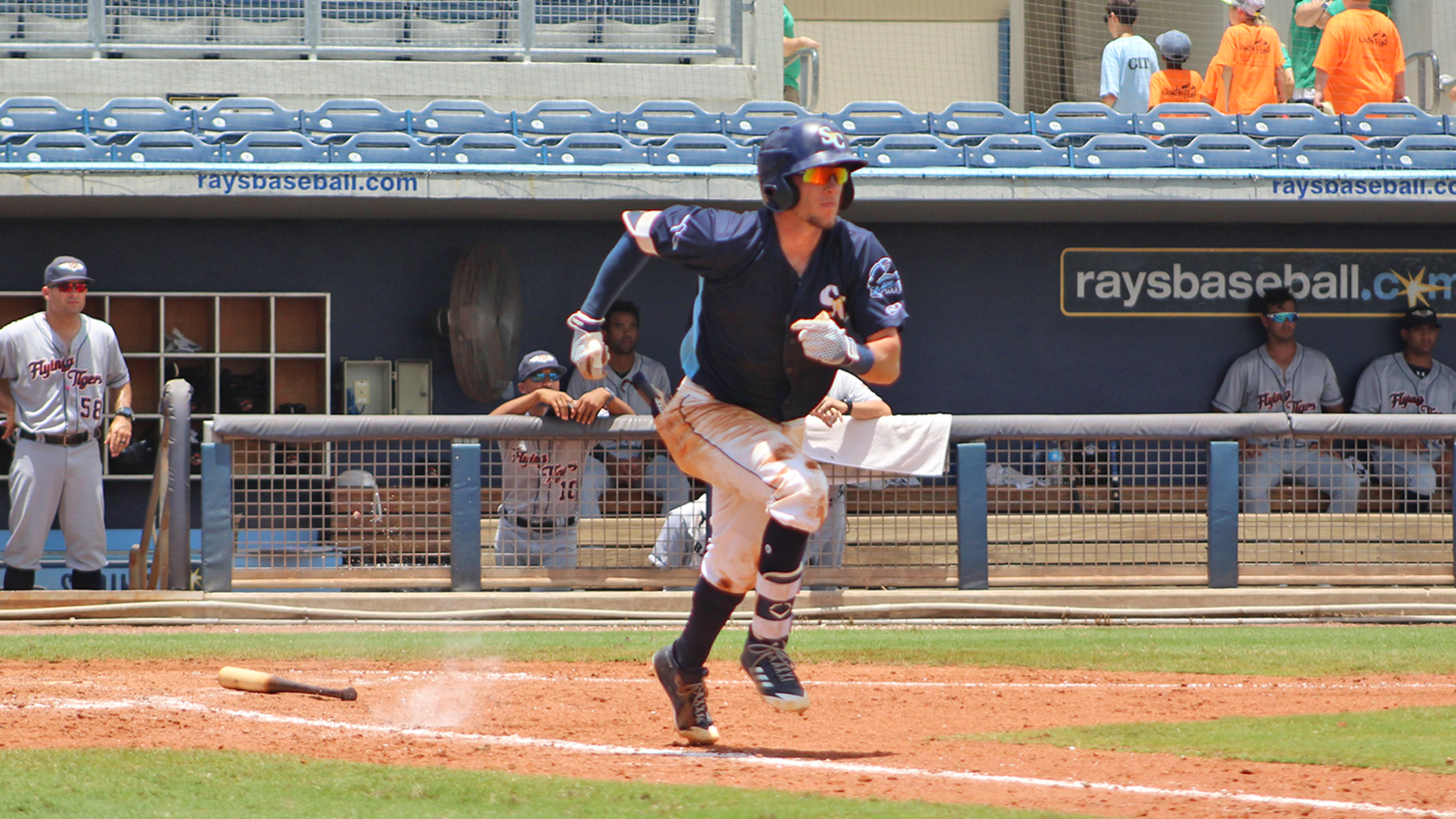 KISSIMMEE, Fla. (July 5, 2018) - Eight Stone Crabs recorded hits in a 13-4 victory over the Florida Fire Frogs Thursday at Osceola County Stadium.After the Stone Crabs (40-41, 6-8) dropped a suspended game to Florida (33-46, 4-9) 5-4 in the afternoon, they brought the bats in the nightcap. Charlotte
Tarpons turn tides in 6-5 defeat
Burke goes six strong for Stone Crabs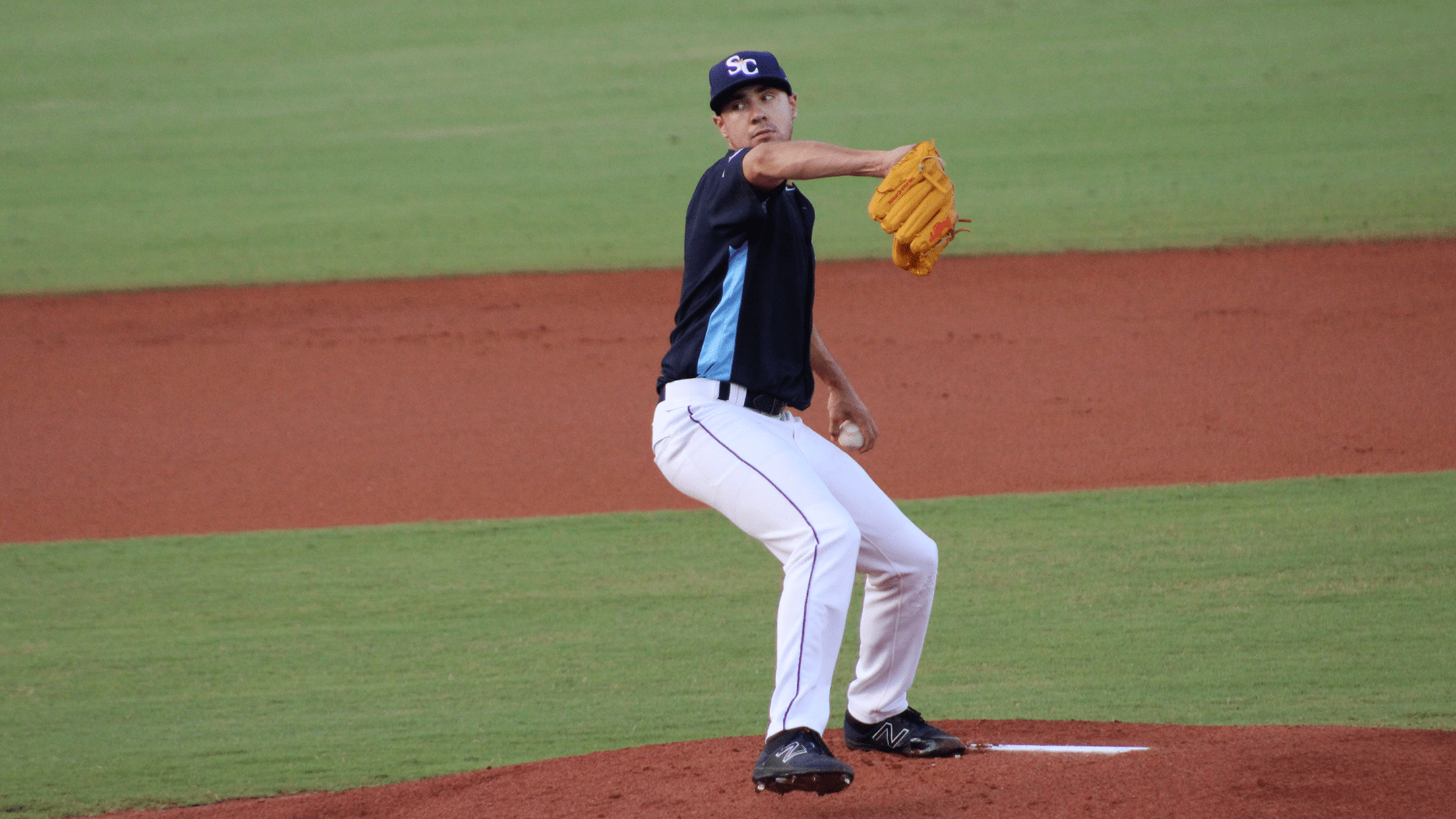 PORT CHARLOTTE, Fla. (June 30, 2018) - After the Charlotte Stone Crabs erased a two-run deficit in the eighth, the Tampa Tarpons scored twice in the ninth to win 6-5 at Charlotte Sports Park Saturday.With the Stone Crabs (37-39, 3-6) leading 5-4 entering the top of the ninth, the Tarpons
Stone Crabs walk off Lakeland 5-4
Tenerowicz drives in two in victory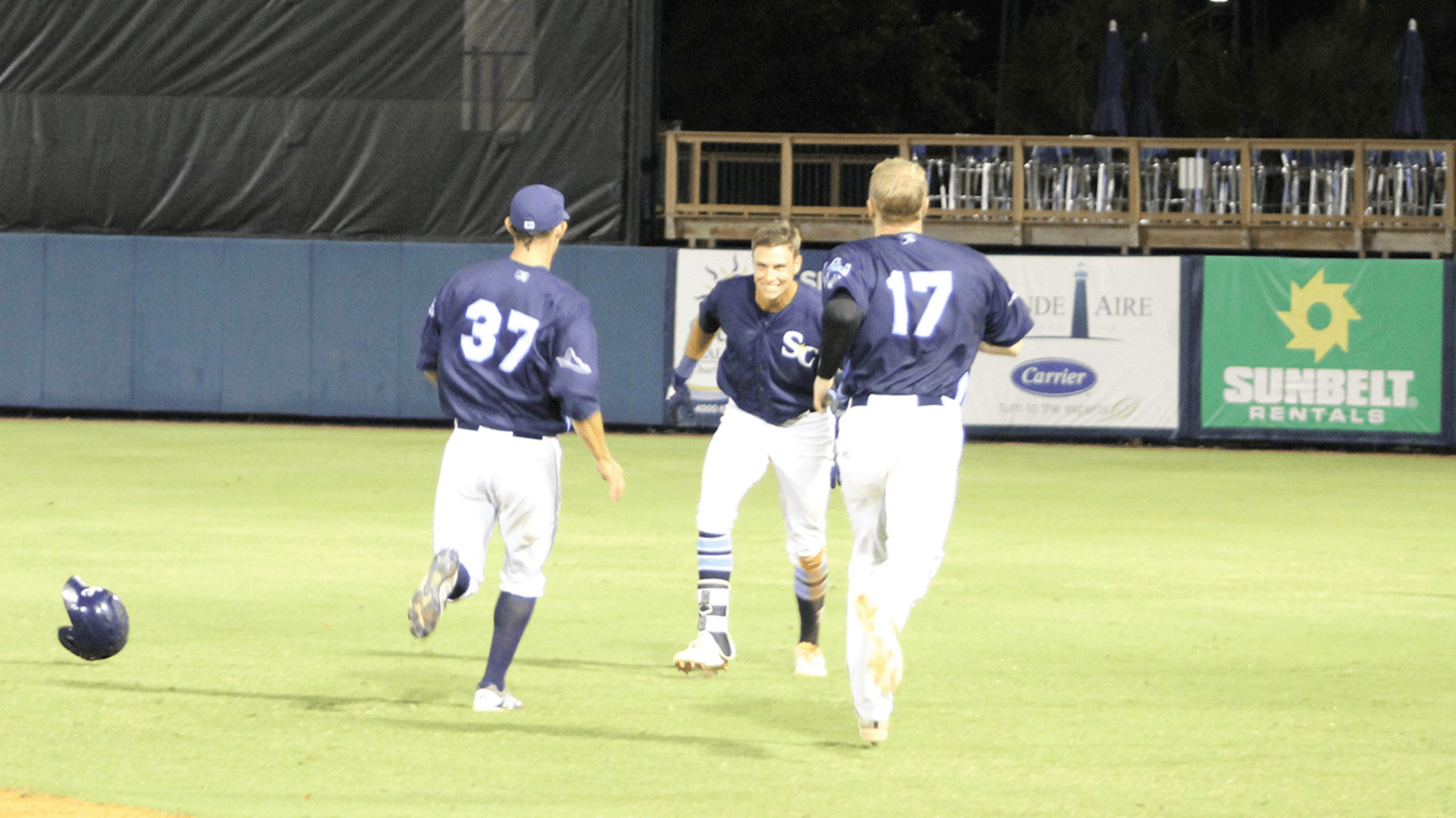 PORT CHARLOTTE, Fla. (June 18, 2018) - Jermaine Palacios slid around the tag at the plate to give the Charlotte Stone Crabs a 5-4 walk-off win in 11 innings Monday at Charlotte Sports Park.After a Jake Fraley groundout moved Palacios to third with one out, Josh Lowe grounded a ball
Five-run fifth leads Crabs past Clearwater 5-3
Burke earns 20th career win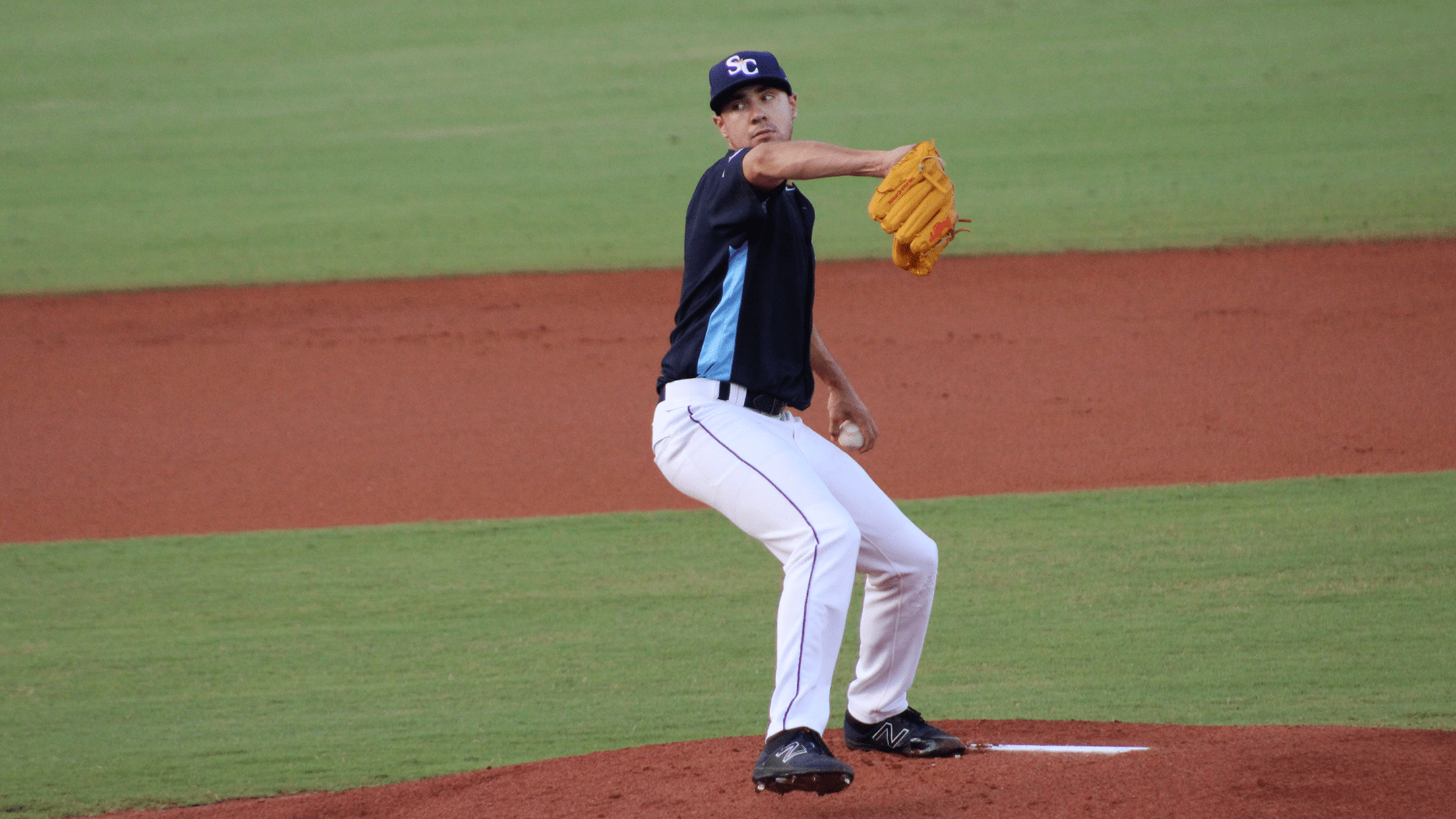 PORT CHARLOTTE, Fla. (June 10, 2018) - The Charlotte Stone Crabs used a five-run fifth inning to beat the Clearwater Threshers 5-3 Sunday afternoon at Charlotte Sports Park. Trailing 1-0 entering the inning, the Stone Crabs (28-31) got a single from Zac Law to start the frame. After he stole
Sanchez homers in 5-4 loss to Jays
Stone Crabs squander four-run lead in defeat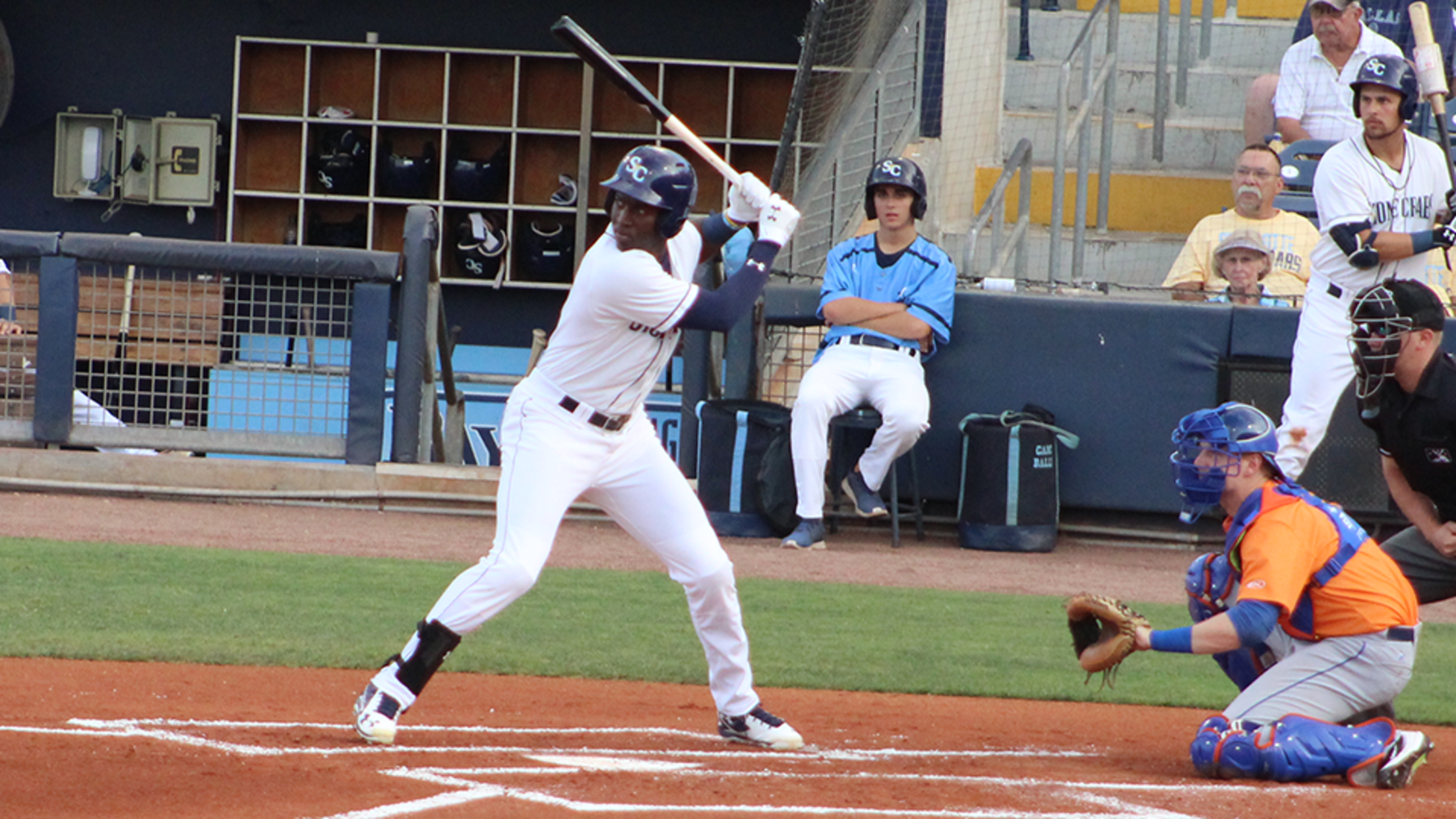 PORT CHARLOTTE, Fla. (June 4, 2018) - Jesús Sánchez hit his seventh home run of the season Monday, but the Stone Crabs let a four-run lead get away in a 5-4 loss to the Dunedin Blue Jays at Charlotte Sports Park.  Sanchez' first inning home run registered 403 feet to
Tarpons' seventh inning rally beats Stone Crabs
Lowe homers for second straight night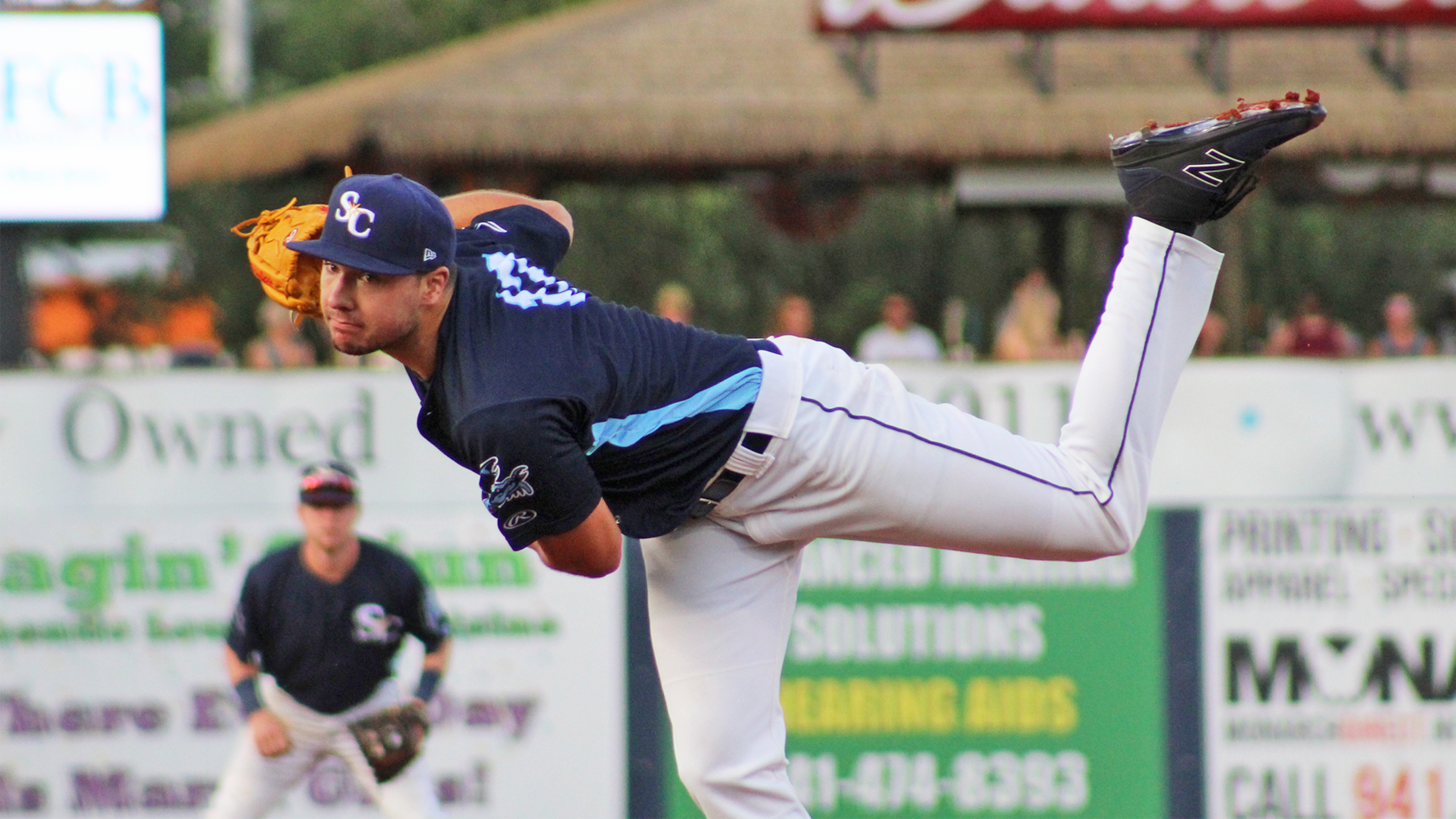 TAMPA, Fla. (April 28, 2018) - Nate Lowe homered for the third time in the series, but the Tampa Tarpons scored three times in the bottom of the seventh to take the lead and beat the Charlotte Stone Crabs 5-4 Saturday night at Steinbrenner Field.With the Stone Crabs (11-12) leading
Stone Crabs sweep Cardinals with 10-8 Sunday win
Burke earns first win as Charlotte holds on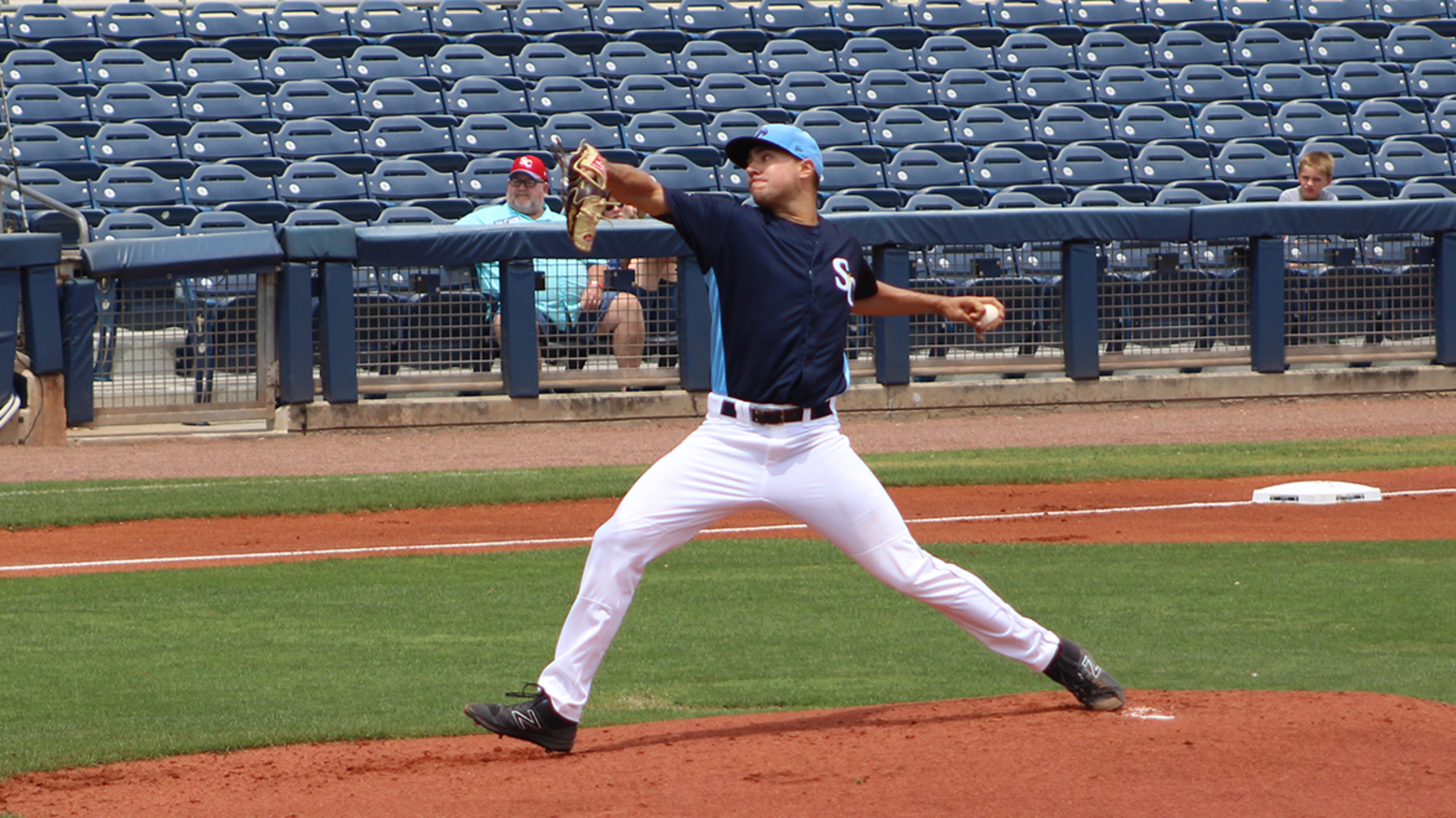 PORT CHARLOTTE, Fla. (April 22, 2018) - After leading 10-0, the Charlotte Stone Crabs held on for a 10-8 win over the Palm Beach Cardinals Sunday at Charlotte Sports Park, claiming their first sweep of the season. The Stone Crabs' (9-8) bullpen surrendered seven runs before Curtis Taylor came in
Lowe reaches base four times in 9-4 loss to Threshers
Stone Crabs tally 10 hits in defeat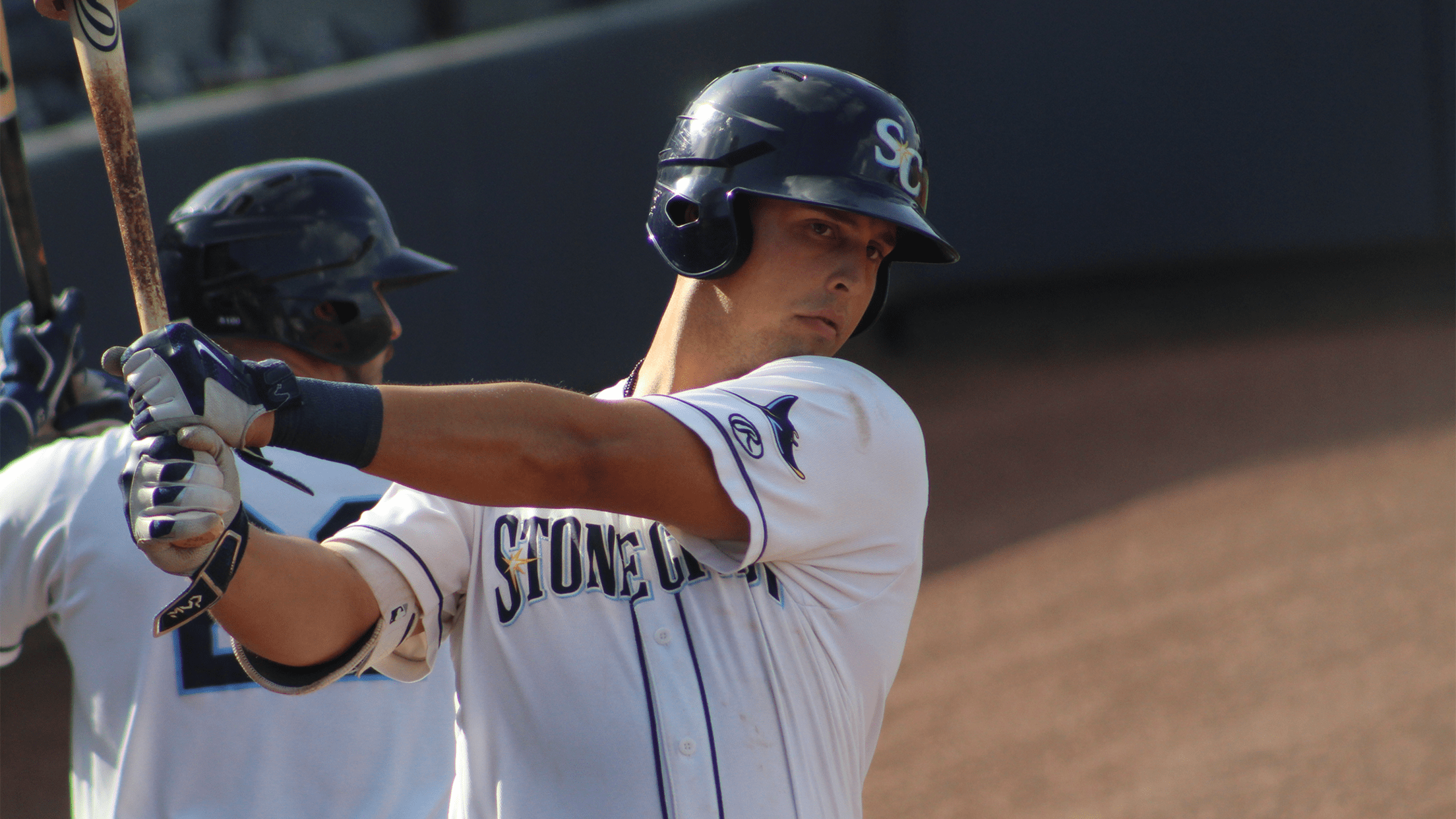 PORT CHARLOTTE, Fla. (April 17, 2018) - Nate Lowe reached base four times Tuesday, but the Charlotte Stone Crabs fell 9-4 to the Clearwater Threshers at Charlotte Sports Park.Lowe is batting .400 through his first 12 games and has tallied five extra-base hits, 9 RBI and five walks. He finished
Miracle smash Stone Crabs 14-2
Charlotte falls to four games back of playoff berth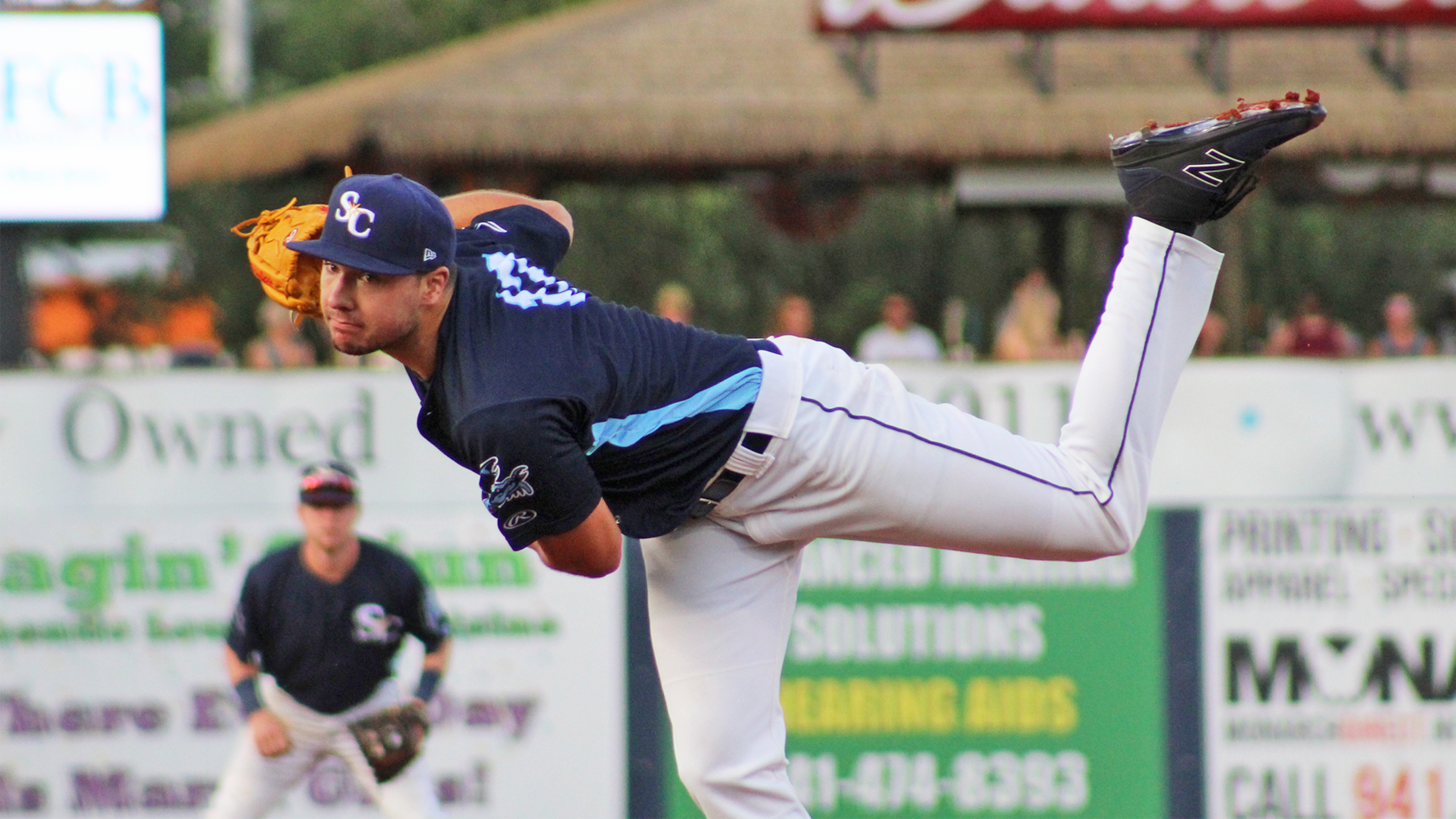 FORT MYERS, Fla. (August 25, 2017) - The Fort Myers Miracle used a pair of six-run innings to hand the Charlotte Stone Crabs a 14-2 loss at Hammond Stadium Friday.The loss pushes the Stone Crabs (66-62, 35-25) four games back of a playoff spot with nine games remaining. It is
Prospect Roundup: Games of Aug. 15
Yanks' Solak keeps on hitting at Double-A; Rays' Burke fans 12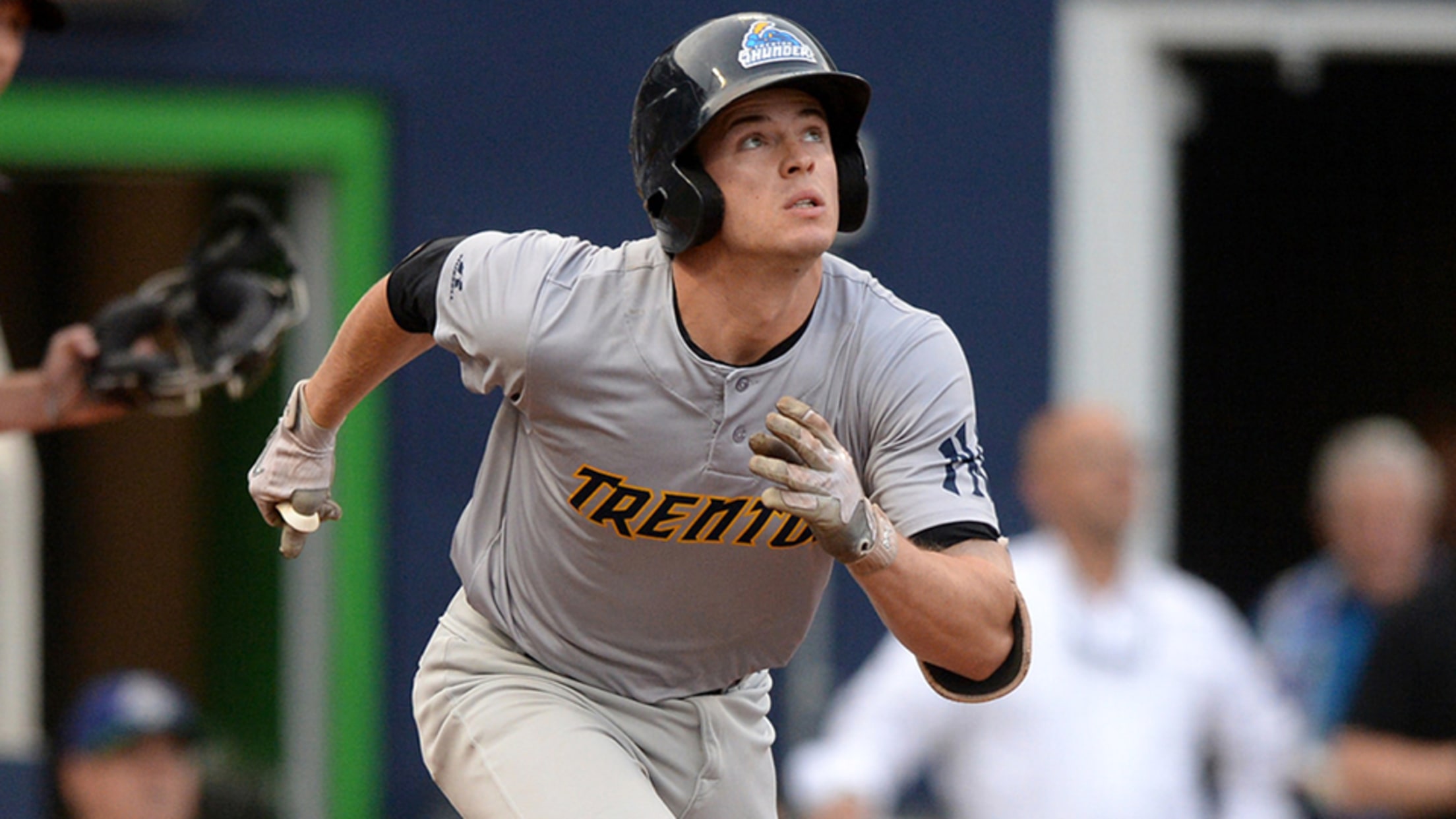 Twins LHP Stephen Gonsalves, Triple-A Rochester: 6 IP, 4 H, 1 R, 1 ER, 2 BB, 8 K, 96 pitches, 67 strikes -- The Twins' No. 3 prospect once again found success in his second Triple-A start. After fanning seven and allowing two runs on four hits in seven frames last
Burke, Jones shut out Bradenton 3-0
Fox homers in win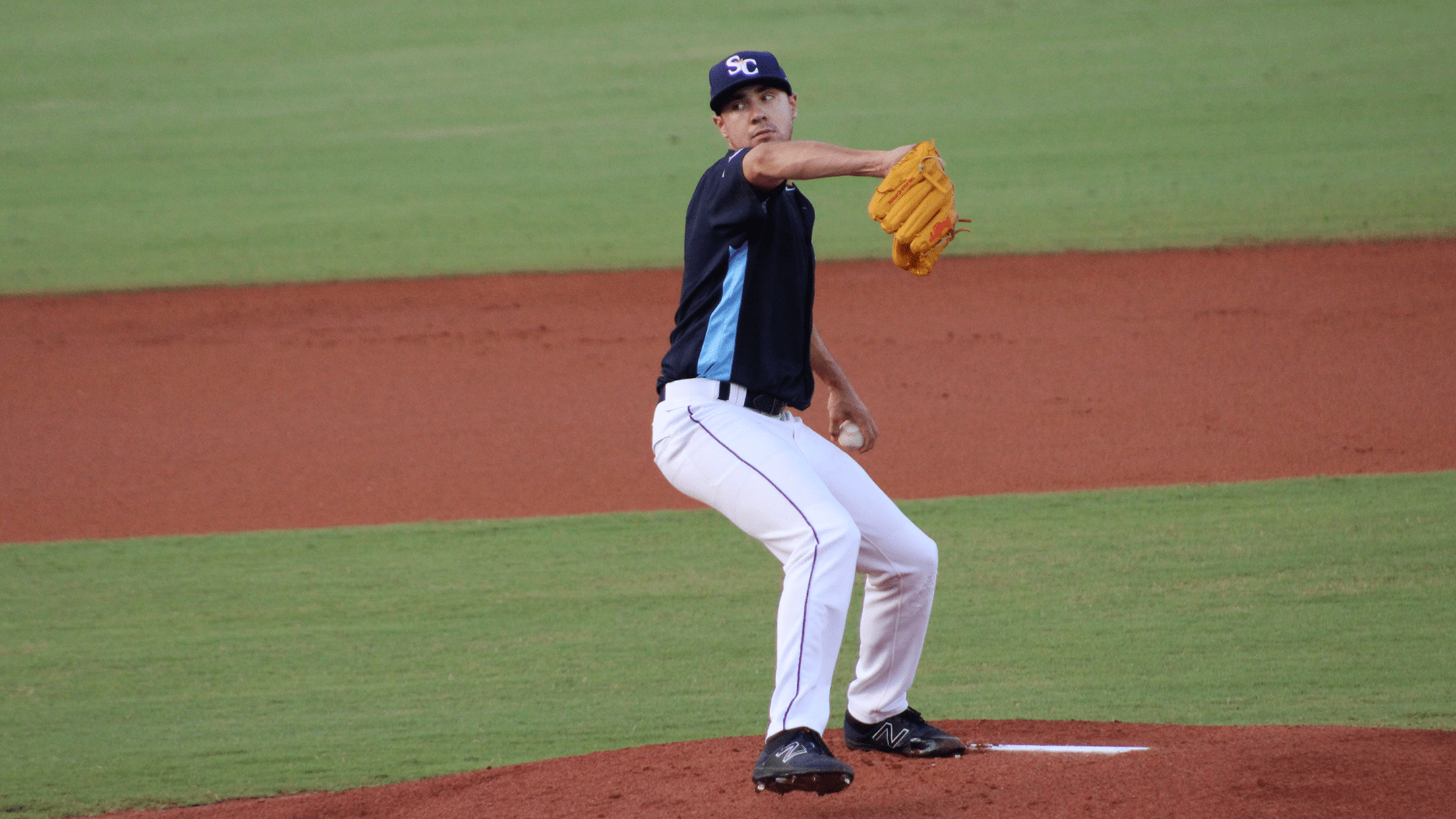 BRADENTON, Fla. (August 10, 2017) - Charlotte Stone Crabs pitchers Brock Burke and Spencer Jones combined on a 3-0 shutout of the Bradenton Marauders Thursday night at LECOM Park.Burke (3-5) allowed four hits and two walks while striking out four over five scoreless innings, stranding six Marauders in the process.
Maris powers Crabs to weekend wins
Stone Crabs' starters work 13 scoreless frames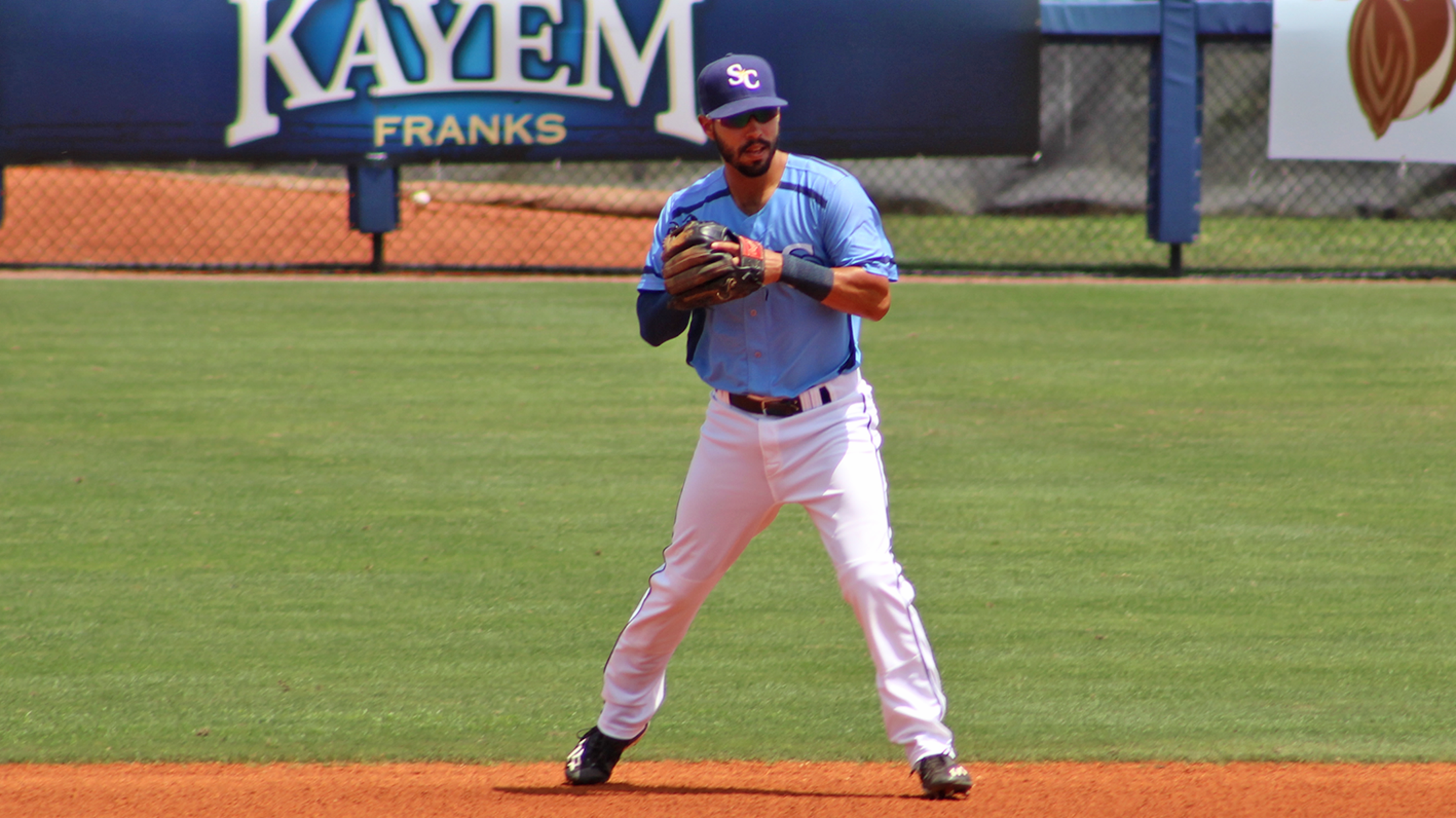 JUPITER, Fla. (July 24, 2017) - Peter Maris homered on back-to-back days and the Charlotte Stone Crabs' starting pitchers went 13 scoreless innings to lead the team to consecutive wins over the Palm Beach Cardinals at Roger Dean Stadium.Maris connected on a two-run shot off Jake Woodford (5-6) on Saturday
Smith, Burke, Sullivan lead Stone Crabs to doubleheader sweep
Pitching staff holds Yankees to one run over 16 innings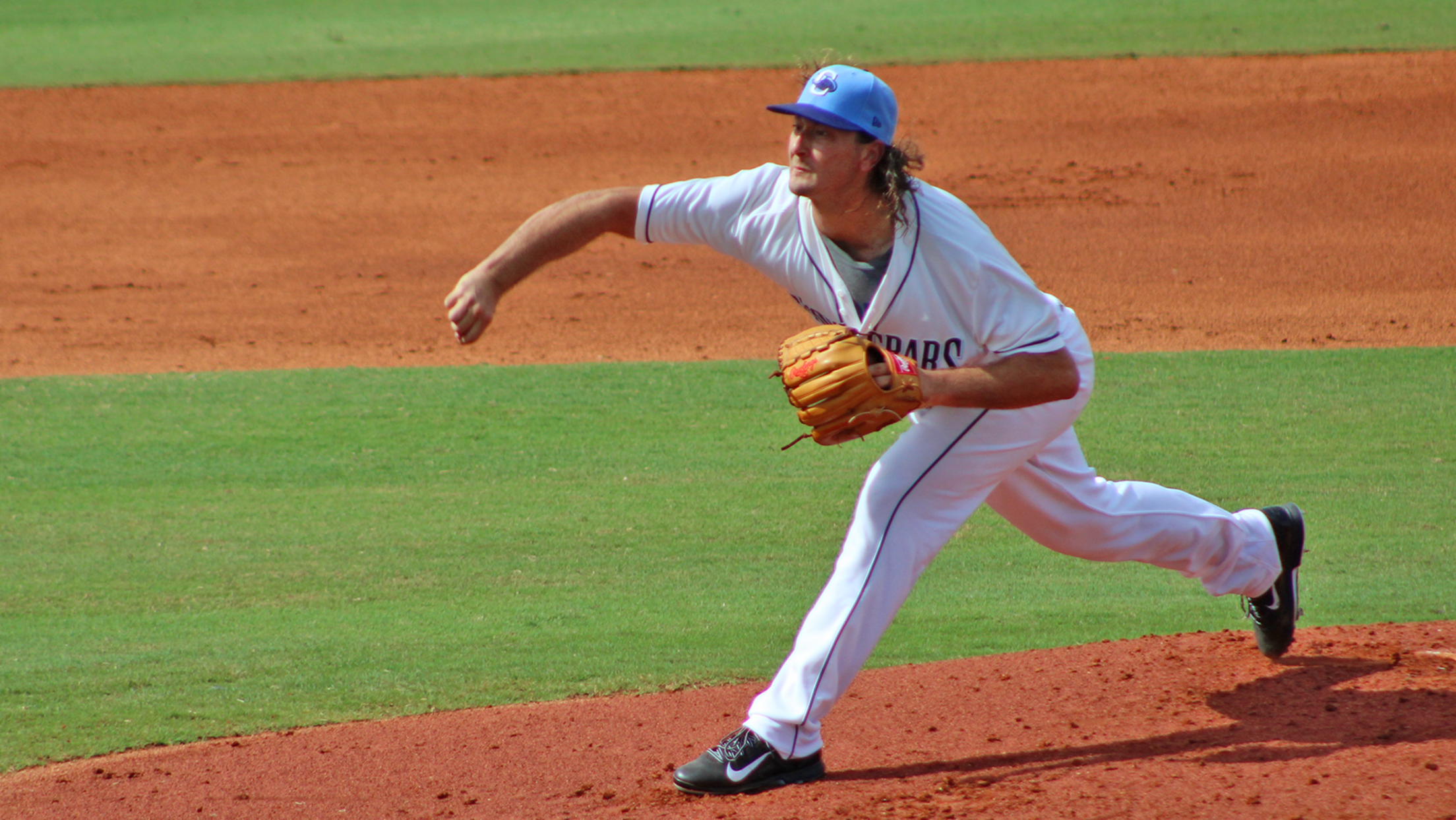 PORT CHARLOTTE, Fla. (July 18, 2017) - Brett Sullivan drove in five runs and the Charlotte Stone Crabs' pitching staff continued to dominate in a doubleheader sweep of the Tampa Yankees Tuesday at Charlotte Sports Park.Burch Smith (1-0) and Brock Burke (1-3) each earned wins while shutting out the Yankees
Burke leads the way in Hot Rods' no-hit bid
Rays lefty combines with righty Ramirez on 7 2/3 hitless frames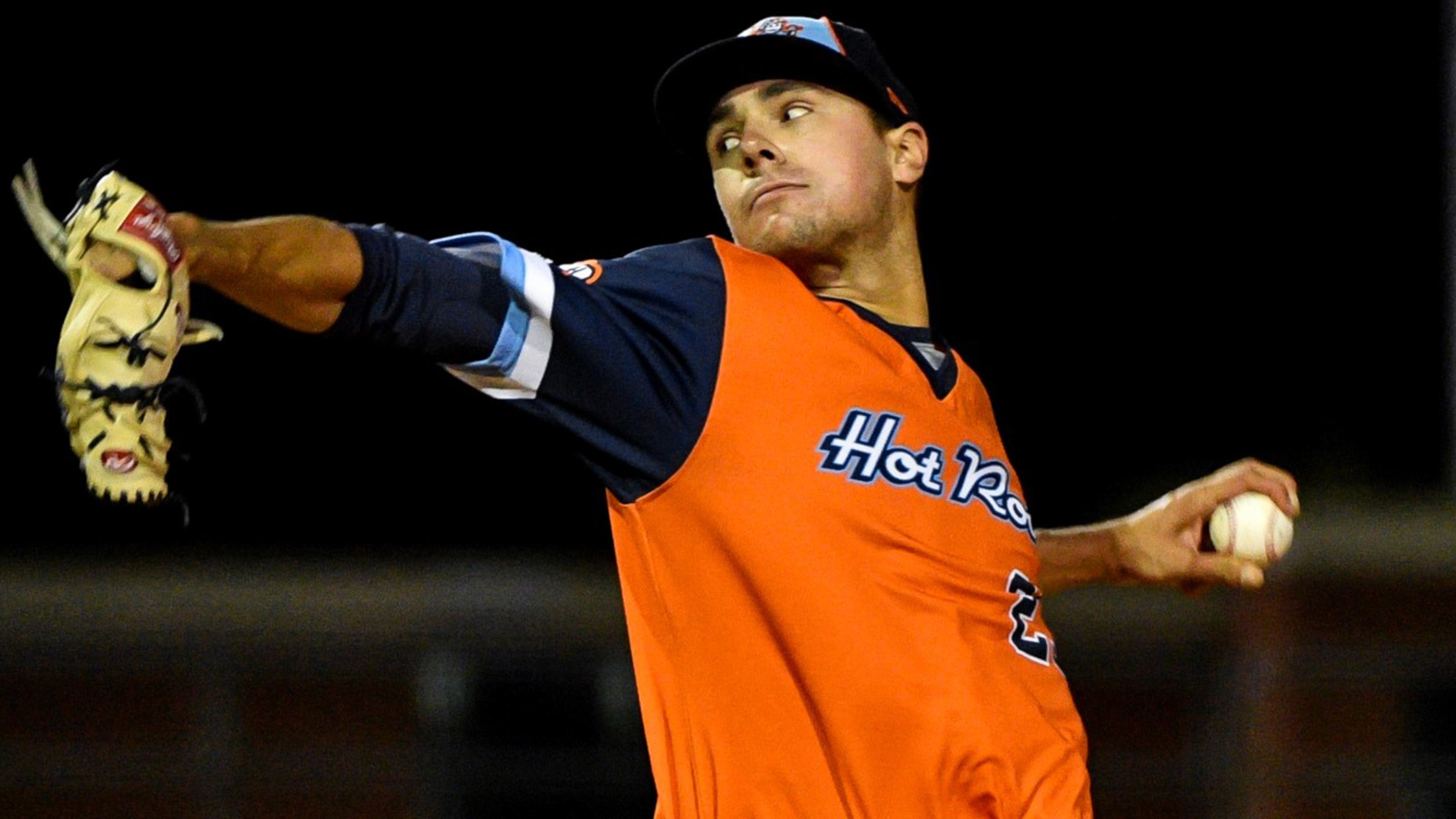 Brock Burke and Roel Ramirez are roommates and close friends off the field. On Thursday, the pair came four outs away from making history together.The Rays pitching prospects combined for 7 2/3 hitless innings before Class A Bowling Green settled for a one-hitter with a 3-0 blanking of Fort Wayne